Last updated June 20, 2022
Quick Facts:
Donald Trump's claims about stolen elections date back to the 2012 presidential election.
Trump blames stolen or rigged elections on voting machines changing votes, dead people and illegal immigrants voting, people voting multiple times, media lies, stolen or phony mail-in ballots, and more.
Trump raised concerns about mail-in ballots in 2016 and 2018, but began talking about them heavily in July 2020. Mail-in ballots played a larger role in 2020 due to COVID-19.
The Trump campaign filed 22 election lawsuits on or after November 3, 2020, with two victories: getting a polling place to stay open an hour later, and stopping an extension for ballot curing in Pennsylvania.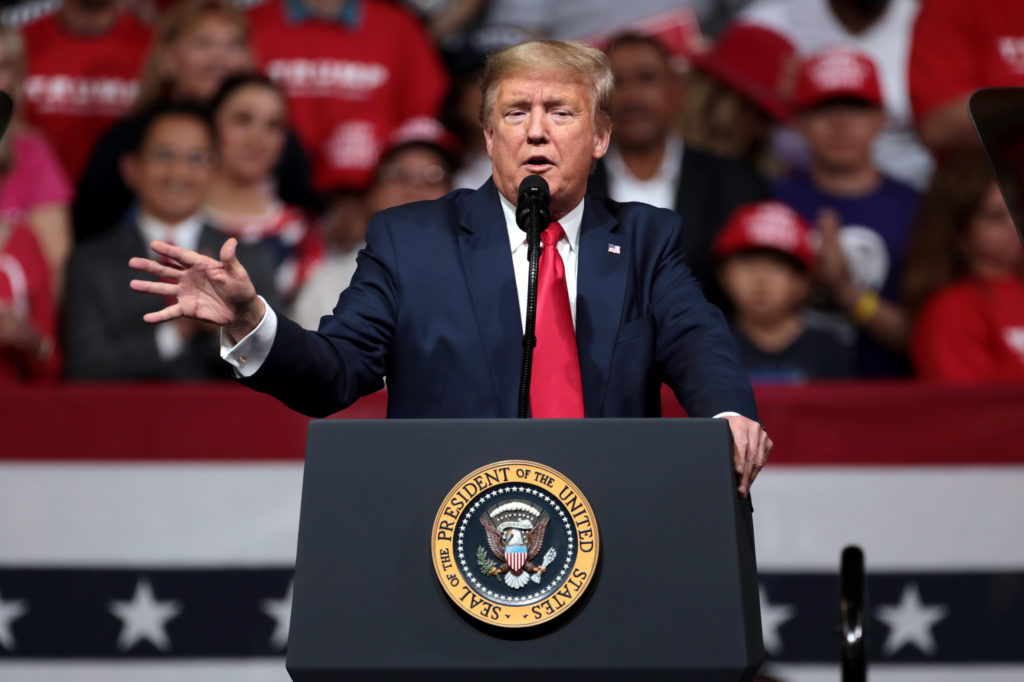 The chart below shows 905 claims from Donald Trump about elections being rigged or stolen from November 16, 2012, the first date we found, through November 3, 2021, one year after the 2020 election. To date, no third party has judged these fraud claims to be true in any way that could have impacted the election outcome.[1]PBS NewsHour, "Exhaustive Fact Check Finds Little Evidence of Voter Fraud, But 2020's 'Big Lie' Lives On," pbs.org, December 21, 2021
Trump's tweets are presented as he posted them, including any typos or capitalizations. Since Twitter suspended Donald Trump's account on January 8, 2021, the text of the tweets were verified using the website thetrumparchive.com.
Click to jump to a specific time period:
2012 Presidential Election: Barack Obama (Dem.) defeated Mitt Romney (Rep.)
A.
Trump's Quotes about Rigged/Stolen Elections
B.
Fraud Claim
1.
10/16/2012

"Congratulations to @JamesOKeefeIII on exposing more Democrat voter fraud. @DNC was caught red handed telling people to vote twice."

-Donald Trump, Twitter.com, October 16, 2012 2:49 pm
Democratic National Committee committed voter fraud and told people to vote twice
2.
11/3/2012

"We don't want to have a recount in any of the battleground states. Obama will steal it. Make sure all your friends and family vote."

-Donald Trump, Twitter.com, November 3, 2012 8:18 pm
Obama will steal the election
3.
11/6/2012

"This [2012] election is a total sham and a travesty. We are not a democracy!"

-Donald Trump, Twitter.com, November 6, 2012 11:33 pm
The 2012 election is a total sham and a travesty
4.
11/6/2012

"More reports of voting machines switching Romney votes to Obama. Pay close attention to the machines, don't let your vote be stolen"

-Donald Trump, Twitter.com, November 6, 2012 2:56 pm
Voting machines switched Romney votes to Obama
5.
11/14/2013

"More dead people voted in the last election than enrolled in ObamaCare. Congratulations America!"

-Donald Trump, Twitter.com, November14, 2013 11:14 am
Dead people voted in the 2012 election
6.
11/18/2013

"The polls have shown that DEAD PEOPLE voted for President Obama overwhelmingly and without hesitation – he must be doing something right!"

-Donald Trump, Twitter.com, November 18, 2013 7:50 am
Vote from dead people went to Obama
2016 Presidential Primaries: Donald Trump won Rep. nomination; Hillary Clinton won Dem. nomination
A.
Trump's Quotes about Rigged/Stolen Elections
B.
Fraud Claim
7.
2/3/2016

"Ted Cruz didn't win Iowa, he stole it. That is why all of the polls were so wrong and why he got far more votes than anticipated. Bad!"

-Donald Trump, Twitter.com, February 3, 2016 8:47 am
Ted Cruz stole Iowa in the Republican primary
8.
2/3/2016

"Based on the fraud committed by Senator Ted Cruz during the Iowa Caucus, either a new election should take place or Cruz results nullified."

-Donald Trump, Twitter.com, February 3, 2016 9:28 am
Ted Cruz committed fraud in the Iowa caucus
9.
2/3/2016

"The State of Iowa should disqualify Ted Cruz from the most recent election on the basis that he cheated- a total fraud!"

-Donald Trump, Twitter.com, February 3, 2016 2:25 pm
Ted Cruz cheated in Iowa in the Republican primary
10.
2/22/2016

"Ted Cruz should be disqualified from his fraudulent win in Iowa. Weak RNC and Republican leadership probably won't let this happen! Sad."

-Donald Trump, Twitter.com, February 3, 2016 4:11 pm
Ted Cruz's win in Iowa was fraudulent
11.
4/15/2016

"Week after week, Bernie is winning, winning… But he can't win. You know why? Because it's a rigged system, folks. It's a rigged system…

Why can't he win if he wins all the time? Because they have a phony system that the bosses pick whoever is running for election. So here's what we have. We have a rigged system. The Republican [primary] system is rigged. OK? It's a rigged system."

-Donald Trump, "Speech: Donald Trump in Plattsburgh, NY – April 15, 2016," factba.se, April 15, 2016
The primary system is rigged
12.
4/17/2016

"Well, it's a rigged election. Now I'm winning by a lot. And a lot of people say, don't complain, you're winning… But I will say this, it's a rigged system. It's a crooked system. It's a hundred percent crooked."

-Donald Trump, "Press Conference: Donald Trump in Staten Island, New York – April 17, 2016," factba.se, April 17, 2016
The election is rigged and the system is rigged and crooked
13.
4/17/2016

"So here's the story, folks, we're going through, we're winning by a lot we have a very, very big vote coming up on Tuesday [the Republican primary election in New York]. That vote is so vital and we have to win by big numbers because we have a [primary] system that's absolutely rigged. It's rigged. We have a rigged system…

So look, you have a system that's rigged, we have a system that's crooked, we have a system that's got a lot of problems and we have a system that doesn't allow the people to vote in many cases and if they do vote their vote isn't really representative of what it should be. We have this delegate system, which is a sham."

-Donald Trump, "Speech: Donald Trump in Poughkeepsie, NY – April 17, 2016," factba.se, April 17, 2016
Primary system is rigged and crooked
14.
4/21/2016
"And the [primary] system is rigged. The voting is rigged. The whole deal is crooked. 100% almost as crooked as crooked Hillary. It's a crooked deal. And that's why you have a case where I go in and win with a vote, and these guys go and they buy delegates. They buy them dinners, they send them to hotels. The whole thing is a sham."

-Donald Trump, "Speech: Donald Trump in Harrisburg, PA – April 21, 2016," factba.se, April 21, 2016
The primary system is rigged and crooked; delegates are bought
15.
5/6/2016

"Well it's, you know, it's a crooked [primary] system. I mean you look at the superdelegates. He's [Bernie Sanders] winning so many of these races and they say he has no chance. It's a crooked system.

And, you know, it was a rigged deal even for me, but I was winning by so much. You know, I was like a prizefighter, you know, knocks out the opponent. You don't have to worry about the judges. But I mean for a while there was ridiculous.

I'd win a state, and I'd lose the delegates because these guys are wining and dining the delegates and even though they came in fourth place. It's a crooked system."

-Donald Trump, "Interview: Steve Bannon Interviews Donald Trump on Breitbart News Daily – May 6, 2016," factba.se, May 6, 2016
Primary system is crooked and rigged
16.
5/18/2016

"It's a rigged system. I have to say, it was rigged on the Republican side. The only way I could win [the primary] was winning in landslides. And I had so many landslides that, you know, I ended up winning. But if I didn't, if I was winning close races, there was no way I could have won. Now, the Republican actually was more sophisticated because they don't do the superdelegates. With the Democrats, they do superdelegates. It's so obvious…

So it's a rigged system. And I'm no fan of Bernie, but I will tell you he is not being treated fairly."

-Donald Trump, "Interview: Donald Trump Interview by Sean Hannity on Fox – May 18, 2016," factba.se, May 18, 2016
Primary system is rigged on Republican and Democratic sides
17.
6/1/2016

"You know Bernie wanted to debate me… But I would have liked it but then I said, and somebody told me this so look, the system is rigged. The guy is working hard but his [primary] system is rigged. He can't win…

The system's all rigged up. It's all rigged up for Hillary."

-Donald Trump, "Speech: Donald Trump in Sacramento, CA – June 1, 2016," factba.se, June 1, 2016
Democratic primary was rigged for Hillary over Bernie
18.
6/2/2016

"And the amazing thing about that is, I think, we do even better in November because we're going to take a lot of people from the Democrats. You know, Bernie Sanders, Bernie Sanders, the [primary] system was rigged on him. I think we're going to get a lot of people from Bernie…

So the Republican [primary] system was rigged, but we won by knockout."

-Donald Trump, "Speech: Donald Trump in San Jose, CA – June 2, 2016," factba.se, June 2, 2016
Both Republican and Democratic primaries were rigged
19.
6/6/2016

"And a lot of Bernie Sanders people, you know, he got he got a rigged system. Now I used to say the Republican system was rigged, but it is. It's impossible. It's almost impossible for a guy like me."

-Donald Trump, "Speech: Donald Trump in Tampa, FL – June 6, 2016," factba.se, June 6, 2016
Both Republican and Democratic primaries were rigged
20.
6/7/2016

"To all of those Bernie Sanders voters, who have been left out in the cold by a rigged system of super delegates, we welcome you with open arms…

I beat a rigged [primary] system by winning with overwhelming support, the only way you could have done, landslides all over the country, with every demographic on track to win 37 primary caucus victories in a field that began with 17 very talented people."

-Donald Trump, "Press Conference: Donald Trump in Westchester, New York – June 7, 2016," factba.se, June 7, 2016
Both Republican and Democratic primaries were rigged
21.
6/30/2016

"Look, you're living in a rigged system. I used to say it about the primary because I'd win a state and I didn't get the votes. I mean, I'd win a state by a lot and the delegates would go to somebody else…

And if I didn't win by massive numbers, because the system's rigged. Look at Bernie Sanders. Look what happened to him with the superdelegates. You know, the Republican system is just as bad, but it's more sophisticated because they don't use superdelegates."

-Donald Trump, "Speech: Donald Trump in Manchester, NH – June 30, 2016," factba.se, June 30, 2016
Both Republican and Democratic primaries were rigged
22.
7/5/2016

"Today is the best evidence ever that we've seen that our system is absolutely totally rigged. It's rigged. And I use that term initially when I was running in the Republican primaries, and I was the first to use it. Then all of a sudden, it became a hot term. Everybody was using the word, rigged, rigged, rigged.

But if you remember, I'd win Louisiana, and I find out, I didn't get enough delegates. What happened? And places like Colorado, which was so good to me, but all of a sudden we find out that they don't have the vote, and other things. OK. I used the word rigged. And frankly, I'll be honest. If I didn't win in landslides, I wouldn't be standing up here. You'd be watching some politician who would lose to Hillary Clinton, OK? Believe me."

-Donald Trump, "Speech: Donald Trump in Raleigh, NC – July 5, 2016," factba.se, July 5, 2016
Both Republican and Democratic primaries were rigged
23.
7/12/2016

"We have a group of people that want to get elected, who have a rigged system, and who have really rigged the system to a large extent. They've really rigged the system. You can say what you want about Bernie Sanders, but those super delegates, that was worse than what happened with us. And frankly the only reason I could win is we won in six landslides, all over the place, including Indiana. What a landslide that was."

-Donald Trump, "Speech: Donald Trump in Westfield, IN – July 12, 2016," factba.se, July 12, 2016
Both Republican and Democratic primaries were rigged
24.
7/21/2016

"Nobody knows the system better than me, which is why I alone can fix it. I have seen firsthand how the system is rigged against our citizens, just like it [the Democratic primary] was rigged against Bernie Sanders – he never had a chance."

-Donald Trump, "Address Accepting the Presidential Nomination at the Republican National Convention in Cleveland, Ohio," presidency.ucsb.edu, July 21, 2016
The Democratic primary was rigged against Bernie Sanders
25.
7/25/2016

"Hillary Clinton knew what was going on. She knew everything that was going on. She knew it's a rigged system that Bernie Sanders never had a chance. OK? He never had a chance."

-Donald Trump, "Speech: Donald Trump in Raleigh, NC – July 5, 2016," factba.se, July 25, 2016
The Democratic primary was rigged against Bernie Sanders
26.
7/27/2016

"I'm the one that came up with the term rigged system, and I said it a year and a half ago pertaining to my system [the Republican primary]. And frankly, had I not won all of these states by massive landslides, I wouldn't be standing here [as the presidential nominee]. You'd have some stiff."

-Donald Trump, "Speech: Donald Trump in Scranton, PA – July 27, 2016," factba.se, July 27, 2016
The Republican primary was rigged
27.
8/1/2016

"Hillary Clinton, I got a similar number to Hillary Clinton, and she had Bernie, and she had a hard time putting Bernie away. And Bernie — poor Bernie. He looked so upset. You know what, he made a mistake. He shouldn't have made a deal. Sometimes — he lost, he lost. First of all, it was rigged, and I'm afraid the election is going to be rigged, I have to be honest. Because I think my side was rigged — if I didn't win [the Republican primary] by massive landslides — I mean, think of what we won in New York and Indiana, California, 78 percent. That's with other people in the race."

-Donald Trump, "Speech: Donald Trump in Columbus, OH – August 1, 2016," factba.se, August 1, 2016
Both Republican and Democratic primaries were rigged
28.
8/4/2016

"President Obama should ask the DNC about how they rigged the election against Bernie."

-Donald Trump, Twitter.com, August 4, 2016 10:18 pm
DNC rigged primary against Bernie Sanders
29.
8/8/2016

"It's a crooked system. It's a rigged system. We're running against a rigged system and we're running against a very dishonest media… It's just so unfair, it's so unfair, we're running against a rigged press.

We're running against dishonest people. OK, really dishonest people. And hey, look, it [the Democratic primary] was rigged against Bernie Sanders, you could see that from all of those emails. Debbie Wasserman Schultz, no no, but you could see it, it was a rigged deal. He never had a chance."

-Donald Trump, "Speech: Donald Trump in Ashburn, VA – August 8, 2016," factba.se, August 8, 2016
DNC rigged primary against Bernie Sanders
30.
9/20/2016

"And we know it's a rigged system, all you have to do is ask Bernie Sanders and you'll see. With the super delegates. They did a number on Bernie. They did a number."

-Donald Trump, "Speech: Donald Trump in Kenansville, NC – September 20, 2016," factba.se, September 20, 2016
DNC rigged primary against Bernie Sanders
31.
10/11/2016

"But the e-mails also show yet again that the DNC, Democratic National Committee, rigged the Democratic election, the primary process, to take it away from Bernie and give it to Hillary Clinton. The DNC vice chair was caught feeding information about Bernie Sanders's plans to the Clinton campaign. You're not supposed to do that."

-Donald Trump, "Speech: Donald Trump in Panama City, FL – October 11, 2016," factba.se, October 11, 2016
DNC rigged primary against Bernie Sanders
32.
10/13/2016

"And now with all of these e-mails that they're finding and all of these documents, it's not a pretty picture for Bernie. Looks bad — looks bad. They really did rig the system on Bernie Sanders, I'll tell you, they rigged the system."

-Donald Trump, "Speech: Donald Trump in Cincinnati, OH – October 13, 2016," factba.se, October 13, 2016
DNC rigged primary against Bernie Sanders
33.
2/22/2017

"I said the election was rigged against Bernie, a lot of people agree with that one, a lot of people hated the statement when I made it."

-Donald Trump, "Interview: Time Magazine Conducts an Interview with Donald Trump – March 22, 2017," factba.se, February 22, 2017
DNC rigged primary against Bernie Sanders
34.
2/24/2017

"There's been some movements that petered out like Bernie, petered out. But it [the Democratic primary] was a little rigged against him, you know, super delegate, super delegate. She had so many delegates before the thing even started, I actually said to my people, how does that happen?"

-Donald Trump, "Read a Transcript of President Trump's CPAC Speech," yahoo.com, February 24, 2017
DNC rigged primary against Bernie Sanders
35.
11/2/2017

"Donna Brazile just stated the DNC RIGGED the system to illegally steal the Primary from Bernie Sanders. Bought and paid for by Crooked H…."

-Donald Trump, Twitter.com, November 2, 2017 8:39 pm
DNC rigged primary against Bernie Sanders
36.
9/6/2018

"I beat Hillary, who stole it from Bernie. Bernie should have won [the primary], but that's OK. They stole it. Superdelegates. How do you like superdelegates? But she's got superdelegates that were handed to her. Bernie should be angry. Why isn't he angry? Crazy Bernie. He is so crazy."

-Donald Trump, "Remarks at a 'Make America Great Again' rally at Billings, Montana," presidency.ucsb.edu, September 6, 2018
DNC rigged primary against Bernie Sanders
37.
10/2/2018

"Bernie Sanders, crazy Bernie. It's amazing that he wasn't more angry that the election got stolen from him, right? I don't get it. You know, he's always like complaining, complaining… But he never complained about the fact that crooked Hillary cheated him out of the election. It's amazing."

-Donald Trump, "Speech: Donald Trump Holds a Political Rally in Southaven, Mississippi – October 2, 2018," factba.se, October 2, 2018
Hillary Clinton cheated Bernie Sanders out of the Democratic nomination
38.
10/18/2018

"It's a whole — hey, look, there's a lot of rigged things going on in this country, you know about that. There are a lot of rigged things going on. Just ask Bernie Sanders. You think things are rigged, Bernie? Do you think things are rigged, Bernie? You could ask me, too. I could tell you about rigging, I'll tell you what."

-Donald Trump, "Speech: Donald Trump Holds a Political Rally in Missoula, Montana – October 18, 2018," factba.se, October 18, 2018
DNC rigged primary against Bernie Sanders
2016 Presidential Election: Donald Trump (Rep.) defeated Hillary Clinton (Dem.)
A.
Trump's Quotes about Rigged/Stolen Elections
B.
Fraud Claim
39.
7/12/2016

"And the Rasmussen Poll just came out and we're leading nationally. But we have a long way to go and we're dealing with a dishonest [electoral] system. We're dealing with a crooked system. We're dealing with a rigged system. So we got a long way to go folks. And we don't want anybody to take it away from us."

-Donald Trump, "Speech: Donald Trump in Westfield, IN – July 12, 2016," factba.se, July 12, 2016
The electoral system is dishonest, crooked, and rigged
40.
7/25/2016

"So let me just tell you, if you can, get your friends, get everything you have to do on November 8, please get out to vote. It's going to be tough, going to be tough. Because it's a stacked deck. It's a rigged [electoral] system against all of us. The reason I won [the Republican primary] is because we had such an outpouring of love. I mean, the numbers were so big they couldn't do anything about it."

-Donald Trump, "Speech: Donald Trump in Roanoke, VA – July 25, 2016," factba.se, July 25, 2016
The electoral system is stacked and rigged
41.
8/10/2016

"Make sure they don't lose your ballot. Make sure they don't lose your vote, which I'm sure — you know, and I just left a great place, North Carolina. And they just had a tremendous loss — voter ID, voter ID. They lost voter ID. How do you lose voter ID? You mean, you don't have to show identification? You don't have to show that, hey?

And then you say — you know, I've been talking about the rigged system for a long time. And I get hammered in the press for talking about it. Oh, I can't believe he'd be talking about the rigged system. And then in the meantime, voter ID, you don't have to do. And I'm sure none of those folks would be voting 10 times during one day, right?"

-Donald Trump, "Speech: Donald Trump Addresses a Rally in Abingdon, VA – August 10, 2016," factba.se, August 10, 2016
The system is rigged; without voter ID people could vote ten times
42.
10/14/2016

"The process is rigged. This whole election is being rigged. These lies, spread by the media, without witnesses, without backup or anything else… Somebody makes an accusation that you did something, and you weren't — you never saw this person before.

It's a lie, total lie, it's fabrication. Sometimes they do it for fame, maybe they get money, who knows? The Clinton campaign is pushing it… [T]he whole thing is one big fix, it's one big fix."

-Donald Trump, "Speech: Donald Trump in Greensboro, NC – October 14, 2016," factba.se, October 14, 2016
The whole election is being rigged; the media spread lies to hurt Trump
43.
10/15/2016

"Instead of being held accountable, Hillary is running for President in what looks like a rigged election. The election is being rigged by corrupt media, pushing false allegations and outright lies, in an effort to elect her President."

-Donald Trump, "Remarks at Toyota of Portsmouth in Portsmouth, New Hampshire," presidency.ucsb.edu, October 15, 2016
The election is rigged by a corrupt media that publishes lies
44.
10/15/2016

"This election is being rigged by the media pushing false and unsubstantiated charges, and outright lies, in order to elect Crooked Hillary!"

-Donald Trump, Twitter.com, October 15, 2016 7:45 am
The election is rigged by the media pushing false and unsubstantiated charges
45.
10/15/2016

"Hillary Clinton should have been prosecuted and should be in jail. Instead she is running for president in what looks like a rigged election"

-Donald Trump, Twitter.com, October 15, 2016 8:23 am
The election is rigged
46.
10/15/2016

"Nothing ever happened with any of these women. Totally made up nonsense to steal the election. Nobody has more respect for women than me!"

-Donald Trump, Twitter.com, October 15, 2016 2:29 pm
False accusations made against Trump to steal the election from him
47.
10/16/2016

"Election is being rigged by the media, in a coordinated effort with the Clinton campaign, by putting stories that never happened into news!"

-Donald Trump, Twitter.com, October 16, 2016 8:31 am
The election is being rigged by the media
48.
10/16/2016

"The election is absolutely being rigged by the dishonest and distorted media pushing Crooked Hillary – but also at many polling places – SAD"

-Donald Trump, Twitter.com, October 16, 2016 1:01 pm
The election is being rigged by the media in favor of Hillary Clinton
49.
10/17/2016

"They even want to try to rig the election at the polling booths. And believe me, there's a lot going on. Do you ever hear these people? They say there's nothing going on. People that have died 10 years ago are still voting. Illegal immigrants are voting. I mean, where are the street smarts of some of these politicians?… So many cities are corrupt, and voter fraud is very, very common."

-Donald Trump, "Remarks: Donald Trump at the KI Convention Center in Green Bay WI – October 17 2016," factba.se, July 12, 2016
Dead people and illegal immigrants cast votes; voter fraud is very common
50.
10/17/2016

"Yet more evidence of a media-rigged election"

-Donald Trump, Twitter.com, October 17, 2016 6:46 pm
The election is being rigged by the media
51.
10/17/2016

"Of course there is large scale voter fraud happening on and before election day. Why do Republican leaders deny what is going on? So naive!"

-Donald Trump, Twitter.com, October 17, 2016 8:33 am
There is large-scale voter fraud in the election
52.
10/18/2016

"The moment is going to be November 8. It's very simple. And we will. We've just begun to fight. They even want to try and rig the election at the polling booths where so many cities are corrupt and voter fraud is all too common. And then, they say, 'Oh, there's no voter fraud in our country. There's no voter fraud.' No, no there's no voter fraud.

Take a look at Saint Louis, take a look at Philadelphia, take a look at Chicago. And then I have even the Republicans saying, 'Oh, this is so wonderful.' Look. Look. If nothing else, people are going to be watching on November 8. Watch Philadelphia, watch St. Louis, watch Chicago, watch Chicago, watch so many other places."

-Donald Trump, "Speech: Donald Trump Delivers a Campaign Speech in Grand Junction, CO – October 18, 2016," factba.se, October 18, 2016
People opposed to Trump want to rig the election at the polling booths; voter fraud is all too common
53.
10/18/2016

"Now, there's a voter fraud also with the media because they so poisoned the minds of people by writing false stories… I believe, actually, they are more crooked than crooked Hillary. I really do. That's a lot."

-Donald Trump, "Speech: Donald Trump Delivers a Campaign Speech in Grand Junction, CO – October 18, 2016," factba.se, October 18, 2016
Media committing voter fraud with false stories
54.
10/18/2016

"You've got dead people voting. How did that happen? I don't know. And then I listened to all of these politicians saying the system is wonderful. Got to fix the system. The system is also rigged by the donors giving hundreds of millions of dollars to Hillary Clinton's campaign."

-Donald Trump, "Speech: Donald Trump Delivers a Campaign Speech in Grand Junction, CO – October 18, 2016," factba.se, October 18, 2016
Dead people voting; system rigged by Clinton donors
55.
10/19/2016

"Excuse me, Chris [Wallace], if you look at your voter rolls, you will see millions of people that are registered to vote, millions. This isn't coming from me, this is coming from Pew Report in other places, millions of people that are registered to vote that shouldn't be registered to vote."

-Donald Trump, "Donald Trump vs. Hillary Clinton 3rd Presidential Debate Transcript 2016," rev.com, October 19, 2016
Millions of people are registered to vote that shouldn't be registered to vote
56.
10/19/2016

"I talk about the corrupt media. I talk about the millions of people. Tell you one other thing. She [Hillary Clinton] shouldn't be allowed to run. She's guilty of a very, very serious crime. She should not be allowed to run. And just in that respect, I say it's [the election] rigged."

-Donald Trump, "Donald Trump vs. Hillary Clinton 3rd Presidential Debate Transcript 2016," rev.com, October 19, 2016
The election is rigged because Hillary Clinton should not be allowed to run due to crimes she committed
57.
10/21/2016

"I've been saying for a long time it's a rigged system. It's totally — it's just terrible, what's going on. And then the politicians play right along with it. I mean, you have 1.8 million people who are dead who are registered to vote, and some of them absolutely vote. Now, you know, tell me how they do that. There's only one way. But you have 2.5 million people or so that are registered in two states. That means they're voting twice."

-Donald Trump, "Speech: Donald Trump in Newtown, PA – October 21, 2016," factba.se, October 21, 2016
The system is rigged; 1.8 million dead people are registered to vote; 2.5 million vote twice in different states
58.
10/21/2016

"It's the most rigged system I've ever seen. And I've been talking about it for a long time. And it was rigged against Bernie Sanders and it's rigged even more against me."

-Donald Trump, "Speech: Donald Trump in Newtown, PA – October 21, 2016," factba.se, October 21, 2016
The system is rigged against Trump
59.
10/22/2016

"The system is totally rigged and broken. First, the issue of voter fraud. According to Pew, there are 24 million voter registrations in the United States that are either invalid or significantly inaccurate. And when I say that there are such inaccuracies, it's unbelievable.

1.8 million dead people are registered to vote and some of them are voting. I wonder how that happens.

2.8 million people are registered in more than one state is a number, folks. These are numbers.

Fourteen percent of non-citizens are registered to vote."

-Donald Trump, "Remarks on Proposals for the First 100 Days in Office at the Eisenhower Complex in Gettysburg, Pennsylvania," presidency.ucsb.edu, October 22, 2016
System is rigged and broken; 24 million invalid or inaccurate voter registrations; 1.8 million dead people are registered; 2.8 million people registered in multiple states; 14% of non-citizens are registered
60.
10/22/2016

"There is the issue of voter fraud. Is it amazing the way they say, 'There's no voter fraud.' Folks, it's a rigged system and it's a rigged election. Believe me. According to the highly respected Pew, there are 24 million voter registrations in the United States that are either invalid or significantly inaccurate.

A lot, right? Twenty four million, a lot. There are 1.8 million dead people that are registered right now to vote. And folks, folks, some of them vote. I wonder why? I wonder how that happened. They woke up from the dead and they went and voted. There are 2.8 million people that are registered in more than one state…

14% of non-citizens are registered to vote. The system is also rigged by the media…

It's all rigged but on November 8th, we're going to show them and we're going to beat the system. And we will end the corruption in Washington."

-Donald Trump, "Speech: Donald Trump in Cleveland, OH – October 22, 2016," factba.se, October 22, 2016
The system and the election are rigged; 24 million voter registrations are invalid or inaccurate; 1.8 million dead people are registered; 2.8 million people registered in more than one state; 14% of non-citizens are registered
61.
10/29/2016

"And one of the reasons I've been saying that the system is so corrupt and is so rigged, is not only what happens at the voters' booth — and you know things happen, folks. I watched Obama the other day saying, but this is a foundation of the system. How can he say it? And yet, eight years ago he's on a clip talking about Chicago and essentially how the voting is rigged in Chicago."

-Donald Trump, "Speech: Donald Trump at the Phoenix Convention Center – October 29, 2016," factba.se, October 29, 2016
The system is corrupt and rigged; even Obama said voting is rigged in Chicago
62.
11/2/2016

"Now Bernie Sanders should be angry, right? Shouldn't he be angry? I'll tell you what for? The system is rigged. The system is rigged. I've been saying it for all — it's rigged and we're going to straighten out but the system is rigged. Hillary is not the victim. The American people are the victims of this system."

-Donald Trump, "Speech: Donald Trump Delivers a Campaign Speech in Orlando – November 2, 2016," factba.se, November 2, 2016
The system is rigged
63.
11/5/2016

"So important, if you haven't mailed in your ballot, don't do that. Bring it, bring it! Take it to the drop box in your county. Don't put it in the mail.

I know everybody says how honest everything is with our political system, but we all know better. Go in person to your local polling center and drop it in and make sure you get it dropped in. Otherwise, they'll say, 'Geez, got there 14 minutes late' and they won't count it…

Please don't put it in the mail. Don't put it in the mail. You put it in the mail, we end up losing."

-Donald Trump, "Speech: Donald Trump in Denver, CO – November 5, 2016," factba.se, November 5, 2016
Mail-in ballots cannot be trusted to arrive on time
64.
11/27/2016

"In addition to winning the Electoral College in a landslide, I won the popular vote if you deduct the millions of people who voted illegally"

-Donald Trump, Twitter.com, November 27, 2016 3:30 pm
Millions of people voted illegally in 2016
65.
11/27/2016

"Serious voter fraud in Virginia, New Hampshire and California – so why isn't the media reporting on this? Serious bias – big problem!"

-Donald Trump, Twitter.com, November 27, 2016 7:31 pm
There is serious voter fraud in Virginia, New Hampshire and California
66.
1/25/2017

"What's going on with voter fraud is horrible … if you look at voter registration, you look at the dead people that are registered to vote who vote, you look at people that are registered in two states, you look at all of these different things that are happening with registration, you take a look at those registration for — you're going to find — and we're going to do an investigation on it…

You have people that are registered who are dead, who are illegals, who are in two states. You have people registered in two states. They're registered in a New York and a New Jersey. They vote twice. There are millions of [illegal] votes, in my opinion."

-Donald Trump, "Interview: David Muir of ABC News Interviews Donald Trump – January 25, 2017," factba.se, January 25, 2017
Dead people and illegal immigrants are registered to vote; people are registered in two states; there are millions of illegal votes
67.
1/25/2017

"I will be asking for a major investigation into VOTER FRAUD, including those registered to vote in two states, those who are illegal and…. even, those registered to vote who are dead (and many for a long time). Depending on results, we will strengthen up voting procedures!"

-Donald Trump, Twitter.com, January 25, 2017 7:10 am
People are registered to vote in two states; illegal immigrants and dead people are registered
68.
2/5/2017

"Many people have come out and said I am right…When you look at the registration, and you see dead people that have voted, that are on many, many dead people are on that have voted, when you see people that are registered in two states that voted in two states, when you see other things, when you see illegals, people that are not citizens, and they are on the registration rolls. See? What they do is they load up the registration rolls. There is a lot of bad things happening."

-Donald Trump, "Watch Now: Bill O'Reilly's exclusive Super Bowl interview with President Donald J. Trump," Facebook.com, February 2, 2017
Many votes have come from people who are dead; people are registered in two states; non-citizens are registered
69.
3/23/2017

"Well now if you take a look at the votes, when I say that, I mean mostly they register wrong, in other words, for the votes, they register incorrectly, and/or illegally. And they then vote. You have tremendous numbers of people. In fact I'm forming a committee on it."

Reporter: "But there's no evidence that 3 million people voted with–"

"We'll see after the committee. I have people say it was more than that. We will see after we have. But there will be, we are forming a committee. And we are going to do a study on it, a very serious problem."

-Donald Trump, "Read President Trump's Interview With TIME on Truth and Falsehoods," time.com, March 23, 2017
People register to vote incorrectly or illegally, then they vote
70.
7/1/2017

"Numerous states are refusing to give information to the very distinguished VOTER FRAUD PANEL. What are they trying to hide?"

-Donald Trump, Twitter.com, July 1, 2017 9:07 am
People register to vote incorrectly or illegally, then they vote
States that refuse to provide information on voter fraud raise questions about what they are trying to hide
71.
1/4/2018

"Many mostly Democrat States refused to hand over data from the 2016 Election to the Commission On Voter Fraud. They fought hard that the Commission not see their records or methods because they know that many people are voting illegally. System is rigged, must go to Voter I.D."

-Donald Trump, Twitter.com, January 4, 2018 6:02 am
Democrat states refuse to hand over election data because they know people are voting illegally; the system is rigged
72.
11/14/2018

"If you look at what happened in New Hampshire, where thousands of people came up and voted from a very liberal part of Massachusetts, and they came up in buses and they voted. I said, 'What's going on over here?' My people said, 'You won New Hampshire easily, except they have tremendous numbers of buses coming up.' They're pouring up by the hundreds, buses of people getting out, voting. Then they're supposed to go back within 90 days. And of the people that are supposed to go back, almost none of them do. In other words, they go back after the vote is over. They go back — and I think it's like 3 percent — I mean, almost nobody goes back to show that, you know, that they were allowed to vote."

-Donald Trump via Saager Enjeti and Benny Johnson, "EXCLUSIVE: President Trump Calls For Brenda Snipes To Be Fired," dailycaller.com, November 14, 2018
Thousands of people from a liberal area in Massachusetts came to New Hampshire on buses to vote
73.
1/27/2019

"58,000 non-citizens voted in Texas, with 95,000 non-citizens registered to vote. These numbers are just the tip of the iceberg. All over the country, especially in California, voter fraud is rampant. Must be stopped. Strong voter ID!"

-Donald Trump, Twitter.com, January 27, 2018 8:22 am
58,000 non-citizens voted in Texas, with 95,000 non-citizens registered to vote; voter fraud is rampant in California
74.
2/22/2019

"I condemn any election fraud. And when I look at what's happened in California with the votes, when I look at what happened—as you know, there was just a case where they found a million fraudulent votes [in the 2016 election]."

-Donald Trump, "Remarks in a Meeting With Vice Premier Liu He of China and an Exchange With Reporters," presidency.ucsb.edu, February 22, 2019
There were a million fraudulent votes in California in the 2016 election
75.
3/17/2019

"What the Democrats have done in trying to steal a Presidential Election, first at the 'ballot box' and then, after that failed, with the 'Insurance Policy,' is the biggest Scandal in the history of our Country!"

-Donald Trump, Twitter.com, March 17, 2019 7:16 pm
Democrats tried to steal the presidential election
76.
6/21/2019

Chuck Todd: You didn't like the fact that you lost the popular vote [in 2016]. That bothered you, didn't it?

"Well, I think it was a — I mean, I'll say something that, again, is controversial. There were a lot of votes cast that I don't believe. I look at California… Take a look at Judicial Watch, take a look at their settlement where California admitted to a million votes. They admitted to a million votes…

Judicial Watch made a settlement. There was, there was much… there was much illegal voting [in the 2016 election]."

-Donald Trump via Chuck Todd, "President Trump's full, unedited interview with Meet the Press," nbcnews.com, June 21, 2019
There were a million fraudulent votes in California in the 2016 election
77.
8/13/2019

"New Hampshire should have been won last time [in 2016], except we had a lot of people come in at the last moment, which was a rather strange situation. Thousands and thousands of people coming in from locations unknown. But I knew where their location was."

-Donald Trump via Paul Steinhauser, Again claiming voter fraud, Trump won't concede defeat in New Hampshire," concordmonitor.com, August 13, 2019
Trump lost New Hampshire in 2016 because people came from other states to vote against him
78.
8/15/2019

"I think you have voter fraud all over the country. If you look at California if you look at so many other states, in California, they settled — they had a million people [voting illegally in 2016] that they found through Judicial Watch, and plenty of other places too. So, we have to stop voter fraud. Voter fraud is a big problem in this country."

-Donald Trump, "Interview: Adam Sexton of WMUR-TV Manchester, NH Interviews Donald Trump – August 15, 2019," factba.se, August 15, 2019
There is voter fraud all over the country; a million people voted illegally in California in the 2016 election
79.
8/18/2019

"Judicial Watch made a settlement with California, I guess, or Los Angeles, where they found over a million names that was very problematic—a problem. And you just take a look at that settlement; that's a lot of names. You had people that were well over 100 years old that were voting, but we know they're not around any longer.

So you have a lot of voter fraud…

The problem the Commission [on voter fraud] had is, we had to have a vast amount of lawyers, which I didn't want to bother with, because California and other States were giving up no information whatsoever. And the reason they weren't giving up information is because they were guilty. They were guilty of it. And they know they're guilty of it. Many, many people voted that shouldn't have been voting. Some people voted many times."

-Donald Trump, "Remarks and an Exchange With Reporters in Morristown, New Jersey," govinfo.gov, August 18, 2019
Many people voted in 2016 that should not have voted; some people voted many times
80.
10/10/2019

"We believe only American citizens should vote in American elections, and that's not what's happening. You go out to California, you see what's happening out there? It's a disgrace. The voter abuse, it's a disgrace what's happening in California."

-Donald Trump, "Speech: Donald Trump Holds a Political Rally in Lake Charles, Louisiana – October 10, 2019," factba.se, October 10, 2019
Non-citizens are voting in American elections, especially in California
81.
2/9/2020

"Remember last time we won the [New Hampshire] primary tremendously? We should've won the [2016] election, but they had buses being shipped up from Massachusetts, hundreds and hundreds of buses. And it was very, very close, even though they did."

-Donald Trump, "Speech: Donald Trump Holds a Political Rally in Manchester, New Hampshire – February 10, 2020," factba.se, February 9, 2020
Trump lost New Hampshire in 2016 because people came from other states to vote against him
82.
9/1/2020

"I think I did win the [2016] popular vote in a true sense. I think there was tremendous cheating in California, there was tremendous cheating in New York and other places."

-Donald Trump, "Interview: Laura Ingraham Interviews Donald Trump on Fox's Ingraham Angle – Part 2 – September 1, 2020," factba.se, September 1, 2020
There was tremendous cheating in California, New York, and elsewhere in the 2016 election, taking votes away from Trump
83.
5/14/2020

"You look at California. Look at Los Angeles, where Judicial Watch settled a case where they agreed that a million votes [in 2016] were fraudulent. A million votes in one area were fraudulent. And they could have done a lot more, but it was almost — it was so ridiculous, there was no reason to go any further. They came to a settlement. They agreed on a million votes."

-Donald Trump, "Interview: Maria Bartiromo Interviews Donald Trump on Fox Business – May 14, 2020," factba.se, May 14, 2020
There were a million fraudulent votes in California in the 2016 election
2018 Midterm Election
A.
Trump's Quotes about Rigged/Stolen Elections
B.
Fraud Claim
84.
11/9/2018

"You mean they are just now finding votes in Florida and Georgia – but the Election was on Tuesday? Let's blame the Russians and demand an immediate apology from President Putin!"

-Donald Trump, Twitter.com, November 9, 2018 10:58 am
Votes were found in Florida and Georgia three days after the election
85.
11/9/2018

"As soon as Democrats sent their best Election stealing lawyer, Marc Elias, to Broward County they miraculously started finding Democrat votes. Don't worry, Florida – I am sending much better lawyers to expose the FRAUD!"

-Donald Trump, Twitter.com, November 9, 2018 11:52 am
Democrats tried to steal Broward county by "miraculously" finding votes for Democrats
86.
11/9/2018

"Rick Scott was up by 50,000+ votes on Election Day, now they 'found' many [mail-in ballot] votes and he is only up 15,000 votes. 'The Broward Effect.' How come they never find Republican votes?"

-Donald Trump, Twitter.com, November 9, 2018 12:36 pm
Mail-in votes only helped Democrats
87.
11/9/2018

"Thank you @marcorubio for helping to expose the potential corruption going on with respect to Election Theft in Broward and Palm Beach Counties. The WORLD is now watching closely!"

-Donald Trump, Twitter.com, November 9, 2018 1:39 pm
There is corruption and election theft in two Florida counties
88.
11/9/2018

"Just out — in Arizona, SIGNATURES DON'T MATCH. Electoral corruption – Call for a new Election? We must protect our Democracy!"

-Donald Trump, Twitter.com, November 9, 2018 3:33 pm
In Arizona, mail-in ballot signatures don't match; there is electoral corruption
89.
11/10/2018

"Trying to STEAL two big elections in Florida! We are watching closely!"

-Donald Trump, Twitter.com, November 10, 2018 2:09 pm
Democrats are trying to steal two elections in Florida
90.
11/12/2018

"The Florida Election should be called in favor of Rick Scott and Ron DeSantis in that large numbers of new ballots showed up out of nowhere, and many [mail-in] ballots are missing or forged. An honest vote count is no longer possible-ballots massively infected. Must go with Election Night!"

-Donald Trump, Twitter.com, November 12, 2018 7:44 am
Many mail-in ballots showed up out of nowhere, and many are missing or forged
91.
11/14/2018

"This is a problem in California that's so bad of illegals voting. This is a California problem and if you notice, almost every race — I was watching today — out of like 11 races [in the 2018 midterm election] that are in question they're gonna win all of them."

-Donald Trump via Saager Enjeti and Benny Johnson, "EXCLUSIVE: President Trump Calls For Brenda Snipes To Be Fired," dailycaller.com, November 14, 2018
Many illegal voters in California
92.
11/14/2018

"The Republicans don't win and that's because of potentially illegal votes, which is what I've been saying for a long time. I have no doubt about it. And I've seen it, I've had friends talk about it when people get in line that have absolutely no right to vote and they go around in circles. Sometimes they go to their car, put on a different hat, put on a different shirt, come in and vote again. Nobody takes anything. It's really a disgrace what's going on."

-Donald Trump via Saager Enjeti and Benny Johnson, "EXCLUSIVE: President Trump Calls For Brenda Snipes To Be Fired," dailycaller.com, November 14, 2018
Republicans are hurt by illegal votes; people change their appearance to vote multiple times
2020 Local/State Elections:
-CA-25 special election (3/3/2020)
-Paterson, New Jersey, City Council (5/12/2020)
-New York 12th Congressional District Democratic Primary (6/23/2020)
A.
Trump's Quotes about Rigged/Stolen Elections
B.
Fraud Claim
93.
5/9/2020

"So in California, the Democrats, who fought like crazy to get all mail in only ballots, and succeeded, have just opened a voting booth in the most Democrat area in the State. They are trying to steal another election. It's all rigged out there. These votes must not count. SCAM!"

-Donald Trump, Twitter.com, May 9, 2020 11:45 am
Democrats in California are trying to steal the election by opening a voting booth in a Democratic area; the election is rigged
94.
5/9/2020

"CA25 is a Rigged Election. Trying to steal it from @MikeGarcia2020. @GavinNewsom must act now!"

-Donald Trump, Twitter.com, May 9, 2020 12:17 pm
California's CA-25 special election is rigged; Democrats are trying to steal it from the Republican candidate
95.
5/9/2020

"Governor @GavinNewsom of California won't let restaurants, beaches and stores open, but he installs a voting both system in a highly Democrat area (supposed to be mail in ballots only) because our great candidate, @MikeGarcia2020, is winning by a lot. CA25 Rigged Election!"

-Donald Trump, Twitter.com, May 9, 2020 3:14 pm
CA-25 special election is rigged
96.
5/11/2020

"Dems are trying to steal the Mike Garcia Congressional Race in California. Republicans, get out and VOTE for your terrific candidate, ASAP!"

-Donald Trump, Twitter.com, May 11, 2020 9:52 am
Democrats are trying to steal the CA-25 special election
97.
6/28/2020

"Absentee Ballots are fine. A person has to go through a process to get and use them. Mail-In Voting, on the other hand, will lead to the most corrupt Election in USA history. Bad things happen with Mail-Ins. Just look at Special Election in Patterson, N.J. 19% of Ballots a FRAUD!"

-Donald Trump, Twitter.com, June 28, 2020 10:30 pm
Mail-in voting will lead to the most corrupt election in US history
98.
7/14/2020

"I'm very worried about mail-in voting because I think it's subject to tremendous fraud and being rigged. Do you see that Paterson, New Jersey, where I believe it was 20% of the vote was fraudulent? It was all sorts of things happened. I understand a mailman was recently indicted someplace for playing games with the mail-in ballots. You'll have tremendous fraud if you do these mail-in ballots…

But if you take a look at all of the unbelievable fraud that's been involved with mail-in voting over the last even short period of a while, but look at Paterson, New Jersey. It was a massive error and a massive miscalculation and there was incredible fraud."

-Donald Trump, "Donald Trump Rose Garden Press Conference Transcript July 14," rev.com, July 14, 2020
Mail-in voting is subject to tremendous fraud and being rigged; 20% of the vote in a New Jersey election was fraudulent
99.
7/14/2020

"Paterson, New Jersey, just had an election and 20% of the [mail-in] ballots were a fraud and people are going to jail."

-Donald Trump, "Interview: Katie Pavlich of Townhall Interviews Donald Trump at The White House – July 14, 2020," factba.se, July 14, 2020
In a New Jersey election, 20% of mail-in ballots were fraudulent
100.
7/29/2020

"New York Mail-In voting is in a disastrous state of condition. Votes from many weeks ago are missing – a total mess. They have no idea what is going on. Rigged Election. I told you so. Same thing would happen, but on massive scale, with USA. Fake News refuses to report!"

-Donald Trump, Twitter.com, July 29, 2020 6:28 pm
In new York, mail-in ballots went missing; the election was rigged
101.
8/4/2020

"If you look in New York, they have a real problem. They had a congressional race and it took place about seven weeks ago and they have no idea what's going on. The [mail-in] votes are lost. I don't know, there is fraud. There's something going on. But it's a very bad situation. If you look at Paterson, New Jersey, they had a race and it was very corrupt. I think they said about 20 percent of the ballots are not appropriate…

But just take a look at what's happened in New York, Carolyn Maloney. It's a mess. Take a look at Paterson, take a look at many other places. It's a mess. And it's going to be a very big embarrassment for our country."

-Donald Trump, "Interview: Katie Pavlich of Townhall Interviews Donald Trump at The White House – July 14, 2020," factba.se, July 14, 2020
Mail-in ballots for a congressional race in New York were lost; a New Jersey election was corrupt
102.
8/7/2020

"And they don't like these [mail-in] ballots, these ballots are rigged. You saw what happened with Carolyn Maloney, they declared her a winner and they don't even have the votes. They don't even know what the votes are."

-Donald Trump, "Interview: Geraldo Rivera Interviews Donald Trump on Geraldo in Cleveland – August 6, 2020," factba.se, August 7, 2020
Mail-in ballots are rigged
103.
8/13/2020

"Well, if you look at New York [congressional district primary election], it was fraudulent. If you look at Patterson, New Jersey [city council election], it was fraudulent. Of course there is. The whole thing is a mess. In fact, Carolyn Maloney's opponent, he's gone crazed. He said they took the election away from him, and he may be right. I think they should redo that election."

-Donald Trump, "Donald Trump Coronavirus Task Force Press Conference Transcript August 13," rev.com, August 13, 2020
Elections in New York and New Jersey were fraudulent
104.
8/15/2020

"I mean, they called the election in New York for Carolyn Maloney. They shouldn't have done that. I think you should redo that election. And, you know, the opponent is screaming. They can't believe it. [Mail-in] ballots are lost. Ballots are defrauded. It's a total mess…

The ballots are lost. There's fraud. There's theft. It's happening all over the place."

-Donald Trump, "The President's News Conference in Bedminster, New Jersey," presidency.ucsb.edu, August 15, 2020
Mail-in ballots were lost, stolen, and fraudulent for a New York election; fraud and theft happen all over the place
105.
8/17/2020

"Take a look at what happened in New York. Disaster. Paterson, New Jersey, disaster. Virginia, disaster. It's a disaster what's going on. They can't count the ballots. They don't know where the [mail-in] ballots are being sent…

Look at Carolyn Maloney, the horrible thing that took place in New York just now. They still don't know what — and they're declaring her a winner and they have no idea where the ballots are, where the votes are. They should do that election over. But Paterson, New Jersey, take a look at what's going on… In Paterson, it's 20 percent of the vote is tainted. 20 percent – They use the word fraud is the more accurate term but it's a terrible thing that's going on."

-Donald Trump, "Interview: Donald Trump Calls In to Fox and Friends for an Interview – August 17, 2020," factba.se, August 17, 2020
Mail-in ballots were lost in a New York election; in a New Jersey election, 20% of the vote is tainted
106.
8/20/2020

"In New Jersey, 20% of the [mail-in] ballots were defective, fraudulent, 20%. And that's because they did a good job. Okay?"

-Donald Trump, "Donald Trump Speech Transcript August 20: In Joe Biden's Hometown," rev.com, August 20, 2020
In a New Jersey election, 20% of the mail-in ballots were defective and fraudulent
107.
8/20/2020

"You had Carolyn Maloney, a congresswoman who's not a very good one, on the East Side of Manhattan. I mean, that thing was so messed up for weeks and weeks, and they just declared her a winner, but they have no idea where the votes are, where the [mail-in] ballots are. It's gone…

It's a disgrace, that election. But that was mail-in votes. Now that's one small election. That was for a congressional seat in New York. What about — you know, when you're sending them all over the country."

-Donald Trump, "Interview: Sean Hannity Interviews Donald Trump Live Via Telephone – August 20, 2020," factba.se, August 20, 2020
Mail-in ballots were lost in a New York election
108.
8/21/2020
"I don't like this mail-in ballot deal. They're going to send out 51 million mail-in ballots to people that haven't requested them. Well, where are they going? Look at what happened in New York with Carolyn Maloney, a small race. And they declared her the winner. They don't even have the ballots. It's so mixed up, so fraudulent. And the only reason they declared her a winner is because—I was right up—I said, 'Wait, what's going on?' Six weeks and they couldn't count the votes. That's one little race."

-Donald Trump, "Remarks at a Meeting of the Council for National Policy in Arlington, Virginia," presidency.ucsb.edu, August 21, 2020
Mail-in ballots were lost in a fraudulent New York election; they couldn't count votes in a small local election so how could they in the national election?
109.
8/24/2020

"Take a look at New York, take a look at Virginia, take a look at New Jersey, all different cases. They just had one last night. Now they're thinking about recalling certain elections that took place with mail-in, and these are small elections that are locally based that are easy to run, not millions, but thousands of ballots, thousands, hundreds of ballots. But these are small, and they can't control it.

They said 23% of the ballots were defective. What does defective mean? It means fraud."

-Donald Trump, "Donald Trump 2020 RNC Speech Transcript August 24," rev.com, August 24, 2020
Small elections with mail-in ballots could not be controlled; 23% of the ballots were defective, which means fraud
110.
8/24/2020

"Well, if you look at the — just take a look at the numbers, take a look at New York, Carolyn Maloney. It was a disaster. They mailed out ballots and it was a disaster. They don't know what they're going to do. They're — so many of them are bad. Look at Patterson, New Jersey. I think 21% of the ballots are no good. They have no idea how to count them."

-Donald Trump, "Interview: Tim Boyum of Spectrum News 1 Raleigh Interviews Donald Trump – August 24, 2020," factba.se, August 24, 2020
Elections in New York and New Jersey were a disaster with mail-in ballots; 21% of ballots were no good
111.
9/1/2020

"[T]here's tremendous cheating going to go on. As sure as you're sitting there, and all you have to do is look at the recent races that happened.

You look at New York, Carolyn Maloney, they gave her a victory, they don't even know where the [mail-in] ballots are. You look at — you take a look at what's happening in New Jersey, you take a look at what's happened in Virginia, you take a look at what's happening all over, these are small little races that are easy. They can't find the ballots. The ballots are a fraud. Now we're sending 80 million ballots out."

-Donald Trump, "Interview: Laura Ingraham Interviews Donald Trump on Fox's Ingraham Angle – Part 2 – September 1, 2020," factba.se, September 1, 2020
Tremendous cheating is going to go on in the election; small little races had trouble with mail-in ballots
112.
9/3/2020

"Now there have been many races over the last year where they've done this [used mail-in ballots], and they've been a disaster. You look at New York; they had a congressional race, not a very good congresswoman, very untalented, I know her well, I lived in New York.

She's not got much going. They have no idea what the vote is, I think 20 percent of the ballots were missing, and then they declared her the winner and the other guy is saying what about me? He's not too happy, her opponent. You look at what happened in Paterson, New Jersey… I think they're going to do it over because it was just ripe with fraud, theft. People were selling ballots."

-Donald Trump, "Speech: Donald Trump Delivers Campaign Remarks in Latrobe, Pennsylvania – September 3, 2020," factba.se, September 3, 2020
Small elections with mail-in ballots have been a disaster; ballots were subject to fraud and theft; people sold ballots
113.
9/4/2020

"Look at what happened with Carolyn Maloney and all this other — in a little district, a congressional district, a very easy one, with very few votes cast, very few. Some people don't vote too much. They have no idea where the [mail-in] ballots are. It's all gone. Now, you're talking about 80 million ballots [for the general election]? You may never have an answer to the [2020] election."

-Donald Trump, "READ: Salena Zito interview with President Trump," washingtonexaminer.com, September 4, 2020
Even in a small election, they could not keep track of the mail-in ballots
114.
9/9/2020

"And when you have small races, like a congressional race in New York, with two people, where the [mail-in] ballots are a mess and— Yes, the ballots are missing, they are gone. There has been fraud. There has been deceit and deception. And this is just a small congressional race— Carolyn Maloney, a small congressional race. And then you look at New Jersey, what happened in Paterson, what happened in Virginia, what happened in a most every place."

-Donald Trump, "Interview: Sean Hannity Interviews Donald Trump Live Via Telephone – September 9, 2020," factba.se, September 9, 2020
In small races, ballots went missing and were subject to fraud
115.
9/12/2020

"Tiny amounts, a congressional race in New York, a small number of votes. If you go to New Jersey, if you go to Virginia, if you go to Pennsylvania, if you go to California, look at some of these races, every one of these races was a fraud, missing [mail-in] ballots. And I don't mean like 1%. I mean like 20%, 25%, they're trying to rig the election."

-Donald Trump, "Donald Trump Minden, Nevada Rally Speech Transcript September 12," rev.com, September 12, 2020
Mail-in ballots were fraudulent or went missing as people tried to rig the elections
116.
9/16/2020

"Our biggest threat to this election is governors from opposing parties controlling [mail-in] ballots, millions of ballots. To me, that's a much bigger threat than foreign countries, because much of the stuff coming out about foreign countries turned out to be untrue.

What is true is that many elections have taken place over the last year and a half, using this [mail-in] ballot system. They've been off by 5 percent, 10 percent, 15 percent; I think I read one at 40 percent — 40 percent. And these are small, easy-to-control elections.

This whole ballot system where you can send it in, and it's not even requested — we're not talking about it solicited; they're unsolicited ballots, and they're sent in — is very dangerous for our country. And you know who knows that better than anybody? The Democrats. Look at what happened in Manhattan, where they had this kind of an election, and it was so fraudulent that it should never have been allowed to be called."

-Donald Trump, "Remarks by President Trump in Press Briefing," justfacts.votesmart.org, September 16, 2020
Governors from opposing parties controlling millions of mail-in ballots are a big threat; elections with vote-by-mail have been off by between 5 and 40%
117.
9/17/2020

"They just had another election today, fellas, where it's a disaster. The votes come in. They have no idea, they can't count, and I don't mean they're off by a little bit, they're up by 20%, 25%. There's fraud, there's missing [mail-in] ballots.

They have a woman in New York who is a terrible Congresswoman. You know that. Carolyn Maloney, they gave her an election, that they can't even find the ballots and they gave her a victory."

-Donald Trump, "Speech: Donald Trump Holds a Campaign Rally in Mosinee, Wisconsin – September 17, 2020," factba.se, September 17, 2020
Mail-in ballots are subject to fraud and going missing; the count is off by 20 or 25%
118.
9/18/2020

"Now, just this week, they had another one—another one of the disasters that took place—an election. But look at what happened in New Jersey. And they had another one in New Jersey—very, very bad—different than Paterson. Look at what happened in New York with… Carolyn Maloney. Look at that. I mean, look at that race. Carolyn Maloney had a race; it was a disaster. [Mail-in] Ballots are missing; ballots are fraud."

-Donald Trump, "The President's News Conference," presidency.ucsb.edu, September 18, 2020
Mail-in ballots in local elections have been fraudulent and gone missing
119.
9/20/2020

"Even these little elections are all screwed up. You look at Carolyn Maloney in New York, a small congressional vote, and they're way off, way off. They have no idea what they're doing. They should have never declared her a winner because the other guy could've won very easily.

They had so many missing [mail-in] ballots and fraudulent ballots. So I think that's the route they're going. They're gonna try and mess it [the presidential election] up."

-Donald Trump, "Interview: Dan Bongino of The Dan Bongino Show Interviews Donald Trump – September 20, 2020," factba.se, September 20, 2020
There are so many missing and fraudulent mail-in ballots
120.
9/25/2020

"Take a look at what happened in New York in a small Congressional race, Carolyn Maloney. She should have lost the race, in my opinion. They gave it to her because it was a crooked deal. The guy — the guy that she ran against was having fits. He said, what are you doing? What are you doing? Everything was mixed up, the [mail-in] ballots were lost, there was fraud, there was everything.

Go into Paterson, New Jersey. These are just recently, it's a disaster waiting to happen, and the only one that knows it better than we do are the Democrats. They know this is going to happen. They want it to happen."

-Donald Trump, "Speech: Donald Trump Holds a Campaign Rally in Newport News, Virginia – September 25, 2020," factba.se, September 25, 2020
Mail-in ballots are lost, used for fraud; the Democrats want the election to be a disaster
121.
9/27/2020

"We are gravely concerned about the Democrat assault on election integrity. In Brooklyn, 25 percent of mail-in ballots were ruled invalid in June's Democrat primary. You saw that. In a special election in New Jersey, 20 percent of the ballots were thrown out, and four people are now being prosecuted for fraud. This is all in the mail-ballots."

-Donald Trump, "The President's News Conference," govinfo.gov, September 27, 2020
Gravely concerned about Democratic Party assault on election integrity; 25% of mail-in ballots in Brooklyn were ruled invalid; 20% of ballots in a New Jersey election were thrown out
122.
9/29/2020

"Take a look at what happened in Manhattan. Take a look at what happened in New Jersey. Take a look at what happened in Virginia and other places. They're not losing 2%, 1% [of the mail-in ballots], which by the way is too much. An election could be won or lost with that. They're losing 30 and 40%. It's a fraud, and it's a shame."

-Donald Trump, "Donald Trump & Joe Biden 1st Presidential Debate Transcript 2020," rev.com, September 29, 2020
In New York, New Jersey, and Virginia, 30-40% of mail-in ballots are lost due to fraud
123.
10/1/2020

"And if you look at Carolyn Maloney, what they did to that guy that ran against her, it's a disgrace. That's in New York. And that's only for a congressional race. They have no idea where the votes are, where the [mail-in] ballots are. This is going to be all over. This is in Virginia. This is in New Jersey. It's a very, very sad thing."

-Donald Trump, "Interview: Sean Hannity Interviews Donald Trump Live Via Telephone – October 1, 2020," factba.se, October 1, 2020
In local elections, the mail-in ballots are lost
124.
10/11/2020

"As far as the [mail-in] ballots are concerned, what I did — I have been telling you this for a year-and-a-half, because I have been watching local elections, like I have watched the Carolyn Maloney disaster in New York, a small congressional election.

They have no idea where the ballots are. It was fraud. They're missing."

-Donald Trump, "President Trump: White House doctors said I can't spread the virus anymore," foxnews.com, October 11, 2020
In a New York election, ballots were lost due to fraud
2020 Democratic Presidential Primary: Joe Biden won the Dem. nomination
A.
Trump's Quotes about Rigged/Stolen Elections
B.
Fraud Claim
125.
1/17/2020

"They are rigging the [primary] election again against Bernie Sanders, just like last time, only even more obviously."

-Donald Trump, Twitter.com, January 7, 2020 10:35 am
The Democratic primary is rigged against Bernie Sanders
126.
1/22/2020

"They are taking the nomination away from Bernie for a second time. Rigged!"

-Donald Trump, Twitter.com, January 7, 2020 8:26 am
The Democratic primary is rigged against Bernie Sanders
127.
2/2/2020

"You look at Bernie. I call him crazy Bernie. They're now sort of rigging the election against him again. I see what's going on. They're rigging it against him."

-Donald Trump, "Interview: Sean Hannity Interviews Donald Trump at Mar-a-Lago – Part 1 – February 2, 2020," factba.se, February 2, 2020
The Democratic primary is rigged against Bernie Sanders
128.
2/2/2020

"Many of the ads you are watching were paid for by Mini Mike Bloomberg. He is going nowhere, just wasting his money, but he is getting the DNC to rig the election against Crazy Bernie, something they wouldn't do for @CoryBooker and others. They are doing it to Bernie again, 2016"

-Donald Trump, Twitter.com, February 2, 2020 12:17 am
Mike Bloomberg is getting the DNC to rig the primary against Bernie Sanders
129.
2/14/2020

"It is happening again to Crazy Bernie, just like last time, only far more obvious. They are taking the Democrat Nomination away from him, and there's very little he can do. A Rigged System!"

-Donald Trump, Twitter.com, February 14, 2020 10:33 am
The Democratic primary is rigged against Bernie Sanders
130.
2/21/2020

"MSDNC (Comcast Slime), @CNN and others of the Fake Media, have now added Crazy Bernie to the list of Russian Sympathizers, along with @TulsiGabbard & Jill Stein (of the Green Party), both agents of Russia, they say. But now they report President Putin wants Bernie (or me) to win. The reason for this is that the Do Nothing Democrats, using disinformation Hoax number 7, don't want Bernie Sanders to get the Democrat Nomination, and they figure this would be very bad for his chances. It's all rigged, again, against Crazy Bernie Sanders!"

-Donald Trump, Twitter.com, February 21, 2020 10:43 pm
The Democratic primary is rigged against Bernie Sanders
131.
2/23/2020

"I think it was a great win for Bernie Sanders. We'll see how it all turns out. They've got a lot of winning to do. I hope they treat him fairly. Frankly, I don't care who I run against. I just hope they treat him fairly. I hope it's not going to be a rigged deal because there's a lot of bad things going on. And I hope it's not going to be one of those."

-Donald Trump, "Press Gaggle: Donald Trump Speaks to the Press Before Marine One Departure – February 23, 2020," factba.se, February 23, 2020
There are a lot of bad things going on in the Democratic primary, which could be a rigged deal
132.
3/2/2020

"I think it's [the primary election] rigged against Bernie, but maybe he'll pull it through. It was rigged against me four years ago, and I pulled it through. I think it's rigged against Bernie… There's no question about it."

-Donald Trump, "Remarks by President Trump Before Marine One Departure," justfacts.votesmart.org, March 2, 2020
The Democratic primary is rigged against Bernie Sanders
133.
3/2/2020

"No matter which Democrat candidate you're talking about, and you understand that. Anyone of these candidates, and you see what's happening, right? They're all now — it's being rigged against — it's sad, it's being rigged against crazy Bernie."

-Donald Trump, "Speech: Donald Trump Holds a Political Rally in Charlotte, North Carolina – March 2, 2020," factba.se, March 2, 2020
The Democratic primary is rigged against Bernie Sanders
134.
9/26/2020

"Go back and look at the Iowa primary, Democrat primary. They still don't know who won. I mean, you look at it, it was a disaster, using this [mail-in ballot] system. And I don't think they know who won yet. Many ballots were missing. There was fraud. There was—look, we can't do this. And that was a relatively small number of people. We can't do this to our country."

-Donald Trump, "Remarks and an Exchange With Reporters Prior to Departure for Middletown, Pennsylvania," govinfo.gov, September 26, 2020
The Democratic primary in Iowa was a disaster because of missing and fraudulent mail-in ballots
2020 Presidential Election: Joe Biden (Dem.) defeated Donald Trump (Rep.)
A.
Trump's Quotes about Rigged/Stolen Elections
B.
Fraud Claim
135.
12/17/2019

"As you know very well, this impeachment drive has nothing to do with Ukraine, or the totally appropriate conversation I had with its new president. It only has to do with your attempt to undo the election of 2016 and steal the election of 2020!"

-Donald Trump, "Letter: Donald Trump Writes Letter to Nancy Pelosi in Regard to Impeachment – December 17, 2019," factba.se, December 17, 2019
The impeachment of Trump was an attempt to steal the election
136.
4/3/2020

"I think a lot of people cheat with mail-in voting. I think people should vote with ID — voter ID. I think voter ID is very important. And the reason they don't want voter ID is because they intend to cheat…

It shouldn't be mail-in voting. It should be: You go to a booth and you proudly display yourself. You don't send it in the mail where people pick up — all sorts of bad things can happen by the time they signed that, if they sign that — if they signed that by the time it gets in and is tabulated."

-Donald Trump, "Remarks by President Trump, Vice President Pence, and Members of the Coronavirus Task Force in Press Briefing," trumpwhitehouse.archives.gov, April 3, 2020
People cheat with mail-in voting
137.
4/7/2020

"Now, mail ballots — they cheat. Okay? People cheat. Mail ballots are a very dangerous thing for this country, because they're cheaters. They go and collect them. They're fraudulent in many cases. You got to vote. And they should have voter ID, by the way. If you want to really do it right, you have voter ID."

-Donald Trump, "Remarks at a White House Coronavirus Task Force Press Briefing," presidency.ucsb.edu, April 7, 2020
People cheat with mail-in ballots; mail-in ballots are fraudulent in many cases
138.
4/8/2020

"Absentee Ballots are a great way to vote for the many senior citizens, military, and others who can't get to the polls on Election Day. These ballots are very different from 100% Mail-In Voting, which is 'RIPE for FRAUD,' and shouldn't be allowed!"

-Donald Trump, Twitter.com, April 8, 2020 7:34 pm
Mail-in ballots are ripe for fraud and shouldn't be allowed
139.
4/8/2020

"Republicans should fight very hard when it comes to state wide mail-in voting. Democrats are clamoring for it. Tremendous potential for voter fraud, and for whatever reason, doesn't work out well for Republicans. @foxandfriends"

-Donald Trump, Twitter.com, April 8, 2020 8:20 am
Mail-in ballots have a tremendous potential for voter fraud
140.
4/8/2020

"I think there's a lot of evidence [of voter fraud], but we'll provide you with some, okay? And there's evidence that's being compiled just like it's being compiled in the state of California, where they settled with Judicial Watch, saying that a million people should not have been voting in — you saw that…

I'm telling you, in California, in the great state of California, they settled, and we could've gone a lot further. Judicial Watch settled where they agreed that a million people should not have voted, where they were 115 years old and lots of things, and people were voting in their place."

-Donald Trump, "Press Conference: Donald Trump Holds the Daily Coronavirus Pandemic Briefing – April 8, 2020," factba.se, April 8, 2020
There's a lot of evidence of voter fraud; in California, one million people voted who should not have
141.
4/8/2020

"But if you're a senior citizen and if you're somebody that needs it [an absentee ballot], I'm all for it. But they have to be very careful, because you know the things with bundling and all of the things that are happening with votes by mail where thousands of votes are gathered. And I'm not going to say which party does it, but thousands of votes are gathered and they come in and they're dumped in a location, and then, all of a sudden, you lose elections if you think you're going to win."

-Donald Trump, "Press Conference: Donald Trump Holds the Daily Coronavirus Pandemic Briefing – April 8, 2020," factba.se, April 8, 2020
Thousands of mail-in ballots are gathered and dumped in a location, changing the outcome of the election
142.
4/8/2020

"Well, we're going to find out about the proof [of voter fraud], because you're going to see what's going on. And I'm not going to stand for it. Our voting system — first of all, we should have voter ID. When you vote, you should have voter ID. And if you send something in, you should be sure — as a state and as a country, you should be sure that that vote is meaningful and it's not just made fraudulently, because there's a lot of fraudulent voting going on in this country. This country should have voter ID."

-Donald Trump, "Press Conference: Donald Trump Holds the Daily Coronavirus Pandemic Briefing – April 8, 2020," factba.se, April 8, 2020
There is a lot of fraudulent voting going on in the United States
143.
4/11/2020

"Mail in ballots substantially increases the risk of crime and VOTER FRAUD!"

-Donald Trump, Twitter.com, April 11, 2020 8:29 pm
Mail-in ballots substantially increase the risk of crime and voter fraud
144.
4/14/2020

"GET RID OF BALLOT HARVESTING, IT IS RAMPANT WITH FRAUD. THE USA MUST HAVE VOTER I.D., THE ONLY WAY TO GET AN HONEST COUNT!"

-Donald Trump, Twitter.com, April 14, 2020 10:24 am
Mail-in ballot harvesting is rampant with fraud; cannot have an honest count without voter ID
145.
4/30/2020

"We can't let the Fake News, and their partner, the Radical Left, Do Nothing Democrats, get away with stealing the Election. They tried that in 2016. How did that work out?"

-Donald Trump, Twitter.com, April 30, 2020 10:09 am
The media and the Democrats are trying to steal the election
146.
5/13/2020

"They [Democrats in Congress] want to be able to make sure that Republicans can't win an election by putting in all sorts of mail-in ballots…

So the problem with the mail-in ballots: It's subject to tremendous corruption. Tremendous corruption, cheating."

-Donald Trump, "Remarks by President Trump in a Meeting with Governor Polis of Colorado and Governor Burgum of North Dakota," justfacts.votesmart.org, May 13, 2020
Democrats want to take the election from Republicans by allowing mail-in ballots, which are subject to tremendous corruption and cheating
147.
5/14/2020

"Voting by mail is very dangerous because people can grab them. People can take that proxy, sign a name. They can — they can do all sorts of things, especially harvesting. They go out and they say just — let's put them all together."

-Donald Trump, "Interview: Maria Bartiromo Interviews Donald Trump on Fox Business – May 14, 2020," factba.se, May 14, 2020
Voting by mail is dangerous because people can take the ballots, sign people's names, and harvest the ballots
148.
5/14/2020

"The level of dishonesty with Democrat voting is unbelievable. If you told a Republican to vote twice, they'd get sick at even the thought of it. And you have people that vote numerous times."

-Donald Trump, "Interview: Maria Bartiromo Interviews Donald Trump on Fox Business – May 14, 2020," factba.se, May 14, 2020
There are people that vote numerous times, namely Democrats
149.
5/20/2020

"Michigan sends absentee ballot applications to 7.7 million people ahead of Primaries and the General Election. This was done illegally and without authorization by a rogue Secretary of State. I will ask to hold up funding to Michigan if they want to go down this Voter Fraud path!"

-Donald Trump, Twitter.com, May 20, 2020 2:13 pm
Michigan illegally sent absentee ballot applications to 7.7 million people
150.
5/20/2020

"State of Nevada 'thinks' that they can send out illegal vote by mail ballots, creating a great Voter Fraud scenario for the State and the U.S. They can't! If they do, 'I think' I can hold up funds to the State. Sorry, but you must not cheat in elections. @RussVought45 @USTreasury"

-Donald Trump, Twitter.com, May 20, 2020 9:11 am
Nevada sent out illegal vote-by-mail ballots, creating voter fraud to cheat in the election
151.
5/20/2020

"I think if we're talking about the mail-in ballots — if people mail in ballots, there's a lot illegality. They send in ballots that — they harvest ballots. You know all about harvesting. And they do lots of bad things. Ideally, people go out and they vote…

But when you send out 7.7 million mail-in ballots, there's forgeries, there's, frankly, duplication where they print ballots on the same kind of paper with the same kind of machinery and you can't tell the difference. And they send in thousands and thousands of fake ballots."

-Donald Trump, "Remarks by President Trump in a Meeting with Governor Hutchinson of Arkansas and Governor Kelly of Kansas May 20," presidency.ucsb.edu, May 20, 2020
Mail-in ballots have a lot of illegality; mail-in ballots are subject to forgeries and duplication with thousands of fake ballots
152.
5/21/2020

"Yes, we're not going to go to voting by mail. Voting by mail is wrought with fraud and abuse, and people don't get their ballots that happen to be in a certain district, whether it's Republican or Democrat…

But when they send—in the case of case of Nevada, where they want to send out thousands and thousands of ballots, and then they're going to send them back, who knows who signed the ballot…

It's—obviously, there's going to be fraud. We're not babies. There's tremendous fraud. You have all of the harvesting. You have all of the things. They walk in at the end of a race—we had a lot of them in California—they walk in, Ben, at the end of a race, and they dump thousand—you think the race is over, you think somebody won, and then, all of a sudden, out of the blue come thousands of votes at the very end. 'Oh, what happened?' 'Harvesting.' Wonderful thing: harvesting.

They just happened to find thousands of ballots just at the end. So somebody that thought he or she was going to win the race, all of a sudden, gets clipped. We can't have that."

-Donald Trump, "Remarks in a Listening Session With African American Leaders and an Exchange With Reporters in Ypsilanti, Michigan, presidency.ucsb.edu, May 21, 2020
Voting by mail is wrought with fraud and abuse; ballot harvesting leads to ballot dumps that change the election outcome
153.
5/21/2020

"We don't want them to do mail-in ballots because it's going to lead to total election fraud. So we don't want them to do mail-in ballots. We don't want anyone to do mail-in ballots."

-Donald Trump, "Remarks and an Exchange With Reporters Prior to Departure for Ypsilanti, Michigan," govinfo.gov, May 21, 2020
Mail-in ballots lead to total election fraud
154.
5/24/2020

"The United States cannot have all Mail In Ballots. It will be the greatest Rigged Election in history. People grab them from mailboxes, print thousands of forgeries and 'force' people to sign. Also, forge names. Some absentee OK, when necessary. Trying to use Covid for this Scam!"

-Donald Trump, Twitter.com, May 24, 2020 10:08 am
An election with all mail-in ballots will be rigged by people taking them from mailboxes, forging ballots, and forging signatures
155.
5/24/2020

"The Democrats are trying to Rig the 2020 Election, plain and simple!"

-Donald Trump, Twitter.com, May 24, 2020 8:38 pm
Democrats are trying to rig the election
156.
5/26/2020

"There is NO WAY (ZERO!) that Mail-In Ballots will be anything less than substantially fraudulent. Mail boxes will be robbed, ballots will be forged & even illegally printed out & fraudulently signed. The Governor of California is sending Ballots to millions of people, anyone…..

….living in the state, no matter who they are or how they got there, will get one. That will be followed up with professionals telling all of these people, many of whom have never even thought of voting before, how, and for whom, to vote. This will be a Rigged Election. No way!"

-Donald Trump, Twitter.com, May 26, 2020 8:17 am
Mail-in ballots are substantially fraudulent; ballots are taken from mailboxes or forged; signatures are forged; this leads to a rigged election
157.
5/26/2020

".@Twitter is now interfering in the 2020 Presidential Election. They are saying my statement on Mail-In Ballots, which will lead to massive corruption and fraud, is incorrect, based on fact-checking by Fake News CNN and the Amazon Washington Post…."

-Donald Trump, Twitter.com, May 26, 2020 7:40 pm
Mail-in ballots will lead to massive corruption and fraud; Twitter is interfering in the election by labeling Trump's statements as incorrect
158.
5/26/2020

"But when you do all mail-in voting, ballots, you're asking for fraud. People steal them out of mailboxes. People print them and then they sign them, and they give them in. The people don't even know where they're double counted. People take them where they force people to vote. They harvest. You know what harvesting is. They take many, many ballots and they put them all together, and then they just dump them, and nobody has any idea whether they're crooked or not."

-Donald Trump, "Remarks on Efforts To Reduce Insulin Costs for Medicare Beneficiaries and an Exchange With Reporters," presidency.ucsb.edu, May 26, 2020
Doing all mail-in ballots is asking for fraud; people steal ballots from mailboxes and forge signatures; ballot harvesting might include crooked ballots
159.
5/26/2020

"But in California, the governor sent, I hear — or is sending — millions of [mail-in] ballots all over the state. Millions. To anybody. To anybody. People that aren't citizens, illegals. Anybody that walks in California is going to get a ballot.

We're not going to destroy this country by allowing things like that to happen. We're not destroying our country. This has more to do with fairness and honesty and, really, our country itself. Because when that starts happening, you don't have a fair — you have a rigged system. You have a rigged system, and that's what would happen."

-Donald Trump, "Remarks on Efforts To Reduce Insulin Costs for Medicare Beneficiaries and an Exchange With Reporters," presidency.ucsb.edu, May 26, 2020
California sent mail-in ballots to millions of people, including non-citizens, which would cause a rigged system
160.
5/26/2020

"You can't do the mail-in ballots because you're going to have tremendous fraud. And remember what I said: They'll be grabbing them from mailboxes. They'll even be printing them. They'll use the same paper, the same machines, and they'll be printing ballots illegally. And they'll be sending them in by the hundreds of thousands, and nobody is going to know the difference. We can't do that. You want to vote? You really have to."

-Donald Trump, "Remarks on Efforts To Reduce Insulin Costs for Medicare Beneficiaries and an Exchange With Reporters," presidency.ucsb.edu, May 26, 2020
Mail-in ballots have tremendous fraud; people grab ballots from mailboxes; people illegally print fake ballots and send in hundreds of thousands of them
161.
5/27/2020

"Republicans feel that Social Media Platforms totally silence conservatives voices. We will strongly regulate, or close them down, before we can ever allow this to happen. We saw what they attempted to do, and failed, in 2016. We can't let a more sophisticated version of that….

….happen again. Just like we can't let large scale Mail-In Ballots take root in our Country. It would be a free for all on cheating, forgery and the theft of Ballots. Whoever cheated the most would win. Likewise, Social Media. Clean up your act, NOW!!!!"

-Donald Trump, Twitter.com, May 27, 2020 7:11 am
Mail-in ballots are a free for all of cheating, forgery, and theft of ballots
162.
5/27/2020

"Big Tech is doing everything in their very considerable power to CENSOR in advance of the 2020 Election. If that happens, we no longer have our freedom. I will never let it happen! They tried hard in 2016, and lost. Now they are going absolutely CRAZY. Stay Tuned!!!"

-Donald Trump, Twitter.com, May 27, 2020 9:36 pm
Big Tech uses censorship to impact the election
163.
5/28/2020

"So ridiculous to see Twitter trying to make the case that Mail-In Ballots are not subject to FRAUD. How stupid, there are examples, & cases, all over the place. Our election process will become badly tainted & a laughingstock all over the World."

-Donald Trump, Twitter.com, May 28, 2020 12:44 pm
Mail-in ballots are subject to fraud and make our election process tainted and a laughingstock around the world
164.
5/28/2020

"MAIL-IN VOTING WILL LEAD TO MASSIVE FRAUD AND ABUSE. IT WILL ALSO LEAD TO THE END OF OUR GREAT REPUBLICAN PARTY. WE CAN NEVER LET THIS TRAGEDY BEFALL OUR NATION. BIG MAIL-IN VICTORY IN TEXAS COURT TODAY. CONGRATS!!!"

-Donald Trump, Twitter.com, May 28, 2020 9:00 pm
Mail-in ballots lead to massive fraud and abuse, and will end the Republican party
165.
5/29/2020

"If we went to mail-in balloting, our election all over the world would look as a total joke. It would be a total joke. There's such fraud and abuse. And you know about harvesting, where they harvest the ballots, and they go and grab them, and they go to people's houses, and then they say, 'sign here.' No. Doesn't work…

There's ballot harvesting where all of us — you know, we had seven elections for Congress, and they were, like, tied. And they lost every one of them because they came and they dropped the whole pile of ballots on the table…

But they raid the mailboxes. They can even print ballots. They get the same paper, the same machine — nothing special — they get the same paper, the same machine. They print ballots… But you have tremendous potential and you have tremendous fraud and abuse, but you have tremendous potential for fraud and abuse."

-Donald Trump, "Remarks by President Trump Announcing an Executive Order on Preventing Online Censorship," justfacts.votesmart.org, May 29, 2020
Mail-in ballots make our election look like a joke because of the fraud, abuse, and ballot harvesting
166.
6/15/2020

"Newsom announced that he's sending out millions and millions of mail-in ballots. And you know where you, you say, who are they sending these to? And maybe who aren't. Let's say you take a Republican district and maybe those ballots don't get sent there.

OK. This is the craziest thing. This is — this will be a rigged election. If they're allowed to do it, we're like crazy… But the chance of theft, where they steal them, they hold up mailmen, they take them out of mailboxes, they print them fraudulently…

We have to stop that and we have to stop illegal voting."

-Donald Trump, "Interview: Michael Savage Interviews Donald Trump on The Savage Nation Radio Show – June 15, 2020," factba.se, June 15, 2020
We don't know if ballots are being sent to Republicans; this will be a rigged election; mail-in ballots have a chance of theft; people can print fraudulent ballots
167.
6/22/2020

"No, I don't like mail-in ballots… I can tell you this… An example, an example, all over the country you have thousands of cases. A friend of mine gets a ballot, his son, unfortunately, passed away seven years ago. He gets a ballot for his son to vote. That's one case, but there are thousands and thousands of cases. The other thing is with mail-in ballots, people can forge them. Foreign countries can print them. They get the same paper, the same press…

They put them in mailboxes, people take them, they take them from the mailman and they print them. They fraudulently print them. It's a very bad system. It's going to lead to a tremendous fraud and we're trying to stop it. Mail-in ballots are a disaster."

-Donald Trump, "Interview: Joe St. George of Scripps Television Interviews Donald Trump – June 22, 2020," factba.se, June 22, 2020
Mail-in ballots can be sent to dead people and they can be forged by foreign countries; people take ballots out of mailboxes, leading to tremendous fraud
168.
6/22/2020

"I think it's going to be the greatest fraud ever. I think it's going to be, uh, a rigged election if they do that, if they're allowed to do it [send mail-in ballots]… Mail-in ballots, you're going to have foreign countries, you talk about foreign countries, they're going to be printing their own ballots. It will be a rigged election if they do that…

If we go to mail-in ballots, they're going to take them out of the mailboxes. They're going to take them from postmen. They're going to print them fraudulently and foreign countries are going to print them… You take a look, we had seven races in California at the end, house races. Everybody was close. And then in the end we lost, they dumped a whole pile of ballots on tables…

People are seeing what's happening, but mail-in ballots will lead to the greatest rigged election and the greatest fraud in the history of our country, potentially."

-Donald Trump, "Interview: Raymond Arroyo Interviews Donald Trump on EWTN's 'World Over' – June 22, 2020," factba.se, June 22, 2020
Mail-in ballots are the greatest fraud ever and lead to a rigged election; foreign countries can print their own ballots
169.
6/22/2020

"Barr: Mail-in Ballots 'Absolutely Opens the Floodgates to Fraud' https://t.co/vd4AD3EPb0 via @BreitbartNews. This will be the Election disaster of our time. Mail-In Ballots will lead to a RIGGED ELECTION!"

-Donald Trump, Twitter.com, June 22, 2020 7:10 am
Mail-in ballots will be an election disaster and lead to a rigged election
170.
6/22/2020

"RIGGED 2020 ELECTION: MILLIONS OF MAIL-IN BALLOTS WILL BE PRINTED BY FOREIGN COUNTRIES, AND OTHERS. IT WILL BE THE SCANDAL OF OUR TIMES!"

-Donald Trump, Twitter.com, June 22, 2020 7:16 am
Fraudulent mail-in ballots will be printed by foreign countries and others
171.
6/22/2020

"Because of MAIL-IN BALLOTS, 2020 will be the most RIGGED Election in our nations history – unless this stupidity is ended. We voted during World War One & World War Two with no problem, but now they [Democrats] are using Covid in order to cheat by using Mail-Ins!"

-Donald Trump, Twitter.com, June 22, 2020 9:45 am
Mail-in ballots are making it a rigged election; Democrats and using COVID-19 as an excuse for vote-by-mail to cheat in the election
172.
6/22/2020

"If people can go out and protest, riot, break into stores, and create all sorts of havoc, they can also go out and VOTE — and keep our Election Honest. With millions of mail-in ballots being sent out, who knows where they are going, and to whom?"

-Donald Trump, Twitter.com, June 22, 2020 2:10 pm
Mail-in ballots are being sent to millions of people and people don't know where they are going
173.
6/23/2020

"The Democrats are also trying to rig the election by sending out tens of millions of mail in ballots, using the China virus, as the excuse for allowing people not to go to the polls.

No, mail-in ballots is a disaster for our country… They send out millions of ballots. Who's getting them? How are they delivered? Who's not getting them? Think of it. It's going to be fraud all over the place…

A friend of mine, who's a great guy, had a son who passed away seven years ago. Seven years ago. He came to see me the other day. He said, 'They just sent to my son, Robert, a mail-in ballot. He died seven years ago.' There is no way they can control that.

With mail-in ballots, you introduce something in the middle of an election year, and you have something where it's very complex — you have no time to fix this very complex process. It's very complex. This will be in my opinion, the most corrupt election in the history of our country and we cannot let this happen. They want it to happen so badly."

-Donald Trump, "Donald Trump Phoenix, Arizona Speech Transcript – Turning Point USA," rev.com, June 23, 2020
Democrats are rigging the election by using COVID-19 as an excuse to send out millions of mail-in ballots, leading to fraud all over the place
174.
6/25/2020

"You go to foreign countries—you know, they keep talking, 'Oh, Russia and China and this'—especially China, not Russia. Especially China. Are they going to print millions of ballots using the exact same paper, using the exact same machines? And are they going to print ballots and then hand them in? And then, all of a sudden—it's the biggest risk we have: the mail-in ballot, and not so much the absentee ballot. Because an absentee—like, I'm in White House, and I have to vote in Florida, et cetera, et cetera.

You're an absentee; that's okay. But people go through a process for that. You know, they—it's really pretty good. But the mail-in ballots, they mail them to anybody. And they send them out by the millions. I think I read over 30 million ballots are going to be sent out in California. Where are they going? Nobody is standing there watching you vote."

-Donald Trump, "Remarks and a Question-and-Answer Session at a Fox News Town Hall in Green Bay, Wisconsin," presidency.ucsb.edu, June 25, 2020
Concerns over China printing fraudulent ballots to influence the election
175.
7/2/2020

"Mail-In Ballots will lead to massive electoral fraud and a rigged 2020 Election. Look at all of the cases and examples that are out there right now, with the Patterson, N.J., being the most recent example. Republicans, in particular, cannot let this happen!"

-Donald Trump, Twitter.com, July 2, 2020 7:41 pm
Mail-in ballots will lead to massive electoral fraud and a rigged election
176.
7/10/2020

"Mail-In Ballot fraud found in many elections. People are just now seeing how bad, dishonest and slow it is. Election results could be delayed for months. No more big election night answers? 1% not even counted in 2016. Ridiculous! Just a formula for RIGGING an Election….

….Absentee Ballots are fine because you have to go through a precise process to get your voting privilege. Not so with Mail-Ins. Rigged Election!!! 20% fraudulent ballots?"

-Donald Trump, Twitter.com, July 10, 2020 7:51 am
Mail-in ballot fraud is found in many elections, leading to a rigged election
177.
7/14/2020

"You have other elections where they're indicting mailman because the mailman are stealing them and selling them. You have others where they're — even the 2016 [election], 1% are unaccounted for of the mail-in ballots. This [2020] election is going to be a fraud if they do that…

These mail-ins, think of it, some Democrat Governor sends in millions of ballots all over the state, like in California, millions of ballots. Who, who were they sending them to? Nobody has any idea. They're sending them to dogs. They actually have it sent to dogs… we cannot have a fair election if we're going to have millions of ballots."

-Donald Trump, "Interview: Katie Pavlich of Townhall Interviews Donald Trump at The White House – July 14, 2020," factba.se, July 14, 2020
Mail carriers are stealing and selling ballots; ballots are sent to dogs; California is sending millions of ballots and we cannot have a fair election if that happens
178.
7/14/2020

"I'm very worried about mail-in voting because I think it's subject to tremendous fraud and being rigged…

You'll have tremendous fraud if you do these mail-in ballots. Now, absentee ballots are okay, because absentee ballots — you have to get applications. You have to go through a process…

But mail-in voting — where a governor mails millions of ballots to people all over the state — California — millions and millions of ballots, as an example — and then they come back; they don't come back. Who got them? Did you forget to send them to a Republican area or a Democrat area, I guess you could say?"

-Donald Trump, "Press Conference: Donald Trump Announces Executive Order on Hong Kong and China – July 14, 2020," factba.se, July 14, 2020
Mail-in ballots are subject to tremendous fraud and being rigged; California might send them to Democrats but not Republican areas
179.
7/15/2020

"And watch, please, those mail-in ballots. You're going to watch that for me because, you know, they have a lot of problems all over the country. They just had Paterson, New Jersey, where massive percentages of the vote was a fraud. Mail-in ballots. Be careful. Be careful. They would understand, because they deliver. In fact, I'm going to have to be very nice to UPS.

No, it's very bad what's going on with mail-in ballots — okay? — as differentiated from absentee ballots, where you have to go and you go through a process because you can't be there for some reason. But the mail-in ballots is going to be — they're going to be rigged. They're going to be a terrible situation."

-Donald Trump, "Remarks by President Trump on the Rebuilding of America's Infrastructure: Faster, Better, Stronger," justfacts.votesmart.org, July 15, 2020
Mail-in ballots are going to be rigged
180.
7/15/2020

"But the mail-in ballots is going to be — they're going to be rigged. They're going to be a terrible situation. And you have to be careful in Georgia, but you have to be careful everywhere where they're doing it.

You know, we went through a First World War and a Second World War and people went to vote. Now they're saying, 'Let's use this as a chance not to vote.' And there's been tremendous corruption — tremendous corruption — on mail-in ballots. So absentee ballot: Great. Mail-in ballot: Absolutely no good. It makes no sense. A governor sends out millions of ballots all over the place; they don't know where they're going. They're going to wherever."

-Donald Trump, "Remarks by President Trump on the Rebuilding of America's Infrastructure: Faster, Better, Stronger," justfacts.votesmart.org, July 15, 2020
Mail-in ballots are going to be rigged and there has been tremendous corruption with them
181.
7/19/2020

"You have to be careful with the mail-in ballots because it's tremendous crime, corruption. The mail-in ballots are very dangerous."

-Donald Trump, "Remarks: Donald Trump Holds a Virtual North Carolina Tele-Rally – July 19, 2020," factba.se, July 19, 2020
Mail-in ballots are very dangerous and subject to corruption
182.
7/19/2020

"I think mail-in voting is going to rig the election. I really do."

-Donald Trump, "Transcript: 'Fox News Sunday' interview with President Trump," foxnews.com, July 19, 2020
Mail-in voting is going to rig the election
183.
7/21/2020

"Mail-In Voting, unless changed by the courts, will lead to the most CORRUPT ELECTION in our Nation's History! #RIGGEDELECTION"

-Donald Trump, Twitter.com, July 21, 2020 7:41 am
Mail-in voting will lead to the most corrupt, rigged election in the history of our nation
184.
7/26/2020

"The 2020 Election will be totally rigged if Mail-In Voting is allowed to take place, & everyone knows it. So much time is taken talking about foreign influence, but the same people won't even discuss Mail-In election corruption. Look at Patterson, N.J. 20% of vote was corrupted!"

-Donald Trump, Twitter.com, July 26, 2020 4:51 pm
Mail-in voting will lead to a rigged election
185.
7/26/2020

"Rigged Election, and EVERYONE knows it!"

-Donald Trump, Twitter.com, July 26, 2020 9:03 pm
The election is rigged and everyone knows it
186.
7/30/2020

"With Universal Mail-In Voting (not Absentee Voting, which is good), 2020 will be the most INACCURATE & FRAUDULENT Election in history. It will be a great embarrassment to the USA. Delay the Election until people can properly, securely and safely vote???"

-Donald Trump, Twitter.com, July 30, 2020 8:46 am
Universal mail-in voting will lead to the most inaccurate and fraudulent election in history
187.
7/30/2020

"Mail-In Voting is already proving to be a catastrophic disaster. Even testing areas are way off. The Dems talk of foreign influence in voting, but they know that Mail-In Voting is an easy way for foreign countries to enter the race. Even beyond that, there's no accurate count!"

-Donald Trump, Twitter.com, July 30, 2020 8:10 am
Mail-in voting is a catastrophic disaster; mail-in ballots can be faked by foreign countries; there is no accurate count
188.
7/30/2020

"Glad I was able to get the very dishonest LameStream Media to finally start talking about the RISKS to our Democracy from dangerous Universal Mail-In-Voting (not Absentee Voting, which I totally support!)."

-Donald Trump, Twitter.com, July 30, 2020 4:22 pm
Universal mail-in voting is a risk to Democracy
189.
7/30/2020

"You're sending out hundreds of millions of universal, mail-in ballots — hundreds of millions. Where are they going? Who are they being sent to? It's common sense; you don't have to know anything about politics. And the Democrats know this…

In California, they're going to send out tens of millions of voting forms. Well, where are they going to go? You read where postmen are in big trouble now. You read where city councils are in big trouble now. Voter fraud, all over the ballots… Mail-in ballots will lead to the greatest fraud…

I want to have the election. But I also don't want to have to wait for three months and then find out that the ballots are all missing and the election doesn't mean anything. That's what's going to happen…

And, no, do I want to see a date change [for the election]? No. But I don't want to see a crooked election. This election will be the most rigged election in history."

-Donald Trump, "Remarks by President Trump in Press Briefing | July 30, 2020," trumpwhitehouse.archives.gov, July 30, 2020
Mail-in ballots will lead to the greatest fraud; we don't know where all the ballots go when they send out millions
190.
7/31/2020

"Everyone knows mail in ballots are a disaster… They they're going to send hundreds of millions of ballots all over the United States and it's going to come out. You won't know the election result for weeks, months, maybe years after. Maybe you'll never know the election result. And that's what I'm concerned with. It'll be fixed. It'll be rigged…

A universal mail in ballot is a disaster. These governors are going to send out millions of ballots. They don't even know where they're sending them. I already have friends that got ballots for a son who died seven years ago…

This is going to be the greatest election disaster in history. And by the way, you guys like to talk about Russia and China and other places, they'll be able to forge ballots, they'll forge them…

If you do universal mail ins with millions and millions of ballots, you're never going to know what the real result of an election is. It's going to be a very, very sad day for our country."

– Donald Trump, "Donald Trump Meeting With NAPO Law Enforcement Leaders Transcript July 31," rev.com, July 31, 2020
Mail-in ballots are a disaster that will lead to a fixed, rigged election; ballots are sent to dead people; Russian and China can forge ballots
191.
8/3/2020

"You got millions of ballots going, nobody even knows where they're going."

-Donald Trump, "Donald Trump Interview Transcript With Jonathan Swan of Axios on HBO," rev.com, August 3, 2020
With millions of mail-in ballots, nobody knows where they go
192.
8/3/2020

"You look at some of the corruption having to do with universal mail-in voting… There is no way you can go through a mail-in vote without massive cheating."

-Donald Trump, "Donald Trump Interview Transcript With Jonathan Swan of Axios on HBO," rev.com, August 3, 2020
There is corruption and massive cheating with mail-in voting
193.
8/3/2020

"In an illegal late night coup, Nevada's clubhouse Governor made it impossible for Republicans to win the state. Post Office could never handle the Traffic of Mail-In Votes without preparation. Using Covid to steal the state. See you in Court!"

-Donald Trump, Twitter.com, August 3, 2020 7:37 am
Nevada's governor used COVID-10 as an excuse to send out mail-in ballots, but the post office can't handle that volume of mail so Republicans have no chance to win
194.
8/5/2020

"But this mail-in voting where they mail, indiscriminately, millions and millions of ballots to people, you're never going to know who won the election. You can't have that.

And Nevada is a big State. It's an important State. It's a very political State, and the Governor happens to be a Democrat. And I don't believe the Post Office can be set up. They were given no notice. I mean, you're talking about millions of votes. No, it will be a—it's a catastrophe waiting to happen.

Again, all you have to do is look at the vote that took place on a simple congressional district, in an area that should be able to do it very easily, in Manhattan. It's a total—it's a total—what's happened, it's a nightmare. Nobody has ever seen anything like it."

-Donald Trump, "Remarks in a Meeting With Governor Douglas A. Ducey of Arizona and an Exchange With Reporters," presidency.ucsb.edu, August 5, 2020
The Democratic governor of Nevada set up a catastrophe by sending out millions of mail-in ballots without giving the post office any notice
195.
8/5/2020

"Nevada has ZERO infrastructure for Mail-In Voting. It will be a corrupt disaster if not ended by the Courts. It will take months, or years, to figure out. Florida has built a great infrastructure, over years, with two great Republican Governors. Florida, send in your Ballots!"

-Donald Trump, Twitter.com, August 5, 2020 7:08 am
Nevada's mail-in ballot plan is a corrupt disaster
196.
8/7/2020

"The biggest risk that we have is mail-in ballots because with the mail-in ballots — it's called 'universal mail-in ballots' — it's much — it is a much easier thing for a foreign power, whether it's Russia, China, Iran, North Korea, many others, people — countries you wouldn't expect — it's much easier for them to forge ballots and send them in. It's much easier for them to cheat with universal mail-in ballots…

You know, you talk about foreign countries cheating on the election. Well, the Democrats are cheating on the election because that's exactly what they're doing."

-Donald Trump, "Remarks by President Trump in Press Briefing," justfacts.votesmart.org, August 7, 2020
Universal mail-in ballots make it easier for foreign countries to forge our ballot to cheat in the election; Democrats are cheating in the election
197.
8/8/2020

"[Democrats want] measures designed to increase voter fraud, banning voter ID. They want to ban voter ID. We should have voter ID in every state. Every state should have voter ID. You have ID on everything you do, practically. Everybody has ID, except for voters. When you vote, you don't want ID. They don't want it. We have some states with it, it works out great. And if you want to stop fraud in elections, have voter ID. They want measures designed to increase voter fraud, which is banning voter ID in all states, and banning requirements for signature verification in federal elections…

What's that all about? You know what it's about? Fraud. That's what they want. Fraud. They want to try and steal this election. Because frankly it's the only way they can win the election."

-Donald Trump, "Remarks by President Trump in Press Briefing in Bedminster, New Jersey," presidency.ucsb.edu, August 8, 2020
Democrats want to ban voter ID laws because they are trying to steal the election; fraud is the only way Democrats can win the election
198.
8/8/2020

"The bill also requires all states to do universal mail-in balloting — which nobody is — nobody is prepared for — regardless of whether or not they have the infrastructure. They want to steal an election. That's all this is all about: They want to steal the election…

They even want to force states to implement the controversial practice known as 'ballot harvesting' — a very dangerous practice — meaning they would allow Democrat Party operatives to deposit thousands and thousands of completed ballots at the post office without any verification of who filled them out, including a verification of signatures on the ballots. So you're not even going to have a verified signature. Anybody — I could sign it. You could sign it. Anybody in this room could sign it. And that's going to count as a vote. How can you do a thing like this?"

-Donald Trump, "Remarks by President Trump in Press Briefing in Bedminster, New Jersey," presidency.ucsb.edu, August 8, 2020
Democrats are using universal mail-in ballots to steal the election; Democrats use ballot harvesting to deposit thousands of ballots without verification
199.
8/10/2020

"Half a million incorrect absentee ballot applications were sent all across the state of Virginia, including to many dead people. This was an unprecedented mailing flub that's heightened concerns about the integrity of expanding mail-in voting and mail-in voting efforts.

It's a disaster, all over Virginia, half a million votes, so that's something you have to think about. We don't want to have a rigged election. I know that, and you have to be very careful when you mentioned, as you constantly do, Russia, or you mention China, or you mention Iran or others — that attack our election system, and when you have this mail-in voting, it's very susceptible. It's to something that can be easily attacked by foreign countries and by, frankly, Democrats, and by Republicans, and I think that it's something you have to start thinking about very seriously…

I'll tell you who's meddling in our elections. The Democrats are meddling by wanting and insisting on sending mail in ballots where there's corruption all over the place."

-Donald Trump, "Press Conference: Donald Trump Holds a Coronavirus Pandemic Briefing – August 10, 2020," factba.se, August 10, 2020
Mail-in voting makes our election system susceptible to attack by foreign countries, and by Democrats and Republicans; Democrats are meddling in the election with corruption
200.
8/11/2020

"And this whole thing with this mail-in ballot, that's a rigged election waiting to happen. It's rigged, and everyone knows it, because you can't send out 60 million mail-in ballots to everybody in the — who knows who's getting them?

The mailmen are going to get them. And people are going to just grab batches of them. And you talk about China and Russia. They will be grabbing plenty of them. It's a — it's a disaster. It's a rigged election waiting to happen…

But these mail-in ballots, where they send millions of them all over the country, it's going to be a rigged election. And this country shouldn't allow it. The courts have to step in. We are in many different courts right now. If the courts don't step in, the federal courts, you will never know who won the election."

-Donald Trump, "Trump on Kamala Harris: I'm not sure Americans want someone so liberal," foxnews.com, August 11, 2020
Mail-in ballots are a rigged election waiting to happen; people are going to grab the ballots
201.
8/11/2020

"They want to do things that are very unfair with mail-in ballots and they want to make sure that they're covered because it just is going to create a rigged election in my opinion. And it has nothing to do with the coronavirus, if you call it that…

Absentee voting is a secure process… It's the exact opposite of Democrats voter fraud scheme. They want to mail ballots to every eligible voter all over the state. They have no idea where they're going, although they probably do have a pretty good idea when you get right down to it. And they want zero verification, not even a signature. You know what that spells, it spells trouble."

-Donald Trump, "Remarks: Donald Trump Holds a Virtual North Carolina Tele-Rally – August 11, 2020," factba.se, August 11, 2020
Mail-in ballots are going to create a rigged election
202.
8/12/2020

"It's [mail-in voting] going to be the greatest fraud in the history of elections. When you always talk Russia, Russia, Russia, China, Iran on voting, your biggest problem is going to be with the Democrats, not with China, Russia, and Iran.

So, they [Democrats] want $25 billion for the Post Office… And the bill is not going to happen… So, therefore, they don't have the money to do the universal mail-in voting…

They don't have the money to do the universal mail-in votes. It'll be the greatest rigged election in history. It'll be the greatest fraud ever perpetrated, other than perhaps what they did to my campaign, where they spied on my campaign — President Obama, Biden, and everybody else. And they got caught. Let's see what happens. This will be one of the greatest frauds in history."

– Donald Trump, "Donald Trump Coronavirus Task Force Press Conference Transcript August 12," rev.com, Aug. 12, 2020
Mail-in voting is the greatest fraud in the history of elections; Democrats don't have the money to pay for vote-by-mail so it is going to be the greatest rigged election in history and the greatest fraud ever perpetrated
203.
8/13/2020

"Absentee ballots by the way are fine. But the universal mail-ins that are just sent all over the place where people can grab them and grab stacks of them and sign them and do whatever you want, that's the thing we're against…

I said it [the 2020 election] will end up being fraudulent because if you look at what's happened over the last few weeks, just look at the few [election] instances where this has happened, it's turned out to be fraud… And if you look at Virginia, it's terrible. Look at some of the things that have happened in California. Look at California, where they found a million non-eligible voters…

You saw what was happening in Virginia where piles of ballot applications are dropped all over the state. They had them named after dogs. They had them named after dead people…

So everyone talks about Russia, Russia, Russia. They talk about China, China. They talk about all of these different countries that come in and run our elections, which is false. But what they don't talk about are things like very loose mail-in ballots, universal in nature, that frankly, Russia, China, North Korea, Iran, all of these countries that we are reading about, hearing about, and in some cases they're writing about intelligence wise. These countries can grab those ballots or print forgeries of those ballots, and they would go out and they would have a field day…

But what people can never prepare for are millions and millions of mail-in ballots because they can be forged. They can be captured. They can be taken."

– Donald Trump, "Donald Trump Coronavirus Task Force Press Conference Transcript August 13," rev.com, August 13, 2020
The 2020 election will end up being fraudulent because of universal mail-in ballots; they found a million non-eligible voters in California; there were ballot applications for dogs and dead people in Virginia; foreign countries can forge our ballots
204.
8/15/2020

"The Democrats know the 2020 Election will be a fraudulent mess. Will maybe never know who won!"

-Donald Trump, Twitter.com, August 15, 2020 7:46 am
The 2020 election will be a fraudulent mess
205.
8/15/2020

"Universal mail-in voting is going to be catastrophic. It's going to make our country a laughingstock all over the world. You can't send out millions of ballots…

Look at what's happening with this mail-in voting. It's a disgrace. Absentee is good; mail-in, universal, is very, very bad. There's no way they're going to get it accurately. They're off by 20 and 30 percent. And this is beyond Post Office…

And if you look at some of the things they say, like in—take the State of Nevada, take that little scam that's going on over there with the clubhouse politician Governor. Take that, where the votes don't even have to be in until 7—they get counted 7 days after November 3. That means if—Nevada is a very important State. I think we have a great chance of winning that State. If the votes don't have to be in for 7—and they're not counting the votes—7 days later, that means how are they going to predict a winner on November 3?"

-Donald Trump, "The President's News Conference in Bedminster, New Jersey," presidency.ucsb.edu, August 15, 2020
Universal mail-in voting is going to be catastrophic; mail-in voting is off by 20-30%
206.
8/17/2020

"Some states use 'drop boxes' for the collection of Universal Mail-In Ballots. So who is going to 'collect' the Ballots, and what might be done to them prior to tabulation? A Rigged Election? So bad for our Country. Only Absentee Ballots acceptable!"

-Donald Trump, Twitter.com, August 17, 2020 11:40 am
Drop boxes for mail-in ballots leave a chance for ballots to be tampered with prior to being counted
207.
8/17/2020

"But this universal mail-in is a very dangerous thing. It's fraught with fraud and every other thing that can happen, and we have to be very, very careful."

-Donald Trump, "Remarks in an Exchange With Reporters Prior to Departure for Minneapolis, Minnesota," presidency.ucsb.edu, August 17, 2020
Universal mail-in is a very dangerous thing that is fraught with fraud
208.
8/17/2020

"You got to be careful with your ballots. Be careful, your absentee ballots great. Your others [mail-in ballots], you got to be very careful or go to vote. Just go to vote. Go to vote. We have a little problem here. You have a Democrat governor who will do anything to turn things around…

Get out and vote. Do those beautiful absentee ballots or just make sure your vote gets counted. Make sure because the only way we're going to lose this election is if the election is rigged, remember that. It's the only way we're going to lose this election."

-Donald Trump, "Donald Trump Speech Transcript Wisconsin August 17," rev.com, August 17, 2020
Wisconsin's Democratic governor will do anything to turn the election around; the only way Trump loses is if the election is rigged
209.
8/17/2020

"Universal ballots where they drop millions of ballots into a community, into a state, like New Jersey is doing now, it's going to be a disaster. Look at Nevada, what's going on over there, it's going to be a disaster. No signature verification. You can — you can bundle up. You can — they call it harvest. I mean, harvest is — harvesting is illegal in most places, and they're letting you harvest. It's going to be a disaster…

I have to tell you that if you go with this universal mail-in, where you send millions of votes — in California tens of millions of ballots being sent to everybody and their dogs, OK? Dogs are getting them, OK? People that have been dead for 25 years are getting them, you have to see what's happening, then you're never going to have a fair election."

-Donald Trump, "Interview: Donald Trump Calls In to Fox and Friends for an Interview – August 17, 2020," factba.se, August 17, 2020
Universal mail-in ballots are a disaster; there is no signature verification in Nevada; dogs and dead people are getting sent ballots so it is not going to be a fair election
210.
8/18/2020

"You can't have millions and millions of ballots sent all over the place, sent to people that are dead, sent to dogs, cats, sent everywhere. This is a serious situation…

It's disgraceful. We have to have honest voting. That's what this is all about here. It's honest voting. You can't take millions of ballots, send them haphazardly all over the country or all over a state, and expect to come out properly…

Absentee is great, but universal is going to be a disaster the likes of which our country has never seen. It'll end up being a rigged election or they will never come out with an outcome."

– Donald Trump Speech Transcript, "Donald Trump Speech Transcript August 18: 100th Anniversary of Ratification of 19th Amendment," rev.com, August 18, 2020
Mail-in ballots are being sent to dead people and pets; universal mail-in voting is a disaster that will lead to a rigged election
211.
8/20/2020

"The Democrats are demanding Mail-In Ballots because the enthusiasm meter for Slow Joe Biden is the lowest in recorded history, and they are concerned that very few people will turn out to vote. Instead, they will search & find people, then 'harvest' & return Ballots. Not fair!"

-Donald Trump, Twitter.com, August 20, 2020 7:57 pm
Democrats want mail-in ballots so they can harvest ballots and return them unfairly
212.
8/20/2020

"They are sending out 51,000,000 Ballots to people who haven't even requested a Ballot. Many of those people don't even exist. They are trying to STEAL this election. This should not be allowed!"

-Donald Trump, Twitter.com, August 20, 2020 8:15 p
51 million ballots are sent to people who didn't request them and don't exist in an attempt to steal the election
213.
8/20/2020

"Absentee ballots are good. But the stuff where they take millions and millions of ballots and send them all over the place, we'll grab it and we'll just put them in a big pile there. Everyone grab it. It's a disgrace. Even common sense tells you that…

So this is just a way they're [Democrats] trying to steal the [2020] election and everybody knows that. Because the only way they're going to win is by a rigged election. I really believe that."

-Donald Trump, "Donald Trump Speech Transcript August 20: In Joe Biden's Hometown," rev.com, August 20, 2020
Millions of mail-in ballots are sent all over the place and can be grabbed by anyone; Democrats are trying to steal the election because the only way they can win is if it's rigged
214.
8/20/2020

"But they want to send what's called mail-in, universal mail-in ballots. Fifty-one million ballots sent to who knows who? I mean, you know, where are they going? This is going to be the greatest scam in history. This will be the most fraudulent election in history. Fifty-one million ballots being sent to people. Many of them will have been dead. Many of them will get more than one…

It's a horrible thing. It's a fraudulent election. Everybody knows it… They're [Democrats] trying to steal the election."

-Donald Trump, "Interview: Sean Hannity Interviews Donald Trump Live Via Telephone – August 20, 2020," factba.se, August 20, 2020
Universal mail-in ballots are the greatest scam and this will be the most fraudulent election in history; many people will get more than one ballot; the election is fraudulent and Democrats are trying to steal it
215.
8/21/2020

"And you have 51 million—51 million votes—think of it: They're going to send out 51 million [mail-in ballots]. It could be higher than that. Fifty-one million votes—no signature verification on many of them. In Nevada, no signature verification. In New Jersey, no signature verification.

In New Jersey, the Governor passed it and didn't even have the legislature approve it. He did it with an executive order, which is interesting…

So if it's them, let's say, that are doing it—and it's mostly Democrat States that want it and the Democrat Governors—they're going to send them to certain areas, I guess. Right? I guess. So people are going to be getting them and say: 'Oh, all right. That's fine.' And they'll send it back.

In some of them, harvesting is allowed—that's where you harvest them all together. In Nevada, harvesting is allowed. So they'll go all over the world, and they'll get people to sign them. 'Hey, you used to be here.' They go all over the world to get—and they'll harvest them, and they'll drop thousands of them on a table, just before the election."

-Donald Trump, "Remarks at a Meeting of the Council for National Policy in Arlington, Virginia," presidency.ucsb.edu, August 21, 2020
Nevada and New Jersey don't have signature verification on mail-in ballots
216.
8/21/2020

"People are going to get ballots that had no intention of voting; that maybe shouldn't be voting; that maybe aren't—and they say the computers will pick it up. The computers are going to pick up nothing. They're going to pick up nothing. You'll have double voting, where they send in a ballot, and then they'll go and vote. That's going to be a big problem. They'll send in their ballot, and they'll vote too. They'll send in the ballot, and then they'll vote.

What are the chances that some States so efficiently run—'Oh, gee, you can't vote. We just got your ballot last night at 7 o'clock.' I mean, think of how ridiculous it is, right? Common sense.

I say this for the media: This will be the greatest catastrophe—one of the greatest catastrophes in the history of our country."

-Donald Trump, "Remarks at a Meeting of the Council for National Policy in Arlington, Virginia," presidency.ucsb.edu, August 21, 2020
Mail-in ballots lead to double voting
217.
8/22/2020

"Representatives of the Post Office have repeatedly stated that they DO NOT NEED MONEY, and will not make changes. This is all another HOAX by the Democrats to give 25 Billion unneeded dollars for political purposes, without talking about the Universal Mail-In Ballot Scam….

….that they are trying to pull off in violation of everything that our Country stands for. Vote NO to the Pelosi/ Schumer money wasting HOAX which is taking place now. Then fight the $51 million unasked for Ballots. Only ABSENTEE BALLOTS are acceptable!"

-Donald Trump, Twitter.com, August 22, 2020 4:51 pm
Mail-in ballots are a scam
218.
8/23/2020

"So now the Democrats are using Mail Drop Boxes, which are a voter security disaster. Among other things, they make it possible for a person to vote multiple times. Also, who controls them, are they placed in Republican or Democrat areas? They are not Covid sanitized. A big fraud!"

-Donald Trump, Twitter.com, August 23, 2020 7:25 am
Mail-in ballot drop boxes are a voter security disaster that make it possible to vote multiple times
219.
8/23/2020

"The greatest Election Fraud in our history is about to happen. This may top the Democrats illegally spying on my campaign!"

-Donald Trump, Twitter.com, August 23, 2020 9:23 pm
The greatest election fraud in our history is about to happen
220.
8/24/2020

"All the Radical Left Democrats are trying to do with the Post Office hearings is blame the Republicans for the FRAUD that will occur because of the 51 Million Ballots that are being sent to people who have not even requested them. They are setting the table for a BIG MESS!"

-Donald Trump, Twitter.com, August 24, 2020 11:45 am
51 million ballots being sent to people is going to lead to fraud
221.
8/24/2020

"[T]hey're trying to steal the election from the Republicans… In a very, very nice way, I will tell you they are trying to steal the [2020] election just like they did it last time with spying and we caught them…

And they [Democrats] now want to have it where the signature [on a mail-in ballot] doesn't have to be verified. That's right. The signature doesn't have to be verified. And then they're going to play the game that we're not patriotic. What they're doing is using COVID to steal an election. They're using COVID to defraud the American people, all of our people, of a fair and free election. And we can't do that."

-Donald Trump, "Donald Trump 2020 RNC Speech Transcript August 24," rev.com, August 24, 2020
Democrats are trying to steal the election and they don't want signature verification on mail-in ballots
222.
8/24/2020

"Think of it, they'll [Democrats] be sending them [mail-in ballots], they'll be dumping them in neighborhoods. People are going to be picking them up. They'll be bribing. They'll be paying off people to grab some. This is going to be one of the greatest scams. And it's common sense. This has nothing to do with politics. It's common sense. Anybody, you don't have to know politics, they're going to mail out 80 million ballots. It's impossible. They have no idea.

Who's mailing them? Mostly Democrat states and Democrat governors. Well, supposing they don't mail them to Republican neighborhoods. That means they're not going to get them… In the meantime, you might lose the election. This is the greatest scam in the history of politics, I think, and I'm talking about beyond our nation."

-Donald Trump, "Donald Trump 2020 RNC Speech Transcript August 24," rev.com, August 24, 2020
Democrats are bribing people and grabbing mail-in ballots in a scam; Democrats might not send ballots to Republican neighborhoods
223.
8/24/2020

"This is going to be one of the greatest scams… they're going to mail out 80 million ballots… Who's mailing them? Mostly Democrat states and Democrat governors…

There'll be millions of ballots… But what it means is they're trying to steal the election from the Republicans, that's what it means…

But this is big stuff. This is stealing millions of votes… The only way they can take this election away from us is if this is a rigged election…

I'm just saying we cannot have these live, we call them live, some people call them universal, I like the word live, these live mail-in ballots sent to everybody, including mostly people that never asked for them."

-Donald Trump, "Donald Trump 2020 RNC Speech Transcript August 24," rev.com, August 24, 2020
Democrats sending out mail-in ballots is one of the greatest scams and they're trying to steal the election
224.
8/24/2020

"I'm concerned that it's just not a fair situation, because they're mailing out — forget about absentee, and absentee we like, but forget about absentee, when you look at the fact that they're going to be mailing out 80 million ballots to people that haven't even asked for them, and people are going to get ballots they don't even know — number one, are they the right people?

Is it a Republican area, a Democrat area? Who's getting the ballots? And if you look at five, six, seven different occasions over the last month, it's fraught with — with error and fraud and problems. And now they're talking about 80 million ballots. It's a crazy thing. They are — it's not — It's not going to work out well."

-Donald Trump, "Interview: Tim Boyum of Spectrum News 1 Raleigh Interviews Donald Trump – August 24, 2020," factba.se, August 24, 2020
80 million ballots are sent to people who haven't asked for them and we don't know if they're the right people
225.
8/25/2020

"For our Country to be sending 80 million UNSOLICITED BALLOTS is very unfair and a roadmap to disaster. Even recent small and easier to control elections which did this are a catastrophic disaster. Fraudulent & missing Ballots like never seen before. 20% and 30% off. STOP!"

-Donald Trump, Twitter.com, August 25, 2020 9:49 am
Mail-in ballots are a roadmap to disaster; there are fraudulent and missing ballots; counts off by 20-30%
226.
8/25/2020

"80 Million Unsolicited Ballots are impossible for election centers to tabulate accurately. The Democrats know this better than anyone else. The fraud and abuse will be an embarrassment to our Country. Hopefully the Courts will stop this scam!"

-Donald Trump, Twitter.com, August 25, 2020 7:37 pm
80 million mail-in ballots are impossible for election centers to tabulate accurately; this is fraud and abuse
227.
9/1/2020

"The biggest risk we have, I have to say, is this whole crazy thing where they're sending out 80 million [mail-in] ballots to people that don't even know what a ballot is. They're getting them — they're sending them all over.

Who's sending them? Where are they sending them? They're sending 80 million ballots to everybody and there's tremendous cheating going to go on."

-Donald Trump, "Interview: Laura Ingraham Interviews Donald Trump on Fox's Ingraham Angle – Part 2 – September 1, 2020," factba.se, September 1, 2020
80 million mail-in ballots are being sent out and there's tremendous cheating going on
228.
9/2/2020

"The Unsolicited Ballots Scam is their only hope. Will be the most corrupt election in history, by far!"

-Donald Trump, Twitter.com, September 2, 2020 5:58 am
Unsolicited mail-in ballots are corrupting the election
229.
9/2/2020

"Rigged Election?" [Note: This tweet included a link to an article titled, "WARNING: Democrat Data Firm Admits 'Incredible' Trump Landslide Will Be Flipped By Mail-In Votes Emerging A Week After Election Day."]

-Donald Trump, Twitter.com, September 2, 2020 6:12 am
Rigged election due to mail-in ballots
230.
9/3/2020

"These mail-in ballots are a disgrace, and they know it… You sign it and send it in, and then you have to follow it and if on Election Day or early voting, that is not tabulated and counted, you go vote, and then if for some reason after that, it shouldn't take that long, it comes in, they're not going to be able to tabulate it because you will have voted. But you have to make sure your vote counts because the only way they're going to beat us is by doing that kind of stuff…

We have a big enthusiasm edge, but when they throw these things in your face and the lists are inaccurate, and people are dead and dogs have gotten ballots, they have. Dogs have gotten ballots, and they know I'm right, and everybody knows I'm right and they say I'm right behind the closed doors, and it's a disgrace, what they do to our country. 80 million unsolicited ballots."

-Donald Trump, "Speech: Donald Trump Delivers Campaign Remarks in Latrobe, Pennsylvania – September 3, 2020," factba.se, September 3, 2020
Mail-in ballots are a disgrace because the lists are inaccurate and they are sent to dogs and dead people
231.
9/4/2020

"The mail system is the least of it. It's who's sending it, where are they sending it, who's getting it? Are they going to send it to Democrat areas but not to Republican areas?… There's a theory they're going to go into areas like nursing homes and get people to — it's almost elder abuse — get people to sign."

-Donald Trump, "READ: Salena Zito interview with President Trump," washingtonexaminer.com, September 4, 2020
Questions exist over who is sending mail-in ballots, are they sending to Republicans as well as Democrats, and who is actually getting the ballots
232.
9/8/2020

"Rigged Election!" [Note: This tweet linked to an article titled, "In battlegrounds, absentee ballot rejections could triple."]

-Donald Trump, Twitter.com, September 8, 2020 7:46 am
Rigged election
233.
9/8/2020

"Got to be careful with those ballots, watch those ballots. I don't like it, you know you have a Democrat governor, you have all these Democrats watching that stuff. I don't like it. I look at these crowds and if they're going to cheat, crowds are meaningless. Really, if they're going to cheat, these big beautiful crowds, you could have 15,000, you could have 50,000, these crowds are meaningless. Watch it, be poll watchers when you go there. Watch all the thieving and stealing and robbing they do."

-Donald Trump, "Donald Trump Winston-Salem, North Carolina Rally Speech Transcript," rev.com, September 8, 2020
There is thieving, stealing, and robbing of the ballots
234.
9/10/2020

"Sending out 80 MILLION BALLOTS to people who aren't even asking for a Ballot is unfair and a total fraud in the making. Look at what's going on right now!"

-Donald Trump, Twitter.com, September 10, 2020 8:54 am
Sending 80 million unsolicited mail-in ballots is unfair and total fraud in the making
235.
9/12/2020

"And now he's [the governor of Nevada] in charge of the election and the millions of ballots. So if I'm up like millions of votes, he can rig the election, he can rig the election. And I'll tell you what, whether it's in North Carolina, whether it's in Michigan, whether it's in other states where they're sending out [mail-in ballots], they're going to be sending out 80 million ballots. And it's Democrats. They're trying to rig this election."

-Donald Trump, "Donald Trump Minden, Nevada Rally Speech Transcript September 12," rev.com, September 2, 2020
The governor of Nevada can rig the election and Democrats are trying to rig the election
236.
9/12/2020

"This guy [Joe Biden] is the worst. I am— And you know, it's going to maybe come back to haunt me because we have a rigged election. It's a rigged election. It's the only way we're going to lose, but I'll tell you what, he is the worst candidate in the history of presidential politics."

-Donald Trump, "Donald Trump Minden, Nevada Rally Speech Transcript September 12," rev.com, September 2, 2020
It's a rigged election; the only way Trump can lose is if the election is rigged
237.
9/12/2020

"The Unsolicited Mail In Ballot Scam is a major threat to our Democracy, & the Democrats know it. Almost all recent elections using this system, even though much smaller & with far fewer Ballots to count, have ended up being a disaster. Large numbers of missing Ballots & Fraud!"

-Donald Trump, Twitter.com, September 12, 2020 4:10 pm
Unsolicited mail-in ballots are a threat to democracy; there are missing ballots and fraud in large numbers
238.
9/13/2020

"We're very concerned about the rigged election with the ballots because this governor [of Nevada]… So what kind of thing is that when he's in charge of ballots?… But we are worried about the [mail-in] ballots because we have a number of states where we have some very shaky Democrats and the only way they're going to win is with rigged ballots.

And if you look at the history of these ballots over the last two or three years, you'll see some horrible things where there's been tremendous cheating and the press knows that."

-Donald Trump, "Remarks: Donald Trump Holds a Roundtable on Latinos for Trump in Las Vegas – September 13, 2020," factba.se, September 13, 2020
Concerns that the governor of Nevada can rig the election with mail-in ballots; there is tremendous cheating with mail-in ballots
239.
9/13/2020

"He's [the governor of Nevada] in charge of ballots. There's no way he's gonna be honest about it. It, it's a rig. It's a rig. 100% rigged. I have no doubt about it in my mind…

The game is he's also controlling ballots, and it's a crooked operation. As far as I'm concerned, this is a rigged election. This is a rigged election, and he's not the only one. You have Pennsylvania. You take a look at what's going on in Pennsylvania. They've got many, many ballot operations over the last number of years. Almost every one of them has turned out to be fraudulent, and they have a small operation. It's not where you're sending out millions and millions of ballots."

-Donald Trump, "Interview: Debra Saunders, Las Vegas Review-Journal, Interviews Donald Trump – September 13, 2020," factba.se, September 13, 2020
The governor of Nevada is in charge of mail-in ballots and the election is 100% rigged; Nevada's election is a crooked operation; Pennsylvania's ballot operations are nearly all fraudulent
240.
9/14/2020

"We had great rallies this past weekend, after the Governor of Nevada worked very hard to cancel all of our venues. Despite the fact that he controls the state, he failed, but would have rather done rally outside. Can you imagine this man is in charge…

..of the Ballots in Nevada!? Not fair, Rigged Election! @GovSisolak, will use every trick in the book to cheat with Ballots."

-Donald Trump, Twitter.com, September 14, 2020 10:23 pm
The governor of Nevada will use every trick in the book to cheat with mail-in ballots; the election is rigged
241.
9/15/2020

"Now, this is the same guy [the governor of Nevada] that's going to be in charge of the ballots, OK. Do you think that's fair? It's millions of ballots are going out. He's the governor of the state. Do you think it's a fair thing, because I'm winning that state easily. But the one thing he can't beat, if they cheat on the ballots.

Now, he'll cheat on the ballots. I have no doubt about it… And you're going to see something with these ballots. You're going to see corruption like you've never seen. You're going to see a rigged election. This guy would do anything. And he's in charge of the ballots."

-Donald Trump, "Interview: Donald Trump Calls In to Fox and Friends for an Interview – September 15, 2020," factba.se, September 15, 2020
The governor of Nevada is going to cheat on the mail-in ballots; there is going to be corruption and a rigged election
242.
9/16/2020

"The [mail-in] ballots will be stolen. Who knows where they're going. Who knows where they're coming from…

This is a disgrace. This is being done on purpose. They know it's no good. They know it's going to be fraudulent. It's going to be fraud all over the place. Who's getting the ballots? Who's sending the ballots? They have people saying you don't need a verified signature. This is a serious threat to our democracy, and the Democrats know that…

The biggest threat to this election is these unsolicited ballots sent out by the millions, controlled by governors like in Nevada, who is a political person…

They can make forgeries of these ballots. They can do things that will blow your mind. And the Democrats know it's wrong. They know it's going to end up being a disaster. Just take a look at what's happened. Take a look at what's happened over the last year with this same kind of thing…

And you know what's happened? Fraud like you've never seen. Missing ballots. Ballots that never showed up. Ballots with bad signatures. Ballots with no signatures. And in the case of Nevada, they don't even want verification of the signature. It's a disgrace."

-Donald Trump, "Remarks by President Trump in Press Briefing, justfacts.votesmart.org, September 16, 2020
Mail-in ballots will be stolen and fraudulent; ballots can be forged; Nevada doesn't want to verify signatures on ballots
243.
9/17/2020

"Because of the new and unprecedented massive amount of unsolicited [mail-in] ballots which will be sent to 'voters', or wherever, this year, the Nov 3rd Election result may NEVER BE ACCURATELY DETERMINED, which is what some want. Another election disaster yesterday. Stop Ballot Madness!"

-Donald Trump, Twitter.com, September 17, 2020 7:36 am
Because of massive amount of unsolicited mail-in ballots, the election result will never be accurately determined
244.
9/17/2020

"Unsolicited [mail-in] Ballots are uncontrollable, totally open to ELECTION INTERFERENCE by foreign countries, and will lead to massive chaos and confusion!"

-Donald Trump, Twitter.com, September 17, 2020 2:12 pm
Mail-in ballots are uncontrollable, open to interference by foreign countries, and lead to massive chaos and confusion
245.
9/17/2020

"Just out: Some people in the Great State of North Carolina have been sent TWO BALLOTS. RIGGED ELECTION in waiting!"

-Donald Trump, Twitter.com, September 17, 2020 2:18 pm
North Carolina sent some people two ballots; rigged election in waiting
246.
9/17/2020

"But Chris, you don't see any activity from China, even though it is a FAR greater threat than Russia, Russia, Russia. They will both, plus others, be able to interfere in our 2020 Election with our totally vulnerable Unsolicited (Counterfeit?) [mail-in] Ballot Scam."

-Donald Trump, Twitter.com, September 17, 2020 8:30 pm
China and Russia can interfere in the election with counterfeit mail-in ballots
247.
9/17/2020

"The Democrat Trump Hater Secretary of State of Michigan, purposely misprinted Ballots for the Military, putting the wrong names on the Ballot, and actually listing a member of another party as a replacement for Vice President @Mike_Pence. Everybody is totally confused by their…

…egregious behavior, which is just the way they want it. This was not a mistake, it was done illegally and on purpose. We want Mike!"

-Donald Trump, Twitter.com, September 17, 2020 2:06 pm
Michigan purposely misprinted ballots for the military listing the wrong names
248.
9/18/2020

"But this scam of sending millions and millions of [mail-in] ballots—and you know who knows this better than I do? The Democrats. They know it's going to be a mess. They know it's going—there are going to be millions of missing ballot or tremendous numbers of missing ballots.

You could be talking about large percentages of these ballots are going to be missing. There's going to be fraud. It's a disaster… This is going to be the scam of all time."

-Donald Trump, "The President's News Conference," presidency.ucsb.edu, September 18, 2020
There will be millions of missing mail-in ballots, leading to fraud and disaster
249.
9/21/2020

"Look, people should go — now if they have an absentee ballot or, you know, I call it a solicited ballot, where you say — I like the word solicited, unsolicited, because people understand it. If you have the solicited ballot or an absentee ballot, that's good because you request a ballot. The ballot gets sent to you. You send it back. You know, you have a very good chance that that's going to work out just fine.

But when they just dump millions of ballots all over the country, it's not going to work. It's going to be a disaster. And they know it. They know it's not going to work. It doesn't even work when you have 30,000 ballots, and we're talking about many millions of ballots. It's going to be mayhem. It's going to be bedlam, and this is what they want."

-Donald Trump, "Life, Liberty & Levin – Sunday, September 20," video.foxnews.com, September 21, 2020
Sending out millions of unsolicited mail-in ballots is a disaster and won't work
250.
9/22/2020

"So you're going to need nine justices up there [on the Supreme Court]. I think it's going to be very important. Because what they're [Democrats] doing is a hoax, with the [mail-in] ballots. They're sending out tens of millions of ballots, unsolicited — not where they're being asked, but unsolicited. And that's a hoax, and you're going to need to have nine justices.

So doing it [nominating a new Supreme Court justice] before the election would be a very good thing because you're going to probably see it, because what they're doing is trying to sow confusion and everything else. And, you know, when they talk about Russia, China, and all these others, they will be able to do something here because paper ballots are very simple — whether they counterfeit them, forge them, do whatever you want. It's a very serious problem. And the Democrats know what they're doing is wrong, and all they want to do is go forward with it."

-Donald Trump, "Remarks in an Exchange With Reporters Prior to Departure for Moon Township, Pennsylvania," govinfo.gov, September 22, 2020
Democrats are doing a hoax with tens of millions of unsolicited mail-in ballots; Russia and China can forge our ballots
251.
9/24/2020

"Democrats are Rigging our 2020 Election!"

-Donald Trump, Twitter.com, September 24, 2020 10:09 pm
Democrats are rigging the election
252.
9/24/2020

"So we have to be very careful with the [mail-in] ballots. The ballots—that's a whole big scam. You know, they found, I understand, eight ballots in a waste paper basket in some location. And they found—it was reported in one of the newspapers that they found a lot of ballots in a river. They throw them out if they have the name 'Trump' on it, I guess. But they had ballots."

Reporter: "They had no names on them, they said."

"Okay, well, they still found them in a river, whether they had a name on it or not. But the other ones had the 'Trump' name on it, and they were thrown into a waste paper basket.

We want to make sure the election is honest, and I'm not sure that it can be. I don't know that it can be with this whole situation: unsolicited ballots. They're unsolicited; millions being sent to everybody. And we'll see."

-Donald Trump, "Remarks and an Exchange With Reporters Prior to Departure for Charlotte, North Carolina," govinfo.gov, September 24, 2020
Mail-in ballots with Trump's name on them were found in a river and in waste baskets; not sure this can be an honest election
253.
9/24/2020

"These [mail-in] ballots are a horror show. They found six ballots in an office yesterday in a garbage can. They were Trump ballots — eight ballots in an office yesterday in — but in a certain state and they were — they had Trump written on it, and they were thrown in a garbage can.

This is what's going to happen. This is what's going to happen, and we're investigating that. It's a terrible thing that's going on with these ballots. Who's sending them, where are they sending them, where are they going, what areas are they going to, what areas are they not going to? When they get there, who's going to take care of them? So, when we find eight ballots, that's emblematic of thousands of locations perhaps."

-Donald Trump, "Interview: Brian Kilmeade Interviews Donald Trump on Fox News Radio – September 24, 2020," factba.se, September 24, 2020
Six mail-in ballots that voted for trump were found in a garbage can
254.
9/25/2020

"RINO Governor Charlie Baker of Massachusetts is unsuccessfully trying to defend Mail In Ballots, when there is fraud being found all over the place. Just look at some of the recent races, or the Trump Ballots in Pennsylvania that were thrown into the garbage. Wrong Charlie!"

-Donald Trump, Twitter.com, September 25, 2020 7:32 am
Mail-in ballots have fraud all over the place; Trump ballots in Pennsylvania were thrown into the garbage
255.
9/25/2020

"We've got to watch this [mail-in] ballot scam because they're [Democrats] scamming us, OK? They're scamming us… When they are losing ballots all over the place, when they're losing ballots, they just happened to be Trump ballots.

You know in Virginia, didn't you hear? In a very Democrat area, they sent two ballots to thousands of people, 1,000 or thousands of people…. so people in a Democrat area got two ballots instead of one. They had eight ballots in a wastepaper basket, military ballots that all were for Trump, every one of them was for Trump and they were in a wastepaper basket.

They were thrown away and somebody saw them. Then they had many, many ballots thrown into a river someplace. I don't even know the state, these are just a few of them…

Now they're talking about tens of millions of these fake ballots going all over the place, who's sending them? Where are they being sent? Who's sending them back? Supposing they don't get them, are they being sent to Democrat areas?…

We're not going to lose this, except if they cheat… You know millions of ballots, very hard to watch, and the only way we're going to lose — that's the only way we're going to lose is if there's mischief, mischief, and it'll have to be on a big scale, so be careful. And we do want a very friendly transition, but we don't want to be cheated and be stupid and say, oh, let's trans — we'll go and we'll do a transition and we know that there were thousands and thousands of ballots that made the difference through cheating."

-Donald Trump, "Speech: Donald Trump Holds a Campaign Rally in Newport News, Virginia – September 25, 2020," factba.se, September 25, 2020
Democrats are scamming Republicans with mail-in ballots; only Trump ballots are lost; in Virginia, people in a Democratic area got two ballots; military ballots marked for Trump were thrown out; fake ballots are going all over the place
256.
9/26/2020

"But if you look at the [mail-in] ballots—you know, they found ballots in a garbage can, and they had the name 'Trump' on them. They were cast for Trump, and they found them in a garbage can. They found many ballots, as you know, in a riverbed, in a state—in a certain state. They had another case where a thousand ballots were sent, but not single—they were sent double, so you get to vote twice.

This whole thing—I've been telling you, this whole ballot scam is going to cause a lot of problems for our country. I want to see a very peaceful transition, but it's got to be a legal process. When you get thousands of ballots sent to people and they're double ballots, where you get two votes—and that's just one of many problems…

Also, [Mike] Bloomberg—Bloomberg can't go to Florida and pay people to vote. He's paying people to—he committed a crime if he does that. And he has done that."

-Donald Trump, "Remarks and an Exchange With Reporters Prior to Departure for Middletown, Pennsylvania," govinfo.gov, September 26, 2020
Mail-in ballots cast for Trump were found in a garbage can; 1,000 people were sent two ballots so they get to vote twice; Mike Bloomberg is paying people to vote in Florida
257.
9/26/2020

"Do whatever you have to do, make sure they don't cheat you too badly with those [mail-in] ballots. Oh, did you see today? There was a big mishap with the ballots, another one. This is every day… big mishap with the ballots…

And then two days ago they found eight ballots in a wastepaper basket. Unfortunately, they all had the name Trump written on them. We were going to vote for Trump. There were military ballots, a military. And then they have a stream in a very good state and they found a lot of ballots dumped in this stream…

They're going to try and steal the election… The only way they can win Pennsylvania, frankly, is to cheat on the ballots. That's the way I look at it."

-Donald Trump, "Speech: Donald Trump Holds a Campaign Rally in Middletown, Pennsylvania – September 26, 2020," factba.se, September 26, 2020
Every day there is a big mishap with mail-in ballots; eight ballots cast for Trump were found in a wastepaper basket; Democrats are trying to steal the election and cheat on the ballots
258.
9/27/2020

"Just last week, a number of discarded military ballots were discovered in Pennsylvania. All of the recovered ballots—these were ballots that were thrown out—had been cast for a person named Donald J. Trump.

In Wisconsin, three trays of mail containing absentee ballots were found in a ditch; they were thrown in a ditch. Three trays. That's a lot. In North Carolina, voters are reporting receiving two ballots in the mail. Many—many voters. I hear it's thousands, but they're getting two ballots. I wonder if those are Democrat areas, because the word is they are."

-Donald Trump, "The President's News Conference," govinfo.gov, September 27, 2020
A number of ballots cast for Trump were found thrown out in Pennsylvania; three trays of ballots were thrown in a ditch in Wisconsin; North Carolina voters got two ballots
259.
9/27/2020

"So millions of people are going to be getting ballots who never asked for the ballots. They don't want the ballots, or maybe they want them; maybe they don't. Nobody knows, really. This is really a recipe for chaos… And you can forget about November 3, because you're going to be counting these things forever. And it's very dangerous for our country.

So, certainly, transition—we all believe in transition. We believe not only in transition, but a very friendly. But when the ballots and when the system is rigged, which it is; obviously, it is."

-Donald Trump, "The President's News Conference," govinfo.gov, September 27, 2020
Unsolicited mail-in ballots are a recipe for chaos; the system is obviously rigged
260.
9/28/2020

"The Ballots being returned to States cannot be accurately counted. Many things are already going very wrong!"

-Donald Trump, Twitter.com, September 28, 2020 10:21 am
Mail-in ballots cannot be accurately counted; many things are going wrong
261.
9/29/2020

"As far as the [mail-in] ballots are concerned, it's a disaster… If you have an unsolicited, they're sending millions of ballots all over the country. There's fraud. They found them in creeks. They found some with the name Trump. Just happened to have the name. Trump, just the other day in a wastepaper basket.

They're being sent all over the place. They sent two in a Democrat area. They sent out a thousand ballots. Everybody got two ballots. This is going to be a fraud like you've never seen…

It's a rigged election."

-Donald Trump, "Donald Trump & Joe Biden 1st Presidential Debate Transcript 2020," rev.com, September 29, 2020
Unsolicited mail-in ballots have fraud; ballots are found in creeks and wastepaper baskets; people in a Democratic area got two ballots; it's a rigged election
262.
9/29/2020

"I'm urging my supporters to go into the polls and watch very carefully because that's what has to happen. I am urging them to do it. As you know today, there was a big problem. In Philadelphia, they went into watch. They were called poll watchers, a very safe, very nice thing. They were thrown out. They weren't allowed to watch, you know why? Because bad things happen in Philadelphia, bad things."


-Donald Trump, "Donald Trump & Joe Biden 1st Presidential Debate Transcript 2020," rev.com, September 29, 2020
Poll watchers in Philadelphia were thrown out because bad things happen there
263.
9/29/2020

"From a common-sense— I'll tell you what it means. It means you have a fraudulent election. You are sending out 80 million [mail-in] ballots. These people aren't equipped to handle it, number one. Number two, they cheat. They cheat. Hey, they found ballots in a wastepaper basket three days ago and they all had the name military ballots. There were military. They all had the name Trump on them. You think that's good?"

-Donald Trump, "Donald Trump & Joe Biden 1st Presidential Debate Transcript 2020," rev.com, September 29, 2020
The election is fraudulent; people aren't equipped to handle mail-in ballots; cheating happens and military ballots were found in a wastepaper basket
264.
9/29/2020

"Rigged Election!" [Note: This tweet linked to a post from Project Veritas titled, "Cash-For-Ballot EXCHANGE caught on camera."]

-Donald Trump, Twitter.com, September 29, 2020 10:37 pm
Rigged election
265.
9/29/2020

"Wow. Won't let Poll Watchers & Security into Philadelphia Voting Places. There is only one reason why. Corruption!!! Must have a fair Election."

-Donald Trump, Twitter.com, September 29, 2020 5:14 pm
Philadelphia voting places won't let poll watchers in because of corruption
266.
9/30/2020

"Wow! 100,000 Mail In Ballots in New York City a total MESS. Mayor and Governor have no idea what to do. Big Fraud, Unfixable! Cancel Ballots and go out and VOTE, just like in past decades, when there were no problems!"

-Donald Trump, Twitter.com, September 30, 2020 11:35 am
100,000 mail-in ballots in New York City are a mess, causing big fraud
267.
9/30/2020

"100,000 DEFECTIVE BALLOTS IN NEW YORK. THEY WANT TO REPLACE THEM, BUT WHERE, AND WHAT HAPPENS TO, THE BALLOTS THAT WERE FIRST SENT? THEY WILL BE USED BY SOMEBODY. USA, END THIS SCAM – GO OUT AND VOTE!"

-Donald Trump, Twitter.com, September 30, 2020 10:59 pm
100,000 defective ballots in New York
268.
10/1/2020

"Well, in New York, they lost — 100,000 [mail-in] ballots were sent out wrong. The envelopes were wrong. The names were wrong. Everything was wrong. So, they said, oh, that's OK. We will send out a new 100,000. OK, let's assume they get it right. What happens to the 100,000 that they sent out? They're going to be sent back by somebody.

And it's going to be a fraud. This is a terrible thing that's happening to our country…

Just take a look at New York. Take a look at the ones — the ballots that were thrown into a garbage can and they all had the Trump name on it. They were military ballots that were thrown into the garbage can…

And, hopefully, we can win by a lot, because I have no doubt that they're going to be doing a number. I have no doubt about it."

-Donald Trump, "Interview: Sean Hannity Interviews Donald Trump Live Via Telephone – October 1, 2020," factba.se, October 1, 2020
New York sent out 100,000 wrong ballots; there's going to be fraud; ballots cast for Trump were thrown in a garbage can
269.
10/1/2020

"I mean, in Nevada, Sean, they don't want to have any certification of a signature. Just do a signature and they don't want to have certification.

I think that you don't even — I think you don't even have to sign it. And the governor is a very political person. It's a — it's a ridiculous thing. And we're going to win Nevada on a fair basis, but it's very hard when they send millions of ballots out and then they cheat."

-Donald Trump, "Interview: Sean Hannity Interviews Donald Trump Live Via Telephone – October 1, 2020," factba.se, October 1, 2020
Nevada doesn't want signature verification; Nevada sent out millions of ballots and then they cheat
270.
10/6/2020

"11,00 North Carolina residents get incorrect voter registration forms. 2000 LA County Voters received faulty' Ballots, with NO WAY TO VOTE FOR PRESIDENT. Many others throughout USA. Here we go. This will be the most corrupt Election in American History!"

-Donald Trump, Twitter.com, October 6, 2020 10:04 pm
11,000 North Carolina residents got incorrect voter registration forms; 2,000 LA County voters got faulty ballots; most corrupt election in American history
271.
10/7/2020

"THE MEDIA IS CORRUPT, JUST LIKE OUR DEMOCRAT RUN BALLOT SYSTEM IS CORRUPT! Look at what's happening with Fake, Missing and Fraudulent Ballots all over the Country??? VOTE"

-Donald Trump, Twitter.com, October 7, 2020 10:26 am
The media is corrupt; Democrat-run ballot system is corrupt; fake, missing, and fraudulent ballots all over the country
272.
10/8/2020

"But these unsolicited [mail-in] ballots, universal, unsolicited ballots, Sean, is a — it's going to be a disaster the likes of which we have never seen. We will never have seen an election like what's going to take place.

Thousands of ballots all over the country are being reported, some thrown in garbage cans with my name on them, some thrown in trays in a river. What's going on is absolutely crazy…

It's a fraud. It's going to be a big and tremendous fraud… this will be one of the greatest fraudulent, most fraudulent elections ever because of this whole thing with the ballots. They're sending out millions and millions and millions of ballots."

-Donald Trump, "Interview: Sean Hannity Interviews Donald Trump Live Via Telephone – October 8, 2020," factba.se, October 8, 2020
Unsolicited mail-in ballots are a disaster; thousands of ballots are thrown in garbage cans or rivers; it's a big and tremendous fraud because of the mail-in ballots
273.
10/8/2020

"There's thousands of [mail-in] ballots right there, you pick up any paper in the country practically and they're cheating all over the place on the ballots. So, how is that not a problem? That's a much bigger problem than China or Russia if you look at it. It's a much bigger problem So when, you know, when you say that, oh, I don't see that as a problem. Pick up the newspaper and read, and they lost 1,000 ballots in — or were defrauded in North Carolina, 500 ballots were sent to Virginia erroneously."

-Donald Trump, "Interview: Maria Bartiromo Interviews Donald Trump on Fox Business – October 8, 2020," factba.se, October 8, 2020
They're cheating all over the place on ballots; 1,000 ballots defrauded in North Carolina; 500 ballots sent to Virginia in error
274.
10/8/2020

"These [election officials] are cheaters. These are con men, these are cheaters that we're dealing with in Nevada. They don't want to have any signature on the [mail-in] ballots."

-Donald Trump, "Interview: Maria Bartiromo Interviews Donald Trump on Fox Business – October 8, 2020," factba.se, October 8, 2020
Nevada election officials are cheaters and con men who don't want a signature on the mail-in ballots
275.
10/8/2020

"But it's a corrupt system because they're sending out millions of ballots. Now, when you send out millions of ballots, when you're the sender, you can send them wherever you want. You can send them to Democrat areas, Republican areas. You don't have to send them at all. Mailmen are being, as you know, indicted. One was indicted yesterday in New Jersey, another one was indicted in West Virginia.

Mailmen. Ballots are being found in riverbeds. They dumped a whole — they call it a tray. A tray is a lot of ballots I don't know what — how many, but it's a lot. They found trays of ballots in — in a river. They found eight ballots with my name on, military ballots, eight ballots with my name on it in a wastepaper basket in another good state. Now, it's a terrible thing."

-Donald Trump, "Interview: Maria Bartiromo Interviews Donald Trump on Fox Business – October 8, 2020," factba.se, October 8, 2020
Mail-in ballots are a corrupt system; mail carriers are being indicted; ballots are found in riverbeds; eight ballots marked for Trump were found in a wastepaper basket
276.
10/9/2020

"Breaking News: 50,000 OHIO VOTERS getting WRONG ABSENTEE BALLOTS. Out of control. A Rigged Election!!!"

-Donald Trump, Twitter.com, October 9, 2020 2:44 pm
50,000 Ohio voters getting the wrong absentee ballots; a rigged election
277.
10/10/2020

"And you see how many crooked ballots are being found and turned back in and fraudulent? Just what I said… Tremendous problems with the ballots. Fifty thousand in Ohio. Twenty-five thousand — you have to see it. I mean, every day, there's a story about ballots. Some thrown out; they happen to have the name 'Trump.' Military ballots were thrown out with the name 'Trump' on them. Okay?"

-Donald Trump, "Remarks: Donald Trump Delivers Remarks to Supporters at The White House – October 10, 2020," factba.se, October 10, 2020
Crooked ballots are being found and turned in; military ballots cast for Trump were thrown out
278.
10/11/2020

Fox News host Maria Bartiromo: "Are you going to push to remove the liability protection that social media enjoys right now, that they can't get sued?"

"It's a disgrace, what's happening. It's a disgrace. It's called Section 230. Yes, a lot of people are looking at it. I can't say yet what we're doing.

I can tell you this. It's very unfair, what they do, very unfair. It's rigging an election in a different form than the ballots. But it's rigging an election, and it's unfair."

-Donald Trump, "President Trump: White House doctors said I can't spread the virus anymore," foxnews.com, October 11, 2020
What social media companies do is unfair and rigging the election
279.
10/12/2020

"No. A Rigged Election! [Note: this tweet linked to a tweet from an ABC news affiliate asking, "Nearly 50,000 voters received wrong ballots in Ohio! Does you feel safe mailing in your ballot?"]

-Donald Trump, Twitter.com, October 12, 2020 8:03 am
A rigged election because of mail-in ballots
280.
10/12/2020

"Rigged!" [Note: this tweet linked to an ABC news affiliate tweet stating, "New Jersey postal employee accused of dumping 1,800 pieces of mail. The mail included 99 ballots for the upcoming election."]

-Donald Trump, Twitter.com, October 12, 2020 8:04 am
The election is rigged
281.
10/13/2020

"I mean, not a day goes by where you don't see, you know, [mail-in] ballots all over the place with Trump name on it, like they had the military ballots with Trump's name on it thrown in a waste paper basket."

-Donald Trump, "Interview: Michael Savage Interviews Donald Trump on The Savage Nation Radio Show – October 13, 2020," factba.se, October 13, 2020
Every day you see mail-in ballots cast for Trump thrown out
282.
10/13/2020

"This is happening all over the U.S. Rigged Election???" [Note: this tweet linked to a Fox News reporter tweet stating, "STOLEN MAIL $10K reward offered for information to help catch mail thieves. Right now, it's not clear if ballots were taken."]

-Donald Trump, Twitter.com, October 13, 2020 11:04 am
Mail theft is happening all over, which could include ballots, raising questions about a rigged election
283.
10/14/2020

Greg Kelly: "a lot of us are confident in how you will do on the merits, but voter fraud I know is a big concern of yours."

"It's a crooked deal, it's a rigged deal. You see it every day, new, new, uh, new ballots are coming out that are thrown in garbage cans with the name Trump on it. You see it every day…

But it's very rigged, uh, well, you know, many, many ballots have— Didn't they just pick up 50,000 in Ohio and all over the place."

-Donald Trump, "Interview: Greg Kelly Interviews Donald Trump on Newsmax's Greg Kelly Reports – October 14, 2020," factba.se, October 14, 2020
The election is a crooked, rigged deal; every day new ballots marked for Trump are thrown in garbage cans
284.
10/15/2020

"And you can tell these clowns that are always looking and investigating and everything else, the ballots are a big problem for our country because they can be reproduced a lot easier than breaking into computer sites.
The fake ballots that everybody is talking about all over the world. It's so crazy what's going on. I mean every day, not a day goes by where you don't see large masses of ballots that are missing and fraudulent, thrown away and found in garbage cans and dumpsters. I mean, look at what's going on…

Look at these ballots that are being messed around. Tens of thousands of ballots are already fraudulent. I want to see a fair election, that's all I'm asking for is a fair election. And that's it."

-Donald Trump via Tim Hains, "Full Replay: President Trump On Coronavirus Stimulus, Biden, Social Media Censorship On Stuart Varney," realclearpolitics.com, October 15, 2020
Mail-in ballots can be forged more easily than breaking into computers; every day large masses of ballots are missing and fraudulent or thrown away; tens of thousands of fraudulent ballots
285.
10/16/2020

"You know they send [mail-in] ballots out by the millions. They don't have no idea, well they do, actually, have an idea where they're going. That's what really — but we say, who's sending them? Where are they going? Who's getting them? Who's delivering them? Who's signing them? What the hell are they doing?…

[S]o we have to be very, very careful with the ballots because they find ballots in a garbage can last week, military ballots that had the name Trump on them and they're in a garbage can. They found 50,000 ballots from Ohio. They find them from North Carolina, dumped in a river. They find them, I think, 500,000 ballots in Virginia. They were incorrect, they're printing them wrong. They had one little problem on one set of ballots, thousands and thousands. They forgot to put the name of Donald Trump on the ballot."

-Donald Trump, "Speech: Donald Trump Holds a Campaign Rally in Macon, Georgia – October 16, 2020," factba.se, October 16, 2020
They don't know where mail-in ballots are going; military ballots for Trump were found in a garbage can; 500,000 ballots in Virginia omitted Trump's name; 50,0000 ballots were found in Ohio; ballots in North Carolina were dumped in a river
286.
10/17/2020

"Did you see they found 50,000 ballots in like a river? They found ballots in a trash can. They happened to have the word Trump on them. You know, they're Trump. They had another group of ballots, they were printed, and they forgot two words, Donald Trump."

-Donald Trump, "Speech: Donald Trump Holds a Campaign Rally in Muskegon, Michigan – October 17, 2020," factba.se, October 17, 2020
They found 50,000 ballots in a river; ballots for Trump were found in a trash can; a group of ballots were printed with Trump's name
287.
10/18/2020

"They're finding those things [mail-in ballots] in creeks. They're finding them in riverbeds. They're finding them in trash cans and dumpsters. And large numbers in Ohio; 50,000 we're missing. In Virginia, 500,000 applications were made that were false. And in one place, everything was good except for one problem. They forgot to put my name on it…

And then they found some military ones. Great, great military ones. And they were found in a wastepaper basket. And they all had the name Trump on it. They were all signed for Trump. They were Trump. They voted for Trump. Unfortunately, I don't think they're going to get there because they were in the wastepaper basket."

-Donald Trump, "Donald Trump Carson City, Nevada Rally Speech Transcript October 18," rev.com, October 18, 2020
Mail-in ballots are being found in creeks, rivers, and dumpsters; 50,000 ballots missing in Ohio; 500,000 false applications made in Virginia
288.
10/19/2020

"[T]he big risk is they sent out tens of millions of these unsolicited ballots… Some of these governors say you don't need certain signature verification. Why would you need a thing like that? No signature verification…

No, they found 50,000 in a river. They found 53,000 in a creek. They found many in a garbage can, they happened to be from the military. Many of them, they were in a garbage can, they found them. And they all had the name Trump on it, isn't that shocking? They were military, all in favor of Trump, and they found them in a garbage can. I got to tell you, that's the only thing I'm concerned about."

-Donald Trump, "Speech: Donald Trump Holds a Campaign Rally in Prescott, Arizona – October 19, 2020," factba.se, October 19, 2020
Unsolicited mail-in ballots are a big risk; they found 50,000 ballots in a river and 53,000 in a creek; military ballots marked for Trump were found in a garbage can
289.
10/21/2020

"Happening all over USA. No wonder California is never in play for Republicans. Rigged Election!" [Note: this tweet linked to a tweet from One America News stating, "Reports claim 440K questionable ballots sent to deceased or inactive voters in Calif."]

-Donald Trump, Twitter.com, October 21, 2020 8:21 am
Rigged election
290.
10/24/2020

"We have a tremendous group, except unfortunately, a lot of times they'll get these [mail-in] ballots and they're military ballots and it says, Trump, we vote for Trump, Trump, Trump, and they find them in garbage cans… This is a horrible thing. And to be honest with you, it's the only way we can lose."

-Donald Trump, "Speech: Donald Trump Delivers Remarks in Lumberton, North Carolina – October 24, 2020," factba.se, October 24, 2020
Military ballots cast for Trump are found in garbage cans
291.
10/25/2020

"This can be a very interesting evening on November 3rd, now you know, the biggest risk we have? Are the fake [mail-in] ballots. To me, they send millions of ballots all over the country. They found some in a garbage can, military ballots, the name Trump was written in by the military. And they found them in a garbage can. Thousands and thousands, 5 hundred thousand incorrect applications in Virginia. Thousands and thousands of things. I say the biggest risk we have are the fake ballots."

-Donald Trump via NBC News, "Trump Delivers Remarks At New Hampshire Rally | NBC News," youtube.com, October 25, 2020
Fake mail-in ballots are the biggest risk to Trump's victory; military ballots cast for Trump were found in garbage cans
292.
10/25/2020

"The other way they send millions of [mail-in] ballots, we don't know who's sending them. We don't know where they're going, we don't know who's bringing them back. We don't know who signed them. In Nevada, they want to have a thing where you don't have to have any verification of the signature. It is so terrible, and you know who knows it more than us? The Democrats. All Democrat run states are the ones that are the problem…

The ballots get handled by many, many people by the time they even get there, and it shouldn't be allowed. And the Democrats know it's a hoax, and they know — and it's going to cause problems."

-Donald Trump via NBC News, "Trump Delivers Remarks At New Hampshire Rally | NBC News," youtube.com, October 25, 2020
Nevada doesn't want signature verification on ballots; Democrats know mail-in ballots are a hoax
293.
10/25/2020

"And we have, we have a situation where they have their [mail-in] ballots and they have a long time to count the ballots. A lot of bad things will happen during that period of time. Terrible things will happen. Crooked dishonest things…

We shouldn't let it happen. I think that's my, my biggest fear, my biggest risk for this election, is the, the unsolicited, the millions of unsolicited ballots they're sending out. In California, they're sending millions and millions and millions of ballots. People are getting ballots that don't want them. People are getting ballots, they don't even know why they're getting them. It's a terrible thing."

-Donald Trump via NBC News, "Trump Delivers Remarks At New Hampshire Rally | NBC News," youtube.com, October 25, 2020
Bad, terrible, crooked, and dishonest things happen while counting mail-in ballots
294.
10/26/2020

"You know who's not voting? The Democrats. They're not voting. You know, if you looked at some of these early polls — So we're supposed to be way down in the initial week because it's the fake [mail-in] ballots, right? The phony ballots that are all crooked as hell…

Who's sending them? Who's receiving them? Who's bringing them back? Who's signing them? It's ridiculous. It's the only way we can be — it's the only way we can lose in my opinion, is massive fraud. And that's what's, that's what's happening because all over the country you're seeing it. Thousands and thousands of ballots. How about the military ballots that were thrown into a garbage can? With the name Trump on it."

-Donald Trump, "Speech: Donald Trump Holds a Campaign Rally in Allentown, Pennsylvania – October 26, 2020," factba.se, October 26, 2020
Fake, phony mail-in ballots are crooked as hell; the only way Trump can lose is by massive fraud; military ballots marked for Trump were thrown in a garbage can
295.
10/26/2020

"You wanna make sure your vote is counted, you don't want the [mail-in] ballot hoax, because wait'll you see, they'll have so many problems. You know, they throw away ballots if it has the name Trump on it, boom. They printed ballots, some ballots, I think 25 thousand, were printed for certain state — It was missing one little thing, the name Trump. So a lot of bad things happen…

So we'll see how it all ends up, it's all in court, it's all a hoax. And let me tell you something, the Democrats know how crooked it is, they know."

-Donald Trump, "Speech: Donald Trump Holds a Campaign Rally in Lititz, Pennsylvania – October 26, 2020," factba.se, October 26, 2020
Mail-in ballots are a hoax that will have many problems; ballots marked for Trump are thrown away; one state printed 25,000 ballots without Trump's name on them
296.
10/26/2020

"We have made tremendous progress with the China Virus, but the Fake News refuses to talk about it this close to the Election. COVID, COVID, COVID is being used by them, in total coordination, in order to change our great early election numbers. Should be an election law violation!"

-Donald Trump, Twitter.com, October 26, 2020 7:36 am
The media not talking about the tremendous progress on COVID-19 is an attempt to hurt Trump
297.
10/26/2020

"Big problems and discrepancies with Mail In Ballots all over the USA. Must have final total on November 3rd."

-Donald Trump, Twitter.com, October 26, 2020 7:43 am
Big problems and discrepancies with mail-in ballots all over the country
298.
10/27/2020

"You know these [mail-in] ballots. You see? Was I right about the ballots? It's messed up like you wouldn't believe… Let's let the whole world wait while you count your ballots. And you know what happens while they're counting them? They're dumping more ballots in there. Okay? Where did they come from?"

-Donald Trump, "Donald Trump Rally Speech Transcript West Salem, Wisconsin October 27," rev.com, October 27, 2020
Mail-in ballots are messed up like you wouldn't believe; they dump in ballots while counting
299.
10/28/2020

"The biggest problem we have is if they [Democrats] cheat with the [mail-in] ballots. That's my biggest problem. That's the only thing I worry about. If they cheat with the ballots, right? If they cheat with the ballots.

And they did find some in a garbage can from the military, military ballots. It had the name Trump written, they wanted to go for Trump. They found them in a garbage can, hundreds of thousands every day. You don't wake up and not read a story about it.

Every day there's cheating with the ballots. And you have governors, Democrat Governors, that are players, wise guys. Wise guys and it's a disgrace."

-Donald Trump, "Donald Trump Rally Speech Transcript Goodyear, AZ October 28," rev.com, October 28, 2020
Concerns that Democrats will cheat with mail-in ballots; military ballots marked for Trump were found in the garbage can; every day you read about hundreds of thousands of ballots thrown out; there is cheating with the ballots every day
300.
10/29/2020

"A 3 day extension for Pennsylvania [mail-in ballots] is a disaster for our Nation, and for Pennsylvania itself. The Democrats are trying to steal this Election. We have to get out and VOTE in even larger numbers. The Great Red Wave is coming!!!"

-Donald Trump, Twitter.com, October 29, 2020 1:12 pm
Pennsylvania extension on ballots is a disaster; Democrats are trying to steal the election
301.
10/30/2020

"We're not big into the [mail-in] ballot world. We sort of don't like it, you know, 'cause too many tricks get played. Like they find ballot, Trump ballots in the waste paper basket. They find them in dumpsters. They found some in the river isn't that no — lovely. Look, all those ballots. Oh, they happen to be Trump ballots. No, they're finding them all over the place. 500 incorrect applications go — get sent to Virginia.

The beauty was they sent many ballots to a certain state. They were only defective in one way. They didn't have the name Trump on it. In other words, if you wanted to vote for Trump what do you do?"

-Donald Trump, "Speech: Donald Trump Holds a Campaign Rally in Waterford Township, Michigan – October 30, 2020," factba.se, October 30, 2020
Ballots marked for Trump are found in the wastepaper basket, dumpsters, rivers; ballots were sent that didn't have Trump on them
302.
10/30/2020

"[T]hey don't wanna have any signature verification in Nevada. They don't want — the governor, he was a political guy. He ran the political club. So, you know, he's a beauty. So they don't wanna have any verification of a signature. So if they lose it they'll say, 'Get me some ballots real quick. I'll sign them myself.'"

-Donald Trump, "Speech: Donald Trump Holds a Campaign Rally in Waterford Township, Michigan – October 30, 2020," factba.se, October 30, 2020
Nevada election officials don't want signature verification so they can add ballots if Trump is winning
303.
11/1/2020

"I think it's a terrible thing when [mail-in] ballots can be collected after an election. I think it's a terrible thing when people—where States are allowed to tabulate ballots for a long period of time after the election is over, because it can only lead to one thing, and that's very bad. You know what that thing is. I think it's a very dangerous, terrible thing…

I think a lot of fraud and misuse could take place… But we don't want to have Pennsylvania, where you have a political Governor—a very partisan guy—and we don't want to have other States—like Nevada, where you have the head of the Democratic clubhouse as your Governor. We don't want to be in a position where he's allowed to, every day, watch ballots come in. 'Gee, if we could only find 10,000 more ballots…'

But if you take Nevada or Pennsylvania—and everyone knows what happens in Philadelphia. You don't have to say it. But I've read about it for years."

-Donald Trump, "Remarks and an Exchange With Reporters Upon Arrival in Charlotte, North Carolina," govinfo.gov, November 1, 2020
A lot of fraud and misuse can take place when states are allowed to collect and tabulate ballots after the election; could be that Democratic governors add more ballots
304.
11/2/2020

"I think the Pennsylvania decision by the Supreme Court [allowing late-arriving ballots postmarked by Nov. 3 to be counted] is a very dangerous decision. I think it's a decision that allows tremendous cheating to go on after the fact but before the votes are tabulated. I think it's a very, very dangerous decision for our country, and I hope it's going to be readjusted. We'll be asking for that…

And I hope the Supreme Court has the wisdom to change it, because they can't let it stand. All they have to do is look at the commentators on television that are experts at this, and they will say, 'It will allow cheating.'"

-Donald Trump, "Remarks and an Exchange With Reporters Upon Arrival in Milwaukee, Wisconsin," presidency.ucsb.edu, November 2, 2020
Allowing ballots that arrive late to be counted allows tremendous cheating to go o
305.
11/2/2020

"I mean, they're going to say, 'well, how many votes short are we? We need 6,000 votes. Well, let's take 6,000 of these. We'll put them over here. Let's take 6,000 of these.' It's going to be cheating. It's going to be cheating. It's like, they're putting these people— and you know what, we don't consider the people that have been running elections in Philadelphia to be very honest. We've had a lot of problems with Philadelphia."

-Donald Trump, "Donald Trump Rally Speech Transcript Kenosha, WI November 2," rev.com, November 2, 2020
Elections officials can see how many votes they need to add for their candidate to win; there's going to be cheating; people who run elections in Philadelphia are not honest
306.
11/2/2020

"The Supreme Court decision on [mail-in ballot] voting in Pennsylvania is a VERY dangerous one. It will allow rampant and unchecked cheating and will undermine our entire systems of laws. It will also induce violence in the streets. Something must be done!"

-Donald Trump, Twitter.com, November 2, 2020 8:02 pm
Allowing Pennsylvania to count late-arriving ballots will allow rampant and unchecked cheating, and induce violence in the streets
307.
11/3/2020

"And a lot of shenanigans, a lot of bad things happen with [mail-in] ballots. When you say, 'Oh, let's devote days and days.' And all of a sudden the ballot count changes. And you take a look at Philadelphia, the history of Philadelphia politics. No, I don't put people on their honor code."

-Donald Trump, "Donald Trump Remarks to RNC Staff Transcript Arlington, VA November 3," rev.com, November 3, 2020
A lot of bad things happen with mail-in ballots; Philadelphia has a history of problems
2020 Presidential Election: Post-Election
A.
Trump's Quotes about Rigged/Stolen Elections
B.
Fraud Claim
308.
11/4/2020

"We are up BIG, but they are trying to STEAL the Election. We will never let them do it. Votes cannot be cast after the Polls are closed!"

-Donald Trump, Twitter.com, November 4, 2020 12:49 am
They are trying to steal the election by allowing votes to be cast after the polls close
309.
11/4/2020

"Last night I was leading, often solidly, in many key States, in almost all instances Democrat run & controlled. Then, one by one, they started to magically disappear as surprise ballot dumps were counted. VERY STRANGE, and the 'pollsters' got it completely & historically wrong!"

-Donald Trump, Twitter.com, November 4, 2020 10:04 am
Trump was leading in states won by Democrats until surprise ballot dumps were added
310.
11/4/2020

"How come every time they count Mail-In ballot dumps they are so devastating in their percentage and power of destruction [to Trump's lead]?"

-Donald Trump, Twitter.com, November 4, 2020 10:17 am
Mail-in ballot dumps destroy Trump's lead
311.
11/4/2020

"They are finding Biden votes all over the place — in Pennsylvania, Wisconsin, and Michigan. So bad for our Country!"

-Donald Trump, Twitter.com, November 4, 2020 11:55 am
Votes for are being found for Biden in swing states
312.
11/4/2020

"They are working hard to make up 500,000 vote advantage in Pennsylvania disappear — ASAP. Likewise, Michigan and others!"

-Donald Trump, Twitter.com, November 4, 2020 12:01 pm
Pennsylvania, Michigan, and other states are trying to overtake Trump's current lead in the vote count

313.
11/4/2020

"Wow! It looks like Michigan has now found the ballots necessary to keep a wonderful young man, John James, out of the U.S. Senate. What a terrible thing is happening!"

-Donald Trump, Twitter.com, November 4, 2020 1:43 pm
Michigan found ballots that will clinch the Senate election against a Republican
314.
11/4/2020

"We have claimed, for Electoral Vote purposes, the Commonwealth of Pennsylvania (which won't allow legal observers) the State of Georgia, and the State of North Carolina, each one of which has a BIG Trump lead. Additionally, we hereby claim the State of Michigan if, in fact,….. ….there was a large number of secretly dumped ballots as has been widely reported!"

-Donald Trump, Twitter.com, November 4, 2020 4:56 pm
Pennsylvania won't allow legal observers of the vote counting; Michigan may have had a large number of secretly dumped ballots
315.
11/4/2020

"Our lawyers have asked for 'meaningful access' [to the ballot review process], but what good does that do? The damage has already been done to the integrity of our system, and to the Presidential Election itself. This is what should be discussed!"

-Donald Trump, Twitter.com, November 4, 2020 6:24 pm
Trump was denied access to the ballot review process; integrity of the election system and election itself has been damaged
316.
11/4/2020

"We were winning everything and all of a sudden it was just called off… This is a fraud on the American public. This is an embarrassment to our country. We were getting ready to win this election. Frankly, we did win this election. We did win this election. So our goal now is to ensure the integrity for the good of this nation.

This is a very big moment. This is a major fraud in our nation. We want the law to be used in a proper manner. So we'll be going to the US Supreme Court. We want all voting to stop. We don't want them to find any ballots at four o'clock in the morning and add them to the list. Okay? It's a very sad moment. To me this is a very sad moment and we will win this. And as far as I'm concerned, we already have won it."

-Donald Trump, "Donald Trump 2020 Election Night Speech Transcript," rev.com, November 4, 2020
Trump's evaporating lead is a fraud on the American public; Trump won the election but there is a major fraud
317.
11/5/2020

"STOP THE COUNT!"

-Donald Trump, Twitter.com, November 5, 2020 9:12 am
They are counting votes even after the election is over
318.
11/5/2020

"STOP THE FRAUD!"

-Donald Trump, Twitter.com, November 5, 2020 12:21 pm
There is election fraud
319.
11/5/2020

"All of the recent Biden claimed States will be legally challenged by us for Voter Fraud and State Election Fraud. Plenty of proof – just check out the Media. WE WILL WIN! America First!"

-Donald Trump, Twitter.com, November 5, 2020 11:22 am
There is proof that states "claimed" for Biden had voter fraud and state election fraud
320.
11/5/2020

"If you count the legal votes, I easily win. If you count the illegal votes, they can try to steal the election from us. If you count the votes that came in late—we're looking at them very strongly. But a lot of votes came in late…

We'll not allow the corruption to steal such an important election or any election, for that matter."

-Donald Trump, "Remarks on the Presidential Election," govinfo.gov, November 5, 2020
Illegal votes for Biden are being used to steal the election
321.
11/5/2020

"As everyone now recognizes, media polling was election interference, in the truest sense of that word, by powerful special interests. These really phony polls—I have to call them phony polls, fake polls—were designed to keep our voters at home, create the illusion of momentum for Mr. Biden, and diminish Republicans' ability to raise funds. They were what's called 'suppression polls.' Everyone knows that now. And it's never been used to the extent that it's been used on this last election."

-Donald Trump, "Remarks on the Presidential Election," govinfo.gov, November 5, 2020
Phony poll results were used to create the illusion that Biden was winning to suppress Republican voters
322.
11/5/2020

"There are now only a few States yet to be decided in the Presidential race. The voting apparatus of those States are run, in all cases, by Democrats. We were winning in all the key locations by a lot, actually. And then, our numbers started miraculously getting whittled away in secret, and they wouldn't allow legally permissible observers. We went to court, in a couple of instances, and we were able to get the observers put in. And when the observers got there, they wanted them 60, 70 feet away, 80 feet, 100 feet away—or outside the building to observe people inside the building."

-Donald Trump, "Remarks on the Presidential Election," govinfo.gov, November 5, 2020
Trump's lead was whittled away in secret without the legally allowed observers, who were kept far away from the vote counting
323.
11/5/2020

"Even beyond our litigation, there's tremendous amount of litigation generally because of how unfair this process was, and I predicted that. I've been talking about mail-in voting for a long time. It's really destroyed our system.

It's a corrupt system. And it makes people corrupt even if they aren't by nature, but they become corrupt; it's too easy. They want to find out how many votes they need, and then they seem to be able to find them. They wait and wait, and then they find them.

And you see that on election night. We were ahead in votes in North Carolina by a lot— tremendous number of votes. And we're still ahead by a lot, but not as many, because they're finding ballots all of a sudden. 'Oh, we have some mail-in ballots.' It's amazing how those mail-in ballots are so one-sided too."

-Donald Trump, "Remarks on the Presidential Election," govinfo.gov, November 5, 2020
The election process was unfair; mail-in voting destroyed the system; the system is corrupt; mail-in ballots are suddenly found to decrease Trump's lead
324.
11/5/2020

"We were up by nearly 700,000 votes in Pennsylvania. I won Pennsylvania by a lot, and that gets whittled down to—I think they said now we're up by 90,000 votes. And they'll [mail-in ballots] keep coming and coming and coming. They find them all over. And they don't want us to have any observers, although we won a court case. The judge said you have to have observers."

-Donald Trump, "Remarks on the Presidential Election," govinfo.gov, November 5, 2020
Trump's lead gets whittled down by mail-in ballots; they don't want to allow observers to the vote counting
325.
11/5/2020

"Likewise, in Georgia—and they're appealing. Actually, they're appealing. We won a case that we want people to watch, and we want observers, and they're actually appealing, which is sort of interesting. I wonder why they'd appeal—that all we want to do is have people watch as they do the vote tabulations.

Likewise, in Georgia, I won by a lot—a lot—with a lead of over—getting close to 300,000 votes on election night in Georgia. And by the way, got whittled down, and now it's getting to be to a point where I'll go from winning by a lot to perhaps being even down a little bit.

In Georgia, a pipe burst in a faraway location, totally unrelated to the location of what was happening, and they stopped counting for four hours, and a lot of things happened. The election apparatus in Georgia is run by Democrats."

-Donald Trump, "Remarks on the Presidential Election," govinfo.gov, November 5, 2020
In Georgia, vote counting run by Democrats was halted by a burst pipe and things happened during the break
326.
11/5/2020

"People know what's happening, and they see what's happening, and it's before their eyes. And there are many instances which will be reported very shortly. There's tremendous litigation going on. And this is a case where they're [Democrats] trying to steal an election, they're trying to rig an election, and we can't let that happen.

Detroit and Philadelphia—known as two of the most corrupt political places anywhere in our country, easily—cannot be responsible for engineering the outcome of a Presidential race—a very important Presidential race.

In Pennsylvania, Democrats have gone to the State Supreme Court to try and ban our election observers and very strongly. Now, we won the case, but they're going forward. They don't want anybody in there. They don't want anybody watching them as they count the ballots, and I can't imagine why. There's absolutely no legitimate reason why they would not want to have people watching this process, because if it's straight, they would be—they should be proud of it. Instead, they're trying, obviously, to commit fraud. There's no question about that.

In Philadelphia, observers have been kept far away—very far away—so far that people are using binoculars to try and see, and there's been tremendous problems caused."

-Donald Trump, "Remarks on the Presidential Election," govinfo.gov, November 5, 2020
Democrats are trying to steal and rig the election; Detroit and Philadelphia are the most corrupt political places; Pennsylvania is trying to stop observers from watching the ballot count because they're trying to commit fraud, without question
327.
11/5/2020

"Democrat officials never believed they could win this election honestly. I really believe that. That's why they did the mail-in ballots, where there's tremendous corruption and fraud going on. That's why they mailed out tens of millions of unsolicited ballots without any verification measures whatsoever. And I've told everybody that these things would happen, because I've seen it happen. I watched a lot of different elections before they decided to go with this big, massive election with tens of millions of ballots going out to everybody, in many cases, totally unsolicited.

This was unprecedented in American history. This was by design."

-Donald Trump, "Remarks on the Presidential Election," govinfo.gov, November 5, 2020
Democratic officials used mail-in ballots for tremendous corruption and fraud because they could not win the election honestly
328.
11/5/2020

"Despite years of claiming to care about the election security, they [Democrats] refuse to include any requirement to verify signatures, identities, or even determine whether they're eligible or ineligible to vote. People are walking in that they have no idea; they're just taking numbers. They're writing down things—the workers— and doing a lot of bad things. And we have a lot of information coming and litigation that you'll see that will shake even you people up, and you've seen it all."

-Donald Trump, "Remarks on the Presidential Election," govinfo.gov, November 5, 2020
Democrats refuse to verify signatures, identities, or eligibility and let anybody just walk in to vote
329.
11/5/2020

"There have been a number of disturbing [election] irregularities across the Nation. Our campaign has been denied access to observe any counting in Detroit. Detroit is another place—and I wouldn't say has the best reputation for election integrity.

Poll workers in Michigan were duplicating ballots. But when our observers attempted to challenge the activity, those poll workers jumped in front of the volunteers to block their view so that they couldn't see what they were doing, and it became a little bit dangerous.

One major hub for counting ballots in Detroit covered up the windows, again, with large pieces of cardboard. And so they wanted to protect and block the counting area. They didn't want anybody seeing the counting, even though these were observers who are legal observers that were supposed to be there.

In Detroit, there were hours of unexplained delay in delivering many of the votes for counting. The final batch did not arrive until 4 in the morning and—even though the polls closed at 8 o'clock. So they brought it in, and the batches came in, and nobody knew where they came from."

-Donald Trump, "Remarks on the Presidential Election," govinfo.gov, November 5, 2020
There are a number of disturbing election irregularities; Detroit is denying Trump people access to observe the vote counting; Michigan duplicated ballots and brought in ballots of unknown origin
330.
11/5/2020

"In multiple swing States, counting was halted for hours and hours on election night, with results withheld from major Democrat-run locations, only to appear later. And they certainly appeared, and they all had the name 'Biden' on them or just about all—I think almost all. They all had the name 'Biden' on them, which is a little strange.

I challenge Joe and every Democrat to clarify that they only want legal votes. Because they talk about votes, and I think they should use the word 'legal'—'legal votes.' 'We want every legal vote counted.' And I want every legal vote counted. We want openness and transparency— no secret count rooms, no mystery ballots, no illegal votes being cast after election day."

-Donald Trump, "Remarks on the Presidential Election," govinfo.gov, November 5, 2020
Democrat-run locations withheld election results to add votes for Biden; suggested existence of illegal votes
331.
1/5/2020

"And we think we will win the election very easily. We think there's going to be a lot of litigation, because we have so much evidence, so much proof. And it's going to end up, perhaps, at the highest court in the land. We'll see. But we think there'll be a lot of litigation because we can't have an election stolen by—like this.

And I tell you, I would—I have been talking about this for many months with all of you.

And I've said very strongly that mail-in ballots are going to end up being a disaster… We're hearing stories that are horror stories—absolute horror stories. And we can't let that happen to the United States of America…

I have a feeling judges are going to have to rule. But there's been a lot of shenanigans, and we can't stand for that in our country."

-Donald Trump, "Remarks on the Presidential Election," govinfo.gov, November 5, 2020
There is much evidence that the election is being stolen; there are horror stories about mail-in ballots; there's been a lot of shenanigans
332.
11/6/2020

"I easily WIN the Presidency of the United States with LEGAL VOTES CAST. The OBSERVERS were not allowed, in any way, shape, or form, to do their job and therefore, votes accepted during this period must be determined to be ILLEGAL VOTES. U.S. Supreme Court should decide!"

-Donald Trump, Twitter.com, November 6, 2020 2:22 am
Trump wins the election with legal votes; ballots counted without observers should be ruled illegal votes
333.
11/6/2020

"Where are the missing military ballots in Georgia? What happened to them?"

-Donald Trump, Twitter.com, November 6, 2020 12:38 pm
Military ballots are missing in Georgia
334.
11/6/2020

"I had such a big lead in all of these states late into election night, only to see the leads miraculously disappear as the days went by. Perhaps these leads will return as our legal proceedings move forward!"

-Donald Trump, Twitter.com, November 6, 2020 6:25 pm
Trump's lead disappeared in the days after the election
335.
11/7/2020

"I WON THIS ELECTION, BY A LOT!"

-Donald Trump, Twitter.com, November 7, 2020 10:36 am
Trump won the election despite the media calling it for Biden
336.
11/7/2020

"Tens of thousands of votes were illegally received after 8 P.M. on Tuesday, Election Day, totally and easily changing the results in Pennsylvania and certain other razor thin states. As a separate matter, hundreds of thousands of Votes were illegally not allowed to be OBSERVED…

….This would ALSO change the Election result in numerous States, including Pennsylvania, which everyone thought was easily won on Election Night, only to see a massive lead disappear, without anyone being allowed to OBSERVE, for long intervals of time, what the happened…

….Bad things took place during those hours where LEGAL TRANSPARENCY was viciously & crudely not allowed. Tractors blocked doors & windows were covered with thick cardboard so that observers could not see into the count rooms. BAD THINGS HAPPENED INSIDE. BIG CHANGES TOOK PLACE!"

-Donald Trump, Twitter.com, November 7, 2020 8:20 am
Tens of thousands of votes were illegally counted in Pennsylvania and other close states; votes were counted without observers and bad things happened when they blocked doors and windows while counting votes
337.
11/7/2020

"Georgia Counties Using Same Software as Michigan Counties Also Encounter 'Glitch' https://t.co/N2KlEOezGi via @BreitbartNews What a total mess this 'election' has been!"

-Donald Trump, Twitter.com, November 7, 2020 10:23 am
Voting software encountered "glitches"; the election is a total mess
338.
11/7/2020

"THE OBSERVERS WERE NOT ALLOWED INTO THE COUNTING ROOMS. I WON THE ELECTION, GOT 71,000,000 LEGAL VOTES. BAD THINGS HAPPENED WHICH OUR OBSERVERS WERE NOT ALLOWED TO SEE. NEVER HAPPENED BEFORE. MILLIONS OF MAIL-IN BALLOTS WERE SENT TO PEOPLE WHO NEVER ASKED FOR THEM!"

-Donald Trump, Twitter.com, November 7, 2020 4:53 pm
Observers were not allowed to watch the vote counting and bad things happened; suggested existence of illegal votes
339.
11/9/2020

"@FoxNews, @QuinnipiacPoll, ABC/WaPo, NBC/WSJ were so inaccurate with their polls on me, that it really is tampering with an Election. They were so far off in their polling, and in their attempt to suppress – that they should be called out for Election Interference…

…ABC/WaPo had me down 17 points in Wisconsin, the day before the election, and I WON! In Iowa, the polls had us 4 points down, and I won by 8.2%! Fox News and Quinnipiac were wrong on everything…

…The worst polling ever, and then they'll be back in four years to do it again. This is much more then voter and campaign finance suppression!"

-Donald Trump, Twitter.com, November 9, 2020 7:38 pm
Polls from the media were an attempt to suppress the vote and constitute election interference
340.
11/9/2020

"Pennsylvania prevented us from watching much of the Ballot count. Unthinkable and illegal in this country."

-Donald Trump, Twitter.com, November 9, 2020 3:17 pm
Pennsylvania illegally prevented Trump people from watching much of the ballot counting
341.
11/10/2020

"WATCH FOR MASSIVE BALLOT COUNTING ABUSE AND, JUST LIKE THE EARLY VACCINE, REMEMBER I TOLD YOU SO!"

-Donald Trump, Twitter.com, November 10, 2020 10:33 am
There could be massive ballot counting abuse
342.
11/10/2020

"BALLOT COUNTING ABUSE!"

-Donald Trump, Twitter.com, November 10, 2020 10:33 am
Suggested existence of ballot counting abuse
343.
11/10/2020

"But how many ballots were fraudulently cast for the Dems? Did people vote after the election had ended? Did officials actually not allow OBSERVERS and Poll Watchers to look for an honest count?"

-Donald Trump, Twitter.com, November 10, 2020 7:57 pm
Questioning the number of ballots fraudulently cast for ballots, ballots cast too late, and officials not allowing observers of counting
344.
11/10/2020

"A brave patriot. More & more people are stepping forward to expose this Rigged Election!" [Note: This tweet linked to a quote stating, "USPS Whistleblower Richard Hopkins: 'I DID NOT RECANT.'"]

-Donald Trump, Twitter.com, November 10, 2020 9:15 pm
The election was rigged
345.
11/10/2020

"People will not accept this Rigged Election!"

-Donald Trump, Twitter.com, November 10, 2020 9:37 pm
The election was rigged
346.
11/10/2020

"They shut out our Poll Watchers and Observers. Those hundreds of thousands of votes should not be allowed. Corrupt politics."

-Donald Trump, Twitter.com, November 10, 2020 9:20 pm
Votes counted without Republican poll watchers should not be counted
347.
11/10/2020

"Ballot Corruption will be exposed tonight at 9:00pmE on @SeanHannity on @FoxNews!"

-Donald Trump, Twitter.com, November 10, 2020 6:21 pm
There was ballot corruption
348.
11/11/2020

"The Fake Pollsters at @ABC/@washingtonpost produced a possibly illegal suppression Poll just before the Election showing me down 17 points in Wisconsin when, in fact, on Election Day, the race was even – & we are now preparing to win the state. Many such 'deplorable' instances!"

-Donald Trump, Twitter.com, November 11, 2020 8:35 am
Media suppression polls that forecast Trump losing may have been illegal
349.
11/11/2020

"Nobody wants to report that Pennsylvania and Michigan didn't allow our Poll Watchers and/or Vote Observers to Watch or Observe. This is responsible for hundreds of thousands of votes that should not be allowed to count. Therefore, I easily win both states. Report the News!"

-Donald Trump, Twitter.com, November 11, 2020 7:13 pm
Pennsylvania and Michigan didn't allow Republican observers in the vote counting so those hundreds of thousands of votes should not count
350.
11/11/2020

"It [Dominion voting machines] attempted to alter our election and got caught?" [Note: This tweet linked to a tweet that read, "What do we know about Dominion?"]

-Donald Trump, Twitter.com, November 11, 2020 11:17 pm
Dominion Voting Systems was caught attempting to alter the election outcome
351.
11/12/2020

"What is taking North Carolina so long? Are they looking for more ballots to fix that one also? Now with a recount, we will win Georgia also. Pennsylvania & Michigan wouldn't let our Poll Watchers & Observers into counting rooms. Illegal!"

-Donald Trump, Twitter.com, November 12, 2020 8:13 am
Suggestion that North Carolina may be delaying its results to add ballots to Biden's total; Pennsylvania and Michigan didn't allow Republican observers in the counting rooms
352.
11/12/2020

"Rigged Election!"

-Donald Trump, Twitter.com, November 12, 2020 10:16 am
The election is rigged
353.
11/12/2020

"Must see @seanhannity takedown of the horrible, inaccurate and anything but secure Dominion Voting System which is used in States where tens of thousands of votes were stolen from us and given to Biden. Likewise, the Great @LouDobbs has a confirming and powerful piece!"

-Donald Trump, Twitter.com, November 12, 2020 10:46 pm
Dominion Voting Systems stole tens of thousands of votes from Trump to give to Biden
354.
11/13/2020

"For years the Dems have been preaching how unsafe and rigged our elections have been. Now they are saying what a wonderful job the Trump Administration did in making 2020 the most secure election ever. Actually this is true, except for what the Democrats did. Rigged Election!"

-Donald Trump, Twitter.com, November 13, 2020 10:59 am
Democrats rigged the election
355.
11/13/2020

"Heartwarming to see all of the tremendous support out there, especially the organic Rallies that are springing up all over the Country, including a big one on Saturday in D.C. I may even try to stop by and say hello. This Election was Rigged, from Dominion all the way up & down!"

-Donald Trump, Twitter.com, November 13, 2020 1:35 pm
The election was rigged by Dominion voting machines
356.
11/13/2020

"Georgia Secretary of State, a so-called Republican (RINO), won't let the people checking the ballots see the signatures for fraud. Why? Without this the whole process is very unfair and close to meaningless. Everyone knows that we won the state. Where is @BrianKempGA?"

-Donald Trump, Twitter.com, November 13, 2020 7:50 pm
Georgia won't allow ballot signatures to be checked for fraud in an unfair process
357.
11/13/2020

"700,000 ballots were not allowed to be viewed in Philadelphia and Pittsburgh which means, based on our great Constitution, we win the State of Pennsylvania!"

-Donald Trump, Twitter.com, November 13, 2020 7:28 pm
700,000 ballots were counted in Philadelphia and Pittsburgh without Republican observers; Trump wins Pennsylvania despite its reported results
358.
11/14/2020

"10,000 DEAD PEOPLE VOTED IN MICHIGAN. When will this RIGGED ELECTION be overturned!"

-Donald Trump, Twitter.com, November 14, 2020 12:21 am
10,000 dead people voted in Michigan; the election is rigged
359.
11/14/2020

"People are not going to stand for having this Election stolen from them by a privately owned Radical Left company, Dominion, and many other reasons!"

-Donald Trump, Twitter.com, November 14, 2020 3:07 pm
Dominion Voting Systems is stealing the election
360.
11/14/2020

"Hundreds of thousands of people showing their support in D.C. They will not stand for a Rigged and Corrupt Election!"

-Donald Trump, Twitter.com, November 14, 2020 3:24 pm
The election is rigged and corrupt
361.
11/14/2020

"The hand recount taking place in Georgia is a waste of time. They are not showing the matching signatures. Call off the recount until they allow the MATCH. Don't let the Radical Left Dems STEAL THE ELECTION!"

-Donald Trump, Twitter.com, November 14, 2020 3:51 pm
Radical Democrats are stealing the election
362.
11/14/2020

"There is tremendous evidence of wide spread voter fraud in that there is irrefutable proof that our Republican poll watchers and observers were not allowed to be present in poll counting rooms. Michigan, Pennsylvania, Georgia and others. Unconstitutional!"

-Donald Trump, Twitter.com, November 14, 2020 6:07 pm
There is tremendous evidence of widespread voter fraud; Republican observers were not allowed in many states
363.
11/14/2020

"The Consent Decree signed by the Georgia Secretary of State, with the approval of Governor @BrianKempGA, at the urging of @staceyabrams, makes it impossible to check & match signatures on ballots and envelopes, etc. They knew they were going to cheat. Must expose real signatures!"

-Donald Trump, Twitter.com, November 14, 2020 9:29 am
An agreement in Georgia prevents the checking of signatures on ballots because they knew they were going to cheat in the election
364.
11/15/2020

"He [Biden] only won in the eyes of the FAKE NEWS MEDIA. I concede NOTHING! We have a long way to go. This was a RIGGED ELECTION!"

-Donald Trump, Twitter.com, November 15, 2020 9:19 am
This was a rigged election
365.
11/15/2020

"He [Biden]won because the Election was Rigged. NO VOTE WATCHERS OR OBSERVERS allowed, vote tabulated by a Radical Left privately owned company, Dominion, with a bad reputation & bum equipment that couldn't even qualify for Texas (which I won by a lot!), the Fake & Silent Media, & more!"

-Donald Trump, Twitter.com, November 15, 2020 7:47 am
The election was rigged; Republican observers weren't allowed; a radical left voting machine company tabulated the vote
366.
11/15/2020

"All of the mechanical 'glitches' that took place on Election Night were really THEM getting caught trying to steal votes. They succeeded plenty, however, without getting caught. Mail-in elections are a sick joke!"

-Donald Trump, Twitter.com, November 15, 2020 7:56 am
Mechanical "glitches" were really attempts to steal votes; they succeeded at stealing votes
367.
11/15/2020

"Watch @RudyGiuliani interview on @MariaBartiromo this morning at 10:00. Doing a great job exposing the Rigged Election Hoax!"

-Donald Trump, Twitter.com, November 15, 2020 8:04 am
The election was rigged
368.
11/15/2020

"RIGGED ELECTION. WE WILL WIN!"

-Donald Trump, Twitter.com, November 15, 2020 9:16 am
The election was rigged
369.
11/15/2020

"We won't let a RIGGED ELECTION steal our Country!"

-Donald Trump, Twitter.com, November 15, 2020 4:51 pm
The election was rigged
370.
11/15/2020

"Many of the court cases being filed all over the Country are not ours, but rather those of people that have seen horrible abuses. Our big cases showing the unconstitutionality of the 2020 Election, & the outrage of things that were done to change the outcome, will soon be filed!"

-Donald Trump, Twitter.com, November 15, 2020 5:21 pm
The election was unconstitutional and things were done to change the outcome
371.
11/15/2020

"Why does the Fake News Media continuously assume that Joe Biden will ascend to the Presidency, not even allowing our side to show, which we are just getting ready to do, how badly shattered and violated our great Constitution has been in the 2020 Election. It was attacked,..

….perhaps like never before! From large numbers of Poll Watchers that were thrown out of vote counting rooms in many of our States, to millions of ballots that have been altered by Democrats, only for Democrats, to voting after the Election was over, to using Radical Left

….owned Dominion Voting Systems, turned down by Texas and many others because it was not good or secure, those responsible for the safeguarding of our Constitution cannot allow the Fake results of the 2020 Mail-In Election to stand. The World is watching!"

-Donald Trump, Twitter.com, November 15, 2020 8:46 pm
The Constitution was shattered, violated, and attacked; poll watchers were thrown out; Democrats altered millions of ballots; voting occurred after the election was over; Dominion voting machines were not good or secure; the mail-in ballots results are fake
372.
11/15/2020

"I WON THE ELECTION!"

-Donald Trump, Twitter.com, November 15, 2020 11:55 pm
Trump won the election despite the media calling it for Biden
373.
11/15/2020

"Doing a great job in Georgia. Their recount is a scam, means nothing. Must see fraudulent signatures which is prohibited by stupidly signed & unconstitutional consent decree."

-Donald Trump, Twitter.com, November 15, 2020 7:32 am
Signatures on ballots in Georgia are fraudulent
374.
11/16/2020

"Most fraudulent Election in history!"

-Donald Trump, Twitter.com, November 16, 2020 8:15 am
Most fraudulent election in history
375.
11/16/2020

"Dominion is running our Election. Rigged!"

-Donald Trump, Twitter.com, November 16, 2020
Dominion Voting Systems is running the election, which is rigged
376.
11/16/2020

"The Radical Left Democrats, working with their partner, the Fake News Media, are trying to STEAL this Election. We won't let them!"

-Donald Trump, Twitter.com, November 16, 2020 8:26 am
Democrats and the media are trying to steal the election
377.
11/16/2020

"I won the Election!"

-Donald Trump, Twitter.com, November 16, 2020 8:51 am
Trump won the election despite the media calling it for Biden
378.
11/16/2020

"The rate of rejected Mail-In Ballots is 30 X's lower in Pennsylvania this year than it was in 2016. This is why they kept our poll watchers and observers out of the 'SACRED' vote counting rooms!"

-Donald Trump, Twitter.com, November 16, 2020 4:23 pm
Mail-in ballots were rejected at a rate 30 times lower than in 2016; poll watchers were kept out of the counting rooms
379.
11/16/2020

"Big victory moments ago in the State of Nevada. The all Democrat County Commissioner race, on same ballot as President, just thrown out because of large scale voter discrepancy. Clark County officials do not have confidence in their own election security. Major impact!"

-Donald Trump, Twitter.com, November 16, 2020 6:43 pm
Large scale voter discrepancies found in Nevada
380.
11/17/2020

"The recent statement by Chris Krebs on the security of the 2020 Election was highly inaccurate, in that there were massive improprieties and fraud – including dead people voting, Poll Watchers not allowed into polling locations, 'glitches' in the voting machines which changed…

…votes from Trump to Biden, late voting, and many more. Therefore, effective immediately, Chris Krebs has been terminated as Director of the Cybersecurity and Infrastructure Security Agency."

There were massive improprieties and fraud in the election; dead people voted; poll watchers excluded; voting machines changed Trump votes to Biden votes
381.
11/17/2020

"The only thing secure about our 2020 Election was that it was virtually impenetrable by foreign powers. On that, the Trump Administration takes great credit. Unfortunately, the Radical Left Democrats, Dominion, and others, were perhaps more successful!"

-Donald Trump, Twitter.com, November 17, 2020 7:25 pm
Democrats and voting machine manufacturers penetrated the election security
382.
11/17/2020

"Just found thousands of more ballots, and the recount is relatively meaningless without being given access to the signatures. Consent decree is a scam that Georgia Secretary of State or Governor should never have let happen. Unconstitutional. Open it up!"

-Donald Trump, Twitter.com, November 17, 2020 9:06 pm
The Georgia recount is meaningless if they don't check signatures
383.
11/17/2020

"More votes than people, and that is the least of it!!!" [Note: This tweet linked to a tweet that said, "The Wayne County [Detroit] board found the number of ballots cast did not match the number of people who signed in to vote."]

-Donald Trump, Twitter.com, November 17, 2020 9:22 pm
There were more votes than people in Detroit
384.
11/17/2020

"Well, it's really quite simple. You just can't have more votes than people!"

-Donald Trump, Twitter.com, November 17, 2020 9:24 pm
There were more votes than people, which can't happen
385.
11/17/2020

"DEAD PEOPLE VOTED"

-Donald Trump, Twitter.com, November 17, 2020 5:40 pm
Dead people voted
386.
11/18/2020

"I WON THE ELECTION. VOTER FRAUD ALL OVER THE COUNTRY!"

-Donald Trump, Twitter.com, November 18, 2020 8:31 am
Trump won the election despite the media calling it for Biden; there is voter fraud all over the country
387.
11/18/2020

"This was a rigged election. No Republican Poll Watchers allowed, voting machine 'glitches' all over the place (meaning they got caught cheating!), voting after election ended, and so much more!"

-Donald Trump, Twitter.com, November 18, 2020 9:11 am
The election was rigged; Republican poll watchers were not allowed; voting machines were caught cheating; people voted after the election ended
388.
11/18/2020

"They didn't even allow Republican Observers into the building to watch. A terrible insult to our Constitution!"

-Donald Trump, Twitter.com, November 18, 2020 9:16 am
Republican observers were not allowed to watch the vote counting
389.
11/18/2020

"The Georgia recount is a joke and is being done UNDER PROTEST. Even though thousands of fraudulent votes have been found, the real number is in matching signatures. Governor must open up the unconstitutional Consent Decree and call in the Legislature!"

-Donald Trump, Twitter.com, November 18, 2020 9:31 am
Thousands of fraudulent votes have been found in Georgia
390.
11/18/2020

"THEY WOULD'NT LET REPUBLICAN POLL WATCHERS INTO THE COUNTING ROOMS. UNCONSTITUTIONAL!!!"

-Donald Trump, Twitter.com, November 18, 2020 9:54 am
Republican observers were not allowed to watch the vote counting
391.
11/18/2020

"In Detroit, there are FAR MORE VOTES THAN PEOPLE. Nothing can be done to cure that giant scam. I win Michigan!"

-Donald Trump, Twitter.com, November 18, 2020 10:41 am
There were more votes than people in Detroit, which is a giant scam
392.
11/18/2020

"The Great State of Michigan, with votes being far greater than the number of people who voted, cannot certify the election. The Democrats cheated big time, and got caught. A Republican WIN!"

-Donald Trump, Twitter.com, November 18, 2020 11:04 am
Michigan had a far greater number of votes than people who voted; Democrats have been caught cheating
393.
11/18/2020

"Look at this in Wisconsin! A day AFTER the election, Biden receives a dump of 143,379 votes at 3:42AM, when they learned he was losing badly. This is unbelievable!"

-Donald Trump, Twitter.com, November 18, 2020 8:22 pm
A day after the election, 143,379 votes were added for Biden after they saw he was losing
394.
11/18/2020

"…And with these numbers, by far the highest for a sitting President, there was no way the Dems could have won, except through what we are learning now – A Rigged Election!" [Note: This tweet linked to a New York Times tweets stating, "Voters turned out in record numbers in 2020, even during a pandemic. Both major parties gained millions more votes compared with 2016."]

-Donald Trump, Twitter.com, November 19, 2020 7:30 am
There is no way Democrats could have won unless the election was rigged
395.
11/19/2020

"Almost ZERO ballots rejected in Georgia this election. In years past, close to 4%. Not possible. Must have signature check on envelopes now. Very easy to do. Dems fighting because they got caught. Far more votes than needed for flip. Republicans must get tough!"

-Donald Trump, Twitter.com, November 19, 2020 8:59 am
Almost no ballots were rejected in Georgia, which is not possible; Democrats got caught cheating
396.
11/19/2020

"Look at this in Michigan! A day AFTER the election, Biden receives a dump of 134,886 votes at 6:31AM!"

-Donald Trump, Twitter.com, November 19, 2020 8:49 pm
A day after the election, 134,886 votes were added for Biden in Michigan
397.
11/19/2020

"Voter Fraud in Detroit is rampant, and has been for many years!"

-Donald Trump, Twitter.com, November 19, 2020 7:46 am
Voter fraud in Detroit is rampant
398.
11/19/2020

"Evidence of voter fraud continues to grow, including 20,000 dead people on the Pennsylvania voters roll and many thousands all over the Country. Now, there has been an artificial number of votes in favor of Joe Biden."

-Donald Trump, Twitter.com, November 19, 2020 11:22 am
Growing evidence of voter fraud; 20,000 dead people on the Pennsylvania voter rolls; artificial number of Biden votes
399.
11/19/2020

"Lawyers now on @newsmax, @OANN & maybe @FoxNews. An open and shut case of voter fraud. Massive numbers!"

-Donald Trump, Twitter.com, November 19, 2020 12:34 pm
An open and shut case of voter fraud in massive numbers
400.
11/19/2020

"Nolte: Top Pollster Finds 47% Say 'Likely' Democrats Stole Election via @BreitbartNews Rigged Election!"

-Donald Trump, Twitter.com, November 19, 2020 3:26 pm
Democrats likely stole the election; election was rigged
401.
11/20/2020

"A Rigged Election!" [Note: This tweet linked to a quote from Sidney Powell stating, "We are going to clean this mess up now. President Trump won by a landslide. We are going to prove it."]

-Donald Trump, Twitter.com, November 20, 2020 7:14 am
The election was rigged
402.
11/20/2020

"The Election was a HOAX."

-Donald Trump, Twitter.com, November 20, 2020 7:18 am
The election was a hoax
403.
11/20/2020

"We have great support on the Election Hoax!"

-Donald Trump, Twitter.com, November 20, 2020 8:35 am
The election was a hoax
404.
11/20/2020

"The Governor of Georgia, and Secretary of State, refuse to let us look at signatures which would expose hundreds of thousands of illegal ballots, and give the Republican Party and me, David Perdue, and perhaps Kelly Loeffler, a BIG VICTORY…

…Why won't they do it, and why are they so fast to certify a meaningless tally?"

-Donald Trump, Twitter.com, November 20, 2020 2:38 pm
There are hundreds of thousands of illegal ballots in Georgia but the state won't let the Trump team look at the signatures
405.
11/21/2020

"The Media is just as corrupt as the Election itself!"

-Donald Trump, Twitter.com, November 21, 2020 6:13 pm
The election was corrupt
406.
11/21/2020

"Why is Joe Biden so quickly forming a Cabinet when my investigators have found hundreds of thousands of fraudulent votes, enough to 'flip' at least four States, which in turn is more than enough to win the Election? Hopefully the Courts and/or Legislatures will have….

….the COURAGE to do what has to be done to maintain the integrity of our Elections, and the United States of America itself. THE WORLD IS WATCHING!!!"

-Donald Trump, Twitter.com, November 21, 2020 8:18 pm
Trump investigators have found hundreds of thousands of fraudulent votes
407.
11/21/2020

"This is not at all frivolous. It is brought on behalf of one of the most respected members of the United States Congress who is disgusted, like so many others, by an Election that is a fraudulent mess. Fake ballots, dead people voting, no Republican Poll Watchers allowed, & more!" [Note: Tweet included a link to a tweet from Marc Elias, a Democrat lawyer, stating, "Republican Congressman Mike Kelly has filed a new frivolous lawsuit in Pennsylvania seeking to block the state from certifying the election results and having the state legislature choose electors."]

-Donald Trump, Twitter.com, November 21, 2020 8:33 pm
The election is a fraudulent mess; there were fake ballots; dead people voted; Republican poll watchers were not allowed to observe counting
408.
11/21/2020

"Well, there were hundreds of thousands of votes cast where Republican Poll Watchers were not allowed to 'watch', not even allowed in the counting rooms. Likewise with Fake ballots cast and dead people voting!"

-Donald Trump, Twitter.com, November 21, 2020 8:41 pm
Republican poll watchers were not allowed to observe counting of hundreds of thousands of votes; there were fake ballots; dead people voted
409.
11/21/2020

"Sorry Liz [Cheney], can't accept the results of an election with hundreds of thousands of fraudulent votes cast, enough to easily flip the Election. You're just unhappy that I'm bringing the troops back home where they belong!"

-Donald Trump, Twitter.com, November 21, 2020 8:49 pm
There were hundreds of thousands of fraudulent votes cast
410.
11/21/2020

"We will show massive and unprecedented fraud!"

-Donald Trump, Twitter.com, November 21, 2020 8:13 am
There was massive and unprecedented fraud in the election
411.
11/21/2020

"Massive voter fraud will be shown!"

-Donald Trump, Twitter.com, November 21, 2020 8:15 am
There was massive voter fraud in the election
412.
11/21/2020

"Big voter fraud information coming out concerning Georgia. Stay tuned!"

-Donald Trump, Twitter.com, November 21, 2020 8:58 am
There was big voter fraud in Georgia
413.
11/21/2020

"It's all a continuation of the never ending Witch Hunt. Judge Brann, who would not even allow us to present our case or evidence, is an appointment of Senator Pat 'No Tariffs' Toomey of Pennsylvania, no friend of mine, & Obama – No wonder. 900,000 Fraudulent Votes!"

-Donald Trump, Twitter.com, November 21, 2020 11:54 pm
There were 900,000 fraudulent votes
414.
11/22/2020

"It's all about the signatures on the envelopes. Why are the Democrats fighting so hard to hide them. We will find massive numbers of fraudulent ballots. The signatures won't match. Fight hard Republicans. Don't let them destroy the evidence!"

-Donald Trump, Twitter.com, November 22, 2020 7:24 am
Democrats fighting to hide signatures; there are massive of numbers of fraudulent ballots
415.
11/22/2020

"Other than politics, how do you lose a case where large numbers of voters, far more than you need to flip Pennsylvania, are disenfranchised? Vote Observers thrown out of counting rooms. People going to vote finding out they have already voted through a fake [mail-in] ballot – go home!"

-Donald Trump, Twitter.com, November 22, 2020 11:56 am
A large number of voters were disenfranchised; observers were thrown out; mail-in ballots were turned in without the voter's knowledge
416.
11/22/2020

"In certain swing states, there were more votes than people who voted, and in big numbers. Does that not really matter? Stopping Poll Watchers, voting for unsuspecting people, fake ballots and so much more. Such egregious conduct. We will win!"

-Donald Trump, Twitter.com, November 22, 2020 11:37 pm
Some swing states had more votes than the number of people who voted; poll watchers were excluded; there were fake ballots
417.
11/23/2020

"What does GSA being allowed to preliminarily work with the Dems have to do with continuing to pursue our various cases on what will go down as the most corrupt election in American political history? We are moving full speed ahead. Will never concede to fake ballots & 'Dominion'"

-Donald Trump, Twitter.com, November 23, 2020 11:07 pm
It was the most corrupt election in American history; there were fake ballots
418.
11/24/2020

"Our big lawsuit, which spells out in great detail all of the ballot fraud and more, will soon be filled. RIGGED ELECTION!"

-Donald Trump, Twitter.com, November 24, 2020 7:33 am
There was ballot fraud; the election was rigged
419.
11/24/2020

"Why isn't the @GASecofState Brad Raffensperger, a so-called Republican, allowing us to look at signatures on envelopes for verification? We will find tens of thousands of fraudulent and illegal votes…"

-Donald Trump, Twitter.com, November 24, 2020 7:26 pm
There are tens of thousands of fraudulent and illegal votes in Georgia
420.
11/24/2020

"Thank you Randy, working hard to clean up the stench of the 2020 Election Hoax!"

-Donald Trump, Twitter.com, November 24, 2020 7:52 am
The election was a hoax
421.
11/25/2020

"I will be speaking before a very important Pennsylvania State Senate hearing which is in process now. Talking about the massive voter fraud which took place in the 2020 Election!"

-Donald Trump, Twitter.com, November 25, 2020 2:41 pm
There was massive voter fraud in the election
422.
11/25/2020

"This was an election that we won easily. We won it by a lot. So this was, very sad to say it, this election was rigged and we can't let that happen. We can't let it happen for our country. And this election has to be turned around…

They have to turn over the results. It would be easy for me to say, 'Oh, let's worry about four years from now.' No, this election was lost by the Democrats. They cheated. It was a fraudulent election."

-Donald Trump via C-SPAN, "President Trump Phones into Pennsylvania Republican Hearing on 2020 Election," youtube.com, November 25, 2020
Trump won the election despite the media calling it for Biden; the election was rigged and fraudulent; Democrats cheated
423.
11/25/2020

"Anybody watching television the night of the election was saying, 'Wow.' I was called by the biggest political people. Congratulations, sir, on a big win. And all of a sudden ballots were dumped all over the place, and a lot of horrible things happened."

-Donald Trump via C-SPAN, "President Trump Phones into Pennsylvania Republican Hearing on 2020 Election," youtube.com, November 25, 2020
Trump was leading the election until ballots were dumped all over the place and horrible things happened
424.
11/25/2020

"Between the voter suppression and all of the horrible things that happened to poll watchers. We have poll watcher affidavits piled up to the ceiling. They're all over. They were treated horribly all over, all of these swing States, I mean virtually all of the swing States, and many other things were happening that were horrible, just horrible.

But the poll watchers weren't allowed to watch. They were in many cases, whisked out of the room. Not only into pens that were 20, 30, 40, 60, 100 feet away where you couldn't even see. They were using binoculars. People are reporting that they had to use binoculars, and that didn't work. If you were a Republican poll watcher, you were treated like a dog and the Democrats had no problem, but they were rough. They were literally pushed out, and it was rough tactics."

-Donald Trump via C-SPAN, "President Trump Phones into Pennsylvania Republican Hearing on 2020 Election," youtube.com, November 25, 2020
There was voter suppression; Republican poll watchers weren't allowed to watch but Democrats had no problem
425.
11/25/2020

"We have many, many cases, many, many cases of people walking in, an elderly woman walks in looking forward to voting November 3rd and says, 'Oh good. Where would I go about voting?'

'I'm sorry. You've already voted. Your ballot is in.'

They said, 'No, I didn't vote. I didn't vote.' … And then they give her a provisional ballot to sign, which goes nowhere. It's a disgrace that this is happening to our country. We won this election by a lot."

-Donald Trump via C-SPAN, "President Trump Phones into Pennsylvania Republican Hearing on 2020 Election," youtube.com, November 25, 2020
Many cases of people showing up to vote only to be told their mail-in ballot had been submitted even though they never submitted it
426.
11/25/2020

"And all you had to do is take a look at the numbers at 10 o'clock in the evening when everybody thought the election was virtually over, and then very weird things happened. But they're not weird to professionals, and they're not weird to Dominion and other people that operate machines."

-Donald Trump via C-SPAN, "President Trump Phones into Pennsylvania Republican Hearing on 2020 Election," youtube.com, November 25, 2020
Implication that Dominion and other voting machine operators were involved in Biden getting more votes
427.
11/25/2020

"People were getting two and three and four ballots in their home. People that were dead were signing up for ballots. Not only were they coming in and putting in a ballot, but dead people were requesting ballots and they were dead for years, and they were requesting ballots."

-Donald Trump via C-SPAN, "President Trump Phones into Pennsylvania Republican Hearing on 2020 Election," youtube.com, November 25, 2020
People got 2-4 ballots sent to them; ballots were sent to dead people
428.
11/25/2020

"If you look at Michigan with Detroit, you look at the things that happened in Detroit where you have a voter, but you have more votes than you have voters. You take a look at Detroit, Michigan, you have more votes than you have voters."

-Donald Trump via C-SPAN, "President Trump Phones into Pennsylvania Republican Hearing on 2020 Election," youtube.com, November 25, 2020
In Detroit, there were more votes than the number of voters
429.
11/25/2020

"They [Democrats] flooded the market [with mail-in ballots]. They defrauded everybody with ballots… And by the way, after November 3rd, when people put votes in and they put them in illegally, they put them in after the polls closed."

-Donald Trump via C-SPAN, "President Trump Phones into Pennsylvania Republican Hearing on 2020 Election," youtube.com, November 25, 2020
Democrats defrauded everybody with mail-in ballots; ballots were added illegally after the polls closed
430.
11/25/2020

"If something was done wrong, if this election was won fraudulently, and that's what happened, it was a fraud. And we're talking about, very importantly, many more ballots, many more votes than the number we need.

In other words, if we needed 50,000 votes, we're not talking about we found nine dead people that voted. Of course, there were many more than that, numbers that nobody even believes. No, we're talking about numbers that are far in excess of the 50,000. Far in excess in another state where we lost by 10,000, and they went absolutely wild because we got far more votes than they thought possible. And they've just stepped on the gas. And they [Democrats] got caught, just like they got caught spying on my campaign. They got caught exactly. They got caught doing this."

-Donald Trump via C-SPAN, "President Trump Phones into Pennsylvania Republican Hearing on 2020 Election," youtube.com, November 25, 2020
The election was a fraud; more than 50,000 dead people voted; Democrats got caught cheating
431.
11/25/2020

"RIGGED ELECTION!"

-Donald Trump, Twitter.com, November 25, 2020 12:45 pm
The election was rigged
432.
11/25/2020

"Corrupt Election!"

-Donald Trump, Twitter.com, November 25, 2020 7:02 pm
The election was corrupt
433.
11/25/2020

"This Election was RIGGED, but we will WIN!"

-Donald Trump, Twitter.com, November 25, 2020 7:07 pm
The election was rigged
434.
11/26/2020

"Just saw the vote tabulations. There is NO WAY Biden got 80,000,000 votes!!! This was a 100% RIGGED ELECTION."

-Donald Trump, Twitter.com, November 26, 2020 10:44 am
The election was 100% rigged
435.
11/26/2020

"I gave a long news conference today after wishing the military a Happy Thanksgiving, & realized once again that the Fake News Media coordinates so that the real message of such a conference never gets out. Primary point made was that the 2020 Election was RIGGED, and that I WON!"

-Donald Trump, Twitter.com, November 26, 2020 10:49 pm
The election was rigged and Trump won despite the reported voted totals
436.
11/26/2020

"You have to really take a look at what's going on. They're finding tremendous discrepancies in the votes. Nobody believes those numbers. Those numbers are incorrect numbers. A lot of numbers have already been reported that's incorrect.

You're going to see things happening over the next week or two that are going to be shocking to people—if you look at the numbers in Michigan, if you look at the numbers in Pennsylvania, if you look at fraudulent voting and fraudulent votes…

Nobody wants to see the kind of fraud that this election has really come to represent."

-Donald Trump, "Remarks During a Video Teleconference With United States Servicemembers and Exchange With Reporters," presidency.ucsb.edu, November 26, 2020
There are tremendous discrepancies in the votes; there was fraudulent voting and fraudulent votes
437.
11/26/2020

"We are looking at things that are so bad in Georgia. They don't want to show us signatures. The reason they don't want to show us signatures is very simple: because we will find thousands and thou—it's a very close race; it's hair-thin—but we'll find thousands and thousands of discrepancies, fraud. Why they aren't wanting to show those signatures is amazing. They're doing recounts. And even in the recount, they found thousands of votes that were off. But now we want to look at the signatures. And you will find tens of thousands of false [mail-in] ballots, fraud—forged ballots. You'll see it all over. You're going to see a lot of it."

-Donald Trump, "Remarks During a Video Teleconference With United States Servicemembers and Exchange With Reporters," presidency.ucsb.edu, November 26, 2020
Georgia won't show the signatures because there are thousands of discrepancies; there are tens of thousands of false/forged ballots
438.
11/26/2020

"And you go to Pennsylvania. You saw the meeting we had yesterday with Pennsylvania. You saw people come up—how they went to vote, and they said: 'No, you can't vote. Somebody else already sent in a ballot.' And a woman—but this is happening tens of thousands of times. I think it was six hundred-and-some-odd thousand—687,000 fraudulent votes cast in Pennsylvania. And I will tell you, the—if you look at the statehouse now—the Republican statehouse—they're starting to see what's going on there. But they've really known it for a long time."

-Donald Trump, "Remarks During a Video Teleconference With United States Servicemembers and Exchange With Reporters," presidency.ucsb.edu, November 26, 2020
There were 687,000 fraudulent votes cast in Pennsylvania
439.
11/26/2020

"Then, you go to Michigan, and you look at what happened in Wayne County, in Detroit. I went through a list. I won almost every county, and you see it. Almost every—by 78 percent, 72 percent, 68 percent—going through the list. Then, you get to Wayne, and something happened. Tremendous numbers.

You saw the canvassers. They refused to sign their document [certifying the election results], because they said, 'We can't sign a fraudulent document.' Horrible things went on. That's in Wayne County, Detroit.

But you look at the votes that were just tabulated, and they were left today. Look at all the counties. I won almost all of them, except Detroit. It was so egregious. It was phony."

-Donald Trump, "Remarks During a Video Teleconference With United States Servicemembers and Exchange With Reporters," presidency.ucsb.edu, November 26, 2020
The results in Detroit are egregiously phony
440.
11/26/2020

"Look at what's going on in Wisconsin. Wisconsin, they're finding tremendous discrepancy. You just take a look at that. Tremendous discrepancy… It's very, very close. It's very, very close. And we're going to win, because they found—by the way, in Wisconsin, they have found massive discrepancy, just so you understand. Massive discrepancy."

-Donald Trump, "Remarks During a Video Teleconference With United States Servicemembers and Exchange With Reporters," presidency.ucsb.edu, November 26, 2020
Wisconsin is finding tremendous discrepancy in the votes
441.
11/26/2020

"So I don't know what is going to happen. I know one thing: Joe Biden did not get 80 million votes. And I got 74 million, but there were many ballots thrown away, so I got much more than that. But I got 74 million. Seventy-four million is eleven million more than I got last time. It's millions more than Ronald Reagan got when he won all—he won 49 States, I guess. He won 49 States, yes. And it's millions more—millions more than Hillary Clinton got.

Joe Biden did not get—and, by the way, Joe Biden did not beat Barack Obama with the Black vote. He didn't beat him, okay? But they have him as beating him. And if you look at the numbers, the numbers are false. The numbers are corrupt. It was a rigged election—100 percent—and people know it. That's why you have people marching all over the United States right now: They know was a rigged election."

-Donald Trump, "Remarks During a Video Teleconference With United States Servicemembers and Exchange With Reporters," presidency.ucsb.edu, November 26, 2020
Many ballots cast for Trump were thrown away so his total should be higher; Joe Biden did not get as many votes as reported because the numbers are corrupt; the election is 100% rigged
442.
11/26/2020

"There's tremendous fraud here… If you look at 10 o'clock in the evening, you saw what happened. Then you had these massive dumps [of ballots]. Nobody has ever seen anything like it."

-Donald Trump, "Remarks During a Video Teleconference With United States Servicemembers and Exchange With Reporters," presidency.ucsb.edu, November 26, 2020
There is tremendous fraud in the election; there were massive ballot dumps
443.
11/26/2020

"You have Dominion [voting machines], which is very, very suspect to start off with. Nobody knows the ownership. People say the votes are counted in foreign countries. No, no, they—and much worse than that, by the way, with Dominion.

So, you know, Dominion is also partially based in Canada, but it's based in other countries too. And nobody knows where the votes—but you know, Canada refuses to use Dominion. Canada uses paper ballots.

So think of it: They're based in Canada, and Canada refuses to use them. They're smart. They use paper ballots, because paper ballots are the only thing—frankly, the only thing that really you're going to get an accurate tab on, because those machines are fixed. They're rigged. You can press 'Trump,' and the vote goes to Biden. All you have to do is play with a chip, and it's down—it's shown all the time. All you have to do is play with a chip. And they played with a chip, especially in Wayne County, in Detroit. You take a look."

-Donald Trump, "Remarks During a Video Teleconference With United States Servicemembers and Exchange With Reporters," presidency.ucsb.edu, November 26, 2020
Dominion Voting Systems is suspect because maybe the votes are counted in foreign countries; the voting machines are rigged because votes for Trump actually go to Biden
444.
11/26/2020

"Speaking of Georgia, I'll be going there… The people are very disappointed that we were robbed. We were robbed. I won that by hundreds of thousands of votes. Everybody knows it. You go down the streets; there are Trump-Pence signs all over the place. And we won that by hundreds of thousands—Georgia. So they're disappointed.

I don't want them to be disappointed. That will solve itself. We're finding the votes. Once we get to the signatures, we'll take over 100 percent. Once we get the signatures, 100 percent, we will take over Georgia, and we will get Georgia. But they have to show us the signatures. Stacey Abrams pulled the wool over the secretary of state…

And even without looking at signatures, as you know, we found thousands of wrong votes. And by the way, always against me. It was not like 50/50; it was always against me."

-Donald Trump, "Remarks During a Video Teleconference With United States Servicemembers and Exchange With Reporters," presidency.ucsb.edu, November 26, 2020
Trump was robbed of his victory in Georgia; there were thousands of wrong votes that should have gone to Trump
445.
11/26/2020

"Take a look at Michigan. Take a look at what they did with respect to counties. Every county—78 percent, 72 percent, 76 percent, 59 percent—the whole thing, one after another, after another. And then, you get to Detroit, and it's like more votes than people. Dead people voting all over the place."

-Donald Trump, "Remarks During a Video Teleconference With United States Servicemembers and Exchange With Reporters," presidency.ucsb.edu, November 26, 2020
Dead people voted all over the place in Detroit
446.
11/26/2020

Reporter: "Mr. President, if the electoral college votes for Joe Biden on December 14, will you concede the election?"

"I—it's going to be a very hard thing to concede, because we know there was massive fraud… This was a massive fraud. This should never take place in this country. We're like a third-world country. We have [voting] machines that nobody knows what the hell they're looking at. I mean, you take a look at all the mistakes they made."

-Donald Trump, "Remarks During a Video Teleconference With United States Servicemembers and Exchange With Reporters," presidency.ucsb.edu, November 26, 2020
There was massive fraud in the election
447.
11/26/2020

"They're doing a recount right now in Georgia that is meaningless. The only recount that matters in Georgia is to look at the signatures on the envelope, and you will find that those signatures do not match the people that were—many of them—hundreds of thousands of them, hundreds of thousands. And I only lost by 12,000 votes.

I didn't lose. I didn't even like to say I lose. I only—I guess we're eleven or twelve thousand votes short. That's out of millions and millions of votes. They just got it over the line."

-Donald Trump, "Remarks During a Video Teleconference With United States Servicemembers and Exchange With Reporters," presidency.ucsb.edu, November 26, 2020
There were hundreds of thousands of ballots in Georgia where the signatures don't match the voters
448.
11/26/2020

"And one of the things that happened: I did so well—and I was told this in two other States—that they didn't know what to do. They panicked. Take a look at their [ballot] drops at 3 o'clock and 3:42 in the morning on certain States. They did drops where you're going along like this, and then you have a spike that goes up to the ceiling and down. It's disgraceful. We can't let that happen."

-Donald Trump, "Remarks During a Video Teleconference With United States Servicemembers and Exchange With Reporters," presidency.ucsb.edu, November 26, 2020
Some states panicked that Trump was winning and dropped ballots for Biden in the middle of the night
449.
11/26/2020

Reporter: "But, sir, just to be clear: If the electoral college votes for Joe Biden, will you concede?"

"Well, if they do, they've made a mistake because this election… was a fraud. Just so you understand, this election was a fraud.

I mean, they have Biden beating Obama—on Obama's vote in areas that mattered in terms of the election, in swing States. And yet he's losing to Obama all over the place, but he's beating Obama in swing States, which are the States that mattered for purposes of the election.

So no, I can't say that at all."

-Donald Trump, "Remarks During a Video Teleconference With United States Servicemembers and Exchange With Reporters," presidency.ucsb.edu, November 26, 2020
The election was a fraud
450.
11/26/2020

"Massive fraud has been found. We're like a third-world country. We're using computer equipment that can be hacked. They talk about glitches: How many glitches did they find? So a glitch—'Oh, gee. We had a glitch: 5,000 votes.'

In all cases—right? In all cases, the votes went from Trump to Biden. They didn't go from Biden—the glitches were never from Biden to Trump.

So they had many glitches. And they said, "Oh, we had a glitch.' That—a glitch is like: 'The equipment is a little broken. We'll fix it up.' No. A glitch is, in this case, we caught them cheating. We caught them stealing. We caught a fraudulent effort to get votes. And they said, 'Oh, yes, it's true. It—there was, but'—and there were many of them.

But here's the problem: There were probably 10, 20, 30 times that didn't get caught. We just got lucky and caught numerous of them. But what that is, is very simple. If you look at the glitch, the glitch means—right? It means: 'Oh, we got caught. We got caught with the votes, and now let's just call it a glitch.'

It wasn't the machinery. And by the way, the machinery, if you look—just take a look anywhere on the internet; you will see many, many people where they're experimenting with this stupid machinery—where, if you set it a certain way, the votes go from Trump to Biden."

-Donald Trump, "Remarks During a Video Teleconference With United States Servicemembers and Exchange With Reporters," presidency.ucsb.edu, November 26, 2020
Massive fraud has been found in the election; computer equipment used in the election can be hacked; voting machine glitches changed votes from Trump to Biden; they were caught stealing votes and cheating
451.
11/26/2020

"And just so you understand: many, many more [fraudulent] votes that we're talking about that we need. You understand. I'm not saying we caught 23 dead people, but where we're short 20,000 votes. No, no. We have tens of thousands votes more than we need in all cases. Okay? In all cases. So I think you're going to see something. I mean, I think it's going to be a very big story."

-Donald Trump, "Remarks During a Video Teleconference With United States Servicemembers and Exchange With Reporters," presidency.ucsb.edu, November 26, 2020
There were tens of thousands of fraudulent votes
452.
11/26/2020

"This has a long way to go. This has a long way to go. You're going to find tremendous fraud. You're going to find fraud of hundreds of thousands of votes per State. You're going to find fraud of many, many times the votes that I need.

Again, we're not talking about less votes, where—you know, 20 votes, but it doesn't turn the election. No, we're talking about thousands and thousands of votes beyond what we need to turn a State…

And there's no way that Biden got 80 million votes. By the way, the only way he got 80 million votes is through a massive fraud. There's no way that he got 80 million votes."

-Donald Trump, "Remarks During a Video Teleconference With United States Servicemembers and Exchange With Reporters," presidency.ucsb.edu, November 26, 2020
There were hundreds of thousands of fraudulent votes in each state; Biden did not get the reported number of votes unless it was through massive fraud
453.
11/26/2020

"They are tremendous people. Kelly Loeffler, David Perdue are tremendous people. They should be in the United States Senate. They're desperately needed.

But I told them today, I said: 'Listen, you have a fraudulent system [in Georgia]. You have a system where the flick of a switch or the putting in of a new chip can change the course of history, and you have to be very careful.'"

-Donald Trump, "Remarks During a Video Teleconference With United States Servicemembers and Exchange With Reporters," presidency.ucsb.edu, November 26, 2020
Georgia has a fraudulent election system where the voting machines can be used to change votes
454.
11/26/2020

"I read this morning where Stacey Abrams has 850,000 ballots accumulated. Now, that's called 'harvesting.' You're not allowed to harvest, but I understand the secretary of state, who is really—he's an enemy of the people, the secretary of state. And whether he's Republican or not, this man—what he's done. Supposedly, he made a deal—and you'll have to check this—where she's allowed to harvest, but in other areas, they're not allowed. What kind of a deal is that? They're not allowed to harvest during the Presidential.

But how can she say she has 850,000 ballots? That would mean that she's got 850,000 ballots for her. That's not supposed to be happening. That's not an election. You know, an election should be a 1-day deal: You walk in and you vote. And if you can't do it—if, for some reason, you're not feeling well or there's a problem——

But what they did is they use COVID in order to defraud the people of this country. And the whole world is watching, and the whole world is laughing at our electoral process. The whole world is watching. And it's a very sad thing. A very sad thing."

-Donald Trump, "Remarks During a Video Teleconference With United States Servicemembers and Exchange With Reporters," presidency.ucsb.edu, November 26, 2020
Stacey Abrams harvested 850,000 votes which is not allowed
455.
11/26/2020

"But with all of the things I've done, this could be the most important, because there's been voter fraud going on, but never at this scale. Tens of millions of [mail-in] ballots have been sent out to people that didn't even want them. Many people—and I know you've heard—many people have received two, three, and four ballots. And many people have taken those two, three, and four ballots, and they voted them.

This election was a fraud. This—it was a rigged election. I mean, I hate to say it, but this was a rigged—at the highest level, it was a rigged election. So we have to figure it out."

-Donald Trump, "Remarks During a Video Teleconference With United States Servicemembers and Exchange With Reporters," presidency.ucsb.edu, November 26, 2020
There is voter fraud; people received 2-4 ballots and voted on all of them; the election was a fraud and rigged at the highest level
456.
11/26/2020

"And I'm serious: If the media were honest and if Big Tech were honest, which it's totally not—it's a terrible thing. That whole section 230 is a disgrace that they even have it. But Big Tech is totally dishonest. If the media were honest and big tech was fair, this wouldn't even be a contest, and I would have won by a tremendous amount, a tremendous amount. And I did win by a tremendous amount, but it hasn't been reported yet."

-Donald Trump, "Remarks During a Video Teleconference With United States Servicemembers and Exchange With Reporters," presidency.ucsb.edu, November 26, 2020
If not for the dishonesty of the media and Big Tech, Trump would have won by a tremendous amount; Trump won the election despite reports to the contrary
457.
11/26/2020

"They gave Biden a lot of votes that he would never have gotten. This is not a candidate that could get 80 million votes. This is just not a candidate. This is not a candidate that beat Barack Hussein Obama with the Black voter, okay? This is not a candidate that beat Obama with the Black voter. This is not a candidate that beat Hillary Clinton to a pulp. It just doesn't work that way.

But when you look at the number, when you look at the data, and when you look at the things we have, we have affidavits from hundreds and hundreds of people. This election was a rigged election."

-Donald Trump, "Remarks During a Video Teleconference With United States Servicemembers and Exchange With Reporters," presidency.ucsb.edu, November 26, 2020
Affidavits from hundreds of people show it was a rigged election
458.
11/26/2020

"A total FRAUD. Statehouse Republicans, proud, strong and honest, will never let this travesty stand!" [Note: This tweet linked to a tweet that read "Numbers revealed in Pennsylvania prove to be borderline impossible and not just improbable."]

-Donald Trump, Twitter.com, November 26, 2020 3:42 pm
The election was a fraud
459.
11/27/2020

"Biden can only enter the White House as President if he can prove that his ridiculous '80,000,000 votes' were not fraudulently or illegally obtained. When you see what happened in Detroit, Atlanta, Philadelphia & Milwaukee, massive voter fraud, he's got a big unsolvable problem!"

-Donald Trump, Twitter.com, November 27, 2020 10:56 am
There was massive voter fraud in Detroit, Atlanta, Philadelphia, and Milwaukee
460.
11/27/2020

"BIG NEWS: Pennsylvania Poll Watcher: USB Drives uploaded to machines, gave Biden thousands of votes. Says 47 USB Drives are now missing. EVERY UPLOAD GAVE BIDEN 50,000 VOTES. @OANN"

-Donald Trump, Twitter.com, November 27, 2020 8:36 am
USB Drives uploaded to machines, gave Biden thousands of votes
461.
11/27/2020

"Wow! Twitter bans highly respected Pennsylvania State Senator Doug Mastriano after he did a great job of leading a hearing on the 2020 Election fraud. They and the Fake News, working together, want to SILENCE THE TRUTH. Can't let that happen. This is what Communist countries do!"

-Donald Trump, Twitter.com, November 27, 2020 8:36 am
Pennsylvania state senator led a hearing on election fraud and was silenced by Twitter
462.
11/27/2020

"No, the 2020 Election was a total scam, we won by a lot (and will hopefully turn over the fraudulent result)"

-Donald Trump, Twitter.com, November 27, 2020 9:58 am
The election was a total scam and the result is fraudulent
463.
11/28/2020

"The number of ballots that our Campaign is challenging in the Pennsylvania case is FAR LARGER than the 81,000 vote margin. It's not even close. Fraud and illegality ARE a big part of the case. Documents being completed. We will appeal!"

-Donald Trump, Twitter.com, November 28, 2020 3:49 pm
Fraud and illegality occurred in far more than 81,000 votes in Pennsylvania
464.
11/28/2020

"The 1,126,940 votes were created out of thin air. I won Pennsylvania by a lot, perhaps more than anyone will ever know. The Pennsylvania votes were RIGGED. All other swing states also. The world is watching!"

-Donald Trump, Twitter.com, November 28, 2020 12:09 am
Votes in Pennsylvania and other swing states were rigged
465.
11/28/2020

"The Wisconsin recount is not about finding mistakes in the count, it is about finding people who have voted illegally, and that case will be brought after the recount is over, on Monday or Tuesday. We have found many illegal votes. Stay tuned!"

-Donald Trump, Twitter.com, November 28, 2020 3:00 pm
There were many illegal votes in Wisconsin
466.
11/29/2020
"You start with these [voting] machines that have been suspect, not allowed to be used in Texas, the Dominion machines, where tremendous reports have been put out. We have affidavits on — from many people talking about what went on with machines. They had glitches. You know what a glitch is. That's — a glitch is supposed to be when a machine breaks down. Well, no, we had glitches where they moved thousands of votes from my account to Biden's account. And these are glitches.

So, they're not glitches. They're theft. They're fraud, absolute fraud. And there were many of them, but, obviously, most of them tremendous amounts, got by without us catching. We got lucky to catch them. I think we caught four or five glitches of about 5,000 votes each, and different states. And, again, they're not glitches. That was fraud. And they got caught. But, for the most part, they got away with it."

-Donald Trump, "Interview: Maria Bartiromo Interviews Donald Trump on Fox News – November 29, 2020," factba.se, November 29, 2020
Dominion machines changed Trump votes to Biden votes in an act of theft and fraud
467.
11/29/2020

"This election was over. And then they did [mail-in ballot] dumps. They call them dumps, big, massive dumps, in Michigan, Pennsylvania, and all over. If you take a look at — you just take a look at just about every state that we're talking about, every swing state that we're talking about. And they did these massive dumps of votes. And, all of a sudden, I went from winning by a lot to losing by a little… But they did tens of thousands of Biden votes."

-Donald Trump, "Interview: Maria Bartiromo Interviews Donald Trump on Fox News – November 29, 2020," factba.se, November 29, 2020
Every swing state had massive ballot dumps that favored Biden
468.
11/29/2020

"This is a terrible thing that's happened. The mail-in ballots were — are a disaster. They sent millions and millions and millions of mail-in ballots. I'm sure you know people that got two, three, or four, because I do, where they said, you know, we got four ballots. They got one at a country home. Dead people were seeing ballots. But, even worse, dead people were applying to get a ballot. They were making application to get ballots, many.

And, you know, we're not talking about 10 people. We're talking — there are a lot of dead people that so-called voted in this election. But dead people were, in some cases, in many, many cases, thousands of cases, voted, but, also, dead people made application to vote. They were dead 10 years, 15 years, and they actually made application. This is total fraud."

-Donald Trump, "Interview: Maria Bartiromo Interviews Donald Trump on Fox News – November 29, 2020," factba.se, November 29, 2020
Mail-in ballots were a disaster; people got multiple ballots; ballots were sent to dead people; people applied for ballots in the name of dead people
469.
11/29/2020

"And how the FBI and Department of Justice — I don't know. Maybe they are involved. But how people are allowed to get away from this stuff — with this stuff is unbelievable. This election was rigged. This election was a total fraud. And it continues to be, as they hide."

-Donald Trump, "Interview: Maria Bartiromo Interviews Donald Trump on Fox News – November 29, 2020," factba.se, November 29, 2020
The election was rigged and a total fraud
470.
11/29/2020

"What is bigger than this? This is the essence of our country. This is the whole ball game. And they cheated. Joe Biden did not get 80 million votes… Glitches started happening. This election was rigged. This election is a total fraud."

-Donald Trump, "Interview: Maria Bartiromo Interviews Donald Trump on Fox News – November 29, 2020," factba.se, November 29, 2020
The election was rigged and a total fraud
471.
11/29/2020

"You know, the poll watchers — and this is true with all of the states, just about, that you're talking about, I think all of them. They weren't allowed to have poll watchers. The Democrats and thugs, thugs — I'm not talking about saying, 'could you please move over?' They threw them out of the counting rooms…

And during that period of time, a lot of bad things happened. Then they closed — as you know, they closed up the voting, and then for — unexpectedly. They closed up all of the counting. Unexpectedly, new ballots came in. And it was all new numbers being added. We have pictures and we have evidence of new ballots being brought into counting rooms."

-Donald Trump, "Interview: Maria Bartiromo Interviews Donald Trump on Fox News – November 29, 2020," factba.se, November 29, 2020
Democrats threw Republican poll watchers out of the counting rooms then did bad things and added new ballots
472.
11/29/2020

"There's never been anything like this in history. And it all started with the mail-in. But it also goes to Dominion. It goes to a lot of things. But the mail-in, millions and millions of ballots being shipped all over, and ballots — as you know, there were a lot of ballots where it was just Biden on top.

They didn't do anything else, because they were in a rush. And from what everybody is saying, and from what — I don't think we even have to prove this. They say that I was doing so much better than they thought that they panicked, and they started just doing ballot after ballot very quickly and just checking the Biden name on top.

They didn't have time. So, you have all these ballots with just one name checked. People don't vote that way. People don't vote that way. They want to vote against taxes, and they want to vote for judges, and they want to vote for a lot of other things that you have on the ballot, you know, different — different races, including Congress."

-Donald Trump, "Interview: Maria Bartiromo Interviews Donald Trump on Fox News – November 29, 2020," factba.se, November 29, 2020
Fake ballots were submitted with just Biden's name marked because they didn't have time to fill in other races
473.
11/29/2020

"But the election ended, and they gave people an extension to vote. That's never happened before. In other words, the election ended, but we will give you more time, if you want to vote.

And what I understand is, they didn't think it was good either, so they backdated all these [mail-in] ballots that came in. They had people — and we have affidavits on that too — they had people backdating ballots, so that if a — somebody came in the 4th or 5th or 6th, which was illegal because the legislature didn't approve it, which everything has to be approved the legislature.

And they had judges making deals. And they had electoral officials making deals, like this character in Georgia, who is a disaster."

-Donald Trump, "Interview: Maria Bartiromo Interviews Donald Trump on Fox News – November 29, 2020," factba.se, November 29, 2020
Ballots were backdated to be counted after arriving late; judges and election officials cut deals
474.
11/29/2020

"They stuffed the ballot boxes. You know, I have been hearing that expression for many years. You have too, stuffed the ballot — they stuffed the ballot boxes. And they used COVID as a means to stuff the ballot boxes. Joe Biden did not get 16 million more votes than Barack Hussein Obama. He didn't get it…

But he beats Obama in swing states. Now, think of that. He beat Obama in swing states. You know that didn't happen. They stuffed the ballot box. Everybody knows that."

-Donald Trump, "Interview: Maria Bartiromo Interviews Donald Trump on Fox News – November 29, 2020," factba.se, November 29, 2020
The ballot boxes were stuffed with fake votes
475.
11/29/2020

"Everyone knows that people were not allowed to vote when they walked in, so preciously, so beautifully, to vote. An elderly woman — we have her deposition — was told — who longed to vote, looked forward to the day of November 3, was told when she got in there, I'm sorry, you voted. And then they give her another ballot to sign, which they don't use, because she already voted.

That's how brazen they are. They will actually vote people, knowing that there's a good chance that those people will come. And there were thousands of those people."

-Donald Trump, "Interview: Maria Bartiromo Interviews Donald Trump on Fox News – November 29, 2020," factba.se, November 29, 2020
People showed up to vote and were told their ballots had already been counted
476.
11/29/2020

"You know, the votes in Dominion, they say, are counted in foreign countries, OK? Can you believe this? Now, Dominion is also based in a number of foreign countries. One of them is Canada. And Canada refuses to use Dominion. And they're based there. They don't — they won't get anywhere near it. Texas will not get anywhere near Dominion. I spoke with the attorney general. I spoke with a lot of different people."

-Donald Trump, "Interview: Maria Bartiromo Interviews Donald Trump on Fox News – November 29, 2020," factba.se, November 29, 2020
Votes cast on Dominion voting machines are counted in foreign countries
477.
11/29/2020

"Even the mailmen — look, the mailmen are carrying thousands of ballots back and forth, back and forth. There are many mailmen that are in big trouble for selling ballots, getting rid of ballots. This is the craziest thing you have ever seen.

But many ballots — many ballots with the name Trump on were thrown out. You have read that. They found ballots in a river with the name Trump on from the military. They were signed. And they were floating in a river. They found ballots under rocks that had the name Trump on. They were signed. They were signed with Trump."

-Donald Trump, "Interview: Maria Bartiromo Interviews Donald Trump on Fox News – November 29, 2020," factba.se, November 29, 2020
Many mailmen are in big trouble for selling and getting rid of ballots; ballots marked for Trump were thrown out
478.
11/29/2020

"We won the election easily. There's no way Joe Biden got 80 million votes. I just said, there's no way Joe Biden beat Barack Obama in the black communities of various cities, and then he did very badly compared to Obama in other cities throughout the United States.

There's no way it happened. This election was a fraud. It was a rigged election."

-Donald Trump, "Interview: Maria Bartiromo Interviews Donald Trump on Fox News – November 29, 2020," factba.se, November 29, 2020
Trump won easily despite the reported vote totals; Biden didn't get the number of reported votes; the election was a fraud and rigged
479.
11/29/2020

"We have the greatest case ever. We have many different forms of fraud. It's not just one form. It's ballot fraud. It's — it's many — we have it all documented. And we have tremendous evidence… Great people came forward with affidavits, signed affidavits…

This was corruption, because we got far more votes than him. We got 74 million votes. He did not get anywhere near 80. And that's 74 before they throw away — you know, they threw away [mail-in] ballots. They threw away many Trump ballots. That's the easiest way they could cheat. But we got 74 million votes. He didn't get anywhere close to 80 million votes."

-Donald Trump, "Interview: Maria Bartiromo Interviews Donald Trump on Fox News – November 29, 2020," factba.se, November 29, 2020
There were many different forms of fraud and corruption; ballots marked for Trump were thrown away
480.
11/29/2020

"There was tremendous cheating here. Boxes were brought in. The mail-in vote is a disaster."

-Donald Trump, "Interview: Maria Bartiromo Interviews Donald Trump on Fox News – November 29, 2020," factba.se, November 29, 2020
There was tremendous cheating with mail-in ballots
481.
11/29/2020

"'Democrats suffered crushing down-ballot loss across America.' @nytimes. This is true. All statehouses won, and in Washington we did great. So I led this great charge, and I'm the only one that lost? No, it doesn't work that way. This was a massive fraud, a RIGGED ELECTION!"

-Donald Trump, Twitter.com, November 29, 2020 9:55 pm
There was massive fraud and the election was rigged
482.
11/29/2020

"We have some big things happening in our various litigations on the Election Hoax. Everybody knows it was Rigged. They know Biden didn't get more votes from the Black community than Obama, & certainly didn't get 80,000,000 votes. Look what happened in Detroit, Philadelphia, plus!"

-Donald Trump, Twitter.com, November 29, 2020 7:34 pm
Biden didn't get the number of votes reported because the election was rigged
483.
11/29/2020

"@60Minutes never asked us for a comment about their ridiculous, one sided story on election security, which is an international joke. Our 2020 Election, from poorly rated Dominion to a Country FLOODED with unaccounted for Mail-In ballots, was probably our least secure EVER!"

-Donald Trump, Twitter.com, November 29, 2020 8:05 pm
Dominion Voting Systems is rated poorly; the country was flooded with unaccounted for ballots; the election was least secure ever
484.
11/29/2020

"All statehouses won, and in Washington we did great. So I led this great charge, and I'm the only one that lost? No, it doesn't work that way. This was a massive fraud, a RIGGED ELECTION!"

-Donald Trump, Twitter.com, November 29, 2020 9:55 pm
There was massive fraud and the election was rigged
485.
11/29/2020

"NO WAY WE LOST THIS ELECTION!"

-Donald Trump, Twitter.com, November 29, 2020 10:05 pm
Trump won the election despite the reported vote totals
486.
11/30/2020

"I know that we won Arizona and we won Michigan and we won Georgia and we won Pennsylvania and we won Wisconsin. But what they did is they played games, and games like nobody's ever seen before.

This is the first time Republicans or a first time anyone has fought back. The 2020 election was rigged. It was a scam, and the whole world is watching and they're laughing at our country. They're laughing at us. They know who won, and we won by a lot… this was a scam, and we have to get down to the bottom of it."

-Donald Trump, "Remarks: Donald Trump Calls In to Meeting of Arizona GOP Lawmakers on Election – November 30, 2020," factba.se, November 30, 2020
The 2020 election was rigged and a scam; Trump won swing states despite the reported vote totals
487.
11/30/2020

"The poll watchers were thrown out of buildings or put at very far away distances, but they were thrown out of buildings in numerous of the states."

-Donald Trump, "Remarks: Donald Trump Calls In to Meeting of Arizona GOP Lawmakers on Election – November 30, 2020," factba.se, November 30, 2020
Poll watchers were thrown out of buildings in numerous states
488.
11/30/2020

"You have people that came in to vote and they were told, 'I'm sorry, but you've already voted. We've received your [mail-in] ballot.' 'No, I never voted. I'm very proud to vote November 3rd. I'm very proud to vote.' 'No, we have your ballot.' And they would go in and they would sign a complaint. In some cases, they went home and they cried.

They've never seen anything like it. We have thousands and thousands of people that walked in. This shows you how arrogant the Democrats and others were in taking away and stealing an election, 'cause that's what they've tried to do is steal it."

-Donald Trump, "Remarks: Donald Trump Calls In to Meeting of Arizona GOP Lawmakers on Election – November 30, 2020," factba.se, November 30, 2020
People who showed up to vote were told their ballots had already been received; Democrats were arrogant in stealing the election
489.
11/30/2020

"We're gonna win this thing. We're not giving up ever. We will never give up. There's never been anything like this. Thousands and thousands of votes were cast and you have some people that were paid to vote, you know that."

-Donald Trump, "Remarks: Donald Trump Calls In to Meeting of Arizona GOP Lawmakers on Election – November 30, 2020," factba.se, November 30, 2020
Some people were paid to vote
490.
11/30/2020

".@OANN WOW, total election corruption in Arizona. Hearing on now! Why isn't @FoxNews covering the Arizona hearings?"

-Donald Trump, Twitter.com, November 30, 2020 12:34 pm
There was total election corruption in Arizona
491.
11/30/2020

"Why is he rushing to put a Democrat in office, especially when so many horrible things concerning voter fraud are being revealed at the hearing going on right now. @OANN What is going on with @dougducey? Republicans will long remember!"

-Donald Trump, Twitter.com, November 30, 2020 6:39 pm
Many horrible things concerning voter fraud in Arizona are being revealed
492.
11/30/2020

"…And there are many such articles. Rigged Election!" [Note: Tweet included a link to a tweet from an account that has gone private, so the article Trump was commenting on is no longer visible.]

-Donald Trump, Twitter.com, November 30, 2020 6:46 pm
The election was rigged
493.
11/30/2020

"Not statistically possible. Rigged Election!" [Note: Tweet linked to a tweet from Mike Cernovich stating, "Explain how @realDonaldTrump lost when Republicans all won and he had a 95% party approval rating."]

-Donald Trump, Twitter.com, November 30, 2020 10:33 pm
The election was rigged
494.
11/30/2020

"I'm not fighting for me, I'm fighting for the 74,000,000 million people (not including the many Trump ballots that were 'tossed'), a record for a sitting President, who voted for me!"

-Donald Trump, Twitter.com, November 30, 2020 8:41 am
Many ballots cast for Trump were thrown out
495.
11/30/2020

"Why won't Governor @BrianKempGA, the hapless Governor of Georgia, use his emergency powers, which can be easily done, to overrule his obstinate Secretary of State, and do a match of signatures on envelopes. It will be a 'goldmine' of fraud, and we will easily WIN the state….

….Also, quickly check the number of envelopes versus the number of ballots. You may just find that there are many more ballots than there are envelopes. So simple, and so easy to do. Georgia Republicans are angry, all Republicans are angry. Get it done!"

-Donald Trump, Twitter.com, November 30, 2020 8:59 am
There is a "goldmine" of fraud in Georgia with signatures not matching
496.
12/1/2020

"We won an election, but they don't like that, and a lot of things happened, including a rigged election… and whether people like to hear it or not, that's what it was."

-Donald Trump, "Leaked Remarks: Donald Trump Speaks at a Private White House Holiday Party – December 1, 2020," factba.se, December 1, 2020
Trump won the election despite the reported vote totals; the election was rigged
497.
12/1/2020

"Rigged Election. Show signatures and envelopes. Expose the massive voter fraud in Georgia. What is Secretary of State and @BrianKempGA afraid of. They know what we'll find!!!"

-Donald Trump, Twitter.com, December 1, 2020 10:27 pm
The election was rigged; there is massive voter fraud in Georgia
498.
12/1/2020

"Fake election results in Nevada, also!"

-Donald Trump, Twitter.com, December 1, 2020 8:53 am
Nevada's election results in favor of Biden are fake
499.
12/1/2020

"Do something @BrianKempGA. You allowed your state to be scammed. We must check signatures and count signed envelopes against ballots. Then call off election. It won't be needed. We will all WIN!"

-Donald Trump, Twitter.com, December 1, 2020 9:03 am
Georgia is being scammed with signatures that don't match between ballots and envelopes
500.
12/2/2020

"Big voter fraud hearings today in the Great State of Michigan. This election is a far bigger scandal (FRAUD!) than anyone would have thought – not even close. Watch today!"

-Donald Trump, Twitter.com, December 2, 2020 10:19 am
There was voter fraud in Michigan; the election is a scandal
501.
12/2/2020

"I want to provide an update on our ongoing efforts to expose the tremendous voter fraud and irregularities which took place during the ridiculously long November 3rd elections… As President, I have no higher duty than to defend the laws and the Constitution of the United States. That is why I am determined to protect our election system, which is now under coordinated assault and siege…

Today I will detail some of the shocking irregularities, abuses and fraud that had been revealed in recent weeks."

-Donald Trump, "Donald Trump Speech on Election Fraud Claims Transcript December 2," rev.com, December 2, 2020
There was tremendous voter fraud and irregularities in the election
502.
12/2/2020

"My opponent was told to stay away from the election, don't campaign. 'We don't need you. We've got it. This election is done.' In fact, they were acting like they already knew what the outcome was going to be. They had it covered and perhaps they did, very sadly for our country. It was all very, very strange. Within days after the election, we witnessed an orchestrated effort to anoint the winner even while many key states were still being counted."

-Donald Trump, "Donald Trump Speech on Election Fraud Claims Transcript December 2," rev.com, December 2, 2020
Biden was told not to campaign because the outcome was predetermined; there was an orchestrated effort to declare Biden the winner while votes were being counted
503.
12/2/2020

"I want to explain the corrupt mail-in balloting scheme that Democrats systematically put into place that allowed voting to be altered, especially in swing states, which they had to win. They just didn't know that it was going to be that tough, because we were leading in every swing state by so much, far greater than they ever thought possible.

While it has long been understood that the Democrat political machine engages in voter fraud from Detroit to Philadelphia, to Milwaukee, Atlanta, so many other places. What changed this year was the Democrat party's relentless push to print and mail out tens of millions of ballots sent to unknown recipients with virtually no safeguards of any kind. This allowed fraud and abuse to occur in a scale never seen before."

-Donald Trump, "Donald Trump Speech on Election Fraud Claims Transcript December 2," rev.com, December 2, 2020
Democrats put into place a corrupt mail-in ballot scheme to alter votes in swing states; there was fraud and abuse on a scale never seen before
504.
12/2/2020

"Using the pandemic as a pretext, Democrat politicians and judges drastically changed election procedures just months, and in some cases, weeks before the election on the 3rd of November. Very rarely were legislatures involved and constitutionally, they had to be involved, but very, very rarely, and you'll see that as we continue to file our suits, it's constitutionally, absolutely incorrect what took place, even from a legal standpoint."

-Donald Trump, "Donald Trump Speech on Election Fraud Claims Transcript December 2," rev.com, December 2, 2020
Democrats used the pandemic as a pretext to change election procedures without following constitutional procedures
505.
12/2/2020

"Many states, such as Nevada and California sent millions of live ballots to every person on their voter rolls whether those individuals had requested ballots or not, whether they were dead or alive, they got ballots. Other states such as Minnesota, Michigan, and Wisconsin, instituted universal absentee balloting right in the middle of an election year, sending absentee ballot requests forms to all voters on all rolls. It didn't matter who they were. This colossal expansion of mail-in voting opened the flood gates to massive fraud."

-Donald Trump, "Donald Trump Speech on Election Fraud Claims Transcript December 2," rev.com, December 2, 2020
States sent millions of ballots to people without request, including to dead people; there was massive fraud
506.
12/2/2020

"It's a widely known fact that the voting rolls are packed with people who are not lawfully eligible to vote, including those who are deceased, have moved out of their state, and even our non-citizens of our country."

-Donald Trump, "Donald Trump Speech on Election Fraud Claims Transcript December 2," rev.com, December 2, 2020
Voter rolls are packed with people who are not lawfully eligible to vote, including dead people and non-citizens
507.
12/2/2020

"Dozens of counties in the key swing states have more registered voters on the rolls than they have voting age citizens, including 67 counties in Michigan. All of this is evidence [of fraud]."

-Donald Trump, "Donald Trump Speech on Election Fraud Claims Transcript December 2," rev.com, December 2, 2020
Many counties in swing states have more registered voters than citizens of voting age
508.
12/2/2020

"In Wisconsin, the state's Board of Elections could not confirm the residency of more than 100,000 people, but repeatedly refused to remove those names from its voter rolls before the election. They knew why, nobody else did. I knew why. They were illegal voters.

It is a travesty that in the year 2020, we do not have any means of verifying the eligibility of those who cast ballots in an election and such an important election it is, or determining who they are, whether they live in the state or whether they're even American citizens. We have no idea."

-Donald Trump, "Donald Trump Speech on Election Fraud Claims Transcript December 2," rev.com, December 2, 2020
Wisconsin did not confirm residency for 100,000 voters, which makes them illegal voters
509.
12/2/2020

"We have in all swing states major infractions or outright fraud, which is far more in numbers or votes than we need to overturn the results of a state. In other words, in Wisconsin, as an example, where we were way up on election night, they ultimately had us miraculously losing by 20,000 votes. I can show you right here, that Wisconsin, we're leading by a lot and then at 3:42 in the morning, there was this, it was a massive dump of votes, mostly Biden, almost all Biden. To this day, everyone's trying to figure out, 'Where did it come from?'"

-Donald Trump, "Donald Trump Speech on Election Fraud Claims Transcript December 2," rev.com, December 2, 2020
All swing states had major infractions or outright fraud; there was a massive dump of Biden votes in Wisconsin
510.
12/2/2020

"Just as an example, in certain states, we'll be down by, let's say, 7,000 votes, but we'll find later on 20,000, 50,000, 100,00, 200,000 discrepancies or fraudulent votes, and that includes votes that went through when they were not allowed to be seen by Republican poll watchers, because the poll watchers were locked out of the building."

-Donald Trump, "Donald Trump Speech on Election Fraud Claims Transcript December 2," rev.com, December 2, 2020
There are 20,000-200,000 discrepancies or fraudulent votes, including votes counted after Republican poll watchers were locked out
511.
12/2/2020

"People that innocently came to vote on November 3rd, who were all excited about their vote… They were told that they can't vote. 'I'm sorry,' they were told, 'I'm sorry. You've already voted by mail-in ballot. Congratulations. We received a ballot, so you can no longer vote.'…

This happened tens of thousands of times all over the country. That's how desperate the Democrats were. They would fill out ballots of people not even knowing if these people were going to show up."

-Donald Trump, "Donald Trump Speech on Election Fraud Claims Transcript December 2," rev.com, December 2, 2020
Tens of thousands of people showed up to vote on election day but were told their mail-in ballot had been sent in
512.
12/2/2020

"On top of everything else, we have a company that's very suspect. It's name is Dominion, with the turn of a dial or the change of a chip, you could press a button for Trump and the vote goes to Biden…

In one Michigan County, as an example, that used Dominion systems, they found that nearly 6,000 votes had been wrongly switched from Trump to Biden, and this is just the tip of the iceberg. This is what we caught. How many didn't we catch? Are there 100s of other examples throughout the country? Are there 1000s?

We just got lucky and they called it a glitch, but we found numerous glitches that evening. 96% of the company's political donations went to Democrats, not surprisingly… Dominion is a disaster."

-Donald Trump, "Donald Trump Speech on Election Fraud Claims Transcript December 2," rev.com, December 2, 2020
Dominion voting machines can change votes for Trump to Biden with the turn of dial; 6,000 votes in Michigan were changed to Biden
513.
12/2/2020

"I'll tell you what's wrong, voter fraud. Here's an example. This is Michigan. At 6:31 in the morning, a vote dump of 149,772 votes came in unexpectedly. We were winning by a lot. That batch was received in horror. Nobody knows anything about it… Detroit is totally corrupt."

-Donald Trump, "Donald Trump Speech on Election Fraud Claims Transcript December 2," rev.com, December 2, 2020
In Michigan, 149,772 votes came in unexpectedly; Detroit is totally corrupt
514.
12/2/2020

"We will compare the signature on the envelope to the signatures from past elections, and we will find that many thousands of people signed these [mail-in] ballots illegally. The Democrats had this election rigged right from the beginning. They used the pandemic, sometimes referred to as the China virus, where it originated as an excuse to mail out tens of millions of ballots, which ultimately led to a big part of the fraud…

Many people received two, three and four ballots. They were sent to dead people by the thousands. In fact, dead people, and we have many examples filled out ballots, made applications, and then, voted, which is even worse."

-Donald Trump, "Donald Trump Speech on Election Fraud Claims Transcript December 2," rev.com, December 2, 2020
Many thousands of people signed mail-in ballots illegally; the Democrats rigged the election; people received multiple ballots; ballots were sent to dead people
515.
12/2/2020

"Millions of votes were cast illegally in the swing states alone, and if that's the case, the results of the individual swing states must be overturned, and overturned immediately. Some people say that's too far out, that's too harsh. Well, does that mean we take a precedent, and we've just elected a president where the votes were fraudulent?

No, it means you have to turn over the election, and everybody knows without going much further, and they've seen the evidence, but they don't want to talk about it what a disaster this election was, a total catastrophe."

-Donald Trump, "Donald Trump Speech on Election Fraud Claims Transcript December 2," rev.com, December 2, 2020
Millions of votes were cast illegally in the swing states
516.
12/2/2020

"Maybe you'll have a revote, but I don't think that's appropriate. When those votes are corrupt, when they're irregular, when they get caught, they're terminated, and I very easily win. In all states, I very easily win, the swing states, just like I won them at 10 o'clock in the evening, the evening of the election.

We're not looking to show you 25 faulty or fraudulent votes, which don't mean anything, because it doesn't overturn the state, or a fifty, or a hundred. We're showing you hundreds of thousands far more than we need, far more than the margin, far more than the law requires. We can show many times what is necessary to win the state."

-Donald Trump, "Donald Trump Speech on Election Fraud Claims Transcript December 2," rev.com, December 2, 2020
The votes are corrupt and Trump easily won the swing states despite the reported vote totals; there were hundreds of thousands of fraudulent votes
517.
12/2/2020

"The corrupt forces who are registering dead voters and stuffing ballot boxes are the same people who have perpetrated one phony and fraudulent hoax after another…

The evidence is overwhelming. The fraud that we've collected in recent weeks is overwhelming, having to do with our election. Everyone is saying, 'Wow, the evidence is overwhelming', when they get to see it."

-Donald Trump, "Donald Trump Speech on Election Fraud Claims Transcript December 2," rev.com, December 2, 2020
Corrupt forces registered dead voters and stuffed ballot boxes
518.
12/2/2020

"All over the country, people are together in holding up signs, 'Stop the steal.' To understand how we will challenge this fraud, it is important to know the problems with mail-in balloting. Pennsylvania, Michigan, Nevada, Georgia, Arizona, and most other states allowed anyone to get an absentee ballot and cast their vote without showing any ID. The voting took place entirely on the honor system, no identification of any kind was required."

-Donald Trump, "Donald Trump Speech on Election Fraud Claims Transcript December 2," rev.com, December 2, 2020
There was fraud in the election with mail-in balloting; no identification was required for people to vote
519.
12/2/2020

"All of the Democrat efforts to expand mail-in balloting laid the groundwork for the systematic and pervasive fraud that occurred in this election.

In Pennsylvania, large amounts of mail-in and absentee ballots were processed illegally. And in secret, in Philadelphia, in Allegheny counties, without our observers present. They were not allowed to be present. In fact, they weren't even allowed in the same room. They were thrown out of the building and they looked from outside in, but they had no way of even seeing, because there were no windows. And the windows that were there were boarded up.

Democrats even went to the Pennsylvania Supreme Court to block observers from receiving access. There is only one possible reason that the corrupt Democrat political machine would oppose transparency during the vote counting. It's because they know they are hiding illegal activity. It's very simple."

-Donald Trump, "Donald Trump Speech on Election Fraud Claims Transcript December 2," rev.com, December 2, 2020
Democrats expanded mail-in ballots to lay the groundwork for systematic and pervasive fraud; Republican observers weren't allowed in Philadelphia; corrupt Democrats blocked observers to hide illegal activity
520.
12/2/2020

"Many voters all across Pennsylvania received two ballots in the mail, and many others received mail-in ballots for which they never applied. So many get ballots, they didn't even know what they were for. And again, so many received more than one ballot. In some cases, more than two ballots. And they happened to be, for the most part, Democrats.

In Fayette County, Pennsylvania, multiple voters received ballots that were already filled out. They didn't know what happened. In Montgomery County, Pennsylvania, a poll watcher, overheard unregistered voters being told to return later to try to vote under a different name."

-Donald Trump, "Donald Trump Speech on Election Fraud Claims Transcript December 2," rev.com, December 2, 2020
Many in Pennsylvania received two ballots, mostly Democrats; multiple voters received ballots that had been filled out; a poll watcher in Pennsylvania heard people told to return later to vote under a different name
521.
12/2/2020

"Tens of thousands of voters across Pennsylvania were treated differently based on whether they were Republicans, or Democrats. Voters who submitted flawed ballots in some Democrat precincts were notified and asked to fix their ballots, while Republican precincts, and in particular Republican voters, were not so notified which plainly violates the Equal Protection Clause of the United States Constitution."

-Donald Trump, "Donald Trump Speech on Election Fraud Claims Transcript December 2," rev.com, December 2, 2020
Pennsylvania allowed Democrats to fix ballots but not Republicans
522.
12/2/2020

"In Michigan, a career employee of the city of Detroit, with the city workers, coaching voters to vote straight Democrat, while accompanying them to watch who they were voting for, violating the law and the sanctity of the secret ballot. You can't do that. The same workers say she was instructed not to ask for any ID and not to attempt to validate any signatures.

She was also told to illegally backdate ballots, many, many ballots, received after the deadline. This is something that is so unconstitutional and she estimates that thousands and thousands of ballots were improperly backdated by her and many others."

-Donald Trump, "Donald Trump Speech on Election Fraud Claims Transcript December 2," rev.com, December 2, 2020
City workers in Detroit coached voters to vote for Democrats and watched them votes; a worker was told to illegally backdate thousands of ballots
523.
12/2/2020

"Other witnesses in Detroit also saw our election officials counting batches of the same ballots many times, as well as illegally duplicating ballots. One observer testified to seeing boxes and boxes of ballots, all bearing the same signature. Another observer in Detroit gave sworn testimony that he saw countless invalid ballots that did not belong to properly registered voters and then witnessed election workers in Wayne County entering fake birth dates into the system, in order to illegally count them.

Witnesses have signed sworn affidavits, so in other words, you go to jail if you lie, testifying that after election officials announced the last absentee votes had been received, a batch of tens of thousands of ballots arrived, many without envelopes, all voting for Democrats."

-Donald Trump, "Donald Trump Speech on Election Fraud Claims Transcript December 2," rev.com, December 2, 2020
Election officials in Detroit counted the same ballots many times and duplicated ballots; invalid ballots were counted; tens of thousands of ballots for Democrats arrived late
524.
12/2/2020

"In Wisconsin, a record number of voters were categorized as indefinitely confined. A status reserved for severely disabled individuals, also for the elderly that allow them to vote without showing ID. Last year, approximately 70,000 people claimed this status statewide.

This year, the number miraculously was nearly 250,000 voters, after election officials in Milwaukee and Dane County, a couple of the most corrupt political places in our country, urged citizens to improperly register under this status. And register they did in levels that don't exist. In Wisconsin, there are approximately 70,000 absentee ballots that do not have matching ballot applications as required by law."

-Donald Trump, "Donald Trump Speech on Election Fraud Claims Transcript December 2," rev.com, December 2, 2020
Corrupt political officials in Wisconsin urged voters to register improperly; 70,000 absentee ballots don't have the required applications
525.
12/2/2020

"In Georgia, nine observers have testified to seeing countless irregular ballots without the creases or typical markings indicating that the ballots did not arrive in envelopes as required. A poll watcher in Fulton County estimated that approximately 98% of the large number of unusually pristine ballots that she witnessed were for Biden. Highly unusual number.

In addition, thousands of uncounted ballots were discovered in Floyd, Fayette, and Walton counties weeks after the election, and these ballots were mostly from Trump voters. They weren't counted. They were from Trump voters."

-Donald Trump, "Donald Trump Speech on Election Fraud Claims Transcript December 2," rev.com, December 2, 2020
Observers in Georgia saw irregular ballots that did not arrive in envelopes as required; Trump voter ballots were discovered uncounted
526.
12/2/2020

"In Detroit, everybody saw the tremendous conflict and the horrible way that the two Republican canvassers were treated so horribly because they wouldn't vote when they saw that 71% of the precincts didn't balance. Also, there were more votes than there were voters. Think of that. You had more votes than you had voters. That's an easy one to figure, and it's by the thousands."

-Donald Trump, "Donald Trump Speech on Election Fraud Claims Transcript December 2," rev.com, December 2, 2020
Republicans were treated horrible in Detroit for showing that precincts didn't balance; there were more votes than voters
527.
12/2/2020

"In Arizona, in-person voters whose ballots produced error messages from tabulation machines were told to press a button that resulted in their votes not being counted. Also in Arizona, the attorney general announced that mail-in ballots had been stolen from mailboxes and hidden under a rock."

-Donald Trump, "Donald Trump Speech on Election Fraud Claims Transcript December 2," rev.com, December 2, 2020
Arizona voters were told to press a button that made their votes not count; mail-in ballots were stolen and hidden
528.
12/2/2020

"In Clark County, Nevada, where most of the state's voters reside, the standards for matching a signature using the signature verification machine were intentionally lowered to allow large numbers of [mail-in] ballots to be counted that otherwise would never have passed muster. This machine was set at the lowest level.

According to one report, in order to test the process, nine voters in Clark County cast ballots with intentionally incorrect signatures, and eight of the nine ballots were accepted and counted. They said you could sign your name as Santa Claus, and it would be accepted."

-Donald Trump, "Donald Trump Speech on Election Fraud Claims Transcript December 2," rev.com, December 2, 2020
A Nevada county lowered the standards for signature matching to allow bad ballots to be counted
529.
12/2/2020

"Last week, the Clark County Commission threw out the results of a local election after the registrar reported finding, quote, 'discrepancies that we can't explain.' Also in Nevada, some voters were entered into a raffle for more than a dozen gift cards worth as much as $250 if they could prove they had voted. This took place on Indian reservations."

-Donald Trump, "Donald Trump Speech on Election Fraud Claims Transcript December 2," rev.com, December 2, 2020
There were unexplainable discrepancies in Nevada; voters were bribed on Indian reservations
530.
12/2/2020

"One of the most significant indications of widespread fraud is the extraordinarily low rejection rates for mail-in ballots in many key states. These are the states that I had to win. In swing state after swing state, the number of ballots rejected has been dramatically lower than what would have been expected based on prior experience…

In Georgia, just 0.2%, that's substantially less than 1%, of mail-in ballots have been rejected. In other words, almost none have been rejected. They took everything. Nothing was rejected, practically, compared to 6.4% in 2016. There are those that think that 6.4 was a low number.

Think of it. Almost none were rejected. The previous election, 6.4% were rejected. We have seen similar declines in Pennsylvania, Nevada, and Michigan. Ballots weren't rejected, especially if they happen to be in Democrat areas. These irregularities are inexplicable unless there is a deliberate effort to accept ineligible ballots or fraudulent ballots."

-Donald Trump, "Donald Trump Speech on Election Fraud Claims Transcript December 2," rev.com, December 2, 2020
Low rejection rates for mail-in ballots show widespread fraud; there was a deliberate effort to accept ineligible or fraudulent ballots
531.
12/2/2020

"In Pennsylvania, the secretary of state and the state supreme court in essence abolished signature verification requirements just weeks prior to the election, in violation of state law. You're not allowed to do that. It has to be approved by the legislature. A judge can't do it. A state can't do it. An official can't do it. The only one that can do it is the legislature.

The reason for this is clear. They were not verifying signatures because they know the ballots have not been filled out by the voters in whose names they were cast. In other words, people filled them out that had nothing to do with the names on the ballot. A simple recount of the ballots under these circumstances only compounds the fraud."

-Donald Trump, "Donald Trump Speech on Election Fraud Claims Transcript December 2," rev.com, December 2, 2020
Pennsylvania abolished signature verification in violation of state law because they know ballots were filled out by people other than the rightful voters
532.
12/2/2020

"This election is about great voter fraud, fraud that has never been seen like this before… It was about many other things, but above all, it was about fraud. This election was rigged. Everybody knows it…

If we don't root out the fraud, the tremendous and horrible fraud that's taken place in our 2020 election, we don't have a country anymore."

-Donald Trump, "Donald Trump Speech on Election Fraud Claims Transcript December 2," rev.com, December 2, 2020
The election was about a great voter fraud and the election was rigged
533.
12/2/2020

"The only thing more RIGGED than the 2020 Presidential Election is the FAKE NEWS SUPPRESSED MEDIA. No matter how big or important the story, if it is even slightly positive for 'us', or negative for 'them', it will not be reported!"

-Donald Trump, Twitter.com, December 2, 2020
The election was rigged and the media suppresses stories that help Trump or hurt Biden
534.
12/3/2020

"[I]t's massive fraud. Whether you go to Wisconsin, where we just filed a case, or Michigan, or if you look at what's happening in Georgia, as an example, or Pennsylvania. If you look at Nevada, which is moving along very rapidly, or Arizona, you saw those numbers come out yesterday, we found massive fraud. And in other states also. This is probably the most fraudulent election that anyone's ever seen."

-Donald Trump, "Donald Trump Presents Medal of Freedom to Lou Holtz Transcript December 3," rev.com, December 3, 2020
There was massive voter fraud; this was the most fraudulent election anyone's ever seen
535.
12/3/2020

"They should be looking at all of this fraud… This is very bad criminal stuff. So I just say this. We went through an election. At 10:00, everybody said that was an easy victory for Trump. All of a sudden, the votes started disappearing, miraculously disappearing. We found much of it, but we found far more votes than we need in almost all of these states. And I think I can say in all of these states, far more votes than we need to win every one of them. "

-Donald Trump, "Donald Trump Presents Medal of Freedom to Lou Holtz Transcript December 3," rev.com, December 3, 2020
There was fraud; Trump was winning then votes started disappearing
536.
12/3/2020

"I want to thank the 74 million plus people that voted [for Trump]. Which, Lou, is the largest amount of people that a sitting president has ever had. 74 million plus. And because the level of loyalty, I've never seen anything like it. All over the country, they know it was a fixed election. It was a rigged election."

-Donald Trump, "Donald Trump Presents Medal of Freedom to Lou Holtz Transcript December 3," rev.com, December 3, 2020
It was a fixed, rigged election
537.
12/3/2020

"Wow! Blockbuster testimony taking place right now in Georgia. Ballot stuffing by Dems when Republicans were forced to leave the large counting room. Plenty more coming, but this alone leads to an easy win of the State!"

-Donald Trump, Twitter.com, December 3, 2020
Democrats in Georgia stuffed ballots after forcing Republican observers to leave counting rooms
538.
12/4/2020

"Whistleblowers reveal that the USPS is responsible for tampering with hundreds of thousands of ballots. @OANN This long time Democrat stronghold got rid of massive numbers, especially in swing states, during and before delivery of the ballots. Well documented evidence!"

-Donald Trump, Twitter.com, December 4, 2020
USPS tampered with hundreds of thousands of ballots, helping Democrats
539.
12/4/2020

"RIGGED ELECTION!"

-Donald Trump, Twitter.com, December 4, 2020
The election was rigged
540.
12/5/2020

"We're winning this election… When you look at all of the corruption and all of the problems having to do with this election, all I can do is campaign and then I wait for the numbers. But when the numbers come out of ceilings and come out of leather bags, you start to say, 'What's going on?'…

They [Democrats] cheated and they rigged our presidential election, but we will still win it. We will still win it. We'll still win it."

-Donald Trump, "Donald Trump Georgia Rally Transcript Before Senate Runoff Elections December 5," rev.com, December 5, 2020
There was corruption and problems with the election; Democrats cheated and rigged the election
541.
12/5/2020

"We got 74 million-plus [votes] and they're trying to convince us that we lost. We didn't lose. They found a lot of ballots to be nice about it. And they got rid of some too. The 74, let me tell you, the 74 could have been even higher.

As the great pollster, John McLaughlin, who was really a great pollster, one of the most highly respected, he said, 'There's no way this could have happened other than the obvious cheating or a rigged election. There's no way it could have happened.'…

It's rigged. It's a fixed deal."

-Donald Trump, "Donald Trump Georgia Rally Transcript Before Senate Runoff Elections December 5," rev.com, December 5, 2020
They added ballots for Biden and got rid of Trump votes; the election was rigged and fixed
542.
12/5/2020

"We lost nobody sitting in Congress… And there's never been numbers like that where a president even came close to losing, but they say we lost. The only way is they stuffed the ballot boxes."

-Donald Trump, "Donald Trump Georgia Rally Transcript Before Senate Runoff Elections December 5," rev.com, December 5, 2020
The only way Trump lost is if they stuffed the ballot boxes
543.
12/5/2020

"And many of these swing states, it's a very interesting statistic. President Obama beat Biden all over the country, except in some of the swing states where Biden beat him badly. How does that work? And they say it's statistically impossible. He beat crooked Hillary. Think of this. He beat crooked Hillary in the swing states, but she beat him everywhere else. Let me tell you, this election was rigged."

-Donald Trump, "Donald Trump Georgia Rally Transcript Before Senate Runoff Elections December 5," rev.com, December 5, 2020
It is statistically impossible that Biden got more votes than Obama and Hillary Clinton in some swing states; the election was rigged
544.
12/5/2020

"Hundreds of thousands of illegal votes were cast in each state. Far from— I mean, if you look at this, hundreds of thousands more than we needed were cast in every state we're talking about, not only here, but Michigan, Pennsylvania. How about Pennsylvania where they throw the poll watchers out? They threw them out. They literally threw them out. And they did it here [in Georgia] too, by the way. But we caught them cold and have numerous cases pending."

-Donald Trump, "Donald Trump Georgia Rally Transcript Before Senate Runoff Elections December 5," rev.com, December 5, 2020
Hundreds of thousands of illegal votes were cast in each state; Pennsylvania threw out poll watchers
545.
12/5/2020

"And by the way, the swing States that we're all fighting over now, I won them all by a lot. I won them all by a lot. And I have to say, if I lost I'd be a very gracious loser. If I lost, I would say I lost and I'd go to Florida, and I'd take it easy, and I'd go around and I'd say, 'I did a good job.' But you can't ever accept when they steal and rig and rob. You can't accept it.

Well, the Democrats did try to steal the presidency. They're trying like hell."

-Donald Trump, "Donald Trump Georgia Rally Transcript Before Senate Runoff Elections December 5," rev.com, December 5, 2020
Trump won the swing states despite the reported vote totals; they stole, rigged, and robbed the election; Democrats tried to steal the presidency
546.
12/5/2020

"We can't let what happened three weeks ago, we can't let it happen… Because this has been going on for a long time, but never like it's happened recently. And they've [Democrats] used the pandemic and the phony fake ballots, the mail-in ballots, they used that to sabotage our country. We're not going to let it happen."

-Donald Trump, "Donald Trump Georgia Rally Transcript Before Senate Runoff Elections December 5," rev.com, December 5, 2020
Democrats used phony fake ballots to sabotage the country
547.
12/5/2020

"As you know a major issue in this state [Georgia] is voter fraud, it's been a big issue for a long time but never like this. We sent out tens of thousands, millions and millions of [mail-in] ballots. Nobody knew where they came from, where they are, people were getting two, three, four ballots. They were signing them, sending them in, what a mess. And I said it a year ago and I said it every month and I even said, 'Let's postpone the election,' and they said, 'Oh, he's not at American.' They knew what they were doing."

-Donald Trump, "Donald Trump Georgia Rally Transcript Before Senate Runoff Elections December 5," rev.com, December 5, 2020
Voter fraud is a major issue in Georgia; people got multiple ballots
548.
12/5/2020

"We're all deeply disturbed and upset by the lying, cheating, robbing, stealing that's gone on with our elections. We know the Democrats will have dead people voting and you got to watch it, dead people.

You wouldn't believe how many illegal aliens from out of the state and they'll be filing out and filling out ballots for people who don't even exist. They put up names, they have people signing their own name over and over. They have people signing names with the same pen, with the same signature."

-Donald Trump, "Donald Trump Georgia Rally Transcript Before Senate Runoff Elections December 5," rev.com, December 5, 2020
There was lying, cheating, robbing, and stealing in the election; Democrats had dead people and illegal aliens vote; there are ballots for people who don't exist
549.
12/5/2020

"You know what they did it in one of the states? Ballots were coming in late, very, very late so they backdated the ballots. We have all the information, we have so much evidence. And then you go to a court, 'Oh, they don't have enough evidence.' We have hundreds and hundreds and even thousands of affidavits. And they say, 'Oh, he doesn't have the evidence.' We have so much evidence we don't know what to do with it."

-Donald Trump, "Donald Trump Georgia Rally Transcript Before Senate Runoff Elections December 5," rev.com, December 5, 2020
Mail-in ballots were backdated
550.
12/5/2020

"It's a disgrace that in 2020 no state in America even makes any real attempt to verify that those who cast ballots by mail are eligible and lawfully registered voters. The evidence of fraud is overwhelming."

-Donald Trump, "Donald Trump Georgia Rally Transcript Before Senate Runoff Elections December 5," rev.com, December 5, 2020
Evidence of fraud is overwhelming
551.
12/5/2020

"The alleged Biden margin of victory in several states is entirely accounted for by extraordinarily large midnight vote dumps. You saw them going up to the sky, all extremely skewed to Biden. Like, Biden would get 10,000 votes and Trump would get three in a Trump area. Oh. For, example, at 6:31 AM in Michigan, reported 141,238 votes for Joe Biden and 5,900 votes for Donald Trump.

96% for Biden, 4% for Trump in an area where I should be doing quite well. You know, I won almost every county in Michigan, almost every district, except for one. And they actually had more people, if you look at the ballots, they had ballots all over. They had more ballots than they had people voting."

-Donald Trump, "Donald Trump Georgia Rally Transcript Before Senate Runoff Elections December 5," rev.com, December 5, 2020
Large midnight vote dumps favored Biden; one county in Michigan had more ballots than people who voted
552.
12/5/2020

"A similar vote dump occurred in Wisconsin at 3:42 AM. This is 3:42 in the morning. In fact, when I went to bed that night, everybody was calling, 'Congratulations. You're up 600,000 votes in Pennsylvania.' Across all of the key swing states, there were impossibly low rejection rates, you saw that, for mail-in ballots, drastically less than the historic norm."

-Donald Trump, "Donald Trump Georgia Rally Transcript Before Senate Runoff Elections December 5," rev.com, December 5, 2020
There was a vote dump in Wisconsin at 3:42 am; swing states had impossibly low rejection rates for mail-in ballots
553.
12/5/2020

"Whistleblowers in multiple states have testified to witnessing postal workers and election workers illegally backdating thousands and thousands of ballots, fixing ballots, filling out false birthdays, registering ineligible voters, and much, much more.

We're talking about hundreds of thousands of votes in each state. In Arizona, a sample of 100 ballots reviewed by a judge found that a very small percentage of these ballots, very small, but when you look at it, it was turned out to be very large, it was tens of thousands of votes, more than we would have needed to win Arizona. We should have won that state very easily."

-Donald Trump, "Donald Trump Georgia Rally Transcript Before Senate Runoff Elections December 5," rev.com, December 5, 2020
Whistleblowers saw postal workers and election workers illegally backdate thousands of ballots and register ineligible voters; hundreds of thousands of votes in each state should not have been counted
554.
12/5/2020

"In one Michigan county using Dominion voting systems, nearly 6,000 votes were discovered that were wrongly switched from Trump to Biden. They called it a glitch. You know a glitch? Just like the machine broke. Numerous times we found glitches, and every single time, the glitch went a hundred percent to Biden and no percent to Trump. The same systems are used in 30 states.

The left lies, they cheat and they steal. They are ruthless and they are hellbent on getting power and control by any means necessary."

-Donald Trump, "Donald Trump Georgia Rally Transcript Before Senate Runoff Elections December 5," rev.com, December 5, 2020
A Michigan county using Dominion voting machines had 6,000 votes changed from Trump to Biden and the same machine was used in 30 states; the left cheats and steals power
555.
12/5/2020

"It's the biggest open secret in America that Democrats cheat in elections, this year by sending out 65 million mail-in ballots. They perpetrated the largest fraud in the history of our country. Democrat officials and politicians in every swing state, systematically weakened every measure to combat election fraud. They ensured that there were no identity checks, no signature checks."

-Donald Trump, "Donald Trump Georgia Rally Transcript Before Senate Runoff Elections December 5," rev.com, December 5, 2020
Democrats cheat in elections, this time with mail-in ballots; Democrats ensured there were no identity or signature checks
556.
12/5/2020

"Every single one of you know that if these [mail-in] ballots are properly audited, if the signatures and envelopes were examined, if the envelopes were correlated to the votes, because you'll find there are far more ballots than there are envelopes, all you have to do is count them up. How many ballots do you have? How many envelopes do you have?

And if the voter rolls are studied, in other words, studied to check the signature. 'Ms. Smith. Oh, it's a totally different signature from 2 years ago, from 6 years ago, from 10 years ago. What's that all about?'

We will find that hundreds of thousands of ballots were illegally cast in your state [Georgia] and all over the country, by the way, more than enough to give us a total historic victory."

-Donald Trump, "Donald Trump Georgia Rally Transcript Before Senate Runoff Elections December 5," rev.com, December 5, 2020
There are more mail-in ballots than envelopes, meaning hundreds of thousands of ballots were illegally cast in Georgia
557.
12/5/2020

"This is our country that they are— and you know this and you see it, but they're trying to take it from us through rigging, fraud, deception, and deceit. That's what we saw in the election. That's what's going on, and it's happening right now in our country."

-Donald Trump, "Donald Trump Georgia Rally Transcript Before Senate Runoff Elections December 5," rev.com, December 5, 2020
There was rigging, fraud, deception, and deceit in the election
558.
12/5/2020

"The answer to the Democrat voter fraud is not to stay at home – that's what Pelosi and Schumer want you to do. If you want revenge on the Democrats for their efforts to steal the Presidential election, where we are fighting hard, you have to show up and vote in RECORD numbers!"

-Donald Trump, Twitter.com, December 5, 2020 9:40 pm
There was Democratic voter fraud
559.
12/5/2020

"I will easily & quickly win Georgia if Governor @BrianKempGA or the Secretary of State permit a simple signature verification. Has not been done and will show large scale discrepancies. Why are these two 'Republicans' saying no? If we win Georgia, everything else falls in place!"

-Donald Trump, Twitter.com, December 5, 2020 12:02 pm
There are large scale discrepancies in Georgia
560.
12/6/2020

"I WON THE ELECTION, BIG."

-Donald Trump, Twitter.com, December 6, 2020 2:13 pm
Trump won the election despite the reported vote totals
561.
12/6/2020

".@RudyGiuliani, by far the greatest mayor in the history of NYC, and who has been working tirelessly exposing the most corrupt election (by far!) in the history of the USA, has tested positive for the China Virus. Get better soon Rudy, we will carry on!!!"

-Donald Trump, Twitter.com, December 6, 2020 3:16 pm
This was the most corrupt election in the history of the United States
562.
12/6/2020

"NO WAY WE LOST THIS ELECTION!"

-Donald Trump, Twitter.com, December 6, 2020 8:40 pm
Trump won the election despite the reported vote totals
563.
12/6/2020

"Watch @marklevinshow at 11:00 P.M. (now!) and @SteveHiltonx at 12:00 A.M. on the Great Election Fraud of 2020!"

-Donald Trump, Twitter.com, December 6, 2020 11:00 pm
There was election fraud
564.
12/6/2020

"Fraudulent result!" [Note: This tweet links to a tweet about Republicans in the Arizona State Legislature calling for an audit of election software and equipment.]

-Donald Trump, Twitter.com, December 6, 2020 12:54 am
The election was fraudulent
565.
12/7/2020

"If you look at the polls, it was a rigged election. You look at the different states, the election was totally rigged. It's a disgrace to our country. It's like a third world country. These ballots pouring in from everywhere using machinery that nobody knows, ownership nobody knows anything about. They have glitches as they call them. Glitches, with glitches, who aren't glitches. They got caught sending out thousands of votes, all against me, by the way."

-Donald Trump, "Donald Trump Presents Medal of Freedom to Dan Gable Transcript December 7," rev.com December 7, 2020
The election was rigged; ballots poured in from everywhere; there were glitches with the voting machines that sent votes against Trump
566.
12/8/2020

"Well, we're going to have to see who the next administration is—because we won in those swing States, and there was terrible things that went on… And hopefully, the next administration will be the Trump administration, because you can't steal hundreds of thousands of votes. You can't have fraud and deception and all of the things that they did and then slightly win a swing State. And you just have to look at the numbers. Look at what's been on tape. Look at all the corruption. And we'll see. You can't win an election like that…

And they say that when the numbers came out—and the numbers came through machines. And all of those ballots were taken away and added. All you have to do is turn on your local television set, and you'll see what happened: with thousands of [mail-in] ballots coming out from under tables, with all of the terrible things you saw."

-Donald Trump, "Remarks at the Operation Warp Speed Vaccine Summit and an Exchange With Reporters ," presidency.ucsb.edu, December 8, 2020
Hundreds of thousands of votes were stolen; there was fraud and deception; ballots were added for Biden and taken away from Trump
567.
12/8/2020

"They got caught because we were leading by so much more than they ever thought possible. Late night ballot 'dumps' went crazy!"

-Donald Trump, Twitter.com, December 8, 2020 3:29 pm
Democrats added late night ballot dumps because Trump was winning
568.
12/9/2020

"How can you have a presidency when a vast majority think the election was RIGGED?"

-Donald Trump, Twitter.com, December 9, 2020 8:39 am
A vast majority think the election was rigged
569.
12/9/2020

"Wow! At least 17 States have joined Texas in the extraordinary case against the greatest Election Fraud in the history of the United States. Thank you!"

-Donald Trump, Twitter.com, December 9, 2020 6:15 pm
This was the greatest election fraud in the history of the United States
570.
12/9/2020

"There is massive evidence of widespread fraud in the four states (plus) mentioned in the Texas suit. Just look at all of the tapes and affidavits!"

-Donald Trump, Twitter.com, December 9, 2020 9:34 am
There is massive evidence of widespread fraud in four states
571.
12/9/2020

"RIGGED ELECTION!"

-Donald Trump, Twitter.com, December 9, 2020 9:35 am
The election was rigged
572.
12/9/2020

"We will soon be learning about the word 'courage', and saving our Country. I received hundreds of thousands of legal votes more, in all of the Swing States, than did my opponent. ALL Data taken after the vote says that it was impossible for me to lose, unless FIXED!"

-Donald Trump, Twitter.com, December 9, 2020 10:17 am
Suggested existence of illegal votes that were counted for Biden; Trump could not have lost unless it was fixed
573.
12/9/2020

"If somebody cheated in the Election, which the Democrats did, why wouldn't the Election be immediately overturned? How can a Country be run like this?"

-Donald Trump, Twitter.com, December 9, 2020 12:54 pm
Democrats cheated in the election and the result should be overturned
574.
12/10/2020

"The Supreme Court has a chance to save our Country from the greatest Election abuse in the history of the United States. 78% of the people feel (know!) the Election was RIGGED."

-Donald Trump, Twitter.com, December 10, 2020 9:24 am
This was the greatest election abuse in the history of the United States; the election was rigged
575.
12/10/2020

"How can you give an election to someone who lost the election by hundreds of thousands of legal votes in each of the swing states. How can a country be run by an illegitimate president?"

-Donald Trump, Twitter.com, December 10, 2020 9:26 am
Suggested existence of illegal votes for Biden
576.
12/10/2020

"How does Governor @BrianKempGA allow certification of votes without verifying signatures and despite the recently released tape of ballots being stuffed? His poll numbers have dropped like a rock. He is finished as governor! @RepDougCollins"

-Donald Trump, Twitter.com, December 10, 2020 9:29 am
Georgia certified votes without verifying signatures; a tape showed ballots being stuffed
577.
12/10/2020

"Most corrupt Election in history, by far. We won!!!"

-Donald Trump, Twitter.com, December 10, 2020 10:12 am
This was the most corrupt election in history
578.
12/10/2020

"Voter Fraud!"

-Donald Trump, Twitter.com, December 10, 2020 9:37 am
There was voter fraud
579.
12/12/2020

"I WON THE ELECTION IN A LANDSLIDE, but remember, I only think in terms of legal votes, not all of the fake voters and fraud that miraculously floated in from everywhere! What a disgrace!"

-Donald Trump, Twitter.com, December 12, 2020 8:05 am
Trump won the election despite the reported vote totals; there were fake voters and fraud
580.
12/12/2020

"The Supreme Court had ZERO interest in the merits of the greatest voter fraud ever perpetrated on the United States of America. All they were interested in is 'standing', which makes it very difficult for the President to present a case on the merits. 75,000,000 votes!"

-Donald Trump, Twitter.com, December 12, 2020 11:04 am
This was the greatest voter fraud ever perpetrated on the United States
581.
12/12/2020

"So, you're the President of the United States, and you just went through an election where you got more votes than any sitting President in history, by far – and purportedly lost. You can't get 'standing' before the Supreme Court, so you 'intervene' with wonderful states…..

….that, after careful study and consideration, think you got 'screwed', something which will hurt them also. Many others likewise join the suit but, within a flash, it is thrown out and gone, without even looking at the many reasons it was brought. A Rigged Election, fight on!"

-Donald Trump, Twitter.com, December 12, 2020 12:24 am
Lawsuits seeking to investigate fraud were dismissed without looking at the reasons; the election was rigged
582.
12/12/2020

"Who is a worse governor, @BrianKempGA of Georgia or @dougducey of Arizona??? These are two RINO Republicans who fought against me and the Republican Party harder than any Democrat. They allowed states that I won easily to be stolen. Never forget, vote them out of office!"

-Donald Trump, Twitter.com, December 12, 2020 8:19 am
Governors in Arizona and Georgia allowed the election to be stolen from Trump
583.
12/13/2020

"We have numerous local cases where you know, in some of the states that got rigged and robbed from us. But we won every one of them. We won Pennsylvania. We won Michigan. We won Georgia by a lot…

I worry about the country having an illegitimate president, that's what I worry about. A president that lost and lost badly. This wasn't like a close election. You look at Georgia. We won Georgia big. We won Pennsylvania big. We won Wisconsin big. We won it big."

-Donald Trump, "Interview: Brian Kilmeade of Fox News Interviews Donald Trump – December 13, 2020," factba.se, December 13, 2020
Numerous cases of states being rigged and robbed; Biden lost badly; Trump won Georgia, Pennsylvania, and Wisconsin despite the reported vote totals
584.
12/13/2020

"But we caught them as you know and fraudulent, dropping ballots, doing so many things nobody can even believe it, dead people voting and all far greater than the number of votes we need. The election was over at 10:00 in the evening. I had won, it was 97, 98 percent… And then all of the sudden around 11:00 ballots start getting dropped… Tens of thousands of ballots were being illegally dropped."

-Donald Trump, "Interview: Brian Kilmeade of Fox News Interviews Donald Trump – December 13, 2020," factba.se, December 13, 2020
There were tens of thousands of fraudulent ballot drops; dead people voted
585.
12/13/2020

"The [voting] machines are the worst. Dominion, Dominion, nobody knows who even owns it. These machines are controlling our country. So it was a rigged election. It was a really a sham and a shame."

-Donald Trump, "Interview: Brian Kilmeade of Fox News Interviews Donald Trump – December 13, 2020," factba.se, December 13, 2020
Voting machines are the worst; the election was rigged and a sham
586.
12/13/2020

"And in essentially five or six states, the local people who run it rigged the election and tens of thousands — remember they stopped the counting in the evening. Do you remember Georgia when they said, 'oh we had a big flood'? 'We had a pipeline break, a major water pipeline break.'

It turned out to be a false thing and everybody… ran out. They all ran out. And what's — where's the pipeline? Guess what? There was no pipeline. That was the people where they took all of those ballots, all of those Biden ballots under the table with the black dress and they took them and they started shoving them into the machine. What happened to this country is we were like a third world country."

-Donald Trump, "Interview: Brian Kilmeade of Fox News Interviews Donald Trump – December 13, 2020," factba.se, December 13, 2020
Election officials in five or six states rigged the election; in Georgia, there was a false pipeline break to get people out so they could add Biden ballots to the count
587.
12/13/2020

"They didn't run a good race. They ran a horrible race from the basement. They ran a race where he didn't even run. But what they did is, they [Democrats] cheated. They cheated like nobody's ever cheated before that we know of.

Now, if you look at it it's not even four or five states. It's five cities. Milwaukee, right? Detroit, Philadelphia, Atlanta– take those— Pittsburgh you could add. So it's five cities. It's four cities. It's even three cities because I don't need five… they cheated like nobody's ever cheated before. And they got caught.

So nobody can go in and say oh, congratulations on running a good race. They didn't run a good race. They cheated. They dropped hundreds of thousands of ballots."

-Donald Trump, "Interview: Brian Kilmeade of Fox News Interviews Donald Trump – December 13, 2020," factba.se, December 13, 2020
Democrats cheated like nobody's ever cheated before; they dropped hundreds of thousands of ballots
588.
12/13/2020

"How do states and politicians confirm an election where corruption and irregularities are documented throughout? A Swing State hustle!"

-Donald Trump, Twitter.com, December 13, 2020 10:35 am
The election had documented corruption and irregularities
589.
12/13/2020

"MOST CORRUPT ELECTION IN U.S. HISTORY!"

-Donald Trump, Twitter.com, December 13, 2020 10:36 am
This was the most corrupt election in US history
590.
12/13/2020

"The RINOS that run the state voting apparatus have caused us this problem of allowing the Democrats to so blatantly cheat in their attempt to steal the election, which we won overwhelmingly. How dare they allow this massive and ridiculous Mail-In Voting to occur…

…Tens of millions of haphazardly ballots sent, with some people getting two, three, or four ballots. We will never give up!"

-Donald Trump, Twitter.com, December 13, 2020 5:15 pm
Democrats blatantly cheated to steal the election; some people got multiple ballots
591.
12/13/2020

"Swing States that have found massive VOTER FRAUD, which is all of them, CANNOT LEGALLY CERTIFY these votes as complete & correct without committing a severely punishable crime. Everybody knows that dead people, below age people, illegal immigrants, fake signatures, prisoners,….

…..and many others voted illegally. Also, machine 'glitches' (another word for FRAUD), ballot harvesting, non-resident voters, fake ballots, 'stuffing the ballot box', votes for pay, roughed up Republican Poll Watchers, and sometimes even more votes than people voting, took….

….place in Detroit, Philadelphia, Milwaukee, Atlanta, Pittsburgh, and elsewhere. In all Swing State cases, there are far more votes than are necessary to win the State, and the Election itself. Therefore, VOTES CANNOT BE CERTIFIED. THIS ELECTION IS UNDER PROTEST!"

-Donald Trump, Twitter.com, December 13, 2020 5:49 pm
Swing states have found massive voter fraud; dead people, people under voting age, illegal immigrants, prisoners, and others voted illegally; there were fake signatures and ballots; more votes than people
592.
12/14/2020

"'Why did the Swing States stop counting in the middle of the night?' @MariaBartiromo Because they waited to find out how many ballots they had to produce in order to steal the Rigged Election. They were so far behind that they needed time, & a fake 'water main break', to recover!"

-Donald Trump, Twitter.com, December 14, 2020 8:57 am
Swing states stopped counting ballots to see how many ballots they had to add to steal the rigged election
593.
12/14/2020

"WOW. This report shows massive fraud. Election changing result!" [Note: Tweet links to a Detroit Free Press tweet stating, "BREAKING: Judge orders release of report examining Antrim County vote tabulators"]

-Donald Trump, Twitter.com, December 14, 2020 2:59 pm
A report shows massive fraud in the election
594.
12/15/2020

"Dominion Voting Machines are a disaster all over the Country. Changed the results of a landslide election. Can't let this happen."

-Donald Trump, Twitter.com, December 15, 2020 12:21 am
Dominion voting machines changed the results
595.
12/15/2020

"This Fake Election can no longer stand. Get moving Republicans. Big Swing State Win! 75,000,000 VOTES."

-Donald Trump, Twitter.com, December 15, 2020 12:30 am
The election was fake
596.
12/15/2020

"Tremendous problems being found with voting machines. They are so far off it is ridiculous. Able to take a landslide victory and reduce it to a tight loss. This is not what the USA is all about. Law enforcement shielding machines. DO NOT TAMPER, a crime. Much more to come!"

-Donald Trump, Twitter.com, December 15, 2020 9:21 am
There were tremendous problems with voting machines
597.
12/15/2020

"68% error rate in Michigan Voting Machines. Should be, by law, a tiny percentage of one percent. Did Michigan Secretary of State break the law? Stay tuned!"

-Donald Trump, Twitter.com, December 15, 2020 9:25 am
Voting machines in Michigan had a 68% error rate
598.
12/15/2020

"Tremendous evidence pouring in on voter fraud. There has never been anything like this in our Country!"

-Donald Trump, Twitter.com, December 15, 2020 10:41 am
Tremendous evidence of voter fraud
599.
12/16/2020

"Chris Krebs was totally excoriated and proven wrong at the Senate Hearing on the Fraudulent 2020 Election. Massive FRAUD took place with machines, people voting from out of state, illegals, dead people, no signatures—and so much more!"

-Donald Trump, Twitter.com, December 16, 2020 1:51 pm
Massive fraud took place with voting machines, out-of-state voters, illegal immigrants and dead people voting
600.
12/16/2020

"Perhaps the biggest difference between 2016 and 2020 is @FoxNews, despite the fact that I went from 63,000,000 Votes to 75,000,000 Votes, a record 12,000,000 Vote increase. Obama went down 3,000,000 Votes, and won. Rigged Election!!!"

-Donald Trump, Twitter.com, December 16, 2020 10:06 am
Trump had a record increase in votes from the previous election; the election was rigged
601.
12/16/2020

"Senate Hearings going on LIVE @OANN, as to the Fraudulent 2020 Election that just took place. @SenRonJohnson doing an excellent job. Nevada must be flipped based on testimony!"

-Donald Trump, Twitter.com, December 16, 2020 1:27 pm
The election was fraudulent and Nevada's result should be flipped to give Trump the win
602.
12/17/2020

"Just released data shows many thousands of noncitizens voted in Nevada. They are totally ineligible to vote!"

-Donald Trump, Twitter.com, December 17, 2020 10:45 am
Thousands of non-citizens voted in Nevada
603.
12/17/2020

"We had a landslide victory, and then it was swindled away from the Republican Party – but we caught them. Do something!"

-Donald Trump, Twitter.com, December 17, 2020 8:46 pm
The election was swindled away from Republicans
604.
12/17/2020

"We won Wisconsin big. They rigged the vote!"

-Donald Trump, Twitter.com, December 17, 2020 9:28 pm
Trump won Wisconsin despite the reported vote total; the vote was rigged
605.
12/18/2020

".@senatemajldr and Republican Senators have to get tougher, or you won't have a Republican Party anymore. We won the Presidential Election, by a lot. FIGHT FOR IT. Don't let them take it away!"

-Donald Trump, Twitter.com, December 18, 2020 9:14 am
Trump won the election despite the reported vote totals
606.
12/19/2020

"GREATEST ELECTION FRAUD IN THE HISTORY OF OUR COUNTRY!!!"

-Donald Trump, Twitter.com, December 19, 2020 12:26 am
This was the greatest election fraud in the history of the country
607.
12/19/2020

"Peter Navarro releases 36-page report alleging election fraud 'more than sufficient' to swing victory to Trump https://t.co/D8KrMHnFdK. A great report by Peter. Statistically impossible to have lost the 2020 Election. Big protest in D.C. on January 6th. Be there, will be wild!"

-Donald Trump, Twitter.com, December 19, 2020 1:42 am
A report shows election fraud sufficient to swing the victory to Trump; it's statistically impossible that Trump lost
608.
12/19/2020

"He [Biden] didn't win the Election. He lost all 6 Swing States, by a lot. They [Democrats] then dumped hundreds of thousands of votes in each one, and got caught. Now Republican politicians have to fight so that their great victory is not stolen. Don't be weak fools!"

-Donald Trump, Twitter.com, December 19, 2020 9:41 am
Biden didn't win despite the reported vote totals; Democrats dumped hundreds of thousands of votes in each swing state
609.
12/19/2020

"There could also have been a hit on our ridiculous voting machines during the election, which is now obvious that I won big, making it an even more corrupted embarrassment for the USA."

-Donald Trump, Twitter.com, December 19, 2020 11:30 am
There may have been a hit on the voting machines; it's obvious Trump won; the election was a corrupted embarrassment
610.
12/19/2020

"The lie of the year is that Joe Biden won!"

-Donald Trump, Twitter.com, December 19, 2020 2:59 pm
Joe Biden did not win despite the reported vote totals
611.
12/20/2020

"Rudy [Giuliani] and his team, and myself, and a lot of other people, and frankly, millions of people all over the country, we have uncovered a voter fraud, the greatest voter fraud in history. It's the most corrupt election this country has ever had by far."

-Donald Trump, "Interview: Donald Trump Calls In to Uncovering The Truth With Giuliani and Ryan – December 20, 2020," factba.se, December 20, 2020
The greatest voter fraud in history has been uncovered; this was the most corrupt election ever
612.
12/20/2020

"Let us see the signatures [on mail-in ballots] in Fulton County in Georgia and a couple of other places. Let us see the signatures. You'll find that hundreds of thousands of signatures either don't exist or were fraudulently written."

-Donald Trump, "Interview: Donald Trump Calls In to Uncovering The Truth With Giuliani and Ryan – December 20, 2020," factba.se, December 20, 2020
Hundreds of thousands of signatures either don't exist or were fraudulently written
613.
12/20/2020

"GREATEST ELECTION FRAUD IN THE HISTORY OF OUR COUNTRY!!!"

-Donald Trump, Twitter.com, December 20, 2020 12:26 am
This was the greatest election fraud in the history of the country
614.
12/21/2020

"And we are fighting, uh, really for the country because this election — We won this election in a landslide. They [Democrats] dropped hundreds of thousands of ballots in each state. It's all documented."

-Donald Trump, "Remarks: Donald Trump Calls In to Turning Point USA Student Action Summit – December 21, 2020," factba.se, December 21, 2020
Democrats dropped hundreds of thousands of ballots in each state
615.
12/21/2020

"Big news coming out of Pennsylvania. Very big illegal ballot drop that cannot be accounted for. Rigged Election!"

-Donald Trump, Twitter.com, December 21, 2020 7:24 am
A very big illegal ballot drop that can't be accounted for occurred in Pennsylvania; the election was rigged
616.
12/21/2020

"…Republicans in Wisconsin should take these 3 strong decisions to their State Legislators and overturn this ridiculous State Election. We won in a LANDSLIDE!"

-Donald Trump, Twitter.com, December 21, 2020 4:48 pm
The ridiculous election in Wisconsin should be overturned because Trump won despite the reported vote totals
617.
12/22/2020

"Today I want to explain to you why I am so determined to pursue every legal and constitutional option available to stop the theft of the presidential election. As President, one of my most solemn duties is to protect the integrity of your sacred right to vote.

This year, using the virus as a pretext, Democrat officials in the key swing states illegally violated their own state laws in order to enable, encourage, and facilitate fraud on a scale never before seen in the history of our country."

-Donald Trump, "Donald Trump Vlog: Contesting Election Results – December 22, 2020," factba.se, December 22, 2020
The Democrats are attempting theft of the presidential election; Democratic officials in swing states violated state laws to facilitate fraud
618.
12/22/2020

"The truth is we won the election by a landslide. We won it big… Let's go back to the night of the election. By midnight, we had a commanding lead in the swing states…

Our nation's greatest political professionals were calling to congratulate me on our victory. Then suddenly everything started to disappear. Everything started to change. The vote counting abruptly stopped in multiple states. In the middle of the night, a series of massive and statistically inconceivable vote dumps overturned the results in state after state.

At 6:31 AM, very early in the morning, Michigan suddenly reported 147,224 votes, 94% for Biden, 6% for Trump. At 4:42 AM, Wisconsin reported 143,279 votes, almost all of them for Biden. A similar massive drop of ballots happened in Georgia at 1:34 AM, again, almost all of these votes for Biden. These gigantic and ridiculously one-sided spikes were miraculously just enough to push Joe Biden into the lead in all of the key swing states."

-Donald Trump, "Donald Trump Vlog: Contesting Election Results – December 22, 2020," factba.se, December 22, 2020
Trump won the election in a landslide despite the reported vote totals; massive and statistically inconceivable vote dumps in many states favored Biden
619.
12/22/2020

"Despite all of this evidence of a thundering Trump victory and all of those projections all through the night, they want us to believe that Joe Biden, who seldom left his basement to campaign, somehow received 11.7 million more votes than Barack Obama. And he beat Barack Obama all over the country.

It is historically, mathematically, politically, and logically impossible. It did not happen. He did not win. We won by a landslide."

-Donald Trump, "Donald Trump Vlog: Contesting Election Results – December 22, 2020," factba.se, December 22, 2020
It is historically, mathematically, politically, and logically impossible that Biden won the election
620.
12/22/2020

"Over the past seven weeks, we have put forth the abundant evidence, proving how the Democrats perpetrated this monstrous fraud on the American people and indeed the world. First, we have shown that officials in virtually every key swing state brazenly violated their own state laws in order to change election procedures, eliminate safeguards, promote fraud, and illegally benefit Joe Biden. And legislatures, which have to make the changes, were seldom if ever used."

-Donald Trump, "Donald Trump Vlog: Contesting Election Results – December 22, 2020," factba.se, December 22, 2020
Democrats perpetrated a monstrous fraud on the American people; officials violated state laws to change election procedures and promote fraud to benefit Biden
621.
12/22/2020

"Pennsylvania's radical Democrat Secretary of State suspended all signature verification requirements, breaking Pennsylvania law, not to mention the big and very illegal ballot drops."

-Donald Trump, "Donald Trump Vlog: Contesting Election Results – December 22, 2020," factba.se, December 22, 2020
Pennsylvania suspended signature verification in violation of state law; there were big and illegal ballot drops
622.
12/22/2020

"In Michigan, the Secretary of State, a Democrat, illegally flooded the state with absentee ballot applications, even though Michigan law strictly limits the distribution of absentee ballots."

-Donald Trump, "Donald Trump Vlog: Contesting Election Results – December 22, 2020," factba.se, December 22, 2020
Democrats in Michigan illegally flooded the states with absentee ballot applications
623.
12/22/2020

"In Wisconsin, the major Democrat cities deployed over 500 unmanned unsecured ballot drop boxes that were blatantly illegal paving the way for unlawful ballot harvesting and tremendous fraud."

-Donald Trump, "Donald Trump Vlog: Contesting Election Results – December 22, 2020," factba.se, December 22, 2020
In Wisconsin, Democratic majority cities deployed over 500 unmanned and unsecured ballot drop boxes that allowed unlawful ballot harvesting and tremendous fraud
624.
12/22/2020

"In Georgia, the Secretary of State began illegally processing ballots weeks before election day, and also destroyed the signature verification systems in violation of the law.

Many other horrible things were done in Georgia. These actions alone were more than enough to rig the election results for Democrats."

-Donald Trump, "Donald Trump Vlog: Contesting Election Results – December 22, 2020," factba.se, December 22, 2020
Georgia Secretary of State illegally began processing ballots before election day and destroyed signature verification systems; the election was rigged for Democrats
625.
12/22/2020

"[T]he absentee ballot rejection rates prove that hundreds of thousands of illegitimate ballots were counted in the key States. This was sufficient to change the election results all in its own.

In 2016, 6.4% of mail-in ballots were rejected in Georgia. This year, fewer than a tiny percentage of 1% were rejected. So you went all the way down, a difference of more than 30 times. The same phenomenon occurred in Pennsylvania and other States. They were accepting all of these ballots, many of which were absolutely illegal…

The only possible explanation is that tens of thousands of ballots were unlawfully processed and counted."

-Donald Trump, "Donald Trump Vlog: Contesting Election Results – December 22, 2020," factba.se, December 22, 2020
Absentee ballot rejection rates prove hundreds of thousands of illegitimate ballots were counted
626.
12/22/2020

"[H]undreds and hundreds of witnesses have come forward to testify under penalty of perjury about the cheating and fraud they saw with their own eyes. Witnesses have sworn that they saw poll workers illegally backdating thousands of ballots, counting batches of the same ballots many times and unloading boxes and boxes of ballots all bearing the same signature and all for Joe Biden."

-Donald Trump, "Donald Trump Vlog: Contesting Election Results – December 22, 2020," factba.se, December 22, 2020
Hundreds of witnesses testified to cheating and fraud; poll workers illegally backdated ballots and counted ballots many times; boxes of ballots for Biden had the same signature
627.
12/22/2020

"Other witnesses have testified to seeing thousands of so-called pristine ballots with no creases or folds, all voting for Biden. When you have no fold, it means it wasn't mailed, it means it was a fraud."

-Donald Trump, "Donald Trump Vlog: Contesting Election Results – December 22, 2020," factba.se, December 22, 2020
Witnesses saw thousands of ballots with no folds, meaning they were fraudulent and not mailed in an envelope as required
628.
12/22/2020

"Republican Poll Watchers were denied critical access as hundreds of thousands of votes were counted in Democrat run cities in the essential States.

There is even security camera footage from Georgia that shows officials telling poll watchers to leave the room before pulling suitcases of ballots out from under the tables and continuing to count for hours. The reason they were forced to leave the room, as they said, there was a major water main break.

The water main break never happened. There was no water main break. In many cases, Republican Poll Watchers were physically removed from rooms."

-Donald Trump, "Donald Trump Vlog: Contesting Election Results – December 22, 2020," factba.se, December 22, 2020
Republican poll watchers were denied access to vote counting in Democratic areas
629.
12/22/2020

"In addition, there is the deeply troubling matter of Dominion Voting Systems. In just one Michigan County alone, 6,000 votes were switched from Trump to Biden and the same system was used throughout a majority of the United States.

No satisfactory explanation has been offered for why Dominion Systems are able to switch votes with a mere push of a button, In Arizona, the State Senate has recently issued a subpoena for a forensic audit of the voting machines. And similar investigations must be conducted in every state using Dominion Systems immediately.

In Texas, they don't allow Dominion Systems to be used."

-Donald Trump, "Donald Trump Vlog: Contesting Election Results – December 22, 2020," factba.se, December 22, 2020
In one Michigan county, Dominion machines changed 6,000 Trump votes to Biden
630.
12/22/2020

"[W]e have unveiled overwhelming evidence of election fraud. None of this should ever have been allowed to happen in the United States of America. It is a travesty of democracy. It's a shame upon our Republic.

In 2016, we caught them by surprise. From that moment, they had four years to work on the scheme to rig the 2020 election. The rigging of the 2020 election was only the final step in the Democrats' and the media's years long effort to overthrow the will of the American people and destroy our movement by any means possible, any means necessary."

-Donald Trump, "Donald Trump Vlog: Contesting Election Results – December 22, 2020," factba.se, December 22, 2020
There is overwhelming evidence of election fraud' Democrats and the media have overthrown the will of the American people
631.
12/22/2020

"This is not the first and only time that the media and the Biden campaign flagrantly lied to the American people. They repeatedly insisted that we would not produce a vaccine for the China virus before the middle of next year. And yet, before the end of this year, we have already authorized two vaccines with tens of millions of doses of distribution and hundreds of millions more on their way.

This is being talked of as a great medical miracle. In this sense alone, the media and the Democrat Party lied to the American people to try to steal the election. Also, polls in order to deter voter turnout, the media had me down in certain polls by 15, 16, and 17% in States that I won or came very close to winning."

-Donald Trump, "Donald Trump Vlog: Contesting Election Results – December 22, 2020," factba.se, December 22, 2020
The media and the Democratic Party lied to the American people about when the COVID-19 vaccine would be ready to try to steal the election
632.
12/22/2020

"If this egregious fraud is not fully investigated and addressed, the 2020 election will forever be regarded as illegitimate and the most corrupt election in the history of our country… We won this election by a magnificent landslide and the people of the United States know it.

All over they're demonstrating, they're angry, they're fearful. We can not allow a completely fraudulent election to stand."

-Donald Trump, "Donald Trump Vlog: Contesting Election Results – December 22, 2020," factba.se, December 22, 2020
The media and the Democratic Party lied to the American people about when the COVID-19 vaccine would be ready to try to steal the election
633.
12/22/2020

"THE DEMOCRATS DUMPED HUNDREDS OF THOUSANDS OF BALLOTS IN THE SWING STATES LATE IN THE EVENING. IT WAS A RIGGED ELECTION!!!"

-Donald Trump, Twitter.com, December 22, 2020 10:29 am
Democrats dumped hundreds of thousands of ballots in swing states; the election was rigged
634.
12/22/2020

"They are slow walking the signature verification in Georgia. They don't want results to get out prior to January 6th. They know what they are trying so hard to hide. Terrible people!"

-Donald Trump, Twitter.com, December 22, 2020 12:08 pm
Georgia is slow walking signature verification to hide the election results
635.
12/23/2020

"I won Georgia, I know that, by a lot. And the people know it. And something happened, something bad happened… If you go back two years [checking signatures on mail-in ballots] and if you can get to Fulton [County], you're gonna find things that are going to be unbelievable, the dishonesty…

The people of Georgia are so angry at what happened to me, they know I won. Won by hundreds of thousands of votes, it wasn't close…

They dropped ballots, they dropped all these ballots. Stacey Abrams, really, really terrible. Just a terrible thing… If you go back two years or four years, you're going to see it's a totally different signature. But hopefully, when the right answer comes out, you'll be praised."

-Donald Trump via Cameron McWhirter, "Trump Call to Georgia Lead Investigator Reveals New Details," wsj.com, March 11, 2020
Trump won Georgia despite the reported vote totals; there is dishonesty in Fulton County elections; Democrats dropped ballots; signatures don't match
636.
12/23/2020

"After seeing the massive Voter Fraud in the 2020 Presidential Election, I disagree with anyone that thinks a strong, fast, and fair Special Counsel is not needed, IMMEDIATELY. This was the most corrupt election in the history of our Country, and it must be closely examined!"

-Donald Trump, Twitter.com, December 23, 2020 6:16 pm
This was the most corrupt election in the history of our country
637.
12/24/2020

"At a meeting in Florida today, everyone was asking why aren't the Republicans up in arms & fighting over the fact that the Democrats stole the rigged presidential election? Especially in the Senate, they said, where you helped 8 Senators win their races. How quickly they forget!"

-Donald Trump, Twitter.com, December 24, 2020 3:43 pm
Democrats stole the rigged election
638.
12/24/2020

"Maria's [Bartiromo] show and ratings are better than ever. They are trying to shame her into not telling the truth. Her audience would be gone, and she is far too smart for that. Rigged Election!"

-Donald Trump, Twitter.com, December 24, 2020 3:55 pm
The election was rigged
639.
12/24/2020

"VOTER FRAUD IS NOT A CONSPIRACY THEORY, IT IS A FACT!!!"

-Donald Trump, Twitter.com, December 24, 2020 3:56 pm
Voter fraud is a fact
640.
12/24/2020

"I saved at least 8 Republican Senators, including Mitch, from losing in the last Rigged (for President) Election. Now they (almost all) sit back and watch me fight against a crooked and vicious foe, the Radical Left Democrats. I will NEVER FORGET!"

-Donald Trump, Twitter.com, December 24, 2020 6:06 pm
The presidential election was rigged
641.
12/25/2020

"But we already know enough, and we won big!" [Note: This tweet linked to a tweet from a conservative political commentator calling for a special counsel to investigate election fraud.]

-Donald Trump, Twitter.com, December 25, 2020 7:11 pm
Trump won the election despite the reported vote totals
642.
12/26/2020

"The 'Justice' Department and the FBI have done nothing about the 2020 Presidential Election Voter Fraud, the biggest SCAM in our nation's history, despite overwhelming evidence. They should be ashamed. History will remember. Never give up. See everyone in D.C. on January 6th."

-Donald Trump, Twitter.com, December 26, 2020 8:14 pm
There was voter fraud in the presidential election, the biggest scam in our nation's history
643.
12/26/2020

"If a Democrat Presidential Candidate had an Election Rigged & Stolen, with proof of such acts at a level never seen before, the Democrat Senators would consider it an act of war, and fight to the death. Mitch & the Republicans do NOTHING, just want to let it pass. NO FIGHT!"

-Donald Trump, Twitter.com, December 26, 2020 8:00 am
There is proof that Democrats rigged and stole the election
644.
12/26/2020

"A young military man working in Afghanistan told me that elections in Afghanistan are far more secure and much better run than the USA's 2020 Election. Ours, with its millions and millions of corrupt Mail-In Ballots, was the election of a third world country. Fake President!"

-Donald Trump, Twitter.com, December 26, 2020 9:00 am
The election had millions of corrupt mail-in ballots
645.
12/26/2020

"Where the hell is the Durham Report? They spied on my campaign, colluded with Russia (and others), and got caught. Read the Horowitz Reports about Comey & McCabe. Even the Fake News @nytimes said 'bad'. They [Democrats] tried it all, and failed, so now they are trying to steal the election!"

-Donald Trump, Twitter.com, December 26, 2020 8:34 am
Democrats are trying to steal the election
646.
12/26/2020

"Time for Republican Senators to step up and fight for the Presidency, like the Democrats would do if they had actually won. The proof is irrefutable! Massive late night mail-in ballot drops in swing states, stuffing the ballot boxes (on video), double voters, dead voters,

….Courts are bad, the FBI and 'Justice' didn't do their job, and the United States Election System looks like that of a third world country. Freedom of the press has been gone for a long time, it is Fake News, and now we have Big Tech (with Section 230) to deal with….

….fake signatures, illegal immigrant voters, banned Republican vote watchers, MORE VOTES THAN ACTUAL VOTERS (check out Detroit & Philadelphia), and much more. The numbers are far greater than what is necessary to win the individual swing states, and cannot even be contested….

….But when it is all over, and this period of time becomes just another ugly chapter in our Country's history, WE WILL WIN!!!"

-Donald Trump, Twitter.com, December 26, 2020 6:23 pm
The proof that Trump won is irrefutable; there were late night ballot drops in swing states, stuffed ballot boxes, double voters, dead voters, fake signatures, illegal immigrant voters, and more votes than actual voters; Republican poll watchers were banned
647.
12/26/2020

"The U.S. Supreme Court has been totally incompetent and weak on the massive Election Fraud that took place in the 2020 Presidential Election. We have absolute PROOF, but they don't want to see it – No 'standing', they say. If we have corrupt elections, we have no country!"

-Donald Trump, Twitter.com, December 26, 2020 8:51 am
There was massive election fraud and Trump has absolute proof
648.
12/28/2020

"Breaking News: In Pennsylvania there were 205,000 more votes than there were voters. This alone flips the state to President Trump."

-Donald Trump, Twitter.com, December 28, 2020 4:00 pm
Pennsylvania had 205,000 more votes than there were voters
649.
12/28/2020

"The Senate will start the process for a vote that increases checks to $2,000, repeals Section 230, and starts an investigation into voter fraud.

Big Tech must not get protections of Section 230!

Voter Fraud must be fixed!"

-Donald Trump, "Statement From the President," factba.se, December 28, 2020
There is voter fraud
650.
12/29/2020

"A group of Republican lawmakers in Pennsylvania say 200,000 more votes were counted in the 2020 Election than voters (100% went to Biden). State Representative Frank Ryan said they found troubling discrepancies after an analysis of Election Day data." @FoxNews This is far….

…more votes than is needed by me to win Pennsylvania, not to mention hundreds of thousands of votes in other categories which increase my already big lead into a landslide. All other Swing States show likewise. WE NEED NEW & ENERGETIC REPUBLICAN LEADERSHIP. This can not stand..

….Can you imagine if the Republicans stole a Presidential Election from the Democrats – All hell would break out. Republican leadership only wants the path of least resistance. Our leaders (not me, of course!) are pathetic. They only know how to lose! P.S. I got MANY Senators.."

-Donald Trump, Twitter.com, December 29, 2020 8:49 am
In Pennsylvania, 200,000 more votes were counted than there were voters (all for Biden)
651.
12/29/2020

"Unless Republicans have a death wish, and it is also the right thing to do, they must approve the $2000 payments ASAP. $600 IS NOT ENOUGH! Also, get rid of Section 230 – Don't let Big Tech steal our Country, and don't let the Democrats steal the Presidential Election. Get tough!"

-Donald Trump, Twitter.com, December 29, 2020 2:11 pm
Big Tech is stealing the country and the Democrats are stealing the election
652.
12/29/2020

"Pennsylvania just found 205,000 votes more than they had voters. Therefore, we WIN Pennsylvania!!!"

-Donald Trump, Twitter.com, December 29, 2020 5:55 p
Pennsylvania had 205,000 more votes than voters
653.
12/30/2020

"The Wall Street Journal's very boring & incoherent Editorial fails to mention my big & easy wins in Texas, Florida, Ohio, Iowa & many other states that the @WSJ & other joke polls said I would lose. Also, they fail to mention the fact that I got many Republican Senators elected..

….that, quite frankly, didn't have much of a chance, like 7, 8 or 9. The Presidential Election was Rigged with hundreds of thousands of ballots mysteriously flowing into Swing States very late at night as everyone thought the election was easily won by me. There were many….

….other acts of fraud and irregularities as well. STAY TUNED!"

-Donald Trump, Twitter.com, December 30, 2020 12:57 am
The presidential election was rigged with hundreds of thousands of ballots mysteriously flowing into swing states very late at night
654.
12/30/2020

"That's because he [Joe Biden] got millions of Fake Votes in the 2020 Election, which was RIGGED!"

-Donald Trump, Twitter.com, December 30, 2020 7:29 am
Biden got millions of fake votes; the election was rigged
655.
12/30/2020

"The United States had more votes than it had people voting, by a lot. This travesty cannot be allowed to stand. It was a Rigged Election, one not even fit for third world countries!"

-Donald Trump, Twitter.com, December 30, 2020 2:38 pm
There were more votes than people voting; the election was rigged
656.
12/30/2020

"New Lott study estimates 11,350 absentee votes lost to Trump in Georgia. Another 289,000 'excess (fraudulent) votes' across GA, AZ, MI, NV, PA, and WI."

-Donald Trump, Twitter.com, December 30, 2020 1:49 am
There were 289,000 excess fraudulent votes in the swing states
657.
12/30/2020

"We now have far more votes than needed to flip Georgia in the Presidential race. Massive VOTER FRAUD took place. Thank you to the Georgia Legislature for today's revealing meeting!"

-Donald Trump, Twitter.com, December 30, 2020 4:51 pm
Massive voter fraud took place in Georgia
658.
12/31/2020

"The USA cannot have fraudulent elections!"

-Donald Trump, Twitter.com, December 31, 2020 10:52 pm
Suggestion that the election was fraudulent
659.
1/1/2021

"Before even discussing the massive corruption which took place in the 2020 Election, which gives us far more votes than is necessary to win all of the Swing States (only need three), it must be noted that the State Legislatures were not in any way responsible for the massive….

…changes made to the voting process, rules and regulations, many made hastily before the election, and therefore the whole State Election is not legal or Constitutional. Additionally, the Georgia Consent Decree is Unconstitutional & the State 2020 Presidential Election….

….is therefore both illegal and invalid, and that would include the two current Senatorial Elections. In Wisconsin, Voters not asking for applications invalidates the Election. All of this without even discussing the millions of fraudulent votes that were cast or altered!"

-Donald Trump, Twitter.com, January 1, 2021 6:27 pm
Massive corruption took place in the election; changes made to voting process without the state legislature are not legal; the Georgia election is illegal and invalid; Wisconsin's election is invalidated because voters did not ask for applications; there were millions of fraudulent votes
660.
1/1/2020

"Massive amounts of [election fraud] evidence will be presented on the 6th. We won, BIG!"

-Donald Trump, Twitter.com, January 1, 2021 3:10 pm
There are massive amounts of election fraud evidence
661.
1/2/2021

"An attempt to steal a landslide win. Can't let it happen!"

-Donald Trump, Twitter.com, January 2, 2021 6:15 pm
Trump's landslide win is being stolen
662.
1/2/2021

"Why haven't they done signature verification in Fulton County, Georgia. Why haven't they deducted all of the dead people who 'voted', illegals who voted, non Georgia residents who voted, and tens of thousands of others who voted illegally, from the final vote tally?"

-Donald Trump, Twitter.com, January 2, 2021 11:20 am
Fulton County, Georgia, did not do signature verification; dead people, illegal immigrants, and non-state residents voted illegally
663.
1/2/2021

"I think it's pretty clear that we won. We won very substantially, Georgia… We have at least two or three — anywhere from 250 to 300,000 ballots were dropped mysteriously into the rolls. Much of that had to do with Fulton County, which hasn't been checked. We think that if you check the signatures, a real check of the signatures going back in Fulton County, you'll find at least a couple of hundred thousand of forged signatures of people with, whose, who have been forged…

But, but you have to go back to check from past years with respect to signatures. And if you check with Fulton County, you'll have hundreds of thousands because they dumped ballots into Fulton County and the other county next to it."

-Donald Trump via The New York Times, "Transcript: President Trump's Phone Call With Georgia Election Officials," nytimes.com, January 5, 2021
Trump won Georgia despite the reported vote totals; 250-300,000 ballots were dropped mysteriously into the rolls; a couple hundred thousand signatures were forged
664.
1/2/2021

"We're going to have an accurate number over the next two days with certified accountants, but an accurate number will be given, but it's in the 50s of thousands, and that's people that went to vote, and they were told they can't vote because they've already been voted for, and it's a very sad thing. They walked out complaining, but the number's large. We'll have it for you, but it's very, it's much more than the number of 11,779… the number that in theory I lost by, the margin would be 11,779."

-Donald Trump via The New York Times, "Transcript: President Trump's Phone Call With Georgia Election Officials," nytimes.com, January 5, 2021
50,000+ people in Georgia went to vote and were told they had already voted
665.
1/2/2021

"We had, um, I believe it's about 4,502 voters who voted but who weren't on the voter registration list. So it's five thou — 4,502 — who voted, but they were not on the voter registration roll, which they had to be. You had 18,325 vacant address voters, they had no — the address was vacant, and they're not allowed to be counted. That's 18,325. Smaller number, you had 904 who only voted where they had just a P.O., a post office box number, and they had a post office box number, and that's not allowed."

-Donald Trump via The New York Times, "Transcript: President Trump's Phone Call With Georgia Election Officials," nytimes.com, January 5, 2021
In Georgia, 4,502 people voted but were not on the voter registration list; 18,325 voters had vacant addresses; 904 voted with just a P.O. box, which is not allowed
666.
1/2/2021

"We had at least 18,000, that's on tape, we had them counted very painstakingly, 18,000 voters having to do with [name redacted], she's a vote scammer, a professional vote scammer and hustler… they said very clearly, and it's been reported that they said there was a major water main break. Everybody fled the area, and then they came back, [name redacted], her daughter and a few people. There was no Republican poll watchers, actually there were no Democrat poll watchers because they were them. But there were no Democrats either, and there was no law enforcement.

Late in the morning, they went, early in the morning, they went to the table with the black robe, the black shield, and they pulled out the votes. Those votes were put there a number of hours before… They weren't in an official voter box, they were in what looked to be suitcases or trunks, suitcases. But they weren't in voter boxes… And the minimum it was, was 18,000 ballots, all for Biden…

She stuffed the ballot boxes. They were stuffed like nobody's ever seen them stuffed before. So there's a term for it when it's a machine instead of a ballot box. But she stopped the machine. She stopped the ballot. Each, each ballot went three times…

It was late in the evening, late in the, early in the morning, and there was nobody else in the room. Where were the poll watchers, and why did they say a water main broke, which they did, and which is reported in the newspapers? They said they left. They ran out because of a water main break, and there was no water main. There was nothing. There was no break."

-Donald Trump via The New York Times, "Transcript: President Trump's Phone Call With Georgia Election Officials," nytimes.com, January 5, 2021

[Note: Media transcripts redacted the name of the election worker that Trump accused of committing fraud.]
In Georgia, 18,000 votes for Biden were stuffed into ballot boxes by a professional vote scammer and hustler
667.
1/2/2021

"You had out-of-state voters, they voted in Georgia, but they were from out of state of 4,925. You had absentee ballots sent to vacant, they were absentee ballots sent to vacant addresses. They had nothing on 'em about addresses. That's 2,326."

-Donald Trump via The New York Times, "Transcript: President Trump's Phone Call With Georgia Election Officials," nytimes.com, January 5, 2021
Voter Fraud
(illegal voters)
668.
1/2/2021

"And you had drop boxes, which was very bad. You had drop box boxes that were picked up. We have photographs, and we have affidavits from many people. I don't know if you saw the hearings, but, but you have drop boxes, where the box was picked up and not delivered for three days. So all sorts of things could have happened to that box, including, you know, putting in the votes that you wanted…

Ballots were dropped in massive numbers, and we're trying to get to those numbers, and we will have them. They'll take a period of time certified. But, but, but they're massive numbers and far greater than the 11,779 [margin of victory for Joe Biden in Georgia]."

-Donald Trump via The New York Times, "Transcript: President Trump's Phone Call With Georgia Election Officials," nytimes.com, January 5, 2021
In Georgia, ballots were picked up from drop boxes and not delivered for three days; ballots were dropped in massive numbers
669.
1/2/2021

"The other thing, dead people, so dead people voted. And I think the, the number is in the close to 5,000 people. And they went to obituaries. They went to all sorts of methods to come up with an accurate number. And a minimum is close to about 5,000 voters. The bottom line is when you add it all up, and then you start adding, you know, 300,000 fake ballots."

-Donald Trump via The New York Times, "Transcript: President Trump's Phone Call With Georgia Election Officials," nytimes.com, January 5, 2021
Close to 5,000 dead people voted in Georgia; there were 300,000 fake ballots
670.
1/2/2021

"Then the other thing they said is in Fulton County and other areas, and this may or may not be true. This just came up this morning that they are burning their ballots, that they are shredding, shredding ballots and removing equipment. They're changing the equipment on the, on the Dominion machines. And, you know, that's not legal. And they supposedly shred. And I think they said 300 pounds of— 3,000 pounds of ballots…

Now, do you think it's possible that they shredded ballots in Fulton County? Because that's what the rumor is. And also that Dominion took out machines. That Dominion is really moving fast to get rid of their, uh, machinery… It doesn't pass the smell test, because we hear they're shredding thousands and thousands of ballots, and now what they're saying, 'Oh, we're just cleaning up the office.' Yeah."

-Donald Trump via The New York Times, "Transcript: President Trump's Phone Call With Georgia Election Officials," nytimes.com, January 5, 2021
Fulton County, Georgia, is shredding 3,000 pounds of ballots and Dominion is removing voting machines to hide evidence
671.
1/2/2021

"But in Detroit, we had 100 — I think it was 139 percent of the people voted. That's not too good. In Pennsylvania, they had well over 200,000 more votes than they had people voting…

But, but they had, as an example in Michigan, a tremendous number of dead people that voted. I think it was, I think, Mark, it was 18,000 or some unbelievably high number… And that was checked out laboriously by going through — versus — by going through the obituary columns in the newspapers."

-Donald Trump via The New York Times, "Transcript: President Trump's Phone Call With Georgia Election Officials," nytimes.com, January 5, 2021
In Detroit, 139% of the people voted; In Pennsylvania, there were 200,000 more votes than voters; Michigan had 18,000 dead voters
672.
1/2/2021

"I mean, we have many, many times the number of votes necessary to win this state [Georgia]. And we won the state, and we won it very substantially and easily. And we're, we're getting, we have much of this is a very, you know, they're certified, far more certified than we need. But we're getting additional numbers certified too, and we're getting pictures of drop boxes being delivered and delivered late, and delivered three days later in some cases. Plus, we have many affidavits to that effect."

-Donald Trump via The New York Times, "Transcript: President Trump's Phone Call With Georgia Election Officials," nytimes.com, January 5, 2021
Trump won Georgia despite the reported vote totals; drop boxes were delivered late
673.
1/2/2021

"We have all the votes we need. You know, we won the state [Georgia]. If you took, these are the most minimal numbers, the numbers that I gave you. Those are numbers that are certified, your absentee ballots sent to vacant addresses, your, your out-of-state voters, 4,925."

-Donald Trump via The New York Times, "Transcript: President Trump's Phone Call With Georgia Election Officials," nytimes.com, January 5, 2021
Trump won Georgia despite the reported vote totals; absentee ballots were sent to 4,925 out-of-state voters
674.
1/2/2021

"I mean, in other states we think we found tremendous corruption with Dominion [voting] machines, but we'll have to see… I won't give Dominion a pass because we've found too many bad things."

-Donald Trump via The New York Times, "Transcript: President Trump's Phone Call With Georgia Election Officials," nytimes.com, January 5, 2021
May have found tremendous corruption with Dominion voting machines
675.
1/2/2021

Georgia Secretary of State Brad Raffensperger: "We believe that we do have an accurate election."

"No, no you don't. No, no you don't. You don't have, you don't have. Not even close. You're off by hundreds of thousands of votes. And just on the small numbers, you're off on these numbers, and these numbers can't be just — well, why won't? — OK. So you sent us into Cobb County for [mail-in ballot] signature verification, right? You sent us into Cobb County, which we didn't want to go into. And you said it would be open to the public, and we could have our, so had our experts there. They weren't allowed into the room. But we didn't want Cobb County. We wanted Fulton County…

And why can't we have professionals do it instead of rank amateurs who will never find anything and don't want to find anything? They don't want to find, you know, they don't want to find anything. Someday you'll tell me the reason why, because I don't understand your reasoning, but someday you'll tell me the reason why. But why don't you want to find?"

-Donald Trump via The New York Times, "Transcript: President Trump's Phone Call With Georgia Election Officials," nytimes.com, January 5, 2021
The Georgia vote count is off by hundreds of thousands of votes; Trump's experts were not allowed into the room to watch signature verification
676.
1/2/2021

"Fulton County is totally corrupt…

And you've taken a state that's a Republican state, and you've made it almost impossible for a Republican to win because of cheating, because they cheated like nobody's ever cheated before…

I think you're going to find that they are shredding [mail-in] ballots, because they have to get rid of the ballots, because the ballots are unsigned. The ballots are corrupt, and they're brand-new, and they don't have seals, and there's the whole thing with the ballots. But the ballots are corrupt…

They're shredding ballots. And you should look at that very carefully. Because that's so illegal. You know, you may not even believe it because it's so bad."

-Donald Trump via The New York Times, "Transcript: President Trump's Phone Call With Georgia Election Officials," nytimes.com, January 5, 2021
Fulton County, Georgia, is shredding unsigned ballots before they can be inspected; the ballots are corrupt
677.
1/2/2021

"And what about that batch of military ballots that came in? And even though I won the military by a lot, it was 100 percent Trump. I mean 100 percent Biden. Do you know about that? A large group of ballots came in. I think it was to Fulton County, and they just happened to be 100 percent for Trump — for Biden, even though Trump won the military by a lot, you know, a tremendous amount. But these ballots were 100 percent for Biden. And, do you know about that? A very substantial number came in, all for Biden… Do you know about the military ballots that came in that were 100 percent, I mean 100 percent for Biden. Do you know about that?…

No they came in, a large batch came in, and it was, quote, 100 percent for Biden. And that is criminal. You know, that's criminal. OK. That's another criminal, that's another of the many criminal events, many criminal events here."

-Donald Trump via The New York Times, "Transcript: President Trump's Phone Call With Georgia Election Officials," nytimes.com, January 5, 2021
A batch of military ballots was 100% for Biden, even though Trump won the military by a lot, which is a criminal event
678.
1/2/2021

"Well, under law, you're not allowed to give faulty election results. OK? You're not allowed to do that, and that's what you've done [in Georgia]. This is a faulty election result…

It take a little while, but let the truth come out. And the truth, the real truth is I won by 400,000 votes, at least."

-Donald Trump via The New York Times, "Transcript: President Trump's Phone Call With Georgia Election Officials," nytimes.com, January 5, 2021
The Georgia election result is faulty because Trump won by at least 400,000 votes
679.
1/3/2021

"The Swing States did not even come close to following the dictates of their State Legislatures. These States 'election laws' were made up by local judges & politicians, not by their Legislatures, & are therefore, before even getting to irregularities & fraud, UNCONSTITUTIONAL!"

-Donald Trump, Twitter.com, January 3, 2021 1:24 pm
Swing states made unconstitutional changes to election laws; there were irregularities and fraud in the election
680.
1/3/2021

"I spoke to Secretary of State Brad Raffensperger yesterday about Fulton County and voter fraud in Georgia. He was unwilling, or unable, to answer questions such as the 'ballots under table' scam, ballot destruction, out of state 'voters', dead voters, and more. He has no clue!"

-Donald Trump, Twitter.com, January 3, 2021 8:57 am
In Georgia, there was a scam of ballots brought out from under a table, ballots were destroyed; there were out-of-state and dead voters
681.
1/3/2021

"Sorry, but the number of [fraudulent] votes in the Swing States that we are talking about is VERY LARGE and totally OUTCOME DETERMINATIVE! Only the Democrats and some RINO'S would dare dispute this – even though they know it is true!"

-Donald Trump, Twitter.com, January 3, 2021 1:45 pm
The number of fraudulent votes in swing states would change the outcome of the election
682.
1/3/2021

"'Georgia election data, just revealed, shows that over 17,000 votes illegally flipped from Trump to Biden.' @OANN This alone (there are many other irregularities) is enough to easily 'swing Georgia to Trump'. #StopTheSteal"

-Donald Trump, Twitter.com, January 3, 2021 9:20 am
In Georgia, over 17,000 votes were flipped from Trump to Biden
683.
1/4/2021

"By the way, there is no way we lost Georgia. There's no way. A rigged — That was a rigged election but we're still fighting it. And you'll see what is going to happen… You know, I've had two elections. I won both of them. It's amazing."

-Donald Trump, "Speech: Donald Trump Holds a Political Rally in Dalton, Georgia – January 4, 2021," factba.se, January 4, 2021
Georgia was a rigged election and there is no way Trump lost
684.
1/4/2021

"I'm complaining about eight different states. Uh, and I think we're gonna win them all… But when you win in a landslide, and they steal it, and it's rigged, it's not acceptable, not acceptable…

As you know, there's nothing the radical Democrats will not do to get power that they so desperately crave, even the outright stealing of elections like they're trying to do with us… The Democrats are trying to steal the White House…

Big difference between losing and winning, and having it stolen… We win every state, and they're gonna have this guy [Biden] be President?"

-Donald Trump, "Speech: Donald Trump Holds a Political Rally in Dalton, Georgia – January 4, 2021," factba.se, January 4, 2021
Trump won the election in a landslide but it was stolen and rigged; Democrats are trying to steal the White House
685.
1/4/2021

"Why wouldn't they let us have a special session [of the state legislature to overturn election results]? If they wanna check signatures in Fulton County, not in Cobb County. We didn't ask for Cobb County. They said, 'We'll do Cobb first and then we'll do Fulton.' They do Cobb, then they never get to Fulton…

I said, 'I want you to go to Fulton County to check the signatures because hundreds of thousands of ballots came in. I want you to check the signature to see if it compares to somebody that lived there two years, four years, or six years ago.' They don't want to do it. The secretary of state and your incompetent governor [of Georgia], although he thinks I've been a great president."

-Donald Trump, "Speech: Donald Trump Holds a Political Rally in Dalton, Georgia – January 4, 2021," factba.se, January 4, 2021
Georgia refused to check the signature on hundreds of thousands of ballots in Fulton County
686.
1/4/2021

"I've been involved in the two greatest scams in American history, the Russian hoax and now they are trying to steal an election from us. And we won, not by a little bit, we won in numbers like nobody's seen before…

I will tell you this, if we don't do something fast, there will never be another fair election in America. You know, we're known for elections, and now we're being laughed at all over the world about this last election."

-Donald Trump, "Speech: Donald Trump Holds a Political Rally in Dalton, Georgia – January 4, 2021," factba.se, January 4, 2021
Trump won the election by a lot and they are trying to steal it
687.
1/4/2021

"I've never seen anything like it. You know, I was leading in Pennsylvania by hundreds of thousands of votes. All of a sudden I was tied. I said, 'What happened?'

Seven states — You know, I was winning by a lot, and then all of a sudden, I was losing by a little, tiny bit, just a little. They can only go so far. They had no idea we were gonna do the kind of numbers, so that printing press was really moving."

-Donald Trump, "Speech: Donald Trump Holds a Political Rally in Dalton, Georgia – January 4, 2021," factba.se, January 4, 2021
In seven states, Trump was ahead until fake ballots were added
688.
1/4/2021

"I hated it, Kelly, when we got ballots in from the military with Trump all over it and they got thrown into a river. You saw that. They threw ballots into a river from the military with my name all over. We want Trump. Boom, goes into the river, that was just one of many instances of problem."

-Donald Trump, "Speech: Donald Trump Holds a Political Rally in Dalton, Georgia – January 4, 2021," factba.se, January 4, 2021
Military ballots marked for Trump were thrown in a river
689.
1/4/2021

"We have all seen what our opponents are capable of doing. I ran two elections. I won both of them. Second one much more successful than the first. But we can't let this happen any longer. On election night, we were leading by so much …

We won Florida and Ohio in record numbers. We won Iowa by 8.2%. Nobody's ever won those three states and lost, never happened before. It's almost impossible unless people do a lot of — either get very lucky or they cheat."

-Donald Trump, "Speech: Donald Trump Holds a Political Rally in Dalton, Georgia – January 4, 2021," factba.se, January 4, 2021
No one has ever won Florida, Ohio, and Iowa but lost the election unless there was cheating
690.
1/4/2021

"We were up 293,000 votes in Michigan. 112,000 votes in Washington. In Wisconsin. We were way up. 356,000 votes in Georgia. 356,000. And 700,000 votes in Pennsylvania. It was — over. I should've run up to the podium and said, 'Thank you very much for this wonderful victory.' Then maybe they wouldn't have had time to close those booths, right? The counting rooms. And do what they did.

But then it all started to disappear… Since the election, we have put forth indisputable evidence documenting the rampant fraud, which will be announced on Wednesday [January 6, 2021], as you know. And I want to thank Senator Josh Hawley and Ted Cruz and — all of the incredible Senators that have stepped up to fight because they've seen what happens. They know it's a fraud."

-Donald Trump, "Speech: Donald Trump Holds a Political Rally in Dalton, Georgia – January 4, 2021," factba.se, January 4, 2021
Trump was leading in many states until they closed the closing rooms to "do what they did"; Trump has put forth indisputable evidence documenting the rampant fraud
691.
1/4/2021

"I need three [states to win the election]. I'm fighting in eight actually. But six. And we're gonna win them all… And we were leading all of them by a lot until, like a miracle, it started to quickly disappear. Right here in Georgia there were tens of thousands of illegal votes cast and counted… We're up to 10,315 ballots were cast by individuals whose name and date of birth matches a Georgia resident who died in 2020 prior to the election and your wacky Secretary of State said, 'two people.' Now, I don't know how many people are on that list, but it's a lot of people."

-Donald Trump, "Speech: Donald Trump Holds a Political Rally in Dalton, Georgia – January 4, 2021," factba.se, January 4, 2021
In Georgia there were tens of thousands of illegal votes counted; 10,315 ballots case by people who died before the election
692.
1/4/2021

"205,006 ballots were cast by individuals whose name and date of birth matches an incarcerated felon in a Georgia prison… 4,502 illegal ballots were cast by individuals who do not appear on the state's voter rolls. Well, that's sort of strange. 18,325 illegal [mail-in] ballots were cast by individuals who registered to vote using an address listed as vacant according to the Postal Service. At least 86,880 ballots were cast by people whose registrations were illegally backdated. Oh, I can't believe that happened."

-Donald Trump, "Speech: Donald Trump Holds a Political Rally in Dalton, Georgia – January 4, 2021," factba.se, January 4, 2021
In Georgia, 205,006 ballots were cast by incarcerated felons; 4,502 votes cast by voters not on the rolls; 18,325 illegal mail-in ballots; 86,880 ballots with illegally backdated voter registrations
693.
1/4/2021

"66,000 votes — You all have to understand, we're down by a little more than 11,000 [in Georgia], so every one of these is determinative. 66,000 votes in Georgia were cast by people under the legal voting age. At least 15,000 ballots were cast by individuals who moved out of this state prior to the November 3rd election. Now, maybe they moved back in. I don't know. I mean, I can't tell. They moved out. Ah, let's go back. Usually, it takes a little time, right? You know. We moved out. Let's go back, darling."

-Donald Trump, "Speech: Donald Trump Holds a Political Rally in Dalton, Georgia – January 4, 2021," factba.se, January 4, 2021
In Georgia, 66,000 votes were cast by people under the voting age; 15,000 ballots were cast by people who had moved out of the state
694.
1/4/2021

"Georgia's absentee ballot rejection rate went from an average of 3% in 2016 and then went down very low to almost zero. Now, ah, think of it. Almost zero. If you multiply that out, and this is with many, many more ballots pouring in, went to almost zero. 48 out of 159 counties in Georgia rejected no ballots at all. These absentee ballot rejection rates prove that the tens of thousands of illegitimate ballots were counted. There were more absentee ballots in 2020 than ever before by far, but magically, far fewer ballots were rejected. This alone is more than enough to swing the election to us."

-Donald Trump, "Speech: Donald Trump Holds a Political Rally in Dalton, Georgia – January 4, 2021," factba.se, January 4, 2021
Georgia's absentee ballot rejection rate was almost zero, proving that tens of thousands of illegitimate ballots were counted
695.
1/4/2021

"Officials egregiously violated state laws in order to solicit, facilitate, and promote cheating and theft on a scale never seen before. These crooked and incompetent officials suspended signature verification…

They illegally flooded their states with absentee ballots, and they deployed hundreds of illicit ballot dropboxes in corrupt Democrat-run cities, among many other flagrant violations of law. They put these dropboxes there, and in a number of cases, they'd be gone for three days. They'd take them up, and they'd, where are they? Where are they? They were gone."

-Donald Trump, "Speech: Donald Trump Holds a Political Rally in Dalton, Georgia – January 4, 2021," factba.se, January 4, 2021
Officials egregiously violated state laws in order to solicit, facilitate, and promote cheating and theft
696.
1/4/2021

"Georgia's secretary of state agreed to a litigation settlement, which is something that nobody's ever seen one like this. I want, I want to just tell you that Stacey Abrams took him to the cleaners.

That drastically and illegally changed the state's election procedures. They never got the mandated approval from your state legislature, who by the way, you have some great people in your legislature, some great, great people who agree with what we're saying, and even more so. But think of it. They never got the approval. You have to, by law, under the Constitution, you can't just do these deals and not get the approval.

And your secretary of state, or whoever it was, made this horrible consent decree, horrible, which got rid of so much safety. It's a disgraceful thing. And it was only approved by your local, uh, politicians. Him. And local judges. You can't do that. You have to have your state legislatures do it. That's true with all states. Tens of thousands of votes are missing."

-Donald Trump, "Speech: Donald Trump Holds a Political Rally in Dalton, Georgia – January 4, 2021," factba.se, January 4, 2021
Georgia drastically and illegally changed the state's election procedures; tens of thousands of votes are missing
697.
1/4/2021

"We won Wisconsin by a small — You know? I mean, they could've done that one and not get caught. We caught 'em. We caught 'em… I say if they got approved and verified, they used the word verified, votes that are fraudulent, and then we find out after because you can't do it that quickly. It doesn't go that quickly. It's a lot of work and a lot of votes and a lot of people. And then we find out that there were frauds.

Like in one state where you had let's say you lost by 25,000 votes, they verify it, and that's supposed to be the end. But shortly thereafter, we find out that we actually won the state by 250,000 votes. Does that mean that that state plus others adds up to being your president? I don't think it should."

-Donald Trump, "Speech: Donald Trump Holds a Political Rally in Dalton, Georgia – January 4, 2021," factba.se, January 4, 2021
There were fraudulent votes
698.
1/4/2021

"In Wisconsin, over 90,000 [mail-in] ballots were illegally harvested. Can't do that. Not allowed to. Through so-called human drop boxes. And over 500 illegal unmanned drop boxes were put out statewide. In addition, over 170,000 absentee votes were counted that are blatantly illegal under Wisconsin law and should never have been included in the tally. By the way, I lost. It — it was razor thin. There's 170,000 votes. The margin in Wisconsin is only 20,000 votes, so this issue alone would've won that state for us many times over."

-Donald Trump, "Speech: Donald Trump Holds a Political Rally in Dalton, Georgia – January 4, 2021," factba.se, January 4, 2021
In Wisconsin, 90,000 ballots were illegally harvested; over 170,000 blatantly illegal absentee votes were counted
699.
1/4/2021

"We were leading at 10:00 in the evening by a lot. In Pennsylvania, there were 205,000 more ballots cast than there were voters… You had more ballots than you had voters. You had more votes, think of it, than you had voters by a lot. In addition, Democrat State Supreme Court judges and Democrat Secretary of State effectively abolished the signature verification process right here. They counted ballots cast after deadlines and they allowed ballots to be illegally fixed in Democrat-controlled areas."

-Donald Trump, "Speech: Donald Trump Holds a Political Rally in Dalton, Georgia – January 4, 2021," factba.se, January 4, 2021
In Pennsylvania, 205,000 more ballots were cast than there were voters; the signature verification process was abolished; late ballots were cast; Democrats illegally fixed ballot
700.
1/4/2021

"There's an unexplained 400,000 vote discrepancy between the number of mail-in ballots in Pennsylvania sent out reported on November 2nd, 2020 and the number reported on November 4th. They can't explain it. 400,000 previously unreported mail-in ballots magically appeared. They couldn't explain it. And all of a sudden they just happened to find 400,000. That's a lot of people. Amazing. And the Pennsylvania Legislature is not happy. Pennsylvania also had an estimated 8,000 dead voters, 55,000 ballots received back before they were even sent. How about that? The ballots were received but they weren't sent yet. 'Oh, uh, get 'em out fast, please.' Many more with no mail date and 14,000 ballots illegally cast by out-of-state voters."

-Donald Trump, "Speech: Donald Trump Holds a Political Rally in Dalton, Georgia – January 4, 2021," factba.se, January 4, 2021
There's an unexplained 400,000 vote discrepancy between the number of mail-in ballots sent and received; there were 8,000 dead voters; 55,000 ballots were received back before they were sent; 14,000 ballots were cast illegally by out-of-state voters
701.
1/4/2021

"In Clark County, Nevada, over 130,000 [mail-in] ballots… Just so you know all these numbers, these are far more than we need, were processed on [voting] machines where the signature matching threshold was intentionally lowered to a level that you could sign your name Santa Claus and it wouldn't pick it up. Didn't pick up anything. More than 42,000 people in Nevada double voted. That's more than we needed by far."

-Donald Trump, "Speech: Donald Trump Holds a Political Rally in Dalton, Georgia – January 4, 2021," factba.se, January 4, 2021
Nevada lowered the signature matching threshold on 130,000 mail-in ballots; 42,000 people double voted
702.
1/4/2021

"In Arizona, more than 36,000 votes were cast by non-citizens. And there were 11,000 more ballots than there were voters. Seems to be a trait, doesn't it?…

[I]n Pima County, and Maricopa County, it appears that 143,000 illegal votes were actually injected into the ballot system. Think of that!"

-Donald Trump, "Speech: Donald Trump Holds a Political Rally in Dalton, Georgia – January 4, 2021," factba.se, January 4, 2021
In Arizona, more than 36,000 votes were cast by non-citizens; there were 11,000 more ballots than voters; 143,000 illegal votes were counted
703.
1/4/2021

"In Michigan, according to one analyst, over 35,000 ballots listed no address. Over 13 ballots were cast by non-residents, and an estimated 17,000 ballots were cast by dead people. Some dead people, by the way, also requested an application. It's true. Those are the ones that really bother me."

-Donald Trump, "Speech: Donald Trump Holds a Political Rally in Dalton, Georgia – January 4, 2021," factba.se, January 4, 2021
35,000 ballots in Michigan had no address; 17,000 ballots cast by dead people
704.
1/4/2021

"[Dominion voting machines] had an astounding 93.67 error rate. 'Ninety-three point six seven error rate in the scanning of ballots requiring a review panel to adjudicate or determine the voter's intent.' So they're going to a voter intent, 'What did the voter mean by this vote?' Somebody votes for Trump, 'Ah, you know, I think that voter meant something other. He doesn't want Trump, let's just switch it around.' Think of that, they're trying to determine the voter's intent in over 106,000 ballots out of a total of 113,000 ballots…

[T]here is clear evidence that tens of thousands of votes were switched from President Trump to Former Vice President Biden in several counties throughout Georgia. For example, in Bibb County — anybody live in Bibb County? Bibb? Bibb? Bibb? B-I-B-B? President Trump was reported to have 29,391 at 9:11 PM, while simultaneously, Former Vice President Joe Biden was reported to have 17,218. Minutes later, at the next update, these vote numbers switched, with President Trump now having 17,000 and Biden now having 29,391. That was a switch of over 12,000 votes! It was like a miracle!"

-Donald Trump, "Speech: Donald Trump Holds a Political Rally in Dalton, Georgia – January 4, 2021," factba.se, January 4, 2021
Dominion voting machines had a 93.67 error rate; evidence shows tens of thousands of votes were switched from Trump to Biden
705.
1/4/2021

"The crime that was committed in this state [Georgia] is immeasurable. An immediate forensic audit of an appropriate sampling of Dominion's voting machines and related equipment is critical to determine the level of illegal fraudulent ballots improperly counted in Georgia during the 2020 General Election, and during tomorrow's race."

-Donald Trump, "Speech: Donald Trump Holds a Political Rally in Dalton, Georgia – January 4, 2021," factba.se, January 4, 2021
Immeasurable crime was committed in Georgia; there were illegal fraudulent ballots
706.
1/4/2021

"They don't like talking about numbers, because nobody knew the numbers were so egregious. Also, an expert mathematician concluded that the only explanation for the actual voting results in Arizona is that 100%, think of this, 130% of Democrats voted for candidate Biden. And a negative 30% voted for President Trump. Now, think of that. In order to get to the numbers, 130% of the voters — that's a little tough to get, okay? — had to vote for him; and minus 30 had to vote for me. And that gets you to 100% and nobody has 100% voting. For all of these people who think it's too late, does that mean that we're forced to approve a fraudulent election or an election with massive irregularities."

-Donald Trump, "Speech: Donald Trump Holds a Political Rally in Dalton, Georgia – January 4, 2021," factba.se, January 4, 2021
Mathematically, the only explanation for Arizona's results are if 130% of Democrats voted for Biden and negative 30% voted for Trump; the election was fraudulent
707.
1/4/2021

"How can you certify an election when the numbers being certified are verifiably WRONG. You will see the real numbers tonight during my speech, but especially on JANUARY 6th."

-Donald Trump, Twitter.com, January 4, 2021 10:07 am
The election numbers are verifiably wrong
708.
1/4/2021

"The 'Surrender Caucus' within the Republican Party will go down in infamy as weak and ineffective 'guardians' of our Nation, who were willing to accept the certification of fraudulent presidential numbers!"

-Donald Trump, Twitter.com, January 4, 2021 10:45 am
The presidential numbers are fraudulent
709.
1/5/2021

"The November 3rd election was corrupt in contested states, and in particular it was not in accordance with the Constitution in that they made large scale changes to election rules and regulations as dictated by local judges and politicians, not by state legislators. This means that it was illegal.

Our Vice President has several options under the U.S. Constitution. He can decertify the results or send them back to the states for change and certification. He can also decertify the illegal and corrupt results and send them to the House of Representatives for the one vote for one state tabulation."

-Donald Trump, "Statement from President Donald J. Trump," donaldjtrump.com, January 5, 2021
The election was not in accordance with the Constitution because of illegal changes to election rules; the results are illegal and corrupt
710.
1/5/2021

"Washington is being inundated with people who don't want to see an election victory stolen by emboldened Radical Left Democrats. Our Country has had enough, they won't take it anymore! We hear you (and love you) from the Oval Office. MAKE AMERICA GREAT AGAIN!"

-Donald Trump, Twitter.com, January 5, 2021 5:05 pm
Democrats are stealing the election
711.
1/5/2021

"I hope the Democrats, and even more importantly, the weak and ineffective RINO section of the Republican Party, are looking at the thousands of people pouring into D.C. They won't stand for a landslide election victory to be stolen."

-Donald Trump, Twitter.com, January 5, 2021 5:12 pm
Trump's landslide election victory is being stolen
712.
1/5/2021

"Pleased to announce that @KLoeffler & @sendavidperdue have just joined our great #StopTheSteal group of Senators. They will fight the ridiculous Electoral College Certification of Biden. How do you certify numbers that have now proven to be wrong and, in many cases, fraudulent!"

-Donald Trump, Twitter.com, January 5, 2021 9:50 am
The election numbers have been proven wrong and fraudulent
713.
1/6/2021

"If Vice President @Mike_Pence comes through for us, we will win the Presidency. Many States want to decertify the mistake they made in certifying incorrect & even fraudulent numbers in a process NOT approved by their State Legislatures (which it must be). Mike can send it back!"

-Donald Trump, Twitter.com, January 6, 2021 1:00 am
The certified results are incorrect and fraudulent
714.
1/6/2021

"States want to correct their votes, which they now know were based on irregularities and fraud, plus corrupt process never received legislative approval. All Mike Pence has to do is send them back to the States, AND WE WIN. Do it Mike, this is a time for extreme courage!"

-Donald Trump, Twitter.com, January 6, 20201 8:17 am
State results were based on irregularities and fraud; a corrupt process changed election laws without legislative approval
715.
1/6/2021

"Mike Pence didn't have the courage to do what should have been done to protect our Country and our Constitution, giving States a chance to certify a corrected set of facts, not the fraudulent or inaccurate ones which they were asked to previously certify. USA demands the truth!"

-Donald Trump, Twitter.com, January 6, 2021 2:24 pm
The election results were fraudulent and inaccurate
716.
1/6/2021

"They just happened to find 50,000 ballots late last night. The USA is embarrassed by fools. Our Election Process is worse than that of third world countries!"

-Donald Trump, Twitter.com, January 6, 2021 9:00 am
50,000 ballots appeared; the election process is worse than third world countries
717.
1/6/2021

"The States want to redo their votes. They found out they voted on a FRAUD. Legislatures never approved. Let them do it. BE STRONG!"

-Donald Trump, Twitter.com, January 6, 2021 9:15 am
States voted on a fraud and legislatures never approved as required
718.
1/6/2021

"These scoundrels are only toying with the @sendavidperdue (a great guy) vote. Just didn't want to announce quite yet. They've got as many ballots as are necessary. Rigged Election!"

-Donald Trump, Twitter.com, January 6, 2021 10:44 am
The election was rigged
719.
1/6/2021

"These are the things and events that happen when a sacred landslide election victory is so unceremoniously & viciously stripped away from great patriots who have been badly & unfairly treated for so long. Go home with love & in peace. Remember this day forever!"

-Donald Trump, Twitter.com, January 6, 2021 6:01 pm
Trump's landslide election victory was unceremoniously and viciously stripped away
720.
1/6/2021

"The media is the biggest problem we have as far as I'm concerned, single biggest problem. The fake news and the Big tech. Big tech is now coming into their own. We beat them four years ago. We surprised them. We took them by surprise and this year they rigged an election. They rigged it like they've never rigged an election before."

-Donald Trump, "Transcript of Trump's Speech at Rally Before US Capitol Riot," usnews.com, January 13, 2021
Big tech rigged the election
721.
1/6/2021

"All of us here today do not want to see our election victory stolen by emboldened radical-left Democrats, which is what they're doing. And stolen by the fake news media. That's what they've done and what they're doing. We will never give up, we will never concede. It doesn't happen. You don't concede when there's theft involved…

And to use a favorite term that all of you people really came up with: We will stop the steal. Today I will lay out just some of the evidence proving that we won this election and we won it by a landslide. This was not a close election."

-Donald Trump, "Transcript of Trump's Speech at Rally Before US Capitol Riot," usnews.com, January 13, 2021
Democrats are stealing Trump's election victory; Trump won the election by a landslide
722.
1/6/2021

"I hope Mike is going to do the right thing. I hope so. I hope so.

Because if Mike Pence does the right thing, we win the election… States want to revote. The states got defrauded. They were given false information. They voted on it. Now they want to recertify. They want it back. All Vice President Pence has to do is send it back to the states to recertify and we become president and you are the happiest people."

-Donald Trump, "Transcript of Trump's Speech at Rally Before US Capitol Riot," usnews.com, January 13, 2021
States were defrauded and given false information
723.
1/6/2021

"You know most candidates on election evening and, of course, this thing goes on so long. They still don't have any idea what the votes are. We still have congressional seats under review. They have no idea. They've totally lost control. They've used the pandemic as a way of defrauding the people in a proper election."

-Donald Trump, "Transcript of Trump's Speech at Rally Before US Capitol Riot," usnews.com, January 13, 2021
The pandemic was used to defraud people of a proper election
724.
1/6/2021

"For years, Democrats have gotten away with election fraud… But this year, using the pretext of the China virus and the scam of mail-in ballots, Democrats attempted the most brazen and outrageous election theft and there's never been anything like this. So pure theft in American history. Everybody knows it…

That election, our election was over at 10 o'clock in the evening. We're leading Pennsylvania, Michigan, Georgia, by hundreds of thousands of votes.

And then late in the evening, or early in the morning, boom, these explosions of bull****.

And all of a sudden. All of a sudden it started to happen."

-Donald Trump, "Transcript of Trump's Speech at Rally Before US Capitol Riot," usnews.com, January 13, 2021
Democrats used the pretext of COVID-19 to attempt the most brazen and outrageous election theft
725.
1/6/2021

"But we look at the facts and our election was so corrupt that in the history of this country we've never seen anything like it. You can go all the way back.

You know, America is blessed with elections. All over the world they talk about our elections. You know what the world says about us now? They said, we don't have free and fair elections…

No third-world countries would even attempt to do what we caught them doing."

-Donald Trump, "Transcript of Trump's Speech at Rally Before US Capitol Riot," usnews.com, January 13, 2021
The election was corrupt
726.
1/6/2021

"Over the past several weeks, we've amassed overwhelming evidence about a fake election. This is the presidential election."

-Donald Trump, "Transcript of Trump's Speech at Rally Before US Capitol Riot," usnews.com, January 13, 2021
There is overwhelming evidence about a fake election
727.
1/6/2021

"In every single swing state, local officials, state officials, almost all Democrats, made illegal and unconstitutional changes to election procedures without the mandated approvals by the state legislatures.

That these changes paved a way for fraud on a scale never seen before. I think we go a long way outside of our country when I say that.

So, just in a nutshell, you can't make a change or voting for a federal election unless the state legislature approves it. No judge can do it. Nobody can do it. Only a legislature."

-Donald Trump, "Transcript of Trump's Speech at Rally Before US Capitol Riot," usnews.com, January 13, 2021
Democrats in swing states made illegal and unconstitutional changes to election procedures; there was fraud on a scale never seen before
728.
1/6/2021

"In Pennsylvania, the Democrat secretary of state and the Democrat state Supreme Court justices illegally abolished the signature verification requirements just 11 days prior to the election.

So think of what they did. No longer is there signature verification. Oh, that's OK. We want voter ID by the way. But no longer is there a signature verification. Eleven days before the election they say we don't want it. You know why they don't want to? Because they want to cheat. That's the only reason."

-Donald Trump, "Transcript of Trump's Speech at Rally Before US Capitol Riot," usnews.com, January 13, 2021
Democrats in Pennsylvania illegally abolished the signature verification requirements because they want to cheat
729.
1/6/2021

"So in Pennsylvania, you had 205,000 more votes than you had voters. And the number is actually much greater than that now. That was as of a week ago. And this is a mathematical impossibility unless you want to say it's a total fraud.

So Pennsylvania was defrauded. Over 8,000 ballots in Pennsylvania were cast by people whose names and dates of birth match individuals who died in 2020 and prior to the election. Think of that. Dead people, lots of dead people, thousands…

Not only are they voting, they want an application to vote. One of them was 29 years ago, died. It's incredible. Over 14,000 ballots were cast by out-of-state voters, so these are voters that don't live in this state."

-Donald Trump, "Transcript of Trump's Speech at Rally Before US Capitol Riot," usnews.com, January 13, 2021
Pennsylvania had 205,000 more votes than voters; over 8,000 ballots were cast by dead people; 14,000 ballots were cast by out-of-state voters
730.
1/6/2021

"More than 10,000 votes in Pennsylvania were illegally counted, even though they were received after Election Day…

And what they did in many cases is, they did fraud. They took the date and they moved it back so that it no longer is after Election Day. And more than 60,000 ballots in Pennsylvania were reported received back. They got back before they were ever supposedly mailed out. In other words, you got the ballot back before you mailed it, which is also logically and logistically impossible, right?"

-Donald Trump, "Transcript of Trump's Speech at Rally Before US Capitol Riot," usnews.com, January 13, 2021
Pennsylvania illegally counted 10,000 late votes; ballots were backdated; more ballots were sent back than had been sent out
731.
1/6/2021

"Twenty-five thousand [mail-in] ballots in Pennsylvania were requested by nursing home residents, all in a single giant batch, not legal, indicating an enormous, illegal ballot harvesting operation. You're not allowed to do it, it's against the law.

The day before the election, the state of Pennsylvania reported the number of absentee ballots that had been sent out. Yet this number was suddenly and drastically increased by 400,000 people. It was increased, nobody knows where it came from, by 400,000 ballots, one day after the election.

It remains totally unexplained."

-Donald Trump, "Transcript of Trump's Speech at Rally Before US Capitol Riot," usnews.com, January 13, 2021
An illegal ballot harvesting operation in Pennsylvania collected 25,000 ballots from nursing homes; 400,000 ballots came one day after the election
732.
1/6/2021

"In Wisconsin, corrupt Democrat-run cities deployed more than 500 illegal, unmanned, unsecured drop boxes, which collected a minimum of 91,000 unlawful votes. It was razor-thin, the loss. This one thing alone is much more than we would need. But there are many things.

They have these lockboxes. And, you know, they'd pick them up and they disappear for two days. People would say where's that box? They disappeared. Nobody even knew where the hell it was."

-Donald Trump, "Transcript of Trump's Speech at Rally Before US Capitol Riot," usnews.com, January 13, 2021
Corrupt Democrats in Wisconsin deployed illegal drop boxes that collected 91,000 unlawful votes
733.
1/6/2021

"In addition, over 170,000 absentee votes were counted in Wisconsin without a valid absentee ballot application. So they had a vote, but they had no application, and that's illegal in Wisconsin. Meaning those votes were blatantly done in opposition to state law and they came 100% from Democrat areas such as Milwaukee and Madison, 100%."

-Donald Trump, "Transcript of Trump's Speech at Rally Before US Capitol Riot," usnews.com, January 13, 2021
170,000 absentee votes were counted in Wisconsin without a valid absentee ballot application, in opposition to state law
734.
1/6/2021

"In Madison, 17,000 votes were deposited in so-called human drop boxes. You know what that is, right? Where operatives stuff thousands of unsecured ballots into duffle bags on park benches across the city, in complete defiance of cease-and-desist letters from state legislature.

Your state legislatures said don't do it. They're the only ones that can approve it. They gave tens of thousands of votes. They came in in duffle bags. Where the hell did they come from?"

-Donald Trump, "Transcript of Trump's Speech at Rally Before US Capitol Riot," usnews.com, January 13, 2021
17,000 votes were deposited in unsecured so-called human drop boxes in Madison, Wisconsin
735.
1/6/2021

"According to eyewitness testimony, Postal Service workers in Wisconsin were also instructed to illegally backdate approximately 100,000 [mail-in] ballots. The margin of difference in Wisconsin was less than 20,000 votes. Each one of these things alone wins us the state. Great state. We love the state. We won the state."

-Donald Trump, "Transcript of Trump's Speech at Rally Before US Capitol Riot," usnews.com, January 13, 2021
Postal Service workers in Wisconsin were instructed to illegally backdate approximately 100,000 ballots
736.
1/6/2021

"Forty-eight counties in Georgia, with thousands and thousands of votes, rejected zero ballots. There wasn't one ballot. In other words, in a year in which more mail-in ballots were sent than ever before, and more people were voting by mail for the first time, the rejection rate was drastically lower than it had ever been before.

The only way this can be explained is if tens of thousands of illegitimate votes were added to the tally. That's the only way you could explain it.

By the way, you're talking about tens of thousands. If Georgia had merely rejected the same number of unlawful ballots as in other years, they should have been approximately 45,000 ballots rejected. Far more than what we needed to win, just over 11,000… They defrauded us out of a win in Georgia, and we're not going to forget it."

-Donald Trump, "Transcript of Trump's Speech at Rally Before US Capitol Riot," usnews.com, January 13, 2021
48 counties in Georgia rejected zero ballots, which is explained by tens of thousands of illegitimate votes added to the tally; Trump was defrauded out of a win in Georgia
737.
1/6/2021

"In Fulton County, Republican poll watchers were ejected, in some cases, physically from the room under the false pretense of a pipe burst. Water main burst, everybody leave. Which we now know was a total lie.

Then election officials pull boxes, Democrats, and suitcases of ballots out from under a table. You all saw it on television, totally fraudulent. And illegally scanned them for nearly two hours, totally unsupervised. Tens of thousands of votes. This act coincided with a mysterious vote dump of up to 100,000 votes for Joe Biden, almost none for Trump. Oh, that sounds fair. That was at 1:34 a.m."

-Donald Trump, "Transcript of Trump's Speech at Rally Before US Capitol Riot," usnews.com, January 13, 2021
The false pretense of a pipe burst was used in Georgia to add suitcases of fraudulent ballots
738.
1/6/2021

"Over 10,300 ballots in Georgia were cast by individuals whose names and dates of birth match Georgia residents who died in 2020 and prior to the election. More than 2,500 ballots were cast by individuals whose names and dates of birth match incarcerated felons in Georgia prison. People who are not allowed to vote.

More than 4,500 illegal ballots were cast by individuals who do not appear on the state's own voter rolls."

-Donald Trump, "Transcript of Trump's Speech at Rally Before US Capitol Riot," usnews.com, January 13, 2021
In Georgia, 10,300 ballots were cast by dead people; 2,500 ballots were cast by incarcerated felons
739.
1/6/2021

"Over 18,000 illegal [mail-in] ballots were cast by individuals who registered to vote using an address listed as vacant, according to the Postal Service.

At least 88,000 ballots in Georgia were cast by people whose registrations were illegally backdated…

And at least 15,000 ballots were cast by individuals who moved out of the state prior to November 3 election."

-Donald Trump, "Transcript of Trump's Speech at Rally Before US Capitol Riot," usnews.com, January 13, 2021
In Georgia, 18,000 ballots were cast by people with vacant addresses; 88,000 ballots were cast by people with illegally backdated registrations; 15,000 ballots were cast by people who left the state before the election
740.
1/6/2021

"And not a single swing state has conducted a comprehensive audit to remove the illegal ballots. This should absolutely occur in every single contested state before the election is certified."

-Donald Trump, "Transcript of Trump's Speech at Rally Before US Capitol Riot," usnews.com, January 13, 2021
No swing states conducted an audit to remove illegal ballots
741.
1/6/2021

"In the state of Arizona, over 36,000 ballots were illegally cast by non-citizens. Two thousand ballots were returned with no address. More than 22,000 ballots were returned before they were ever supposedly mailed out. They returned, but we haven't mailed them yet."

-Donald Trump, "Transcript of Trump's Speech at Rally Before US Capitol Riot," usnews.com, January 13, 2021
In Arizona, 36,000 ballots were cast by non-citizens; 22,000 ballots were returned before they were mailed out
742.
1/6/2021

"Eleven thousand six hundred more ballots and votes were counted, more than there were actual voters. You see that? So you have more votes again than you have voters.

One hundred and fifty thousand people registered in Maricopa County after the registration deadline. One hundred and three thousand ballots in the county were sent for electronic adjudication with no Republican observers."

-Donald Trump, "Transcript of Trump's Speech at Rally Before US Capitol Riot," usnews.com, January 13, 2021
In Arizona, 11,600 more ballots were counted than there were voters; 150,000 people in Maricopa County registered after the deadline; 103,000 ballots were adjudicated without Republican observers
743.
1/6/2021

"In Clark County, Nevada, the accuracy settings on signature verification machines were purposely lowered before they were used to count over 130,000 ballots.

If you signed your name as Santa Claus, it would go through.

There were also more than 42,000 double votes in Nevada. Over 150,000 people were hurt so badly by what took place. And 1,500 ballots were cast by individuals whose names and dates of birth match Nevada residents who died in 2020 prior to November 3 election. More than 8,000 votes were cast by individuals who had no address and probably didn't live there."

-Donald Trump, "Transcript of Trump's Speech at Rally Before US Capitol Riot," usnews.com, January 13, 2021
Clark County, Nevada, lowered the signature verification to allow fake signatures through; there were 42,000 double votes; 1,500 ballots cast by dead people; 8,000 votes cast by people without an address
744.
1/6/2021

"In Michigan, quickly, the secretary of state, a real great one, flooded the state with unsolicited mail-in ballot applications sent to every person on the rolls in direct violation of state law.

More than 17,000 Michigan ballots were cast by individuals whose names and dates of birth match people who were deceased."

-Donald Trump, "Transcript of Trump's Speech at Rally Before US Capitol Riot," usnews.com, January 13, 2021
Michigan flooded the state with mail-in ballot applications in violation of state law; 17,000 ballots were cast by dead people
745.
1/6/2021

"In Wayne County, that's a great one. That's Detroit. One hundred and seventy-four thousand ballots were counted without being tied to an actual registered voter. Nobody knows where they came from.

Also, in Wayne County, poll watchers observed canvassers rescanning batches of ballots over and over again, up to three or four or five times."

-Donald Trump, "Transcript of Trump's Speech at Rally Before US Capitol Riot," usnews.com, January 13, 2021
Detroit had 174,000 ballots that are not ties to a registered voter; canvassers scanned the same batch of ballots 3-5 times
746.
1/6/2021

"In Detroit, turnout was 139% of registered voters. Think of that. So you had 139% of the people in Detroit voting. This is in Michigan. Detroit, Michigan."

-Donald Trump, "Transcript of Trump's Speech at Rally Before US Capitol Riot," usnews.com, January 13, 2021
Turnout in Detroit was 139% of registered voters
747.
1/6/2021

"A career employee of the Detroit, City of Detroit, testified under penalty of perjury that she witnessed city workers coaching voters to vote straight Democrat while accompanying them to watch who they voted for. When a Republican came in, they wouldn't talk to him.

The same worker was instructed not to ask for any voter ID and not to attempt to validate any signatures if they were Democrats. She also told to illegally, and was told, backdate ballots received after the deadline and reports that thousands and thousands of ballots were improperly backdated. That's Michigan."

-Donald Trump, "Transcript of Trump's Speech at Rally Before US Capitol Riot," usnews.com, January 13, 2021
In Detroit, workers coached voters to vote Democrat and watched them vote; workers did not validate signatures for Democrats; thousands of ballots were illegally backdated
748.
1/6/2021

"Four witnesses have testified under penalty of perjury that after officials in Detroit announced the last votes had been counted, tens of thousands of additional ballots arrived without required envelopes. Every single one was for a Democrat. I got no votes.

At 6:31 a.m. in the early morning hours after voting had ended, Michigan suddenly reported 147,000 votes. An astounding 94% went to Joe Biden, who campaigned brilliantly from his basement. Only a couple of percentage points went to Trump.

Such gigantic and one-sided vote dumps were only observed in a few swing states and they were observed in the states where it was necessary."

-Donald Trump, "Transcript of Trump's Speech at Rally Before US Capitol Riot," usnews.com, January 13, 2021
Tens of thousands of ballots arrived without envelopes, all for a Democrat, after Detroit announced the last votes were counted; one-sided dumps added to Biden's total
749.
1/6/2021

"In addition, there is the highly troubling matter of Dominion Voting Systems. In one Michigan county alone, 6,000 votes were switched from Trump to Biden and the same systems are used in the majority of states in our country.

Senator William Ligon, a great gentleman, chairman of Georgia's senate judiciary subcommittee. Senator Ligon, highly respected, on elections has written a letter describing his concerns with Dominion in Georgia.

He wrote, and I quote, 'The Dominion Voting Machines employed in Fulton County had an astronomical and astounding 93.67% error rate. It's only wrong 93% of the time in the scanning of ballots requiring a review panel to adjudicate or determine the voter's interest in over 106,000 ballots out of a total of 113,000.'"

-Donald Trump, "Transcript of Trump's Speech at Rally Before US Capitol Riot," usnews.com, January 13, 2021
In one Michigan county, 6,000 votes were switched from Trump to Biden on Dominion machines
750.
1/6/2021

"So, I mean, I could go on and on about this fraud that took place in every state, and all of these legislatures want this back. I don't want to do it to you because I love you and it's freezing out here. But I could just go on forever. I can tell you this.

So when you hear, when you hear, while there is no evidence to prove any wrongdoing, this is the most fraudulent thing anybody has, this is a criminal enterprise. This is a criminal enterprise…

We won in a landslide. This was a landslide. They said it's not American to challenge the election. This was the most corrupt election in the history, maybe of the world."

-Donald Trump, "Transcript of Trump's Speech at Rally Before US Capitol Riot," usnews.com, January 13, 2021
Fraud took place in every state; Trump won the election in a landslide despite the certified vote totals; this was the most corrupt election in history
751.
1/6/2021

"It is also widely understood that the voter rolls are crammed full of non-citizens, felons and people who have moved out of state and individuals who are otherwise ineligible to vote. Yet Democrats oppose every effort to clean up their voter rolls. They don't want to clean them up. They're loaded.

And how many people here know other people, that when there are hundreds of thousands and then millions of ballots got sent out, got three, four, five, six, and I heard one, who got seven ballots."

-Donald Trump, "Transcript of Trump's Speech at Rally Before US Capitol Riot," usnews.com, January 13, 2021
Voter rolls are crammed with non-citizens, felons, and other people ineligible to vote; people got multiple ballots
752.
1/6/2021

"We must stop the steal and then we must ensure that such outrageous election fraud never happens again, can never be allowed to happen again…

If we allow this group of people to illegally take over our country because it's illegal when the votes are illegal when the way they got there is illegal when the states that vote are given false and fraudulent information."

-Donald Trump, "Transcript of Trump's Speech at Rally Before US Capitol Riot," usnews.com, January 13, 2021
There was outrageous election fraud; the votes are illegal; states were given false and fraudulent information
753.
1/6/2021

"I know your pain, I know you're hurt. We had an election that was stolen from us. It was a landslide election and everyone knows it, especially the other side. But you have to go home now. We have to have peace. We have to have law and order. We have to respect our great people in law and order. We don't want anybody hurt.

It's a very tough period of time. There's never been a time like this where such a thing happened where they could take it away from all of us — from me, from you, from our country. This was a fraudulent election, but we can't play into the hands of these people. We have to have peace. So go home. We love you. You're very special. You've seen what happens. You see the way others are treated that are so bad and so evil.

I know how you feel, but go home, and go home in peace."

-Donald Trump, "'Go Home': Trump Tells Supporters Who Mobbed Capitol To Leave, Again Falsely Claiming Election Victory," wbur.org, January 6, 2021
The election was stolen from Trump; the election was fraudulent
2020 Presidential Election: Post-Election Certification
A.
Trump's Quotes about Rigged/Stolen Elections
B.
Fraud Claim
754.
2/17/2021

"Well Rush [Limbaugh] thought we won [the 2020 election], and so do I by the way, I think we won substantially, and Rush thought we won and he thought it was over at 10:00, 10:30, it was over. And a lot of other people feel that way too, but Rush felt that way strongly. And many people do, many professionals do. And I don't think that could have happened to a Democrat, you would of had riots going all over the place if that happened to a Democrat, we don't have the same support at certain levels of the Republican system, but we have great people as Republicans."

-Donald Trump via Graig Graziosi, "Trump repeats election conspiracies in Fox News interview over Rush Limbaugh death," independent.co.uk, February 17, 2021
Trump won the election substantially despite the certified vote totals
755.
2/17/2021

"He [Rush Limbaugh] was with us in the last election, he felt, like a lot of the people at your network [One America News Network] feel, that the election was stolen, it was robbed, we were robbed, it was a rigged election.

The whole conservative movement is going along at a very rapid clip, if you take a look at what we did at the last election, we won so much — except for me, you know how that happened, I think you agree. But it was a disgrace what happened, with the counting. The tabulation, let's call it. We'll be nice, we'll call it the tabulation, wasn't exactly good…

We got almost 75 million votes, probably got much more than that, that's the reported votes… That tells you the strength of the movement."

-Donald Trump, "President Trump reflects on life of conservative media icon Rush Limbaugh," rumble.com, February 17, 2021
The election was stolen, robbed, and rigged
756.
2/17/2021

"We did win the election, as far as I'm concerned, it was disgraceful what happened, totally disgraceful…

[W]e had an election where we got almost 75 million votes, some say much more than that. We had an election where we set records… and really bad and dishonest things happened. When they say 'Stop the Steal,' they're not just kidding, it's a disgrace. It's a disgrace. It's like a third world country with the elections. So we have to get that straightened out, and I think get to the bottom of what happened…

It's disgraceful what happened in the election… with the tabulation, let's call it, be nice, tabulation, the counting of votes… in swing states… What happened with the voter tabulation, voter integrity, was disgraceful. Disgraceful. It's a blight on our country…

We had a disgusting, frankly a very dishonest election. And it was stolen. It was a stolen, fixed, rigged election."

-Donald Trump, "Donald Trump to Newsmax TV: Rush Was Unique, Great Friend," newsmax.com, February 17, 2021
Trump won the election despite the certified vote totals; the tabulation in swing states was disgraceful; the election was dishonest, stolen, fixed, and rigged
757.
2/22/2021

"These are attacks by Democrats willing to do anything to stop the almost 75 million people (the most votes, by far, ever gotten by a sitting president) who voted for me in the [2020] election—an election which many people, and experts, feel that I won. I agree!"

-Donald Trump, "Read Donald Trump's Full Statement After Supreme Court Allows Prosecutors to Access Tax Returns," newsweek.com, February 22, 2021
Trump won the election despite the certified vote totals
758.
2/28/2021

"We won the election twice [in 2016 and 2020]. I mean, think about it, twice… This election was rigged, and the Supreme Court and other courts didn't want to do anything about it…

I received almost 1.5 million more votes than all of the Republican House candidates combined. So how the hell is it possible that we lost? It's not possible. I got more votes. I got more, which is me, when I say I, I'm talking about we. We, we got more votes than any incumbent, any incumbent president in the history of our country, almost 75 million votes. And that doesn't include the votes and ballots they threw out. If you include them, you'll see numbers that are much different. We did even better in the second election than we did in the first, you know I won the first? And we won the second, we did much better."

-Donald Trump, "Donald Trump CPAC 2021 Speech Transcript," rev.com, February 28, 2021
The election was rigged; votes and ballots for Trump were thrown out
759.
2/28/2021

"The Democrats used the China virus as an excuse to change all of the election rules without the approval of their state legislatures, making it therefore illegal and had a massive impact on the election. Again, you have to go to the legislatures to get these approvals.

This alone would have easily changed the outcome of the election at levels that you wouldn't have even believed. Even with COVID, even with all of the things, the numbers are staggering. We can never let this or other abuses of the 2020 election be repeated or happen again, can never let that happen again…

Even if you consider nothing else, it is undeniable that election rules were illegally changed at the last minute in almost every swing state, with the procedures rewritten by local politicians… All done by local politicians or local judges, as opposed to state legislatures as required by the Constitution of the United States.

These are numbers that are massive. These aren't little numbers. These are numbers that in each state is a transformative number. It changes the outcome of the election, and it's not close."

-Donald Trump, "Donald Trump CPAC 2021 Speech Transcript," rev.com, February 28, 2021
Democrats used COVID-19 as pretense to make illegal changes to election rules that changed the outcome of the election; there were abuses in the election
760.
2/28/2021

"But the reality is you cannot have a situation where ballots are indiscriminately pouring in from all over the country, tens of millions of ballots. Where are they coming from? They're coming all over the place, where illegal aliens and dead people are voting, and many other horrible things are happening that are too voluminous to even mention, but people know…

[T]hey used COVID as a way of cheating. That's what happened, and everybody knows it. Hundreds of thousands and millions of ballots, they used it as a way of getting what they've wanted for many years."

-Donald Trump, "Donald Trump CPAC 2021 Speech Transcript," rev.com, February 28, 2021
Illegal aliens and dead people voted; they used COVID-19 to cheat
761.
2/28/2021

"There should be a 100% requirement to verify the citizenship of every person who votes, and there must be a chain of custody protections for every ballot, every ballot. You saw what happened in Detroit and Philadelphia and many other places, swing states mostly, all over, but swing states mostly. You saw what happened? You saw what was going on.

You saw that more people— You take a look at the votes. When you have more votes than you have people, that's a problem, right? Is that a problem? We have a little problem adjusting in Detroit. We seem to have more votes than we have people, a lot more votes, an election-changing number. We're not talking about a number where you catch— No, these are election-changing numbers."

-Donald Trump, "Donald Trump CPAC 2021 Speech Transcript," rev.com, February 28, 2021
There were more votes than people in places like Detroit to an extent that changed the election outcome
762.
2/28/2021

"In Pennsylvania, they had hundreds of thousands of more votes than they had people voting. What's that all about? What's that all about? Cheating, they say. Yeah, I'd say so."

-Donald Trump, "Donald Trump CPAC 2021 Speech Transcript," rev.com, February 28, 2021
Pennsylvania had hundreds of thousands more votes than people voting; they cheated
763.
3/4/2021

"On Election Evening, Nov. 3rd, at 10:30pm, [Karl] Rove called to congratulate me on 'a great win.' I said thank you Karl, only to watch the rigged election take its final form."

-Donald Trump, "Statement from Donald Trump, 45th President of the United States of America," donaldjtrump.com, March 4, 2021
The election was rigged
764.
3/4/2021

"To set the record straight, there were two reasons the Senate races were lost in Georgia. First, Republicans did not turn out to vote because they were so angry and disappointed with Georgia Republican leadership and Governor Kemp for failing to stand up to Stacey Abrams and the disastrous Consent Decree that virtually eliminated signature verification requirements across the state (and much worse), and was not approved by the State Legislature as required by the Constitution—having a major impact on the result, a rigged election."

-Donald Trump, "Statement from Donald Trump, 45th President of the United States of America," donaldjtrump.com, March 4, 2021
Georgia agreement eliminating signature requirements impacted the result of the rigged election
765.
3/15/2021

"I would further appreciate a strong investigation into Fulton County, Georgia, and the Stacey Abrams political machine which, I believe, would totally change the course of the presidential election in Georgia.

Fulton County has not been properly audited for vote or signature verification. They only looked at areas of the State where there most likely would be few problems, and even there they found large numbers of mistakes. We are seeking to find and reveal the large-scale election fraud which took place in Georgia."

-Donald Trump, "Statement from Donald Trump, 45th President of the United States of America," donaldjtrump.com, March 15, 2021
Fulton County, Georgia, did not audit for vote or signature verification; large-scale election fraud took place in Georgia
766.
3/15/2021

"The Consent Decree signed between [Georgia Secretary of State] Raffensperger and Stacey Abrams was not approved by the Georgia State Legislature, and therefore should be deemed invalid, and the election result changed. Why the Governor and Raffensperger ever approved this Consent Decree is one of the great questions? We look forward to an answer."

-Donald Trump, "Statement from Donald Trump, 45th President of the United States of America," donaldjtrump.com, March 15, 2021
An agreement in Georgia is invalid because it was not approved by the legislature; the election result should be changed for Trump to win
767.
3/16/2021

"I think it [voting rights bill H.R.1] would be a disaster for our country, and it would be very unfair. The Democrats used COVID in order to do things that they can't believe they got away with [in the 2020 election]. What they did, and they didn't get their legislatures to approve.

And by the way, in the Constitution, you have to do that, and our Supreme Court and our courts didn't have the courage to overturn elections that should have been overturned. Because you're talking about decisive amounts, hundreds of thousands and even millions of votes… The Supreme Court should be ashamed of itself."

-Donald Trump, "Trump touts vaccine, slams Biden border crisis, discusses possible 2024 run in Fox News exclusive," video.foxnews.com, March 16, 2021
Democrats used COVID-19 to get away with things in the election; the election should have been overturned
768.
3/16/2021

"The people that run the elections in Georgia, they have to be looked at. Whether it was the secretary of state, or frankly, the governor of the state. Things went on there, between the presidential election, which I can tell you about, or you look at the two Senate elections…

It's a very, very terrible thing for our country, what took place in Georgia— but not only in Georgia. What took place in Pennsylvania, what took place in Detroit, Michigan, and Michigan generally. What took place in Wisconsin, and Arizona, it's a disgrace. We're like a third world country."

-Donald Trump, "Trump touts vaccine, slams Biden border crisis, discusses possible 2024 run in Fox News exclusive," video.foxnews.com, March 16, 2021
People that run election in Georgia have to be looked at; disgraceful things took place in Georgia, Pennsylvania, Michigan, Wisconsin, and Arizona
769.
3/20/2021

"Sadly, the Election was Rigged, and without even going into detail, of which there is much, totally game changing. Democrats could not get Republican Legislatures in Swing States to approve many of the voting changes which took place before the Election, which is mandated under the Constitution of the United States. For that reason alone, we had an Illegitimate Election. The Supreme Court and other Courts were afraid to rule, they were 'gutless,' and will go down in history as such. No wonder so much money is being raised on this issue, and law-abiding people have every right to do so!"

-Donald Trump, "Statement from Donald Trump, 45th President of the United States of America," donaldjtrump.com, March 20, 2021
The election was rigged; the election was illegitimate because Democrats made voting changes without the approval of state legislatures
770.
3/22/2021

"We won the election, as far as I'm concerned. We had a great election. We got almost 75 million votes."

-Donald Trump via Aaron Rupar, Twitter.com, March 22, 2021 11:13 am
Trump won the election despite the certified vote totals
771.
3/25/2021

"If you look at the last election, it was disgraceful. It was a third-world election. It was a disgrace. Legislatures didn't approve much of what happened. Our Supreme Court should be ashamed of themselves. Under the Constitution, all of the things that they were doing had to be approved by legislatures and legislators.

And if you take a look at it, Democrats went to the Republican legislatures, there were five of the, and they went to the Republican legislatures, could not get approval, so they did it anyway. That's in total violation of the Constitution. What they did was absolutely disgraceful.

If you look at the numbers, the numbers were vastly in favor of us in the presidential election. It was disgraceful that they were able to get away with it. The Supreme Court didn't have the courage to do what they had to do."

-Donald Trump via Charles Creitz, "Trump responds to Biden claim he left children 'starving' on Mexican side of border: 'Outrageous,'" foxnews.com, March 25, 2021
The election was disgraceful; Democrats made changes without the approval of the state legislatures, which violates the Constitution
772.
4/2/2021

​"Happy Easter to ALL, including the Radical Left CRAZIES who rigged our Presidential Election, and want to destroy our Country!"

-Donald Trump via Mark Moore, "Donald Trump sends out Easter wishes – and swipes 'Radical Left CRAZIES,'" nypost.com, April 2, 2021
The election was rigged
773.
4/6/2021

"It's very sad that the [Georgia] secretary of state signed the consent decree. Because the consent decree made it very tough for a Republican to win in the state, even though I have no doubt that I won by tremendous numbers of vote, and most people in Georgia agree with me…

And I believe we won [Georgia] substantially anyway. And that's why they didn't vote for the senators [in the Georgia runoff election], because they were so angry at what happened in the presidential election, in fact I bet you voted Democrat just to spite it."

-Donald Trump, "Trump to Newsmax TV: 'I Would Say Boycott Baseball,'" newsmax.com, April 6, 2021
Trump won Georgia despite the certified vote totals
774.
4/6/2021

"You know, the election, it was a rigged, stolen election. If this would have happened to Democrats, you would have had a revolution. They wouldn't have allowed it. And the Supreme Court did not have the courage to do what they should have done.

Because these elections in the swing states, they didn't have anything approved by the legislatures. The legislatures didn't approve all of these voter changes…

Not only dead people voting, not only illegal immigrants, and all of the other things, the ballot dumps, all of the things that happened at 3 o'clock in the morning, etc. Forget all of that. They didn't get approval to make these massive changes and you're not allowed to do it locally or even with local judges…

The Supreme Court should be ashamed of themselves for not being willing to take it on."

-Donald Trump, "Trump to Newsmax TV: 'I Would Say Boycott Baseball,'" newsmax.com, April 6, 2021
The election was rigged and stolen; dead people and illegal immigrants voted; state legislatures did not approve of changes; there were ballot dumps
775.
4/6/2021

"Elections are not trusted by the people of our country anymore. They're not trusted. They saw what happened in the presidential election… They had ballot dumps in the middle of the night, at three o'clock in the morning. It's a disgrace what happened. So people don't trust the elections."

-Donald Trump, "Trump to Newsmax TV: 'I Would Say Boycott Baseball,'" newsmax.com, April 6, 2021
There were ballot dumps in the middle of the night
776.
4/23/2021

"So many people would like to thank the brave and patriotic Republican State Senators from Arizona for the incredible job they are doing in exposing the large scale Voter Fraud which took place in the 2020 Presidential Election. Their tireless efforts have led to a massive recount, ballot examination, and full forensic audit, undertaken by experts retained by the State Senate, with results to be announced within six weeks. The Democrats, upon hearing the news of the Court Order, have sent 73 lawyers to Arizona in an effort to stop this recount and full transparency because THEY KNOW WHAT THEY DID! The Democrats are desperate for the FRAUD to remain concealed because, when revealed, the Great States of Wisconsin, Michigan, Georgia, New Hampshire, and the Great Commonwealth of Pennsylvania, would be forced to complete the work already started."

-Donald Trump, "Statement by Donald J. Trump, 45th President of the United States of America," prescottnews.com, April 24, 2021
Large-scale voter fraud took place in Arizona
777.
4/23/2021

"Why are the Democrats so desperate to stop this Election Fraud from being revealed? That answer is obvious! The Governor of Arizona, Doug Ducey, has been shockingly of zero help to the State Senate. He wants to 'pretend' the election was free and fair. What are he and the Maricopa County Commissioners trying to hide? Our country needs the truth of the scam 2020 Election to be exposed. If it is not, just as if we have 'no borders,' we cannot be a Great Nation. Honest elections are America's Heart and Soul. We must never allow this to happen to our Great Country again."

-Donald Trump, "Statement by Donald J. Trump, 45th President of the United States of America," prescottnews.com, April 24, 2021
There was election fraud; the election was a scam
778.
4/24/2021

"The Republican Party is demanding that Governor Ducey of Arizona immediately provide large-scale security for the brave American Patriots doing the Forensic Audit of the 2020 Presidential Election. Governor Ducey will be held fully responsible for the safety of those involved. State police or National Guard must be immediately sent out for protection. The Democrats do not want to have this information [about election fraud] revealed, and they will do anything to stop it. Governor Ducey must finally act!"

-Donald Trump, "Statement by Donald J. Trump, 45th President of the United States of America," prescottnews.com, April 24, 2021
Democrats do not want information about election fraud in Arizona to be revealed
779.
4/24/2021

"Democrats are doing everything they can to stop the great Patriots of Arizona from doing a Forensic Audit of the 2020 Presidential Election Scam."

-Donald Trump, "Statement by Donald J. Trump, 45th President of the United States of America," donaldjtrump.com, Apr. 24, 2021
The election was a scam
780.
4/28/2021

"Watch Arizona, some very interesting things are happening in Arizona [with an audit of election results], and we just had a great ruling, or actually the Senate, the State Senate of Arizona. Let's see what they find, I wouldn't be surprised if they found thousands and thousands and thousands of votes.

So we're going to watch that very close to the end after that we'll watch Pennsylvania and you watch Georgia and you're going to watch Michigan and Wisconsin and you're watching New Hampshire, they found a lot of votes up in New Hampshire, a lot of votes up in New Hampshire just now, you saw that?

Because this was a rigged election, everybody knows it and we're going to be watching it very closely."

-Donald Trump via Alex Kasprak, "Is This an April 2021 Video of Trump Complaining About 2020 Election Results?," snopes.com, May 2, 2021
This was a rigged election
781.
5/3/2021

"The Fraudulent Presidential Election of 2020 will be, from this day forth, known as THE BIG LIE!"

-Donald Trump, "Statement by Donald J. Trump, 45th President of the United States of America," donaldjtrump.com, May 3, 2021
The election was fraudulent
782.
5/5/2021

"Warmonger Liz Cheney, who has virtually no support left in the Great State of Wyoming, continues to unknowingly and foolishly say that there was no Election Fraud in the 2020 Presidential Election when in fact, the evidence, including no Legislative approvals as demanded by the U.S. Constitution, shows the exact opposite. Had Mike Pence referred the information on six states (only need two) back to State Legislatures, and had gutless and clueless MINORITY Leader Mitch McConnell (he blew two seats in Georgia that should have never been lost) fought to expose all of the corruption that was presented at the time, with more found since, we would have had a far different Presidential result, and our Country would not be turning into a socialist nightmare! Never give up!"

-Donald Trump, "From the Desk of Donald J. Trump," donaldjtrump.com, May 5, 2021 9:51 am
Evidence shows there was election fraud; there was corruption
783.
5/6/2021

"Congratulations to the great Patriots of Windham, New Hampshire for their incredible fight to seek out the truth on the massive Election Fraud which took place in New Hampshire and the 2020 Presidential Election. The spirit for transparency and justice is being displayed all over the Country by media outlets which do not represent Fake News. People are watching in droves as these Patriots work tirelessly to reveal the real facts of the most tainted and corrupt Election in American history."

-Donald Trump, "From the Desk of Donald J. Trump," donaldjtrump.com, May 6, 2021 9:48 am
Massive election fraud took place in New Hampshire; it was the most tainted and corrupt election in American history
784.
5/6/2021

"The Fake News Media, working in close conjunction with Big Tech and the Radical Left Democrats, is doing everything they can to perpetuate the term 'The Big Lie' when speaking of 2020 Presidential Election Fraud. They are right in that the 2020 Presidential Election was a Big Lie, but not in the way they mean. The 2020 Election, which didn't even have Legislative approvals from many States (which is required under the U.S. Constitution), and was also otherwise corrupt, was indeed The Big Lie. So when they try to sell the American people the term The Big Lie, which they do in unison and coordination, think of it instead as the greatest Fraud in the history of our Country! An even greater Hoax than Russia, Russia, Russia, Mueller, Mueller, Mueller, Impeachment Hoax #1, Impeachment Hoax #2, or any of the other many scams the Democrats pulled!"

-Donald Trump, "From the Desk of Donald J. Trump," donaldjtrump.com, May 6, 2021 11:57 am
There was election fraud; election changes were made without legislative approvals required by the US Constitution; this was the greatest fraud in the history of the country
785.
5/7/2021

"At 6:31 in the morning on November 4th, a dump of 149,772 votes came in to the State of Michigan. Biden received 96% of those votes and the State miraculously went to him. Has the Michigan State Senate started their review of the Fraudulent Presidential Election of 2020 yet, or are they about to start? If not, they should be run out of office. Likewise, at 3:42 in the morning, a dump of 143,379 votes came in to the state of Wisconsin, also miraculously, given to Biden. Where did these "votes" come from? Both were State Election changing events, and that is on top of the other corruption without even including the fact that neither state got Legislative approval, which is required under the United States Constitution."

-Donald Trump, "From the Desk of Donald J. Trump," donaldjtrump.com, May 7, 2021 10:11 am
149,772 votes were dumped in Michigan that went 96% to Biden; the election was fraudulent; 143,379 ballots were dumped in Wisconsin; states changed election rules without legislative approval
786.
5/10/2021

"The major Michigan Election Fraud case has just filed a bombshell pleading claiming votes were intentionally switched from President Trump to Joe Biden. The number of votes is MASSIVE and determinative. This will prove true in numerous other States. All Republicans must UNIFY and not let this happen. If a thief robs a jewelry store of all of its diamonds (the 2020 Presidential Election), the diamonds must be returned. The Fake News media refuses to cover the greatest Election Fraud in the history of our Country. They have lost all credibility, but ultimately, they will have no choice!"

-Donald Trump, "From the Desk of Donald J. Trump," donaldjtrump.com, May 10, 2021 8:52 pm
A massive number of votes in Michigan were intentionally switched from Trump to Biden; there was election fraud
787.
5/11/2021

"All States should pass Voter ID laws along with many other fair and comprehensive election reforms, like eliminating mass mail-in voting and ballot harvesting, so we never again have an election rigged and stolen from us [like what happened in the 2020 election]. The people are demanding real reform!"

-Donald Trump, "From the Desk of Donald J. Trump," donaldjtrump.com, May 11, 2021 5:58 pm
The election was rigged and stolen from Trump
788.
5/13/2021

"A devastating letter written by Arizona Senate President Karen Fann on voting irregularities, and probably fraud, in Maricopa County during the 2020 Presidential Election. Even the database was illegally deleted after the subpoena to produce the information. Senate President Fann has invited Maricopa County officials to a public hearing on May 18 to allow them the opportunity to try to explain what happened to the missing databases, ballots, and other significant issues. The Fake News and Lamestream Media is doing everything they can not to cover this major story. They just refuse to talk or report about it. They don't want the United States or World to see what is going on with our corrupt, third world election."

-Donald Trump, "From the Desk of Donald J. Trump," donaldjtrump.com, May 13, 2021 2:31 pm
There were voting irregularities and probably fraud in Arizona; databases and ballots are missing; the election was corrupt
789.
5/14/2021

"Everyone is so tired of watching Karl Rove on Fox News… He called me on the evening of November 3rd, Election Night, to congratulate me on my 'great win.' When it was revealed the election was rigged and stolen, he flew the coop."

-Donald Trump, "From the Desk of Donald J. Trump," donaldjtrump.com, May 14, 2021 4:02 pm
The election was rigged and stolen
790.
5/15/2021

"As our Country is being destroyed, both inside and out, the Presidential Election of 2020 will go down as THE CRIME OF THE CENTURY!"

-Donald Trump, "From the Desk of Donald J. Trump," donaldjtrump.com, May 15, 2021 12:07 pm
The election was the crime of the century
791.
5/15/2021

"Wall Street Journal has reported (they finally got something right), that 2020 was the 'Worst Presidential Poll Miss in 40 Years.' The public opinion surveys ahead of the 2020 Presidential Election were the most inaccurate ever, according to a major polling panel. This was done purposely. The polls were a joke.

I won States in a landslide that I was predicted to lose days before the election. Other states had me purposely so far down that it would force people, even fans, to say 'Let's stay home Darling. We love our President, but he can't win.' And then I would win those states or at least come very close. In one state that I actually won, but the results were rigged, ABC and the Washington Post had me down by 17 points. Even the rigged final result was extremely close. It's called SUPPRESSION POLLING and it should be illegal.

These are crooked, disgusting, and very dishonest media outlets and they know exactly what they are doing. The 2020 Presidential Election was, by far, the greatest Election Fraud in the history of our Country. The good news is, the American people get it and the truth is rapidly coming out!

Had Mike Pence had the courage to send the Electoral College vote back to states for recertification, and had Mitch McConnell fought for us instead of being the weak and pathetic leader he is, we would right now have a Republican President who would be VETOING the horrific Socialistic Bills that are rapidly going through Congress, including Open Borders, High Taxes, Massive Regulations, and so much else!"

-Donald Trump, "From the Desk of Donald J. Trump," donaldjtrump.com, May 14, 2021 12:35 pm
Trump won a state but the results were rigged against him; media issued suppression polls predicting he would lose; the 2020 election had the greatest election fraud in the history of the country
792.
5/15/2021

"The entire Database of Maricopa County in Arizona has been DELETED! This is illegal and the Arizona State Senate, who is leading the Forensic Audit [of the 2020 election], is up in arms. Additionally, seals were broken on the boxes that hold the votes, ballots are missing, and worse. Mark Brnovich, the Attorney General of Arizona, will now be forced to look into this unbelievable Election crime. Many Radical Left Democrats and weak Republicans are very worried about the fact that this has been exposed. The DELETION of an entire Database and critical Election files of Maricopa County is unprecedented. Many other States to follow. The Mainstream Media and Radical Left Democrats want to stay as far away as possible from the Presidential Election Fraud, which should be one of the biggest stories of our time. Fox News is afraid to cover it—there is rarely a mention. Likewise, Newsmax has been virtually silent on this subject because they are intimidated by threats of lawsuits. One America News (OAN), one of the fastest growing networks on television, and the 'hottest', is doing a magnificent job of exposing the massive fraud that took place. The story is only getting bigger and at some point it will be impossible for the weak and/or corrupt media not to cover. Thank you to OAN and other brave American Patriots. It is all happening quickly!"

-Donald Trump, "From the Desk of Donald J. Trump," donaldjtrump.com, May 15, 2021 2:12 pm
Maricopa County in Arizona had unbelievable election crime; massive fraud took place; an entire database was deleted
793.
5/16/2021

"Breaking News! New polling by CBS News on the state of the Republican Party (which is very strong!). 'President Trump has a strong hold on the GOP.' 80% of Republicans agree with the removal of Liz Cheney from GOP Leadership and only 20% disagree. The poll also showed that 67% of Republicans said that they do not consider Sleepy Joe Biden to be the legitimate winner of the 2020 Presidential Election. I agree with them 100%, just look at the facts and the data—there is no way he won the 2020 Presidential Election!"

-Donald Trump, "From the Desk of Donald J. Trump," donaldjtrump.com, May 16, 2021 7:11 pm
There is no way Biden won the election, based on facts and data
794.
5/18/2021

"Good news for Georgia and the Republican Party. Lieutenant Governor Geoff Duncan won't be running again for office. He was the one who, along with Governor Brian Kemp, stopped the Georgia State Senate from doing the job they wanted to do on the 2020 Presidential Election Fraud. Duncan's fight against Election Fraud made him unelectable… Now maybe the Georgia State Senate and House will build up the courage to expose the large-scale Presidential Election Fraud, which took place in their otherwise wonderful State. Let them just look at the State Senate in Arizona to find out what Leadership and Patriotism is all about!"

-Donald Trump, "From the Desk of Donald J. Trump," donaldjtrump.com, May 18, 2021 4:52 pm
There was large-scale election fraud in Georgia
795.
5/22/2021

"The lackluster Attorney General of Arizona, Mark Brnovich, has to get on the ball and catch up with the great Republican Patriots in the Arizona State Senate. As massive crime in the 2020 Election is becoming more and more evident and obvious, Brnovich is nowhere to be found. He is always on television promoting himself, but never mentions the Crime of the Century, that took place during the 2020 Presidential Election, which was Rigged and Stolen."

-Donald Trump, "From the Desk of Donald J. Trump," donaldjtrump.com, May 22, 2021 2:36 pm
Massive crime in the election is becoming more evident and obvious; the election was rigged and stolen
796.
5/24/2021

"New Hampshire's Election Audit has revealed that large-scale voting machines appear to count NON-EXISTING VOTES. State and local communities are seeking confirmation. It's probably true, but we'll soon know. Why aren't Minority Leader Mitch McConnell and Republicans doing anything about what went on in the 2020 Election? How can the Democrats be allowed to get away with this? It will go down as the Crime of the Century! Other States like Arizona, Georgia (where a Judge just granted a motion to unseal and inspect ballots from the 2020 Election), Michigan, Pennsylvania, and more to follow."

-Donald Trump, "From the Desk of Donald J. Trump," donaldjtrump.com, May 24, 2021 8:30 pm
Voting machines in New Hampshire appear to have counted non-existent votes
797.
5/25/2021

"Arizona Republican State Senators are engendering such tremendous respect, even adoration, for the great job they are doing on the Forensic Audit of the 2020 Presidential Election Scam. Our Country is watching as early public reports are indicating a disaster, far greater than anyone had thought possible, for Arizona voters."

-Donald Trump, "From the Desk of Donald J. Trump," donaldjtrump.com, May 25, 2021 8:57 am
The election was a scam; an audit indicates a disaster occurred in Arizona
798.
5/25/2021

"A new Ipsos/Reuters poll 'Beliefs Among Republicans' shows 53% believe Donald Trump is the true President (I always knew America was smart!). 2020 Election was tainted 56%. The Election was stolen (and Rigged!) 61%."

-Donald Trump, "From the Desk of Donald J. Trump," donaldjtrump.com, May 25, 2021 9:54 am
The election was tainted, stolen, and rigged
799.
5/25/2021

"Thank you to the Washington Examiner newspaper for covering the Forensic Audits for the 2020 Presidential Election, the most corrupt Election in the history of our Country. Read and study it carefully—it's not Fake News!"

-Donald Trump, "From the Desk of Donald J. Trump," donaldjtrump.com, May 25, 2021 6:10 pm
The election was the most corrupt election in the history of our country
800.
5/27/2021

"Breaking News! Massive numbers of dead people 'voted' in the 2020 Presidential Election, far greater than anyone has known or seen before. Some of these 'dead people' even applied for an application to vote. This is just one of the many fraudulent aspects of the 2020 Presidential Election. People are just now beginning to understand!"

-Donald Trump, "From the Desk of Donald J. Trump," donaldjtrump.com, May 27, 2021 1:12 pm
Massive numbers of dead people voted
801.
5/28/2021

"Why are the Radical Left Democrats in Georgia fighting so hard that there not be a Forensic Audit of 150,000 absentee ballots in Fulton County? There can be only one reason, and that is because they know the vote was corrupt and the audit will show it. Republicans must fight hard and win!"

-Donald Trump, "From the Desk of Donald J. Trump," donaldjtrump.com, May 28, 2021 6:13 pm
The vote in Georgia was corrupt
802.
5/31/2021

"Great work is being done in Georgia revealing the Election Fraud of the 2020 Presidential Election. But, we must not allow ANYONE to compromise these ballots by leaving the building unsecured, which was done late Friday. Republicans and Patriots must protect this site and the Absentee Ballots. The Left talks about election security but they do not practice what they preach because they are afraid of what might be found. Fulton County Leadership—do the right thing and protect these ballots. Our Country is at stake!"

-Donald Trump, "From the Desk of Donald J. Trump," donaldjtrump.com, May 31, 2021 1:06 pm
There was election fraud
803.
6/5/2021

"There's no better example of the Democrat and media corruption than the 2020 election hoax. As you know, the evidence is too voluminous to even mention…

You look at what happened on that evening when the election was won and all of a sudden vast amounts of votes were taken in just in certain states, swing states. Swing states that I was leading by a lot. Then all of a sudden, oh, something happened. It was a disgrace to our country and if you think people don't see it, people see it. People have seen it.

The 2020 presidential election, that election, the 2020 presidential election was by far the most corrupt election in the history of our country. There's never been anything like this. They [Democrats] used COVID and they used the mail-in ballots to steal an election. It was the third world country election like we've never seen before. Look at what took place."

-Donald Trump, "Donald Trump Speech Transcript at North Carolina GOP Convention Dinner June 5," rev.com, June 5, 2021
All of a sudden votes appeared for Biden in swing states that Trump was leading by a lot; the election was the most corrupt election in the history of our country; Democrats used mail-in ballots to steal the election
804.
6/5/2021

"The things that happened in the recent election, dead people voting, dead people. Worse is dead people voting who had to apply to vote. It's true. You had people that are dead that applied to vote. And by the way, I'm talking about thousands of people, thousands and thousands of people, dead people. Illegal aliens voting. Indians getting paid to vote in certain states, including Arizona and Nevada, getting paid to vote. You're not allowed to get paid to vote. It's a terrible thing that's going on. We have to clean up those rolls, we have to do so many things or we're not going to have a country. If you don't have election integrity and if you don't have strong borders, our country can be run like a dictatorship and that's what they'd like to do."

-Donald Trump, "Donald Trump Speech Transcript at North Carolina GOP Convention Dinner June 5," rev.com, June 5, 2021
Dead people applied to vote; illegal aliens voted; Native Americans were paid to vote in Arizona and Nevada
805.
6/12/2021

"The Department of Justice (DOJ) is adding more people onto its roles in order to fight against efforts to limit voting and, I assume, other illegal voting acts. Based on that it would seem the DOJ has no choice but to look at the massive voter fraud which took place in certain Swing States, and I assume elsewhere, during the 2020 Presidential Election Scam. Whether it be voting machines, underaged people, dead people, illegal aliens, ballot drops, ballot cheating, absentee ballots, post office delivery (or lack thereof!), lock boxes, people being paid to vote, or other things, the 2020 Presidential Election is, in my mind, the Crime of the Century…

If there is going to be honor and greatness for America, the voting irregularities and fraud of that election must be brought to light, immediately. Otherwise, we have no Country, certainly not a great one! This should not be an attempt by the Biden Administration to suppress the accountability of a dishonest election. That cannot be allowed to happen, nor can the events of the Presidential Election."

-Donald Trump, "Statement by Donald J. Trump, 45th President of the United States of America," donaldjtrump.com, June 12, 2021
Massive voter fraud took place during the election; there were underage, dead, and illegal alien voters; ballot cheating occurred; people were paid to vote
806.
6/14/2021

"Why is State Senator Jake Corman of Pennsylvania fighting so hard that there not be a Forensic Audit of the 2020 Presidential Election Scam? Corman is fighting as though he were a Radical Left Democrat, saying that a Forensic Audit of Pennsylvania not take place. Why is Senator David Argall playing the same game? Are they stupid, corrupt, or naive? What is going on? Other State Senators want this Forensic Audit to take place—immediately. I feel certain that if Corman continues along this path of resistance, with its lack of transparency, he will be primaried and lose by big numbers. What went on in Philadelphia and other areas of the State must be properly and legally exposed. If it is not, just like with open Borders, we won't have a Country anymore!"

-Donald Trump, "Statement by Donald J. Trump, 45th President of the United States of America," donaldjtrump.com, June 14, 2021
The election was a scam; Senators resisting election audits are stupid, corrupt or naïve
807.
6/22/2021

"Georgia now plans to remove over 100,000 "obsolete and outdated" names off their voter rolls. Doing this, they say, will ensure voting files are up to date, while at the same time ensuring voter integrity in future elections. BUT WHAT ABOUT THE LAST ELECTION? WHY WASN'T THIS DONE PRIOR TO THE NOVEMBER 3RD PRESIDENTIAL ELECTION, where they had us losing by a very small number of votes, many times less than the 101,789 figure? This means we (you!) won the Presidential Election in Georgia. But don't fret, much other information will soon be revealed about Georgia—and other States as well. It is coming out FAST and FURIOUS. The 2020 Presidential Election was rigged!"

-Donald Trump, "Statement by Donald J. Trump, 45th President of the United States of America," donaldjtrump.com, June 22, 2021
The election was rigged; Trump won Georgia; there were over 100,000 obsolete and outdated names on the voter rolls in Georgia at the time of the election
808.
6/23/2021

"Good news! RINO Governor Doug Ducey of Arizona has restated the fact that he is not running for the United States Senate. It would not matter, however, because he could not get the nomination after failing to perform on the Voter Fraud in Arizona. Also, there is no way he would get my endorsement, which means, his aspirations would be permanently put to rest anyway. Again, thank you to our brave Republicans in the Arizona State Senate for their bravery in putting forward the Forensic Audit. Everybody is anxiously awaiting the result!"

-Donald Trump, "Statement by Donald J. Trump, 45th President of the United States of America," donaldjtrump.com, June 23, 2021
There was voter fraud in Arizona
809.
6/24/2021

"Michigan State Senators Mike Shirkey and Ed McBroom are doing everything possible to stop Voter Audits in order to hide the truth about November 3rd. The Senate "investigation" of the election is a cover up, and a method of getting out of a Forensic Audit for the examination of the Presidential contest.

Corrupt (?) politicians falsely claim there was no Voter Fraud in Michigan (has anyone looked at what is considered the most corrupt election city in the U.S., DETROIT?), however, they admit to "problems with the numbers" that rigged 7,048 votes to illegally give a very conservative county to Joe Biden, which raised big signals, only to then find that it was actually President Trump that won the county by 3,788 votes, not Biden."

-Donald Trump, "Statement by Donald J. Trump, 45th President of the United States of America," donaldjtrump.com, June 24, 2021
A Senate investigation into the election is a cover up; there was voter fraud in Michigan; 7,048 votes in Michigan were rigged to benefit Biden; Detroit is the most corrupt election city in the US
810.
6/24/2021

"Can you believe that New York wants to strip Rudy Giuliani, a great American Patriot, of his law license because he has been fighting what has already been proven to be a Fraudulent Election? The greatest Mayor in the history of New York City, the Eliot Ness of his generation, one of the greatest crime fighters our Country has ever known, and this is what the Radical Left does to him."

-Donald Trump, "Statement by Donald J. Trump, 45th President of the United States of America," donaldjtrump.com, June 24, 2021
The election was a fraudulent
811.
6/25/2021

"Biden's Department of Justice just announced that they are suing the Great State of Georgia over its Election Integrity Act. Actually, it should be the other way around! The PEOPLE of Georgia should SUE the State, and their elected officials, for running a CORRUPT AND RIGGED 2020 PRESIDENTIAL ELECTION—and for trying to suppress the VOTE of the AMERICAN PEOPLE in Georgia. If we don't address these issues from the 2020 Election head on, and we allow the Radical Left Democrats to continue to politicize the DOJ and Law Enforcement, we will lose our Country. SAVE AMERICA!"

-Donald Trump, "Statement by Donald J. Trump, 45th President of the United States of America," donaldjtrump.com, June 25, 2021
The election in Georgia was corrupt and rigged; there was voter suppression in Georgia
812.
06/25/2021

"Wisconsin Republican leaders Robin Vos, Chris Kapenga, and Devin LeMahieu, are working hard to cover up election corruption, in Wisconsin. They are actively trying to prevent a Forensic Audit of the election results, especially those which took place in Milwaukee, one of the most corrupt election locales in the country. Don't fall for their lies! These REPUBLICAN "leaders" need to step up and support the people who elected them by providing them a full forensic investigation. If they don't, I have little doubt that they will be primaried and quickly run out of office."

-Donald Trump, "Statement by Donald J. Trump, 45th President of the United States of America," donaldjtrump.com, June 25, 2021
Republican leaders in Wisconsin are covering up election corruption; Milwaukee is one of the most corrupt election locales in the country
813.
6/26/21

"Look at the Fraud and so called irregularities" that are being found in the 2020 Presidential Election—a disgrace to our Nation. It is truly the Crime of the Century!"

-Donald Trump, "Statement by Donald J. Trump, 45th President of the United States of America," donaldjtrump.com, June 26, 2021
There was fraud and irregularities during the election; the election was the crime of the century
814.
6/26/2021

"There's no better example than the election that we talk about and talk about, so proudly, because we did so well, the 2020 presidential election, was rigged. We won the election in a landslide. You know it, I know it. And you know who else knows it? The fake news knows it.

Democrats and their allies in big tech and in the fake news media viciously did everything possible to deny our victory and to delay the count until they could figure out how many votes were needed to drag Joe Biden across the finish line …

It was a very good election. But you had more votes than you had voters. Other than that, it was wonderful…

One poll manager, who worked in Fulton County, Georgia for two decades, said that she witnessed thousands and thousands of counterfeit ballots for Joe Biden with identical photocopied markings. They were all identical. They were all done identically. How does that happen? She was pressured to drop her claim and then she was fired very, very viciously."

-Donald Trump, "Donald Trump Wellington, Ohio Rally Speech Transcript: First Rally Since Leaving Office," rev.com, June 27, 2021
Election was rigged; there were more votes than voters; voter fraud in Georgia; attacks on poll workers
815.
6/27/2021

"RINO former Attorney General Bill Barr failed to investigate election fraud, and really let down the American people. Even the scam that took place in Georgia of ballot stuffing on camera, he couldn't see what was wrong with it…

If there was no fraud, why are Arizona, Georgia, Wisconsin, Pennsylvania, and other States spending so much time and effort on exposing the fraud? We already know that:

– 101,789 "obsolete" voters on the rolls in Georgia, including 18,486 dead people
– Ballot batches off by up to 17.5 percent in Maricopa County, Arizona
– "Massive" chain of custody problems with drop boxes in Georgia, missing hundreds of thousands of records for months after the election
– Thousands of ballots "wheeled in through the back door" in Fulton County days after the election
– "Double feeding" ballots in Fulton County, Georgia
– Nearly 200,000 illegal "indefinitely confined" votes in Wisconsin that violated Voter ID law
– "Cash for votes" scheme in Nevada
– Illegal alien votes
– Election law changes were not authorized by the State Legislatures, which is mandated by the U.S. Constitution."

-Donald Trump, "Statement by Donald J. Trump, 45th President of the United States of America," donaldjtrump.com, June 27, 2021
There was election fraud in Georgia, including "ballot stuffing", "obsolete" voters on voter rolls, and chain of custody issues; there were miscounting of ballots in Arizona; there was a "cash for votes" scheme in Nevada; "illegal aliens" were allowed to vote.
816.
6/28/2021

"Had Mitch McConnell fought for the Presidency like he should have, there would right now be Presidential Vetoes on all of the phased Legislation that he has proven to be incapable of stopping… Based on press reports, he convinced his buddy, Bill Barr, to get the corrupt (based on massive amounts of evidence that the Fake News refuses to mention!) election done, over with, and sealed for Biden, ASAP!"

-Donald Trump, "Statement by Donald J. Trump, 45th President of the United States of America," donaldjtrump.com, June 28, 2021
The election was corrupt.
817.
6/30/2021

"Just like in the 2020 Presidential Election, it was announced overnight in New York City that vast irregularities and mistakes were made and that Eric Adams, despite an almost insurmountable lead, may not win the race. The fact is, based on what has happened, nobody will ever know who really won. The Presidential Race was a Scam and a Hoax with numbers and results being found that are massive, shocking, and determinative. Watch the mess you are about to see in New York City, it will go on forever. They should close the books and do it all over again, the old-fashioned way, when we had results that were accurate and meaningful."

-Donald Trump, "Statement by Donald J. Trump, 45th President of the United States of America," donaldjtrump.com, June 30, 2021
There were irregularities and mistakes made during the election; the presidential race was a scam and a hoax
818.
7/2/2021

"Look what's going on in New York with their Fake Election. The same thing just happened with the 2020 Presidential Election Hoax. America is no longer a Country of Free and Fair Elections!"

-Donald Trump, "Statement by Donald J. Trump, 45th President of the United States of America," donaldjtrump.com, July 2, 2021
The election was corrupt
819.
7/5/2021

"Seeing the record crowds of over 45,000 people in Ohio and Florida, waiting for days, standing in the pouring rain, they come from near and far. All they want is HOPE for their Great Country again. Their arms are outstretched, they cry over the Rigged Election — and the RINOs have no idea what this movement is all about. In fact, they are perhaps our biggest problem. We will never save our Country or be great again unless Republicans get TOUGH and get SMART!"

-Donald Trump, "Statement by Donald J. Trump, 45th President of the United States of America," donaldjtrump.com, July 5, 2021
The election was rigged
820.
7/6/2021

"Election Reform must happen in Swing States like Pennsylvania, Michigan, Georgia, Wisconsin, and Arizona where voters have lost confidence in their electoral process. The Secretary of State in Pennsylvania allowed 21,000 deceased registrants (dead people) to remain on the voter rolls for the 2020 Presidential Election—a total disgrace! Republicans in State Legislatures must be smart, get tough, and pass real Election Reform in order to fight back against these Radical Left Democrats. If they don't, they'll steal it again in 2022 and 2024, and further DESTROY our Country!"

-Donald Trump, "Statement by Donald J. Trump, 45th President of the United States of America," donaldjtrump.com, July 6, 2021
The election was stolen; 21,000 deceased people remained on the voter rolls for the election in Pennsylvania
821.
7/7/2021

"The Fake News and Big Tech (and Dems!) coordinated attack on the millions of people in our Country, who call the 2020 Presidential Election disgraceful and corrupt, is failing. More and more people are calling it RIGGED and STOLEN."

-Donald Trump, "Statement by Donald J. Trump, 45th President of the United States of America," donaldjtrump.com, July 7, 2021
The election was corrupt, rigged, and stolen
822.
7/10/2021

"Very interesting, funny, yet sad, that every time I read or hear a story in the Lamestream Media about the 2020 Presidential Election Scam, it always is preceded by the fact that, 'while no evidence of voter fraud is available,' or statements to that effect, this could not be more incorrect or 'fake.' Massive evidence has been accumulated which shows voter fraud at a level that is virtually beyond comprehension. The Radical left writers say this nonsense over and over again, and so does the Fake News Media. What is true, is that as evidence comes out, they don't write about it or bring it forward in any way, shape, or form. Nevertheless, and fortunately, it gets out through the internet and other methods, and the feeling of a Fake Election is stronger now than ever before. Check out the recent story of 35,000 votes in the great State of Georgia, and watch what is happening in Arizona, New Hampshire, Pennsylvania, and other States. The only reason Detroit, Michigan, is not yet under investigation is because the Republicans in the State Senate are a bunch of weak RINOs that are afraid to act. Detroit is one of the most corrupt places on Earth, and the information is coming out, and fast. In any event, Mainstream Media should stop saying that, 'while all the allegations are false,' when they know the exact opposite is true. People and facts are coming out at a level which can only be called 'fast and furious.'"

-Donald Trump, "Statement by Donald J. Trump, 45th President of the United States of America," donaldjtrump.com, July 10, 2021
The election was a scam; there was corruption in Arizona, New Hampshire, Pennsylvania, Michigan and elsewhere; the mainstream media does not report on incidences or evidence of voter fraud
823.
7/11/2021

"The Fake News Media continuously likes stating that I lost the 'suburbs.' How would this be possible when I was the one that stopped the low-income housing agenda of Obama/Biden, already enacted, from happening there. The suburbs would have been destroyed—but they continuously fail to mention that I got 12 million more votes than I did in 2016, a record for a sitting President along with the 75 million votes, also a record. So how did that happen and how come I 'lost'? This is just more Fake News. And remember, they can say all of this, including the suburbs nonsense, because we had a Rigged Election!"

-Donald Trump, "Statement by Donald J. Trump, 45th President of the United States of America," donaldjtrump.com, July 11, 2021

The election was rigged
824.
7/11/2021

"For generations, the American conservative union has helped lead the charge to defend our values, protect our country, and preserve our glorious American heritage. You see they're taking our heritage away. …

We were doing so well until the rigged election happened to come along. We were doing really well. But today that heritage is under threat like never before. …

The big tech election interference in 2020 was an outrageous assault upon our Republic and upon the American voter. … Mark Zuckerberg alone spent $ 400 million dollars on election meddling. In virtually all of the key swing states, he funded unmanned and unprotected drop boxes that were deployed in Democrat run cities and heavily Democrat precincts to scoop up ballots which were supposedly 94, 95, 96% for Joe Biden, because he campaigned so well from his basement. How about where Biden did substantially better in the swing states than Barack Hussein Obama with the black population? Now, even though he did terribly throughout the country. But in those five places, he did very well. … I don't think so. But they practiced that and countless other schemes to illegitimately and illegally boost the Democrat vote. …

Every time the media references the election hoax, they say the fraud is unproven. And while there is no evidence … " No evidence? There's so much evidence. You saw what happened in Georgia the other day. They found 35,000 votes. Then they deleted in Georgia over 100,000 votes. Because they were so bad voters, I said, "Why didn't you try doing it before the election? Lost by this much. Why didn't you do it before the election?" There's bad things going on in this country, very bad things."

-Donald Trump, "Donald Trump CPAC 2021 Speech Transcript Dallas, TX," rev.com, July 11, 2021
The election was rigged; big tech interfered with the election and illegally boosted the Democratic vote; election irregularities in Georgia
825.
7/12/2021

"Election Reform must happen in Swing States like Pennsylvania, Michigan, Georgia, Wisconsin, and Arizona where voters have lost confidence in their electoral process. The Secretary of State in Pennsylvania allowed 21,000 deceased registrants (dead people) to remain on the voter rolls for the 2020 Presidential Election—a total disgrace! Republicans in State Legislatures must be smart, get tough, and pass real Election Reform in order to fight back against these Radical Left Democrats. If they don't, they'll steal it again in 2022 and 2024, and further DESTROY our Country!"

-Donald Trump, "Statement by Donald J. Trump, 45th President of the United States of America," donaldjtrump.com, July 12, 2021
The election was stolen; in Pennsylvania 21,000 deceased registrants remained on the voter rolls for the 2020 election
826.
7/12/2021

"A great candidate, Glenn Youngkin, is running against political hack and unpopular former Governor of Virginia, Terry McAuliffe. Glenn has a very good chance of winning—but watch the 'vote counters' in Virginia. As the 2020 Presidential Election Scam has proven, they can be far more important than the candidate!"

-Donald Trump, "Statement by Donald J. Trump, 45th President of the United States of America," donaldjtrump.com, July 12, 2021
The 2020 election was a scam; vote counters in Virginia cannot be trusted
827.
7/12/2021

"Hopefully, American Republican Patriots will primary the RINO State Senators in Michigan who refuse to properly look into the election irregularities and fraud, which took place in Detroit and much of the rest of Wayne County, in the 2020 Presidential Election. The challengers will have great and powerful MAGA support. They are now seeing the extent of what took place in the 2020 Presidential Election Scam. Watch Arizona, Georgia, Pennsylvania, Wisconsin, and more!"

-Donald Trump, "Statement by Donald J. Trump, 45th President of the United States of America," donaldjtrump.com, July 12, 2021
The 2020 election was a scam; there were irregularities and fraud in Detroit and much of Wayne County
828.
7/13/2021

"Joe Biden is going to Pennsylvania today in a rush in order to stop the Forensic Audit that the Pennsylvania Republican Senate is in the process of doing. Philadelphia was a cesspool of corruption, which will soon be revealed by the audit. Why are they so concerned that a President, who never goes anywhere, would hop onto beautiful Air Force One and head to Philadelphia if it were an honest election? Why not let the audit go forward and make everybody, on both sides, happy? The results will be the results. But they know it was not an honest election, Philadelphia was one of the most corrupt cities in the Country—and so is Detroit, and so is Milwaukee, and so is Atlanta, and Pittsburgh, and Oakland, and Baltimore. Corruption has gone on for years, but in the 2020 Presidential Election Scam, with the mail-in ballots and the use of Covid to cheat, corruption reached new levels. Remember the poll watchers being thrown out, the windows being sealed so nobody could look in, the ballot drops, and all of the other events that took place that changed so rapidly the Big Trump Win on election night."

-Donald Trump, "Statement by Donald J. Trump, 45th President of the United States of America," donaldjtrump.com, July 13, 2021
The 2020 election was a dishonest election and a scam; there was corruption in Philadelphia, Detroit, Milwaukee, Atlanta, Pittsburgh, Oakland, and Baltimore; COVID was used to cheat as were the number of mail-in ballots; poll watchers and observers were excluded
829.
7/14/2021

"The news coming out of Georgia is beyond incredible. The hand recount in Fulton County was a total fraud! They stuffed the ballot box—and got caught. We will lose our Country if this is allowed to stand.

According to the just released report from Garland Favorito and the highly respected Voter GA, in Fulton County the hand recount was wrong by 60%; 100,000 tally sheets for ballots were missing; they duplicated thousands of extra votes for Joe Biden; and fabricated vote counts of 100–0 for Biden, many times! Ballot batch sheets fraudulently showed multiple unanimous 100–0 counts for Biden, as well as 150–0, and 200–0…

This means Brad Raffensperger certified the 2020 Presidential Election Scam despite it being "riddled with massive errors and provable fraud." This proves what Suzi Voyles, who worked Fulton elections for decades, suspected, that fraudulent photocopied ballots were counted for Biden. This is on top of the 35,000 illegal votes recently found in Georgia, and the over 100,000 obsolete voter registrations, plus thousands of dead people, deleted AFTER the election…

This is corruption at the highest level."

-Donald Trump, "Statement by Donald J. Trump, 45th President of the United States of America," donaldjtrump.com, July 14, 2021
The election was a scam and there was election fraud in Georgia; the hand count was incorrect by 60%; tally sheets were missing; votes were duplicated and fabricated for Biden; 100,000 obsolete voter registrations were not purged until after the election; 35,000 illegal votes were cast
830.
7/14/2021

"The press is corrupt in this Country. They refuse to report on the many cases of election irregularities and outright fraud. They are an embarrassment to our Country!"

-Donald Trump, "Statement by Donald J. Trump, 45th President of the United States of America," donaldjtrump.com, July 14, 2021
The media fails to report on election fraud and irregularities
831.
7/14/2021

"Biden just said 150 people voted in the 2020 Presidential Election (Scam!). On the assumption that he meant 150 million people, and based on the fact that I got 75 million+++, that would mean that Biden got 75 million votes, which is 6 million votes less than what they said they got. So what is that all about? Are they already conceding 6 million votes?"

-Donald Trump, "Statement by Donald J. Trump, 45th President of the United States of America," donaldjtrump.com, July 14, 2021
The 2020 election was a scam
832.
7/15/2021

"Despite massive Voter Fraud and Irregularities during the 2020 Presidential Election Scam, that we are now seeing play out in very big and important States, I never threatened, or spoke about, to anyone, a coup of our Government. So ridiculous! Sorry to inform you, but an Election is my form of "coup," and if I was going to do a coup, one of the last people I would want to do it with is General Mark Milley."

-Donald Trump, "Statement by Donald J. Trump, 45th President of the United States of America," donaldjtrump.com, July 15, 2021
The 2020 election was a scam with massive voter fraud and irregularities
833.
7/15/2021

"Arizona Senate hearings on the Maricopa County Election Audit is devastating news to the Radical Left Democrats and the Biden Administration. While this, according to the Senate, is preliminary, with results being announced at a later date, it seems that 74,243 Mail-In Ballots were counted with 'no clear record of them being sent.' There were 18,000 voters who were scrubbed from the voter rolls AFTER the election. They also revealed that the voting system was breached or hacked (by who?). Very big printer and ballot problems with different paper used, etc., and MUCH MORE.

The irregularities revealed at the hearing today amount to hundreds of thousands of votes or, many times what is necessary for us to have won. Despite these massive numbers, this is the State that Fox News called early for a Biden victory. There was no victory here, or in any other of the Swing States either.

Maricopa County refuses to work together with the Senate and others who are merely looking for honesty, integrity, and transparency. Why do the Commissioners not want to look into this corrupted election? What are they trying to hide? The highly respected State Senator Wendy Rogers said in a tweet the hearing today means we must decertify the election. In any event, the Senate patriots are moving forward with final results to be announced in the not-too-distant future, but based on today's hearing, why even wait?"

-Donald Trump, "Statement by Donald J. Trump, 45th President of the United States of America," donaldjtrump.com, July 15, 2021
The election was rigged in Arizona; an audit in Maricopa County shows that mail-in ballots were counted with no record of them being sent, 18,000 voters were deleted from the voter rolls after the election, the voting system was breached or hacked and there were problems with printers
834.
7/16/2021

"Despite what is being reported in one of the many fake books that are coming onto the market, Bill Barr never once told me he thought I was going to lose the election. In fact, it was quite the opposite, he told me that I should win. In retrospect, had the election not been Rigged and Stolen, I would have won easily, and our Country would not be in the horrible position it is now with open Borders, Inflation, massive jumps in Crime, and cities that have no chance of ever recovering under Democrat leadership."

-Donald Trump, "Statement by Donald J. Trump, 45th President of the United States of America," donaldjtrump.com, July 16, 2021
The 2020 election was rigged and stolen
835.
7/16/2021

"Despite the fact that the 2020 Presidential Election was Rigged and Stolen, and while numerous people, including the outside public, were saying we should bring in the Military, I never even gave it a thought. The writings within these third-rate books are Fake News, and "General" Milley (who Mattis wanted to send to Europe in order to get rid of him), if he said what was reported, perhaps should be impeached, or court-martialed and tried. Never once did I have a discussion with him about bringing in the Military, or a "coup,"… there was no talk of a coup, there was no coup, it all never happened, and it's just a waste of words by fake writers and a General who didn't have a clue. What there was, was a Rigged and Stolen election, and those facts have come out, and are coming out, loud and clear. Because of the Rigged Election, our Country will suffer like perhaps never before with open Borders, Crime, and Inflation, which will eat everyone alive!"

-Donald Trump, "Statement by Donald J. Trump, 45th President of the United States of America," donaldjtrump.com, July 16, 2021
The 2020 election was rigged and stolen
836.
7/16/2021

"The Governor of Georgia, Brian Kemp, together with Brad Raffensperger, allowed this Election in Georgia to be Rigged and Stolen. Why they ever agreed to Stacey Abram's Consent Decree nobody will ever know. Thank you to Senator Burt Jones and all of the other Patriots for continuing the fight. Brian Kemp and Brad Raffensperger have done an absolutely terrible job of watching over Voter Integrity in Georgia. They must be held accountable!"

-Donald Trump, "Statement by Donald J. Trump, 45th President of the United States of America," donaldjtrump.com, July 16, 2021
The 2020 election in Georgia was rigged and stolen
837.
7/16/2021

"AP and other media outlets are doing major disinformation to try and discredit the massive number of voter irregularities and fraud found in both Arizona and Georgia. When the real numbers are released people will be shocked, but this is a concerted effort of the Fake News Media to discredit and demean. There has never been anything like it. Numbers will be released shortly, and they are extraordinarily big and highly determinative!"

-Donald Trump, "Statement by Donald J. Trump, 45th President of the United States of America," donaldjtrump.com, July 16, 2021
There were voter irregularities and fraud in Arizona and Georgia
838.
7/16/2021

"Fox News and other media outlets incorrectly side with the outdated and terrible Maricopa County Election Board to report no fraud found in the Presidential Election. They spew the gross misinformation purposefully put out by the county and the Associated Press, and IGNORE the very important Arizona Senate's hearing yesterday, which showed 168,000 fraudulent ballots printed on illegal paper (unofficial ballots), 74,000 mail in ballots received that were never mailed (magically appearing ballots), 11,000 voters were added to the voter rolls AFTER the election and still voted, all the access logs to the machines were wiped, and the election server was hacked during the election… Arizona shows Fraud and Voting Irregularities many times more than would be needed to change the outcome of the Election."

-Donald Trump, "Statement by Donald J. Trump, 45th President of the United States of America," donaldjtrump.com, July 16, 2021
There was election fraud and voting irregularities in Arizona to a scale that would change the outcome of the election; 168,000 fraudulent ballots were printed, 74,000 mail in ballots were received that were not mailed, 11,000 voters were added to the voter rolls after the election and still voted, all the access logs to the machines were wiped, and the election server was hacked
839.
7/18/2021

"Crime in our Country is escalating at a pace we've never seen before. At the same time, people are pouring through our Borders totally unchecked. Jails in other countries are being emptied out into the United States. This is far worse than anyone thought during the Fake Election!"

-Donald Trump, "Statement by Donald J. Trump, 45th President of the United States of America," donaldjtrump.com, July 18, 2021
The election was a fake
840.
7/19/2021

"Why won't the RINO Maricopa County Board of Supervisors in Arizona give the routers? What are they trying to hide? They are fighting for life or death. What is going on? Give the routers! Doesn't this mean that the voting was, despite their statements to the contrary, connected to the internet? The Voter Fraud in the 2020 Presidential Election was monumental, and the facts are coming out daily!"

-Donald Trump, "Statement by Donald J. Trump, 45th President of the United States of America," donaldjtrump.com, July 19, 2021
There was election fraud in Maricopa County; the board of supervisors is trying to hide evidence; voter fraud during the 2020 election was monumental
841.
7/24/2021

"We will fight for truth, transparency and accountability, and we will not stop until we have restored our American birthright of honest, free, and fair elections. We're gathered here in Phoenix to show our support for election integrity and for the brave and unyielding conservative warriors in the Arizona state Senate. …

In my opinion, there is no way they [Democrats] win elections without cheating….

We did win. We really did. Not me. We all won. We won. Everybody.

When you looked at election night, we were up by so much. It was over at 10 o'clock and then all of a sudden they close the tabulation areas. They closed everything and we wake up and all of a sudden it's tied or we're losing. And nobody believes that."

-Donald Trump, "Donald Trump Phoenix, Arizona Rally Speech Transcript July 24," rev.com, July 24, 2021
Elections in the US are not honest, free, or fair; Democrats can only win by cheating; Trump won the election.
842.
7/26/2021

"Nancy Pelosi is spending a great deal of time, effort, and money on the formulation of a Fake and highly partisan January 6 Committee to ask, "what happened?"…

Will Nancy and her Committee study the massive Voter Fraud that took place during the 2020 Presidential Election, particularly in swing states, that was the reason hundreds of thousands of people came pouring into Washington and, therefore, must be a big factor in the final Committee Report? Now would be a very good time to study the large scale Voter Fraud in our Presidential Election."

-Donald Trump, "Statement by Donald J. Trump, 45th President of the United States of America," donaldjtrump.com, July 26, 2021
There was massive voter fraud in the 2020 election that lead to people "pouring into Washington" on January 6
843.
7/29/2021

"Under the weak leadership of Mitch McConnell, Senate Republicans continue to lose. He lost Arizona, he lost Georgia, he ignored Election Fraud and he doesn't fight. Now he's giving Democrats everything they want and getting nothing in return. No deal is better than a bad deal. Fight for America, not for special interests and Radical Democrats. RINOs are ruining America, right alongside Communist Democrats."

-Donald Trump, "Statement by Donald J. Trump, 45th President of the United States of America," donaldjtrump.com, July 29, 2021
Mitch McConnell ignored election fraud
844.
7/31/2021

"The corrupt and highly partisan House Democrats who run the House Oversight Committee yesterday released documents—including court filings dealing with the rigged election of 2020—that they dishonestly described as attempting to overturn the election.

In fact, it is just the opposite. The documents were meant to uphold the integrity and honesty of elections and the sanctity of our vote. The American People want, and demand, that the President of the United States, its chief law enforcement officer in the country, stand with them to fight for Election Integrity and to investigate attempts to undermine our nation. Our country has just suffered an incredibly corrupt Presidential Election, and it is time for Congress and others to investigate how such corruption was allowed to take place rather than investigating those that are exposing this massive fraud on the American People."

-Donald Trump, "Statement by Donald J. Trump, 45th President of the United States of America," donaldjtrump.com, July 31, 2021
2020 election was rigged and incredibly corrupt
845.
7/31/2021

"Bringing the truth about the Rigged and Stolen 2020 election to light is critical to restoring faith in our election process and our country itself. On behalf of the millions of men and women who share my outrage and want me to continue to fight for the truth, I am grateful for your support. And I can't imagine a more important time to elect good Republicans to the House and Senate. Commonsense conservatives were never more badly needed. We must have people who will stand for our America First Agenda of lower taxes, fewer regulations, support the Second Amendment, strong Borders, honoring our vets, and are very tough on crime. The American people know what's at stake."

-Donald Trump, "President Donald J. Trump Affiliated Political Committees Announce Nearly $82 Million Raised in Jan 1-June 30, 2021, Report," donaldjtrump.com, July 31, 2021
The 2020 election was rigged and stolen
846.
8/1/2021

"The New York Times, and others, always insert a clause into their stories, 'WITHOUT EVIDENCE, that the election was decided fraudulently.' As usual, this is FAKE NEWS.

There is massive and unconditional evidence that the election was shattered with fraud and irregularities at a level that our Country has never seen before. Much of it is already public, and a great deal more is coming out in the very near future. Every time you read a statement that there is "no evidence of election fraud," about the 2020 election scam, just attribute that statement to a crooked and collusive media (they work closely together with the Radical Left Democrats) that will do anything to hide the real facts of this election fiasco.

After seeing the irrefutable evidence from numerous states, others are talking about doing deep forensic audits. This election was a scam, and the Lamestream Media is doing everything in their power not to allow the people to see or read about what really took place. We no longer have a free and open media (they don't cover the truth), but the word is getting out stronger than ever before.

Even the Justice Department has no interest in the crooked and corrupt 2020 Presidential Election. They are only interested in hurting those who want to reveal how totally dishonest it was. The Justice Department should be looking at the people who rigged the election, not the Patriots of our Country who are seeking to find how our Nation was defrauded."

-Donald Trump, "Statement by Donald J. Trump, 45th President of the United States of America," donaldjtrump.com, August 1, 2021
The 2020 election was fraudulent and filled with irregularities; the media won't truthfully report on the election fraud; the election was a scam and the mainstream media is covering it up
847.
8/3/2021

"Highly respected Army intelligence captain, Seth Keshel, has just released his Report on National Fraud Numbers with respect to the 2020 Presidential Election. I don't personally know Captain Keshel, but these numbers are overwhelming, election-changing, and according to Keshel, could be even bigger in that they do not account for cyber-flipping of votes. They show I won the election—by A LOT! Now watch the Democrats coalesce, defame, threaten, investigate, jail people, and do whatever they have to do to keep the truth from surfacing, and let the Biden Administration continue to get away with destroying our Country. The irregularities and outright fraud of this election are an open wound to the United States of America. Something must be done—immediately!"

-Donald Trump, "Statement by Donald J. Trump, 45th President of the United States of America," donaldjtrump.com, August 3, 2021
A new report shows Trump won the 2020 election; there was fraud and irregularities during the election
848.
8/9/2021

"Just reported that over 20% of the people coming across our Southern Border have Coronavirus (sometimes referred to as the China Virus), many of them being immediately released into our communities—and then our "Government" tells you how to mask up, use three if possible, and how to otherwise act as highly infected people pour into our Country. Finish the wall in one month, stop paying contractors billions of dollars for NOT building the wall, and stop allowing some of the worst prisoners and criminals anywhere in the world into our Country—jails of other countries are being emptied into ours. Such a thing has never happened to any nation before. This is what a Rigged and Corrupt Presidential Election gets you!"

-Donald Trump, "Statement by Donald J. Trump, 45th President of the United States of America," donaldjtrump.com, August 9, 2021

The election was rigged and corrupt
849.
8/11/2021

"Fox doesn't understand that it is missing a rating bonanza by not covering the 2020 Election Fraud, the Crime of the Century, which is being exposed throughout many states on a daily basis. They are also doing a disservice to our Country. People have turned them off!"

-Donald Trump, "Statement by Donald J. Trump, 45th President of the United States of America," donaldjtrump.com, August 11, 2021
The 2020 election was a fraud; it was the crime of the century
850.
8/11/2021

"Wow, the Governor of Georgia, Brian Kemp, was booed off the stage Saturday at a Georgia Republican Party event. They wouldn't let him speak. It is amazing how the people get what happened in Georgia, and elsewhere! The election was rigged, and everybody knows it. Kemp refused to call a Special Session of the Legislature, and did absolutely nothing. Now our Country is going to hell!"

-Donald Trump, "Statement by Donald J. Trump, 45th President of the United States of America," donaldjtrump.com, August 11, 2021
The election was rigged
851.
8/12/2021

"Had our 2020 Presidential Election not been rigged, and if I were now President, the world would find that our withdrawal from Afghanistan would be a conditions-based withdrawal. I personally had discussions with top Taliban leaders whereby they understood what they are doing now would not have been acceptable. It would have been a much different and much more successful withdrawal, and the Taliban understood that better than anyone."

-Donald Trump, "Statement by Donald J. Trump, 45th President of the United States of America," donaldjtrump.com, August 12, 2021
The election was rigged
852.
8/12/2021

"The people of Wisconsin are lucky to have a strong and great leader like Representative Janel Brandtjen, who issued subpoenas for Brown (Green Bay) and Milwaukee Counties, and all of their election evidence and so-called results. Wisconsin shows many (to put it mildly) signs of cheating in the 2020 election, and people want answers, now. We still don't know why Michael Spitzer-Rubenstein, a New Yorker, had multiple keys to the Election Day counting rooms, and a City of Green Bay employee ID when records show he was never employed by Green Bay. A Milwaukee election employee even acknowledged dropping off just the margin of ballots needed for a Biden win at 3:00AM. The Great American Experiment cannot withstand corruption. We must demand our elected officials follow the law, and WE MUST HOLD THEM ACCOUNTABLE."

-Donald Trump, "Statement by Donald J. Trump, 45th President of the United States of America," donaldjtrump.com, August 12, 2021
There was cheating in the election, especially in Wisconsin
853.
8/12/2021

"Why are RINOs standing in the way of a full Forensic Audit in Michigan? The voters are demanding it because they have no confidence in their elections after the Rigged 2020 Presidential Election Scam. Michigan's Republican State Legislators should be ashamed of themselves for allowing this horrible situation to happen."

-Donald Trump, "Statement by Donald J. Trump, 45th President of the United States of America," donaldjtrump.com, August 12, 2021
The election was rigged and a scam
854.
8/15/2021

"It is time for Joe Biden to resign in disgrace for what he has allowed to happen to Afghanistan, along with the tremendous surge in COVID, the Border catastrophe, the destruction of energy independence, and our crippled economy. It shouldn't be a big deal, because he wasn't elected legitimately in the first place!"

-Donald Trump, "Statement by Donald J. Trump, 45th President of the United States of America," donaldjtrump.com, August 15, 2021
President Biden wasn't elected legitimately
855.
8/16/2021

"The corrupt Presidential Election of 2020 got us here. Never would have happened if I were President!"

-Donald Trump, "Statement by Donald J. Trump, 45th President of the United States of America," donaldjtrump.com, August 16, 2021
The election was corrupt
856.
8/17/2021

"What took place yesterday in Afghanistan made our withdrawal from Vietnam look like child's play. Perhaps in World history, there has never been a withdrawal operation that has been handled so disastrously. A President who has been illegitimately elected has brought great shame, in many ways, to our Country!"

-Donald Trump, "Statement by Donald J. Trump, 45th President of the United States of America," donaldjtrump.com, August 17, 2021
Biden was elected illegitimately
857.
8/17/2021

"They [China] was so happy to see a rigged election. They might've helped it along actually, but they were so happy … Well, I had a great relationship with President Xi, … I said, 'Do not do anything having to do with Taiwan. I know you want to, do not do it.' Anyway, then the election gets rigged and we end up with a different president. And what happens, there are bombers now last week, 28 bombers flying over Taiwan."

-Donald Trump, "Donald Trump Sean Hannity Interview on Afghanistan August 17: Transcript," rev.com, August 17, 2021
The election was rigged
858.
8/18/2021

"Fake Elections have consequences, just look at the horror of Afghanistan coupled with the massive incompetence at our Southern Border!"

-Donald Trump, "Statement by Donald J. Trump, 45th President of the United States of America," donaldjtrump.com, August 18, 2021
Insinuation that the election was fake
859.
8/21/2021

"We also won a lot of other states by numbers that they don't tell you about. We did have a rigged election. Didn't we. It was terrible, terrible. …

You're going to see things happening, it'll go down as the most corrupt election in American history. And almost probably in any history. The evidence of the fraud is monumental and more is coming out. Just recently, Wisconsin election officials admitted they removed more than 200,000 voters.

By the way, that's 10 times more than I need to win, 10 times more. 200,000 from the voter roles and they did it, unfortunately, why didn't they move them before the election? They removed them after the election. …

Earlier this month, it was revealed that in Georgia ballots were rejected by machines and illegally altered by hand to remove marks for Trump and instead cast votes for Joe Biden. You'll see that coming in. You're going to see many of it.

In some states, you had a little thing, a little problem, more votes than voters. A little problem. Take a look at Detroit. 'Sir, they have many more votes than they have voters." Oh, that doesn't sound so good, does it? Huh? …

For example, in Nevada it was recently discovered that 15 out of the state's 17 counties had more votes than voters in 2020. Think of that, Nevada run by Democrats. Yeah, I wonder how that happened?

In Arizona, 11,000 individuals are now listed as having voted who were not even on the roles the day after the election. They weren't listed on the roles. None of the margins in the state, remember this, the margin was less than 11,000 substantially. So that was much more than we needed. …

Finally, a recent trend analysis of all 50 states based on population growth, voter history and voter registration data by one of the most respected people in that industry. Somebody so respected, a military person, Captain Seth Keshel found over 8 million excess Biden votes. In other words, he had 8 million more votes that he's supposed to have. …

And his estimate is conservative, he considered it very conservative. And I believe he said he didn't even go to the machines. …

The numbers speak for themselves. We got 12 million more votes than in 2016. I was told by the best pollsters in the world… Real pollsters, not the phony pollsters that are used by certain of the fake news media… If I got 1 million more votes I couldn't lose. I got 12 million more votes, and we lost."

Donald Trump, "Donald Trump Cullman, Alabama Rally Speech Transcript," rev.com, August 22, 2021
There was a rigged election and monumental fraud; 200,000 voters were removed from the voter roles after the election in Wisconsin; votes were altered by hand in Georgia; there were more votes than voters in Detroit and Nevada; people in Arizona who were not on the voter rolls voted; Biden got 8 million more votes than he should have
860.
8/27/2021

"If the Democrats could fight wars as well as they execute Election Fraud, we would have obliterated all of our many enemies throughout the World, and would have nothing to worry about!"

-Donald Trump, "Statement by Donald J. Trump, 45th President of the United States of America," donaldjtrump.com, August 27, 2021
The Democrats are responsible for election fraud.
861.
9/1/2021

"Sean Parnell is running for the United States Senate to serve the Great Commonwealth of Pennsylvania. … Sean is a great candidate, who got robbed in his congressional run in the Crime of the Century—the 2020 Presidential Election Scam."

-Donald Trump, "Endorsement of Sean Parnell," donaldjtrump.com, September 1, 2021
The 2020 election was a scam
862.
9/2/2021

"State Senator Burt Jones is a Conservative warrior running for Lieutenant Governor of Georgia. … Burt will always stand for America First, and will help bring back Energy Independence, a Strong Border, Low Taxes, Great Education, and Safe Cities. He will also get to the bottom of the Nov. 3 Presidential Election Scam."

-Donald Trump, "Endorsement of Burt Jones," donaldjtrump.com, September 2, 2021
The 2020 election was a scam
863.
9/7/2021

"Highly respected Kristina Karamo has my Complete and Total Endorsement to run for Secretary of State of the Great State of Michigan! She is strong on Crime, including the massive Crime of Election Fraud. … Good luck Kristina, and while you're at it, check out the Fake Election results that took place in the city of Detroit."

-Donald Trump, "Endorsement of Kristina Karamo," donaldjtrump.com, September 7, 2021
There were fake election results in Detroit
864.
9/11/2021

"Has anybody noticed that the Biden Administration, working in close conjunction with the Fake News Media, has promoted mandates very hard in order to get people to stop talking about the most incompetent withdrawal from a war site in history? They will talk about anything, other than the Rigged 2020 Presidential Election results, in order to get people's minds off of the horror show that has just taken place in Afghanistan!"

-Donald Trump, "Statement by Donald J. Trump, 45th President of the United States of America," donaldjtrump.com, September 11, 2021
The 2020 election had rigged results
865.
9/13/2021

"Does anybody really believe the California Recall Election isn't rigged? Millions and millions of Mail-In Ballots will make this just another giant Election Scam, no different, but less blatant, than the 2020 Presidential Election Scam!"

-Donald Trump, "Statement by Donald J. Trump, 45th President of the United States of America," donaldjtrump.com, September 13, 2021
The 2020 election was a scam. The recall election in California will likely be rigged due to the number of mail-in ballots.
866.
9/13/2021

"It is my great honor to endorse a true warrior, Representative Mark Finchem, of the Great State of Arizona, for the position of Secretary of State. … In addition to his incredibly powerful stance on the massive Voter Fraud that took place in the 2020 Presidential Election Scam, he is strong on Crime, Borders, our currently under siege Second Amendment, and loves our Military and our Vets."

-Donald Trump, "Statement by Donald J. Trump, 45th President of the United States of America," donaldjtrump.com, September 13, 2021
The 2020 election was a scam and there was massive voter fraud
867.
9/13/2021

"'The Big Lie' is the Presidential Election of 2020. When the Fake News Media uses that term, always remember that this was the Election that is destroying our Country, both inside and out!"

-Donald Trump, "Statement by Donald J. Trump, 45th President of the United States of America," donaldjtrump.com, September 13, 2021
The 2020 election was a 'big lie'
868.
9/14/2021

"People don't realize that, despite the Rigged voting in California (I call it the "Swarming Ballots"), I got 1.5 Million more votes in 2020 than I did in 2016. The place is so Rigged, … the California Election is totally Rigged. Many people are already complaining that when they go to vote they are told, "I'm sorry, you already voted" (Just like 2020, among many other things). They then leave angry, but fortunately, even the Fake News Media has been reporting it."

-Donald Trump, "Statement by Donald J. Trump, 45th President of the United States of America," donaldjtrump.com, September 14, 2021
Voting in California is rigged
869.
9/16/2021

"Our hearts and minds are with the people being persecuted so unfairly relating to the January 6th protest concerning the Rigged Presidential Election. In addition to everything else, it has proven conclusively that we are a two-tiered system of justice. In the end, however, JUSTICE WILL PREVAIL!"

-Donald Trump, "Statement by Donald J. Trump, 45th President of the United States of America," donaldjtrump.com, September 14, 2021
The 2020 election was rigged
870.
9/16/2021

"Super Lawyer Matthew DePerno is running for Attorney General in the Great State of Michigan. He has defended the Constitution for 20 years, and has been on the front lines pursuing fair and accurate elections, as he relentlessly fights to reveal the truth about the Nov. 3rd Presidential Election Scam.

Dana Nessel, the Radical Left, and the RINOs are targeting Matt because he gets results and has exposed so much Voter Fraud in Antrim County, and many more places, in the 2020 Election. He will never give up, and that's why they absolutely cannot stand him!"

-Donald Trump, "Endorsement of Matthew DePerno," donaldjtrump.com, September 16, 2021
The 2020 election was a scam; there was voter fraud in Antrim County, Michigan and many more places
871.
9/17/2021

"Large scale Voter Fraud continues to be reported in Georgia. Enclosed is a report of 43,000 Absentee Ballot Votes Counted in DeKalb County that violated the Chain of Custody rules, making them invalid. I would respectfully request that your department check this and, if true, along with many other claims of voter fraud and voter irregularities, start the process of decertifying the Election, or whatever the correct legal remedy is, and announce the true winner. As stated to you previously, the number of of false and/or irregular votes is far greater than needed to change the Georgia election result. People do no understand why you and Governor Brian Kemp adamantly refuse to acknowledge the now proven facts, and fight so hard that the election truth not be told. You and Governor Kemp are doing a tremendous disservice to the Great State of Georgia, and to our Nation – which is systematically being destroyed by an illegitimate president and his administration."

-Donald Trump, "Letter to Georgia Secretary of State Brad Raffensperger," donaldjtrump.com, September 17, 2021
There was large scale voter fraud in Georgia; 43,000 counted votes violated the chain of custody rules; there were a number of false or irregular votes in Georgia that would have been enough to change the outcome of the election; the Secretary of State of Georgia and Governor Kemp do not acknowledge the "proven facts" of voter fraud; Biden is an illegitimate president
872.
9/22/2021

"Why is the Fake News Media continuing on their path of saying, "baseless and disproven lies," concerning the Presidential Election of 2020, no matter how much evidence they see? These phrases are coordinated propaganda by Lamestream. It is an automatic phrase they use about the 2020 Election Scam when in fact it was just the opposite. The proof is massive and staggering. The Presidential Election of 2020 was Rigged! When the information becomes public, people will see that it wasn't even close."

-Donald Trump, "Statement by Donald J. Trump, 45th President of the United States of America," donaldjtrump.com, September 22, 2021
The 2020 election was a scam and rigged; the proof of this is massive and staggering
873.
9/22/2021

"I spent virtually no time with Senators Mike Lee of Utah, or Lindsey Graham of South Carolina, talking about the 2020 Presidential Election Scam or, as it is viewed by many, the "Crime of the Century." … Mike Lee, Lindsey Graham, and all of the other Republicans who were unwilling to fight for the Presidency of the United States, which would have included at least an additional four Republican Senators, two in Georgia, one in Michigan, one in Arizona, are letting the Democrats get away with the greatest Election Hoax in history—a total con job!"

-Donald Trump, "Statement by Donald J. Trump, 45th President of the United States of America," donaldjtrump.com, September 22, 2021
The 20202 election was a scam and a hoax and the "crime of the century"
874.
9/23/2021

"Texans know voting fraud occurred in some of their counties. Let's get to the bottom of the 2020 Presidential Election Scam!"

-Donald Trump, "Letter to Texas Governor Greg Abbott," donaldjtrump.com, September 23, 2021
There was election fraud in Texas; the 2020 election was a scam
875.
9/23/2021

"Hopefully the Unselect Committee will be calling witnesses on the Rigged Presidential Election of 2020, which is the primary reason that hundreds of thousands of people went to Washington, D.C. in the first place. Let the people of the United States see the real facts, which cannot happen because the Fake News refuses to write about them."

-Donald Trump, "Statement by Donald J. Trump, 45th President of the United States of America," donaldjtrump.com, September 23, 2021
The 2020 election was rigged
876.
9/23/2021

"Interesting that the Unselect Committee of political hacks 'dropped' their subpoena request the night before Arizona is expected to announce its findings from the Forensic Audit on voter fraud in the 2020 Presidential Election Scam. This is what they do, this is what they are good at—but everybody will be watching Arizona tomorrow to see what the highly respected auditors and Arizona State Senate found out regarding the so-called Election!"

-Donald Trump, "Statement by Donald J. Trump, 45th President of the United States of America," donaldjtrump.com, September 23, 2021
The 2020 election was a scam
877.
9/24/2021

"Huge findings in Arizona! However, the Fake News Media is already trying to "call it" again for Biden before actually looking at the facts—just like they did in November! The audit has uncovered significant and undeniable evidence of FRAUD! Until we know how and why this happened, our Elections will never be secure."

-Donald Trump, "Statement by Donald J. Trump, 45th President of the United States of America," donaldjtrump.com, September 24, 2021
An audit in Arizona has uncovered significant and undeniable evidence of fraud.
878.
9/24/2021

"The Fake News is lying about the Arizona audit report! The leaked report conclusively shows there were enough fraudulent votes, mystery votes, and fake votes to change the outcome of the election 4 or 5 times over. The number includes 23,344 mail-in ballots, despite the person no longer living at that address. Phantom voters! The official canvass does not even match who voted, off by 11,592—more than the entire Presidential Election margin. Voters who voted in multiple counties totaled 10,342, and 2,382 ballots came from people who no longer lived in Maricopa County. There were also 2,592 'more duplicate ballots than original ballots.' Just those fraudulent ballots alone total 50,252, and is fraud many more times than the so-called margin of 'victory,' which was only 10,457. In addition, election data appears to have been intentionally deleted, and ballot images were 'corrupt or missing.' This is not even the whole state of Arizona, but only Maricopa County. It would only get worse!"

-Donald Trump, "Statement by Donald J. Trump, 45th President of the United States of America," donaldjtrump.com, September 24, 2021
Widespread voter fraud in Maricopa County, Arizona that the mainstream media is inaccurately reporting on; there were fraudulent votes, 'phantom voters', people who no longer living there voting and people voting more than once; election data was deleted and ballot images were 'corrupt or missing'
879.
9/24/2021

"CNN, New York Times, Washington Post, and other Lamestream Media are feeding large-scale misinformation to the public about the Arizona Audit. The Audit was a big win for democracy and a big win for us. Shows how corrupt the Election was. Arizona State Senate hearing going on now and the information about what took place is terrible—a bigger Scam even than anticipated!"

-Donald Trump, "Statement by Donald J. Trump, 45th President of the United States of America," donaldjtrump.com, September 24, 2021
The election was corrupt and a scam
880.
9/24/2021

"It is not even believable the dishonesty of the Fake News Media on the Arizona Audit results, which shows incomprehensible Fraud at an Election Changing level, many times more votes than is needed. The Fake News Media refuses to write the facts, thereby being complicit in the Crime of the Century. They are so dishonest, but Patriots know the truth! Arizona must immediately decertify their 2020 Presidential Election Results."

-Donald Trump, "Statement by Donald J. Trump, 45th President of the United States of America," donaldjtrump.com, September 24, 2021
There was "incomprehensible fraud at an election changing level." The election was the "crime of the century.'
881.
9/24/2021

"Massive fraud was found in the Arizona Forensic Audit, sometimes referred to as "Fraudit." The numbers are Election Changing!"

-Donald Trump, "Statement by Donald J. Trump, 45th President of the United States of America," donaldjtrump.com, September 24, 2021
An audit in Arizona uncovered massive fraud
882.
9/24/2021

"I will be discussing the winning results of the Arizona Forensic Audit, which will show 44,000 possibly illegal ballots cast, tomorrow at the Great State of Georgia rally, which will be packed!"

-Donald Trump, "Statement by Donald J. Trump, 45th President of the United States of America," donaldjtrump.com, September 24, 2021
There were possibly 44,000 illegal ballots cast in Arizona
883.
9/25/2021

"We're not forgetting 2020. The most corrupt election in the history of our country. Most corrupt election in the history of most countries, to be followed by an even more glorious victory in November of 2024. … They [Ducey, AZ and Kemp, GA] ignored monumental evidence of rampant fraud. … Now you have to remember that Georgia was decided by only 11,779 votes, so I only needed one more vote than that to win the election. But we have many, many more votes than we needed to win the election. … Listen to these numbers. These are Georgia numbers and these come from the state, they told me. I said, 'Are you sure these numbers are right?' They said, 'They're right.' So let me apologize if they're not, but they are right. There are 10,300 individuals in Georgia who moved more than 30 days before the November election to a different county in Georgia but failed to reregister and vote in their current county of residence. That means their votes don't count, but the votes counted. There are 4,052 individuals who voted but whose names do not appear on the Georgia registered voter list. Oh, that's a little bit of a problem. There are 18,325 individuals in Georgia who voted whose addresses are recorded, or the US Postal Service says, vacant. They're vacant. … During the hand recount falsified tally sheets were discovered showing unanimous votes and votes counted exclusively for Joe Biden. Ballot images obtained through a public records request revealed duplicated votes, which included at least 3,390 extra votes for Joe Biden. In Fulton County, 100,000 tally sheets for mail-in ballots were missing for months following the election."

-Donald Trump, "Donald Trump Perry, Georgia Rally Speech Transcript September 25," rev.com, September 26, 2021
2020 election was the most corrupt election in US history and history of other countries; governors in Arizona and Georgia ignored evidence of fraud; people voted outside of their district, tally sheets were falsified or missing
884.
10/1/2021

"Just heard Patriots are moving the Texas Audit Bill forward. Texas State Senator Paul Bettencourt filed Senate Bill 47, legislation that authorizes Texans to initiate a strong and real Forensic Audit of the 2020 Presidential Election Scam—not a weak risk-limiting audit that is being slow-walked through the Secretary of State's office. … Texas will always be red, but we must stop the cheating."

-Donald Trump, "Statement by Donald J. Trump, 45th President of the United States of America," donaldjtrump.com, October 1, 2021
The 2020 election was a scam
885.
10/6/2021

"Because the Election was rigged, and America now has weak and corrupt leadership, we may very well end up in a war with China who no longer respects the USA. … The only thing the Radical Left Democrats, who are destroying our Nation, are good at is rigging Elections and criminal activity, while always blaming the other side through corrupt prosecutors and prosecutions. Our Country is in big trouble—we better get going fast!"

-Donald Trump, "Statement by Donald J. Trump, 45th President of the United States of America," donaldjtrump.com, October 6, 2021
The 2020 election was rigged by the Democrats
886.
10/6/2021

"The Unselect Committee of partisan Democrats, and two very weak and pathetic RINOs, should come to the conclusion after spending many millions of dollars, that the real insurrection happened on November 3rd, the Presidential Election, not on January 6th—which was a day of protesting the Fake Election results."

-Donald Trump, "Statement by Donald J. Trump, 45th President of the United States of America," donaldjtrump.com, October 6, 2021
The election results were fake
887.
10/8/2021

"Big Michigan Rally coming up on Oct. 12th, on the Capitol steps in Lansing, where Patriots will demand a Forensic Audit of the 2020 Presidential Election Scam. The Voter Fraud is beyond what anyone can believe. Anyone who cares about our Great Country should attend, because unless we look to the past and fix what happened, we won't have a future or a Country."

-Donald Trump, "Statement by Donald J. Trump, 45th President of the United States of America," donaldjtrump.com, October 8, 2021
The 2020 election was a scam; voter fraud happened
888.
10/9/2021

"While standing in the way of a real election audit, Speaker Phelan just weakened the penalty for voting illegally in the state of Texas from a felony to a misdemeanor, siding with the Democrats and calling their amendment that makes a mockery of our election laws "thoughtful." After the 2020 Presidential Election Scam we need tougher penalties for cheating in our elections, not weaker ones."

-Donald Trump, "Statement by Donald J. Trump, 45th President of the United States of America," donaldjtrump.com, October 9, 2021
The 2020 election was a scam
889.
9/10/2021

"The election was rigged. But as disastrous as the Biden administration has been, no one can blame the great State of Iowa because, boy, we did really, we did really good here. … the elections are totally corrupt in our country. They have been for a long time. But never like they were this last time. They used COVID in order to cheat and rig."

-Donald Trump, "Donald Trump Des Moines, Iowa Rally Speech Transcript October 9," rev.com, October 9, 2021
The 2020 election was rigged; US elections are corrupt; Democrats used COVID to rig and cheat in the election
890.
9/10/2021

"The Thursday House hearing of the Arizona Election Scam turned sharply against the Democrats when Congressman Andy Biggs and others started asking questions about all the damning findings of the audit and the people for Maricopa County were unable to give an answer. It was incredible. …

The hearing exposed how numerous laws were broken during the Arizona voting, how blank mail-in ballot envelopes were approved, and how there are tens of thousands of suspected fraudulent ballots.

The Fake News, however, refuses to cover those questions and answers because they prove, without question, that we won Arizona (and many other states)."

-Donald Trump, "Statement by Donald J. Trump, 45th President of the United States of America," donaldjtrump.com, October 9, 2021
The 2020 election was a scam; blank mail-in ballots were approved in Arizona and there are tens of thousands suspected fraudulent ballots there; Trump won Arizona and many other states
891.
10/12/2021

"The 2020 Election was a fraud rife with errors, irregularities, and scandal. The Radical Left knows it, the media knows it, and the Patriots of our Country know it, and now the U.S.A. is paying a big price—it is very sadly going to hell!"

-Donald Trump, "Statement by Donald J. Trump, 45th President of the United States of America," donaldjtrump.com, October 12, 2021
The 2020 election was a fraud, full of errors, irregularities, and scandal
892.
10/13/2021

"Detroit, considered for many years to be one of the most corrupt places in the United States for elections (and many other things!), had large-scale irregularities so much so that two officials, at great risk to themselves and their families, refused to certify the results, and were sadly threatened. Wasn't it a fact that aside from other things, there were far more votes than voters? Even the RINOs on the Senate Committee found 289,866 absentee ballots that were sent to people who never requested them, 'something that would be illegal.' Why did they viciously kick out the Republican poll watchers? Seventy percent of Detroit's mail-in ballot counting boards didn't match, it was a total mess."

-Donald Trump, "Statement by Donald J. Trump, 45th President of the United States of America," donaldjtrump.com, October 13, 2021
There were large scale irregularities in Detroit during the 2020 election; there were more votes than voters; 289,866 absentee ballots were sent to people who didn't request them; 70% of mail-in ballot counting boards didn't match
893.
10/13/2021

"Our Elections are so corrupt and nobody wants to do anything about it!"

-Donald Trump, "Statement by Donald J. Trump, 45th President of the United States of America," donaldjtrump.com, October 13, 2021
Elections in the US are corrupt
894.
10/13/2021

"Why isn't the January 6th Unselect Committee of partisan hacks studying the massive Presidential Election Fraud, which took place on November 3rd and was the reason that hundreds of thousands of people went to Washington to protest on January 6th? Look at the numbers now being reported on the fraud, which we now call the 'Really Big Lie.' You cannot study January 6th without studying the reason it happened, November 3rd. But the Democrats don't want to do that because they know what took place on Election Day in the Swing States, and beyond. If we had an honest media this Election would have been overturned many months ago, but our media is almost as corrupt as our political system!"

-Donald Trump, "Statement by Donald J. Trump, 45th President of the United States of America," donaldjtrump.com, October 13, 2021
There was election fraud in the 2020 election; the election should be overturned; the political system in the US is corrupt
895.
10/13/2021

"If we don't solve the Presidential Election Fraud of 2020 (which we have thoroughly and conclusively documented), Republicans will not be voting in '22 or '24. It is the single most important thing for Republicans to do."

-Donald Trump, "Statement by Donald J. Trump, 45th President of the United States of America," donaldjtrump.com, October 13, 2021
The 2020 election was fraudulent
896.
10/14/2021

"Today, the highly respected Dr. Shiva Ayyadurai, MIT PhD, is having an event on the big findings from the Arizona Audit. He has invited the RINOs on the Maricopa County Board of Supervisors to participate. If they have nothing to hide, and if this was the 'most secure election' in history, they would show up and answer the many questions raised by the audit, like how there were over 17,000 duplicate mail-in ballots and why they poured in after Election Day, how there were over 6,000 more ballots than there were envelopes, or why some were stamped 'verified and approved,' even though they had no signature, which is against the law.

Maricopa County has refused to answer these questions (and so much more!)"

-Donald Trump, "Statement by Donald J. Trump, 45th President of the United States of America," donaldjtrump.com, October 14, 2021
There were 17,000 duplicate mail-in ballots in Arizona and 6,000 stamped "verified and approved" even though they didn't have signatures
897.
10/15/2021

"A new analysis of mail-in ballots in Pima County, Arizona means the election was Rigged and Stolen from the Republican Party in 2020, and in particular, its Presidential Candidate.

This analysis, derived from publicly available election data, shows staggering anomalies and fictitious votes in Pima County's mail-in returns, making it clear they stuffed the ballot box (in some precincts with more ballots than were ever sent!)."

-Donald Trump, "Statement by Donald J. Trump, 45th President of the United States of America," donaldjtrump.com, October 15, 2021
Analysis of mail-in-ballots in Arizona shows the election was "rigged and stolen" from the Republican Party; in some counties in Arizona, more ballots were counted then sent in
898.
10/19/2021

"Isn't it terrible that a Republican Congressman from Nebraska just got indicted for possibly telling some lies to investigators about campaign contributions, when half of the United States Congress lied about made up scams, and when Mark Zuckerberg, in my opinion a criminal, is allowed to spend $500 million and therefore able to change the course of a Presidential Election, and nothing happens to them."

-Donald Trump, "Statement by Donald J. Trump, 45th President of the United States of America," donaldjtrump.com, October 19, 2021
Mark Zuckerberg spent $500 million and changed the course of the presidential election
899.
10/21/2021

"So funny to watch the Biden Administration try to blame 'Trump' for the fact that there are thousands of ships that can't be unloaded, in any other time but now a very simple task. No, just like the Border, just like the Afghanistan withdrawal, just like Inflation, and just like many other things that have gone so wrong for our Country, it's the Biden Administration that's at fault. They are only really good at two things, rigging elections and misinformation!"

-Donald Trump, "Statement by Donald J. Trump, 45th President of the United States of America," donaldjtrump.com, October 21, 2021
Democrats rig elections
900.
10/21/2021

"The Presidential Election in Arizona (and in numerous states) was a Fraud. Maricopa County officials lied, and then tried to cover it up. Now they are facing criminal liability since defying a subpoena and deleting election records are serious crimes. Hopefully Attorney General Mark Brnovich will do something about it. Regardless, based on these findings, and many others, Arizona should decertify their Fake Election results immediately!"

-Donald Trump, "Statement by Donald J. Trump, 45th President of the United States of America," donaldjtrump.com, October 21, 2021
2020 election was a fraud; officials in Arizona covered it up
901.
10/22/2021

"I won Arizona by a lot in 2016 and won Arizona by even more in 2020—unfortunately the vote counters in 2020 were far more important than the candidate (See the determinative Report issued Wednesday by the Arizona Auditors!)."

-Donald Trump, "Statement by Donald J. Trump, 45th President of the United States of America," donaldjtrump.com, October 22, 2021
Vote counters in Arizona were the reason Trump lost in Arizona in 2020
902.
10/23/2021

"Congratulations to Mollie Hemingway on her new book, Rigged, a big best seller, revealing incredible information she has uncovered about Facebook and the Big Tech Scam, and all the massive money spent by Mark Zuckerberg, possibly illegally, into our 2020 Presidential Election. This was a big part, but by no means all, of the Crime of the Century. The other side spent four years making things up about election interference in 2016, yet when it really did happen in 2020, you're not allowed to talk about it."

-Donald Trump, "Statement by Donald J. Trump, 45th President of the United States of America," donaldjtrump.com, October 23, 2021
2020 election was the crime of the century; Facebook and Big Tech spent a lot of money, "possibly illegally," into 2020 election
903.
10/28/2021

"The statement that I made a few weeks ago saying that Republicans will not vote if the Election Fraud of 2020 is not fixed, was in no way meant to imply that I would tell them not to vote, but rather that they may not have the incentive to vote if the election process is not fully remedied, and quickly. It was the Crime of the Century. We are working on solving that problem every day—it will be done! People do not want to spend their time and money to have a SCAM like that happen again."

-Donald Trump, "Statement by Donald J. Trump, 45th President of the United States of America," donaldjtrump.com, October 28, 2021
2020 election was a fraud, the crime of the century, and a scam
904.
10/29/2021

"The Wall Street Journal just did a white-washed statement, so incorrectly, almost as incorrect as their views on tariffs against China, a country that has been ripping off the United States for years (not even including the disaster of the China Virus), trying to justify the fraud of an election in Pennsylvania, but also saying 'even if' we are right, 'Mr. Trump would be two states short of victory.'

Wrong! We were only talking about Pennsylvania, we weren't talking about other states, which are also wrapped up in large scale fraud or election improprieties."

-Donald Trump, "Statement by Donald J. Trump, 45th President of the United States of America," donaldjtrump.com, October 29, 2021
There was fraud in the Pennsylvania election and other states had large scale fraud and improprieties
905.
11/1/2021

"Even Biden couldn't stand hearing so much about the Global Warming Hoax, the 7th biggest Hoax in America, followed closely behind by the 2020 Presidential Election Scam, Russia, Russia, Russia, Ukraine, Ukraine, Ukraine, Impeachment Hoax #1, Impeachment Hoax #2 and, of course, the 'No Collusion' finding of the Mueller Report."

-Donald Trump, "Statement by Donald J. Trump, 45th President of the United States of America," donaldjtrump.com, November 1, 2021
2020 election was a scam